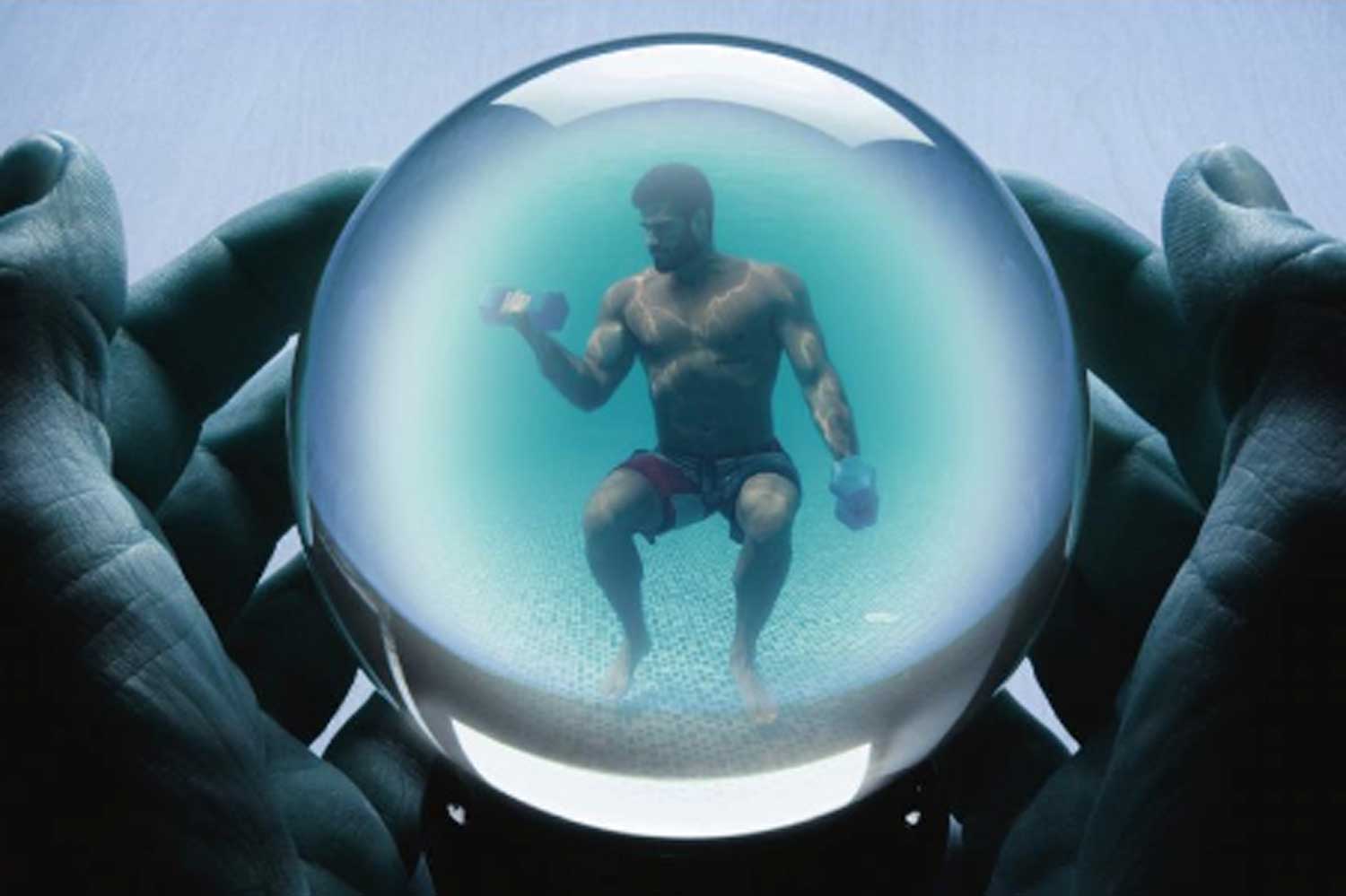 It's that time of year again, when MH gazes into its crystal ball – or, rather, calls on a roster of industry insiders – to compile the definitive list of the health trends set to change the game in 2019. See how you're shaping up.
01. You'll make gains more sustainably
Self-care will grow to encompass caring for the planet, too. Hip studio Flow has banned plastic bottles, while Adidas (along with Parley for the Oceans) is turning them into activewear. Vivobarefoot, which uses 17 plastic bottles in each pair of Primus shoes, is reducing its footprint further still with a new Bio model made from a plant-based polymer. "This isn't a fad," says Williams. "Ignoring this trend could put you out of business." And capitalising on it could put you into it: Williams's organic, vegan supplement brand PLVNT plants a tree for every product purchased. The packaging, meanwhile, is recyclable and plastic-free. Naturally.
02. You'll be seeing red
This will be the year that your HIIT workout goes premium, with new entrant to the Aussie fitness game Barry's Bootcamp putting pressure on other offerings to up the luxe factor. Think high-intensity workouts in red-lit rooms, loud music and the camaraderie of CrossFit, without the cultishness. Oh, and towel service, premium facilities and smoothie bars. The American import has colonised the globe, opening in nine countries already, with plans for rapid expansion across Australia this year.
03. You'll mix your drinks
What's better than one of your favourite drinks? Two of them combined. And no, we're not talking about mixing slurpie flavours at your local 7/11. Meet Komboffe, a mix of kombucha and coffee, allowing you to feed your addiction and heal your gut at the same time. The idea originated from Frankie's Beans in Sydney's Darlinghurst and the initial demand for the dual-pronged elixir is so high it looks set to become a staple in our already buzzing coffee culture.
04. You'll chew over your dinner time
Chrono-nutrition – the idea that you're not just what you eat, but when you eat it – will have its moment. "Timing food around our circadian rhythms has a big impact," says Soong. Disruptions to your body clock contribute to obesity: not only does insufficient shuteye sap your willpower, but your body also processes macros differently depending on the time of day. Enzymes involved in metabolism are regulated by the clock, too.
05. You'll go off the deep end
A new type of immersive fitness is making a splash. "Expect a rise in swimming-pool-based resistance training," says Mullins– that is, if you can make it back to the surface while you're holding dumbbells. Pumping iron underwater was pioneered by surfer Laird Hamilton: his XPT Extreme Pool Training is LA's "most exclusive workout". XPT now trains coaches in the method, while Virgin Active has rolled out its own Hydro class. You won't hit a max squat (and shouldn't try), but lifting in liquid is a solid cardio and core workout that's easy on your joints. Plus, no one will see you sweat.
06. You'll voice your exercise concerns
You heard it here first: as Alexa and Siri usher us ever closer to the film Her, you'll have audio workouts coming out of your ears. "Some brands are tapping into this fast-growing digital fitness trend," says Hill. Chris Hemsworth's new Centr app offers over guided sessions, from strength work to running, with coaches imparting instructions and motivation. And Amazon owned audiobook seller Audible has added fitness app Aaptiv's workouts to its library, guiding you through HIIT, meditation and even sleep.
07. You'll search for post-truth
As an MH reader, you likely didn't buy the questionable assertions that landed Gywneth Paltrow's lifestyle website Goop in court. But you are still inundated with nebulous "wellness washing". Thankfully, there's a backlash against fake news. "Just as the food industry sets standards around organic and GM products, brands will certify their claims," McGregor says. For example, start-up WellSpoken awards a "Mark" to approved brands and bloggers. Though who'll approve these certifiers is yet to be seen . . .
08. Healthy living will get closer to home
"Wellness communities", designed with residents' health in mind, will provide a solid foundation for better living. "With more of us focused on health, it follows that our cities should facilitate this," says McGregor. The global market for these living spaces will reach $180bn by 2022*. Australia is second only to the US in development with 189 projects worth $9.5bn in the pipeline, according to the Global Wellness Institute report.
09. You'll eat like a Neanderthal
"The biggest new trend in nutrition is the carnivore diet [AKA zero carbs]: eating only animal products," says Patel. The illogical conclusion of paleo and keto has already caused much beef between steakholders and critics. But the impending publication of a meaty tome by orthopaedic surgeon Shawn Baker, one of the diet's chief proponents, will bring more debate and anecdotal stories of followers' recoveries from autoimmune diseases. To be fair, Patel points out that randomised trials into its long-term effects will likely never be done, and it may be useful for detecting food intolerances, but he adds: "It is, of course, the worst possible diet and an affront to vegans."
10. You'll start a fit fam
Swap dad bod for "dad strong" with your children in tow and burn off their excess energy. "From being a great role model, bonding with your kids, to simply moving that body – working out with children has no downside, says Wood. With your toddler focus on fun, balance, motor skills and spatial awareness, advises Wood. With your teens, you need to prioritise strength and cardio with bodyweight exercises. Wood's favourite activity: grab a dice and give each number an exercise – e.g. four is push-ups,six equals burpees. "Have your kids roll the dice and go for it."
11. You'll virtually hit your goals
As soothsaying sci-fi author William Gibson almost said, virtual-reality (VR) fitness is the future – and it's already here, adopted in some form by more than 12,000 health clubs internationally. "VR will hit the mainstream in 2019, as major gym chains such as Virgin Active build it into their offerings," says Ward. "Eventually, this will allow clubs to offer personalised classes at all times of day." An early adopter is Les Mills: its "immersive" cycling class, the Trip, transports you out of your pain cave to computer-generated landscapes on a cinema screen. Or, if that's still too inconvenient, you can jump on a virtual bike on its gym floor and take a ride at your (moderate) leisure.
12. You'll retrain as a personal trainer
If keeping up with all of this sounds like a full-time occupation, maybe you're in the wrong job. "The realisation that work-life balance is the missing piece in achieving optimal wellness is driving more people to rethink their careers and fulfil their passion for health in a professional capacity," says Hill. The World Economic Forum predicts that the health sector will be the largest source of job creation over the next decade, as it's one of the few that adds roles as technology advances, whereas others may shed them. Time to sign up for your Cert 4?
13. You'll level-up like Super Mario
"Mushrooms will emerge from the underground – both psychedelic and regular varieties," says McGroarty. Michael Pollan's book How to Change Your Mind has altered attitudes towards LSD and psilocybin, the active ingredient in magic shrooms, and University College London has explored the latter's ability to treat depression. If that sounds too trippy, muggle fungi will crop up in powders, broths and teas to relieve stress and inflammation.
14. You'll snooze and win
The importance of shuteye is now recognised as more than just a mattress ad slogan: Equinox's sleep-coaching program helped subjects lose 17 per cent body fat, compared to 7 per cent for the deprived*. Fitbit now provides you with a Sleep Score, while last year Apple bought Beddit mattress sensors. "People are realising everything starts with a good night's sleep," says Soong. His company Form has dreamed up nootropic ZZZZs, using sleeppromoting magnesium and zinc, plus 5-HTP, involved in melatonin production. Pop to drop.
15. You'll search for joy offline
"We'll see a surge in attempts to 'solve' happiness," says McGroarty, who points to a growing body of science, such as the annual World Happiness Report, which measures what drives it. Mainly, it seems, it's found in Scandinavia: Finland, Norway, Denmark and Iceland were the four happiest countries in 2018. Australia was ranked 10th. Relationships are crucial, and we don't mean digital ones – so there'll be a rise in co-working and living, as well as "digital detox" holidays. Check out digitaldetoxproject.com.au for monastic retreats with no Wi-Fi.
16. You'll embrace wearable tech
Tracker shirts will soon be as ubiquitous as smartwatches. Tech companies are tapping into the demand for data and combining it with athleisure, stitching devices into garments," says Ward. Catapult, which supplies tech to Premier League sides, has teamed with sportswear brand Castore to create vest tracker PLAYR that records up to 1250 movements per second, while its app maps your stats. Your post-five-a-side performance analysis will be legit.
17. You'll breathe more easily
Air pollution results in up to 3000 premature deaths a year in Australia, costing the nation up to $24.3bn in health expenses, according to the Australian Institute of Health and Welfare. "As governments drag their heels on the crisis, people will take protecting their lungs and skin from harmful particulate matter into their own hands," says McGroarty. Some literally, in the case of the Wynd portable air purifier. Moreover, pollution masks will no longer be big only in Asia – thanks, in part, to fashionable Swedish brand Airinum – while grooming products will also promise to protect you from the ravages of "the new UV".
18. You'll hack your biology(maybe)
The "quantified-self"movement is increasing in number. "Expect to see more health-monitoring tools available," says Mullins. "These will enable you to identify everything from the type of food you should eat to the amount of sleep you require." This is in spite of a meta-analysis that revealed substantiation for the slew of DNA tests purporting to pinpoint your optimum health regimen is "currently lacking". Meanwhile, US bio-hacking lifestyle brand Bulletproof has just secured $40m in funding, with its butter-coffee cafés poised to make it "the millennial Starbucks". MH advises taking your butter coffee with a big pinch of Himalayan salt.
19. You'll find pills easier to swallow
Solutions for male-centric problems such as baldness and erectile dysfunction were hitherto purchased in the dark recesses of the internet. Now, they're being repackaged so pleasingly that you'd (almost) be proud to display them in your bathroom. US company Hims sells generic versions of previously unattractive drugs such as Rogaine and Viagra in minimalist, millennial-pink packing, alongside aspirational imagery and a lifestyle blog. In the UK, Anatomē – the brainchild of Murdock London barbershop founder Brendan – is the Aēsop of supps, stocking pills for all that ails you in achingly hip, apothecarystyle jars.
20. You'll try veganism
While carnivory and ketogenics may be making health headlines, veganism is taking root everywhere. Veganuary participants rose by 164,700 between 2014 and 2018, with people forgoing meat and dairy for reasons environmental (they account for 60 per cent of agriculture's gas emissions), economic (veg costs less per dollar) and ethical: WeWork, which provides 472 workspaces globally, has gone entirely meat-free. "It's rapidly becoming mainstream," says Williams. Thanks to the
21. You'll get in ship shape
A veritable fleet of wellness voyages is on the horizon. Launching in May, Blue World Voyages, "the world's first cruise for active, healthy living", will float the boat of the restweek- averse with modern gym facilities, a clinic, football and golf simulators, an in-ocean lap pool and a course charted for hiking and biking destinations. Richard Branson's adults-only Virgin Voyages flagship, setting sail in 2020, ferries a running track, outdoor training area and boxing ring. Sign up for oceanview strength and yoga classes, or practise your crow pose in the crow's nest at sunrise.
22. You'll look out for your count
The fertility industry's historically female focus seems increasingly outdated in light of worrying research indicating that sperm counts have halved over the past 40 years, making The Handmaid's Tale seem even more prescient than the current political climate does. But the tide is turning. Available in the US, Trak is an at-home sperm-testing kit with a cup, "engine" and app that offers personalised fitness, nutrition and lifestyle advice to send your count skyward. US IVF start-up Future Family also has a line of men's products, in the, er, pipeline.
23. You'll work out while staying in
Home workouts could soon rival all but the ritziest of gyms. "With good programming and minimal equipment, you can get incredible results," says Wood, who says up to 85 per cent of Aussie gym members don't use their membership more than four times a year. Here's a sample home workout from his training app, 28 By Sam Wood, to stagger your next Netflix binge. With a pair of dumbells do the following exercises as a circuit: 1. Push-up into renegade row x 10 2. Squat and Press x 15 3. Alternating reverse lunge and biceps curl x 20 Rest 60 secs and repeat 4 times.
24. You'll WhatsApp your doc
Doctors will be less on call than on demand, as tech makes waiting for an appointment obsolete. "We've become so accustomed to convenience in other aspects of our lives, from ordering an Uber to same-day Amazon Prime delivery," says McGregor. "So, it makes sense that this will affect how we access health care." Check out medical app Healthnow.io, which allows consultations and prescriptions by phone or video. Waiting room tedium could be a thing of the past.