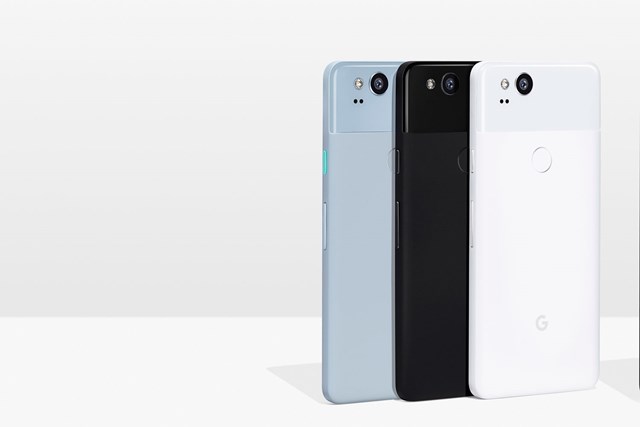 Despite Google's best attempt to make it "simplistic", contrary to some other reviews, the device feels premium. The review unit is the "Just Black", 64GB variant. The entire front of the device is covered in Gorilla Glass 5 (can survive up to 1.6 meters drop). The back of the device is made of aluminium but coated with a rubbery finish. It seems as if Google is really trying to make its phones look plain deliberately, in a world where others are busy polishing up their products for shine.
Display
The Pixel 2 might disappoint users, who are for the lookout for bezel-less or edge-to-edge displays of other flagships from 2017. It receives a simple Full HD (1080×1920) AMOLED display with 16:9 aspect ratio. The display is fine for my taste; however, some may argue about having "just" a Full HD display in 2017 doesn't meet the needs. The display does have a slightly reddish tinge from an angle, but this is natural for any phone that comes with such a high-end Gorilla Glass covering the entire phone's facia. The Gorilla Glass 5 that is inside the Pixel 2 is actually pretty good. After being dragged through the pockets of my jeans for days, it still has managed to have not a single scratch on it. It has survived an accidental drop on a marble floor, from a fairly good height, without a single scratch on it.
RELATED: MH Tech Review: UE Bluetooth Speaker
The display also has an option to crank up the vividness, for those who are not happy to have a colour-accurate display. This is a feature which essentially bumps up the colour gamut to make elements on display a bit more vibrant. I preferred the "standard" profile, which gives it a Delta E of 1.71 (0 is perfect). The display is also reasonably bright with peak brightness reaching 410cd/m2. There is ample light for the content to be visible even during a sunny Aussie day at the beach.
Pixel 2 also comes with the cool feature of always on display. This feature is nothing new, but how the Pixel 2 sacrifices at the most 1% of battery life to provide valuable information is outstanding. Apps such as Gmail, Facebook, WhatsApp, SMS and other which provide native android notifications pop up on the always-on screen. The Pixel 2 also surprised me by the feature of detecting ambient music from any sound source (Now Playing). This works flawlessly and was able to capture every song as I walked through some stores of Westfield, Bondi (BTW, I had Mobile data turned off completely). It makes sense now, with Google investing heavily in AI, that these kinds of features should become more mainstream with the company's offerings.
Camera
When Google quotes "Highest rated smartphone camera", they mean business. Indeed, this is one of the best cameras I have ever used on any phone. Trust me, I regularly have used some of the best DSLRs such as Fujifilm XT-20 for photos, and for sheer convenience, I would rather use the Pixel 2. The camera is essentially a 12-megapixel sensor with f/1.8 aperture, and both OIS and EIS integrated for stabilization. The Pixel 2 gives some of the best low-light shots, and even for shots of fireworks, which always has been a challenge even for DSLRs. Google even went the length of installing an additional chip (Visual Core), in the Pixel 2 which should further improve the camera experience with Android Oreo 8.1. I can tell you, there is an immediate difference once, I installed the 8.1 Developer Preview on my Pixel 2. The AI can immediately identify human faces, and the Portrait mode is massively improved.
Taking portrait photos ("bokeh" effects) has been the holy grail which DSLRs could've kept to themselves, not anymore with the Pixel 2. Google's AI, even with a single lens can take absolutely stunning photos of the AWS Ninja on the office desk, and it perfectly blurs the keys on the keyboard in the background. This is even better with photos of faces, and works with the 8MP front-facing camera too.
RELATED: MH Tech Review: Google Pixel 2 XL
Another nifty feature, which is maybe more of a gimmick is "Motion Photos". This is more or less, a borrowed feature from IOS, i.e. live photos, and essentially assembles some rapid burst photos taken together. The Pixel 2 camera is always active once you open the camera app. This allows it to do some nice trickery, as well as gives the ability to shoot HDR+ enhanced photos. This is similar to what was seen on the Nokia 1020 (for historic comparison) back in 2013.
Another nifty feature of the Pixel 2's camera is the "Pro Controls", which essentially allows to retouch and adjust the contrast of the photo on the fly. This is a nifty feature and really helps in low-light situations. There is also a lot of abstraction from the end-user of the camera if it is set to "Auto" mode. However, I quite like this, as the AI inside the Pixel 2 is more than smart enough to understand the ambient light, focus, ISO, and other settings on the fly to produce probably the best results. The Pixel 2 is blurring the line between Professional DSLRs and mobile camera using some extremely smart AI and hardware image processing.
Last but not the least is unlimited photo storage on the Google cloud until the year 2020. With the camera that Pixel 2 offers, this is an absolute necessity. I found myself taking more photos with it than with my previous phone, as the quality is so much better. At the moment, the photos would be stored in full native resolution. However, from 2021, they would be downsized to 16MP, and still can be accessed forever. Google's justification is that people have tended to change their phones in 2-3 years, leading Google to take this decision.
Software and Features
This is particularly the department where we see Pixel 2 shine over its counterparts. The device comes preloaded with the latest and the greatest that Google has to offer, i.e. Android Oreo. This brings feature such as picture-in-picture (PIP), to some of the apps such as Google Maps (I am using it daily), and Youtube Red, now. This essentially allows an app to run in the background, while the user can continue their other work.
Talking about the software inside Google's Pixel 2, it wouldn't be complete by ignoring the most essential feature of the phone, i.e. Google Assistant. Apple, Samsung, Amazon, Google, Microsoft, and even Tesla have been competing for the past couple of years to champion the best Voice Assistant. Personally, I have been using Amazon's Alexa, and find it to be natural. However, Google's Assistant might win me over. It definitely has the best voice recognition by far, however lacks the app ecosystem provided by Alexa at the moment. This should improve with Google integrating more apps with the Assistant. I particularly like the feature where you can tell it to "drive from location to y", and it brings up navigation.
Google has borrowed some inspiration from the HTC U11, while implementing "Active Edge". This essentially allows the user to configure the phone to respond to a squeeze on the sides to activate Google Assistant. Currently, this gesture is locked to only Google Assistant but can change in the future. This is pretty handy and works well when I'm travelling. However, I wished that Google could have done more, and allowed for remapping of this hardware gesture.
RELATED: MH Tech Review: Bose Soundlink Micro Speaker
Another nifty feature of Google Pixel 2 is "Smart Storage", that essentially backs up all the files, which are older than either 30,60, or 90 days to the Google cloud freeing up storage on the device. With Google Cloud rapidly expanding its services, and regions, this service is only destined to improve.
Google is silently pushing its native video calling features with native integration of Google Duo in Android Oreo. This is a really cool feature and is poised to challenge WhatsApp, Facebook Messenger, and even Skype. The video quality is arguable at the moment and deserves more love. However, the simplicity and the native integration with the Android platform makes it super smooth and friendly to operate. The Google Duo app for iOS in my partner's phone is also a pleasure to use. It seems Android is finally launching its "facetime" to primetime.
Finally, Google has launched its Google Lens service through the Pixel 2, which allows the user to capture a photo and Google's AI quickly analyses it to come up with search results around it. This might seem, as a small gimmicky feature, but works well.
Hardware
The Pixel 2 packs a punch, and is no less than any other flagship of 2017. It seems, Android is limited only by the Qualcomm's Snapdragon 835. Honestly, I had expected the 845 to make it to Google's flagship device. However, this processor is no slouch, and doesn't feel any slower than Apple's A11. Maybe, after this receives the 8.1 update, and finally if Google's SOC is unlocked, we can expect much better performance, once combined with this beast of a processor. The RAM on the device is 4GB, but the better memory management of vanilla android means, the Pixel 2 rarely consumes more than 1GB of memory.
Hardware

Processor

Octa-core 2.35GHz Qualcomm Snapdragon 835

RAM

4GB

Screen size

5in

Screen resolution

1,920 x 1,080

Screen type

AMOLED

Front camera

8-megapixel

Rear camera

12.2-megapixel

Flash

dual-LED

GPS

Yes

Compass

Yes

Storage (free)

64/128GB

Memory card slot (supplied)

N/A

Wi-Fi

802.11ac

Bluetooth

5.0

NFC

Yes

Wireless data

4G

Dimensions

145 x 70 x 8 mm

Weight

143g

Features

Operating system

Android 8.0

Battery size

2,700mAh
Support & Warranty
Recently, to address and any concerns of users and reviewers complaining about the displays, Mario Queiroz (VP, Product Management, Google Hardware) announced extension of the warranty for 2 years on both the Pixel 2 models. The Pixel 2 is being sold in Australia by partnering with Telstra, and is also being sold without any plan through Jb-Hifi. Or Google Store. Google is also throwing in a $49 Google Home Mini with purchases for the time being.