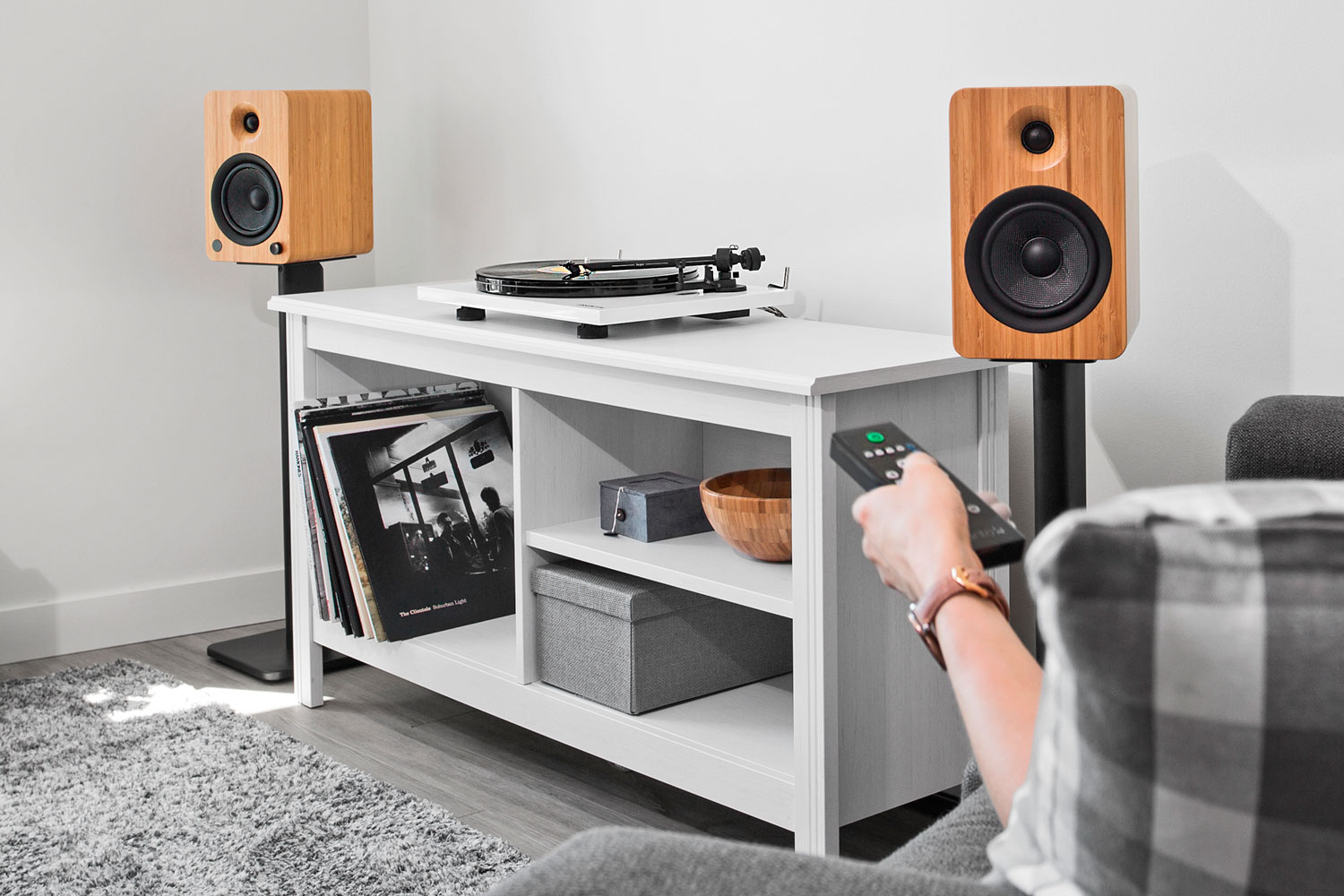 Kanto has been making speakers for over a decade now and it shows, the design of the YU6 bookshelf speakers is both understated and beautiful.
Rounded corners, exposed drivers and a large variety of colours and finishes (we reviewed the Matte Black version) – these guys know a thing or two about speakers.
The YU6's are a dual driver setup with a 5.25in kevlar rear ported woofer at the bottom and a 1in silk dome tweeter at the top which provide a total of 200 watts of peak power.
We first heard Kanto speakers a few years ago when a friend of ours had a pair of the previous generation YU3's for his music production setup and we were instantly blown away, so when we heard they had opened their AU Amazon store we just had to get my hands on some and share that same experience, and let me say this generation of speakers is out of this world.
Inside the box, you get the 2 speakers, speaker wire, rubber footpads, standard documentation as well as a nice little remote. Looking at the remote is has the same solid build quality as the speakers themselves and has individual switcher buttons for each of the inputs, it has controller buttons for increasing and decreasing the treble and bass, with an additional button to reset each which is a nice touch. It also has standard media controls which allow you to control bluetooth connected devices from the remote.
The YU6's are powered speakers and as such have a built-in amp, in this case it is a Class D amplifier (50-watt RMS total per channel) and is one of the very few powered speakers that boast a phono- pre amp.
So, all you vinyl lovers out there pay attention. The other thing I love about these speakers is the amount of inputs available. There is an RCA stereo input which is switchable between the photo pre-amp and straight analogue line audio, as well as a 3.5mm minijack for connecting to things like computers, phones, media devices etc.
There are also 2 Toslink optical inputs for connecting to your TV or other optical devices. There is also a powered USB port (for charging only, it is not PC friendly) as well as a sub out to plug in one of Kanto's subwoofer options. Did we also mention it has Bluetooth? Yep, so the YU6's are running Bluetooth 4.0 with the might higher-quality aptX codec.
The left speaker is the powered speaker, which is where you will find all the inputs as well as the LED indicator light and front control knob, a nice plain black knob where turning will increase or decrease your volume, while pressing in will cycle through all the inputs. The left connects to the right passive speaker via 16ft speaker wire, the connectors also work with banana clips if you have preferred cables. The other thing we really like is the power brick is housed inside the speaker so no ugly inline one you need to hide.
Once everything is hooked up and we connected a source and started listening to these speakers we were blown away.
The mids are crystal clear with amazing separation, and we could clearly make out each individual instrument regardless of the genre of music we were listening too.
The silk dome tweeters just add another level to that clarity and on more than one occasion we had to do a double take as there were high-end elements to some songs we had not even noticed before, but were picked up by the YU6's.
In one instance we had to replay a song to make sure we weren't hearing things, but it turns out there was a very clear top cymbal we had been missing in a song we'd listened to many, many times before.
That was the point for us that really changed the game. But don't forget about the lows, the 5.25in woofers bottom out at 50Hz but have no issue recreating warm, even lows without distortion.
In fact, we tried to get these speakers to distort and we're still trying to find a combination of song and input to do it. We've tried about every genre of music we can find as well as maxing out the bass, treble and volume, but they are still as clear as they are at regular volumes, so kudos to the team at Kanto who have done an amazing job.
We would even go as far as to say that these speakers beat out their competition in the powered speaker market some that have a price tag well over $3,000.
If you love music and like to listen to it through a range of different mediums, then we cannot recommend these speakers enough. Spending countless hours listening to a vinyl collection, and some that we haven't dusted off for many years; and in the same sitting was able to connect through the TV to enjoy crisp, powerful true stereo sound.
Connecting to a Google Chromecast Audio with an optical connector and again the speakers did not disappoint. These speakers are available to buy through the Kanto Living Amazon store right now, and retail for $549.99 AUD with free delivery.
Kanto also have a range of speakers in a lower price range the YU4's and YU2's. The YU4's are almost identical to the YU6's however, they are running a 4in driver and have a slightly lower powered class D amp (35-watt RMS per channel) giving a total peak power of 140W.
Don't get us wrong, the YU4's pack the same inputs and the YU6's and the quality of the output is just as crisp and clear. These ones retail for $449.99 (with free delivery).
The YU2's which retail for $299.99 are pared back again with q 3/4in silk dome tweeter and 3in composite drivers which again are paired with a class D amp.
As these are designed specifically for desktop use the inputs are reduced and you lose the phono pre-amp but there is the nice addition of a built-in USB DAC that can be connected directly to your computer for that crisp clear sound.