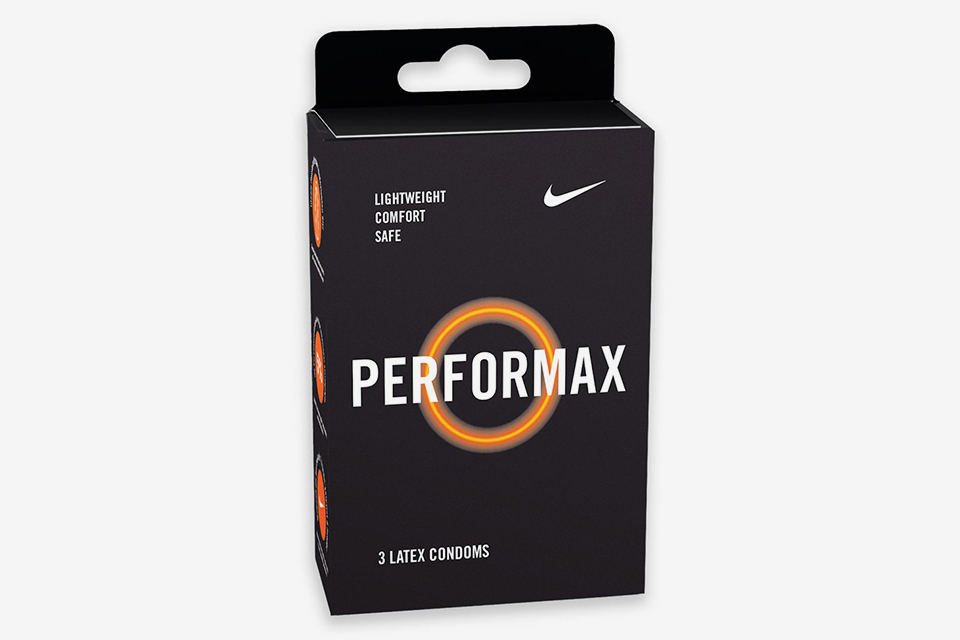 While sportswear brands continue to infiltrate every aspect of our lives thanks to their new "fashion" ranges, Nike has upped the game by introducing their very own range of condoms.
As with everything Nike produces, performance is at the heart of their new product, seemingly turning everyday sex into another arm of their sportswear empire. Just like their shoes, the "Performax" condoms promise a lightweight, comfortable and safe experience for the user. In this case however, let's hope they've taken a different approach and the range doesn't help you finish faster.
Nike's latest venture into the sport of sex is part of a larger collaboration with Hypermarkt, a new online German drug store shipping worldwide. Other products released include Reebok bandages, an Adidas toothbrush, Puma dishwashing liquid and Nike toilet paper.
The products highlight the crazy obsession consumers have with sports brands and their role in all aspects of our lives. All but one of the products currently sold out on Hypermarkt's site, however they promise more in the near future.
If you can't get enough of the latest activewear, head over to Hypermarkt and put your name down so you can get down and "just do it".