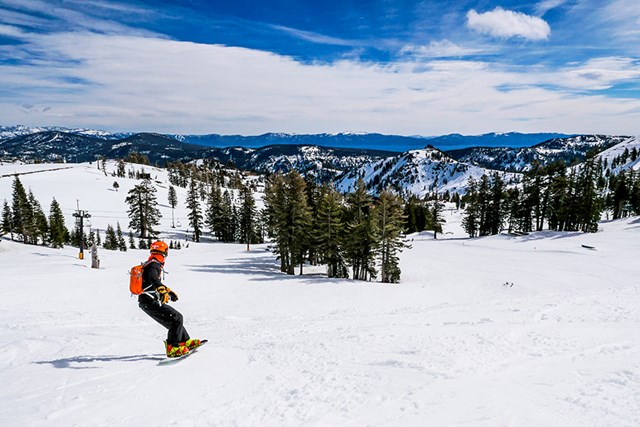 WARNING, NO LIFT ACCESS, NOT PATROLLED, USE AT OWN RISK. This ominous black sign greets me at the summit of Mt Mammoth after what had been a pleasantly relaxed 10-minute ride up in the Panorama Gondola. Hmmm. It would seem shit's about to get heavy . . .
Co-owned by halfpipe legend Shaun White, and a training ground to the US Snowboarding and Freeskiing team as well the US Army, Mammoth truly lives up to its name. This behemoth of a mountain resort reaches a lung-busting altitude of 3369 metres (Hotham tops out at 1861m) and covers a sprawling 3500 hectares of skiable area (Coronet Peak encompasses around 280ha). What do all these numbers mean? An average of 10m of pristinely dry snow from November to June across some of the most gloriously vertiginous terrain imaginable.
The air feels thin and my skin feels oddly parched as I begin my descent after a quick sip from my Camelbak. And, boy, what a run this is. My peripheral vision struggles to process the horizon-to-horizon scale of the Climax Trail. This is black run nirvana, and you're handsomely rewarded for showing cavalier disregard for the blind spots. Even the fisheye lens of my GoPro isn't wide enough to capture the biblical scope of this epic spectacle – which is suddenly interrupted by the putrid smell of rotten egg.
"Don't worry, it's safe," my guide assures me as he points to a roped-off crater. This entire mountain, he explains, is an inactive volcano that last erupted some 60,000 years ago. We take a moment to wallow in the unpredictable and somewhat pungent beauty of Mother Nature before the sulphurous fumes get us moving again. This surely is the Holy Grail of Californian snowboarding.
The après options aren't too shabby either. If a crisp craft beer is your poison, you'll be well rewarded at Mammoth Brewing Company. With colourfully named brews ranging from Paranoid Pale Ale to Wild Sierra Session Saison, every taste (and poetic tendency) is catered for. Can't decide? Try their tasting menu. But fair warning – altitude and alcohol can be a dangerous combination.
Four hours' drive from Mammoth, along a road that curls majestically past Mono Lakes and Yosemite National Park, lies Lake Tahoe, on the border between California and Nevada. Our first stop is Squaw Valley, the site of the 1960 Winter Olympics. Those Games left the resort with an embarrassment of riches, with more than 170 trails, terrain parks and half-pipes dotting the picture-postcard terrain. A local guide is a must, however, if you want to really discover the secret stashes and hidden groomers that constitute the resort's most-coveted terrain. My guide Pete, a former X-Games freestyle snowboarding competitor, doesn't disappoint. Best of all, we get to skip the teeming chairlift queues. Keen to channel your inner Shaun White without risking life and limb in the 22-foot superpipe? Head straight to Gold Coast Park where you'll find a 13-foot mini halfpipe. Plenty of fun minus <I>most<I< of the sphincter-tightening consequences.
Chasing a truly luxurious snow experience? Have your chauffeur drive you to the neighbouring Northstar resort, don your finest (fake) mink coat and kick back in the ski-in-ski-out comfort of Lake Tahoe's Ritz-Carlton, the first and only AAA Five Diamond mountain resort in California. Here the ski valets at the mountain concierge will strap your boots for you (should you so require, good sir) and escort you to the slopes where your equipment will be waiting. The signature après-ski massage with therapeutic hot stones at the spa is a true delight and a welcome rejuvenation for those aching quads (yep, even the super-wealthy hurt). If all that massaging has worked up a hunger, check out Manzanita, with its ever-changing menu of the finest seasonal food. (My pick? The pan-seared Hawaiian mero.) And if all that fine dining puts you in mind of some gentle late-night exercise – of the vertical variety – wander down to the vast skating rink surrounded by fire pits located in the heart of the village.
Getting There
United Airlines flies direct from Sydney to San Francisco International Airport. From there, it's a two-hour flight to Reno-Tahoe. Details to come on how to get to Mammoth Lakes.
Accommodation
Mammoth Mountain Inn provides a no-frills lodging with the convenience of ski-in, ski-out location. (themammothmountaininn.com)
Eat
Jake's On The Lake (jakestahoe.com), a family owned joint since 1978, offers the ultimate waterfront dining experience overlooking the scenic spectacle of Lake Tahoe. Reward your day's efforts with their grilled diver scallops with pear and jicama 'slaw.
Snow Sense
Been a while since you hit the powder? Avoid a holiday-ending knee blowout with these three pre-season moves from PT Paul Bersagel
Bosu squat and hold
Plant your feet on a Bosu ball and do 20 squats followed by a 60- to 90-second squat hold. Up the difficulty by adding medicine ball tosses with a partner.
Balance squats with medicine ball twist
With one foot resting on a step or bench, drop into a lunge while rotating a medicine ball over the front knee. Do three sets of 25 reps on each leg.
Plank with leg lifts
Holding a plank on your forearms and toes, alternate lifting each leg. Squeeze your glutes and maintain a flat back. Hold for 60 seconds; repeat twice.
Slope Shred
Injury-proofed your body with the pre-season moves? Combine those exercises with these plyometric moves from Bersagel to build black-run power through your lower half. Want to up the difficulty? Do these moves in a weighted vest.
Squat jumps
The key with this exercise is teaching your muscles to absorb the impact of the landing. Each landing should be deep and quiet while maintaining good ankle, knee and hip alignment. Do 2-3 sets of 10 jumps, keeping your focus on form.
Balance squats
With one foot resting on a step or bench, drop into a deep lunge, keeping your body stable and upright. Add a jump on every third rep. Do two sets of 30 reps (10 jumps) per leg.
Skater jumps
Perform lateral jumps from foot to foot. Keep your focus on the landing, which should be deep and quiet, using your glutes and quads to absorb your weight before exploding back up. Go for 30 seconds; repeat twice.