If ever there was a sporting success story, know that it's probably that of Mat Fraser. Since being introduced to the sport following a serious injury which saw Fraser break his L5 vertebrae in two places from a heavy deadlift, he quickly ascended the ranks and a legend was born. Crowned the Fittest Man on Earth five times, Fraser enjoyed a long and impressive reign at the top of the sport. But this wasn't just a title that came easily, it was earned. For anyone that's ever dropped in or committed to a CrossFit class, you'll know the agony that goes along with it. Fraser lived and breathed that life for so long – and still does, even in retirement. Still, thanks to a well-planned training schedule and diet routine, he managed to remain at the top for a number of years. Here's how he did it.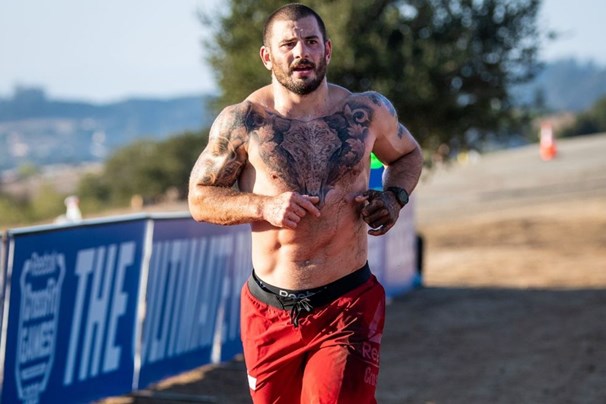 Diet plan
While Fraser doesn't follow a specific diet plan like Paleo or counting macros, he is lucky in that he has his partner, Sammy Moniz, looking after his eating plan. He typically eats 4-5 meals per day, consisting primarily of meat, vegetables and white rice and has found that cutting sugar and junk has helped stabilise his blood sugar and keep his energy levels consistent throughout the day. Interestingly, Fraser says he is sensitive to stimulates and avoids them after 1-2pm. During competition, meals were very calorie-dense, and there were a lot of carbs, as he revealed during an episode of Fra5er, alongside Feeding the Frasers founder, Moniz. 
During competition, Fraser would have breakfast at 8am which typically consisted of a bowl of yogurt with granola and berries, served with a strong coffee. Interestingly, Fraser revealed that he actually hates eating "real food for breakfast. I hate eating breakfast." Thankfully, yoghurt was an easy alternative and was easy to get down and have him ready to go for his first training session. Following training, he'd then consume a second meal of strawberries served with cream cheese on a bagel, scrambled eggs and bacon. "I hate feeling full first thing in the morning," Fraser explained. "I actually hate feeling full until it's night time."
Courtesy of CrossFit Inc
Diet plan
After a second cooked breakfast, Fraser would embark on a second training session. He's typically snack on something smaller like a smoothie or three, if in Games training. Other snacks include a 'fun-sized' Snickers bar, fruit, Gatorade, or two protein shakes of 50g whey per protein shake. 
His third meal of the day was a toasted sandwich with avocado and slices of chicken or turkey breast, served with a bowl of cut-up apples. This would see Fraser through to his next workout of the day, which often involved cardio and hill sprints. Following this, he'd have a giant plate of food for dinner around 7pm. This includes a steak, vegetables and starch, "usually just a mountain of white rice," according to Fraser. 
In an interview with GQ US, Fraser said about his diet: "Instead of obsessing, I just try to eat well: No junk food. No soda. Very little that comes in wrappers. It's mostly meat, vegetables and fruit. If I'm hungry, I eat. If I'm not hungry, I don't. There's not too much of a science behind it."
Instagram/mathewfras
Diet plan
After dinner, Fraser typically eats Mini Wheats with whole milk, "more calories, get them packed in," and would then have something like a banana with peanut butter and jam. He also revealed that despite going to bed at 10pm, he'd often get up in the middle of the night to make chicken tenders or eat a protein bar, as he admits, "I just have it in my head that I can't go to sleep on an empty stomach. A full stomach helps me go to sleep."
When competing at the CrossFit Games, the meals remained largely similar, but the pair explained that they would often shift the quantities, with protein decreasing and carbs increasing. Still, Fraser wanted to make as little changes as possible during the events, although he admits to upgrading to a full-sized Snickers bar. He also cut out dairy leading up to the CrossFit Games, saying, "It's a highly inflammatory food and already you're putting stress on your body, so let's take one of those factors out."
Instagram/feedingthefrasers
Training
When it comes to training for the CrossFit Games, Fraser keeps his workouts varied by not following any routine or schedule. He might lift before cardio, or do it in reverse, something that has helped him dominate the sport due to the fact that the Games themselves are notoriously unpredictable. Still, the man works out six hours a day on average and was prepared when the CrossFit Games didn't have the usual rest day on day two of the competition, believing the extra volume he trains makes the events feel easier. Even so, CrossFit requires discipline and strong work ethic, so Fraser's training involves two sessions which last three hours each. "Four days a week it's a minimum of two sessions a day: get to the gym at, say 10am, leave the gym at 1pm, and get back in at 3pm for another three-hour session," said Fraser. "What is actually in those sessions depends on what part of the season we're in, but usually we're looking at three track sessions a week, three to four weightlifting sessions, a couple of swimming sessions and one road bike day. That's a very loose idea though, because it's always changing."
Training
A track session can include hops cot – which involves a lot of jogging and running. It starts with a 200m run at a moderate pace, then a sprint for 100m, then a run for 400m at moderate pace, another 100m sprint, and is then repeated for three rounds. The CrossFit sandwich is another staple of Fraser's track workouts. This is aimed at improving stamina, body composition and strength. It starts with an 800m run at your own pace, then 50 air squats, 50 sit-ups, 50 push-ups, 30 burpees, another 800m high-speed run. Fraser will repeat this for five rounds. 
Fraser runs when it's incredibly hot outside with no water (something we wouldn't necessarily recommend). He lost a considerable amount of weight that made gymnastics easier for him, and similarly he was also weak with the cardio component so he spent a lot of time on sprints and rowing. To do so, he even hired a coach to help with technique and form. Fraser climbs ropes and does gymnastics rings and as far as the CrossFit gym is concerned, there's very little he can't do. Mixing up his training keeps him strong and agile for whatever the Games throws at him. 
Fraser also includes a 40 minute Every Minute on The Minute workout at least once a week, which is a fundamental part of his routine. To do the workout, you begin a set number of reps at the start of a minute, then once you've finished, proceed to rest for how much ever time you have left until that minute is over. His EMOM sessions usually include either the assault bike or Glute-Ham Developers machine. 
Instagram/mathewfras
Recovery
If there's one thing Fraser takes seriously, it's recovery. He performs a recovery workout in the evening after his dinner which typically involves stretches and roll-out exercises from the comfort of his own floor. There's also the Theragun kept handy to help him recover from a quad-heavy workout. His sleep schedule is sacred and every night Fraser targets 10 hours of sleep. He insists on getting in bed to sleep by 10:30pm every night and wakes around 8:30am. These 10 hours are crucial for refractory body functions, allowing him to cool down, relax, and function with the same energy the following day. 
Instagram/@mathewfras