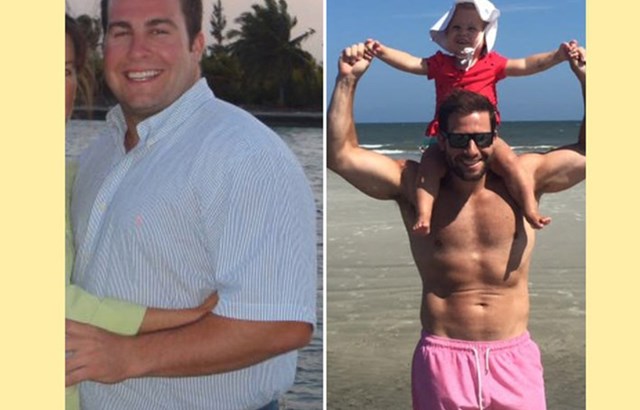 Even as a football player in college, Gates Garcia never really considered himself "healthy," despite his intense weight lifting routine. The Florida resident was strong and held records in the weight room—but his physique had always held more fat than muscle, he admits. Toward the end of his undergrad in 2008, Garcia weighed in at his heaviest, 115 kilograms at 5'9"—and his doctors took notice. (You can see what he looked like then in the before photo above.)
"My blood pressure was so high that during my physical for my senior season, I had to convince the doctor to let me play," he recalls.
RELATED: Fitness Celebrity ​Ryan Reynolds' Trainer Shares The Secret To Losing Weight
While he displayed discipline in the weight room, the then 22-year-old Garcia didn't think twice about downing a whole pizza and beers with the guys. His diet was packed with typical cafeteria foods—if it tasted good, he ate it.
After graduating, Garcia no longer had a strict lifting routine to abide by. Not feeling great about his weight, he tried every fad diet and workout plan in the book to shed weight, but not one of them ever gave him the results he wanted. He'd lose a few kilograms and gain back the weight, plus some. By 25, he was taking blood pressure medication.
On his wedding day nearly 6 years ago, Garcia had dropped down to 103.4 kilograms, but most of what he lost through his efforts was muscle mass, he says. He was still taking BP meds and his cholesterol levels were steadily climbing.
Garcia finally got the reality check he needed two years ago: "My wife told me she was pregnant. At the time, we were on vacation and I was enjoying a cocktail. I promptly poured the cocktail down the drain and vowed that it was 'now or never.' My motto was 'If I can't take care of myself, I can't take care of a child," he says.
Garcia, 32, took inspiration from his own parents, who were both incredibly active. He started doing his research—forget fad diets, he needed real nutrition. While digging through different books and magazines, he accidentally stumbled upon the cardiovascular benefits of eating a plant-based diet. After reading up on the topic, he decided to give it a shot—so he cut out meat, dairy, and eggs and loaded up on tons of salads. Realising protein might be an issue, Garcia continued to do his research, so he could incorporate enough of it into his diet.
Don't worry, his diet—which he prefers to look at as a lifestyle—doesn't look as scary as it sounds: Garcia starts his morning with a bowl of oatmeal mixed with two scoops of vegan protein powder, topped with tons of berries. That alone starts him off with 40 grams of protein. Lunch is typically a gigantic, colourful salad packed with vegetables and beans. And about two to three times a week, he will eat grilled fish to make sure he's consuming enough protein, healthy fats, and omega-3s.
"Everybody criticises that when I tell them about my diet," he says. "They say 'there's no way you're getting enough protein,' but I probably get more protein because I think about it more. It forces me to go looking for it."
Think about it this way: It's important to find a plan that you can personally stick to when you're trying to shed kilograms, says Men's Health nutrition advisor Mike Roussell, Ph.D.
"Compliance is a main driver of weight loss, so if this was a diet that he was able to stick to then he would be very successful at it," says Roussell. You don't have to cut out meat to lose weight, but limiting certain foods can force you to turn to low-calorie, nutrient dense options, like fruits and vegetables. Just keep in mind that if you're following a plant-based lifestyle to shoot for more protein than you would normally, since they are lower in an essential amino acid, says Roussell.
For Garcia, the results were immediate. "It's the only nutrition lifestyle I've ever lived where I've never counted a calorie," he says.
To keep his progress going, he knew it was time to amp up his training routine, too. He started jogging two to three days a week.
"All you need is a pair of shoes—no gym membership, so there's no excuse," he says. "Because the weight loss was happening so quickly, the jogging ramped up so quickly. Every time I went out for a run, I was carrying less weight so I could go farther and faster."
Those runs paid off. Garcia worked up enough drive and endurance to run a marathon last year; he will complete his second in New York City this November—something he always thought would be impossible.
RELATED: How WWE Superstar 'Big Show' Lost 30kg and Transformed His Body
Along with his runs, Garcia also started working with a personal trainer, but once he started traveling more for work, he had to find routines he could do on his own time. Now, he breaks a sweat six times a week through a mix of jogging, cycling, a ton of high intensity interval training, and old school bodybuilding exercises, like the classic bench press. He finds a ton of inspiration in Maximus Body from Men's Health, a book that's full of intense workouts to help you build muscle and melt fat.
"Burpees make their way into every workout," he says. "They suck, but I do them the most. I try to do tons of different variations."
Now, Garcia—who could never even complete a single pullup—can do double-digit reps with no rest. He weighs in at a lean 84.8 kilograms (which you can see in the after photo above), no longer has to take BP meds, and has never felt stronger or more energised.
"My motivation has been my daughter, and wanting to be around for her for a long time," he says. "Honestly, when I look at old pictures, old medical records, that's motivating as hell because that's a whole different person that I'll never meet again."
Even better, his motivation just doubled: Garcia's wife gave birth to a healthy baby boy just last week—so the father of two leaves you with this advice:
"Get educated. Set very long term goals. Find something that you think is impossible to do and then go do it."
This article originally appeared on Menshealth.com.