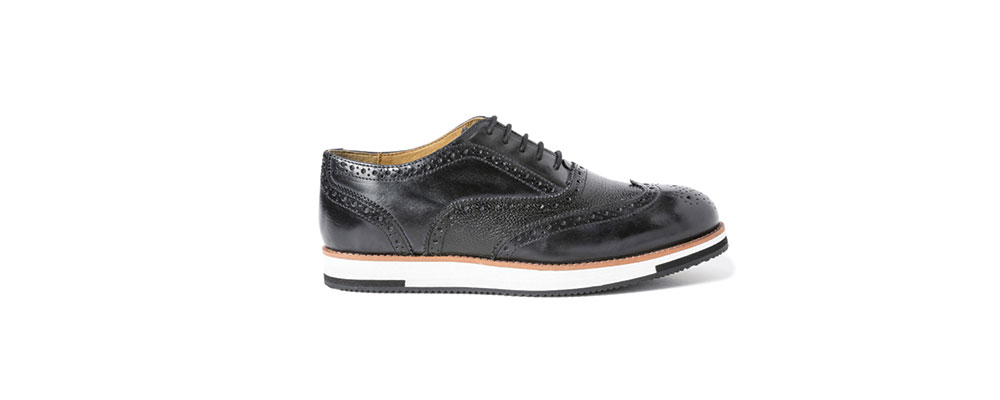 No matter your athletic discipline, in 2018 there's no excuse for not looking after your feet and chasing the advantage that the right footwear brings you. That's right, your shoes can make all the difference to your performance. Whether you're running a marathon, lifting heavy, or throwing down at your local CrossFit box, there's a shoe for you.
And while aggressive marketing campaigns may have you believe that these shoes are all part of a bigger marketing gimmick, there's solid reason behind the design and ergonomics of the different shoes. There's the spring and bounce behind the greatest running shoes, the raised heel of a traditional HIIT-targeted shoe, and the flat sturdiness of a lifting shoe… all specifically designed to elicit an optimal response from your body.
Thanks to our global network of MH editors willing to test drive the latest in footwear tech, we're able to break down our top picks for running, lifting, and HIIT, looking at what makes these shoes great. And if you only take away only one learning from this article, let it be this; never run in your lifting shoes. Your shins will thank you.
Running
Designed to conquer the pavement of city streets, adidas extends their trademark PureBOOST advantage to the new PureBOOST GO. The mesh design that we all are by now familiar with is more adaptive to the enthusiastic urban runner's feet. Having spent a long time in them, we didn't need to cross-check the claims one often reads in a Press Release. True to their claims, every bend we took and every street we walked, the strain that is synonymous with running on concrete wasn't felt one bit.
Forefoot stability takes over the minute feet hit the ground and from that point, it's just dash and zoom. A wider forefoot platform for increased forefoot stability during multi-directional movements – gives street runners ultimate adaptability. The PureBOOST GO also features a BOOST midsole, adidas' industry-defining technology that offers runners endless energy return. For a more comfortable fit and a better running experience, a deconstructed circular knit upper, crafted from a breathable fabric, improves flexibility and freedom of movement with each step.
Lifting
I can hear the haters already; "Chuck Taylors? You have got to be kidding". I'm clearing my inbox bracing for the hate mail as we speak, but hear us out. The humble OG of athletic footwear fits the bill for basic lifts. For squatting, deadlifting, and bench pressing at maximum volume—you need to skip a shoe with a heel. "If you're going to squat wide stance, you don't want a heel," says Jordan Syatt, owner of Syatt Fitness and five-time powerlifting record-holder. "You should have a flat shoe." The heel does not serve you well in a wide stance because it stops mimicking your body's natural position as you do a squat. And in a deadlift, Waxman says, you need to have your weight back towards the heel—so an elevated heel is no good. That's why many powerlifters demand a more minimalistic shoe with a flat sole.
Some of our MH experts disagreed on various points—but no one chose anything other than the classic Converse Chucks to meet your powerlifting needs. "From a powerlifting standpoint, they're pretty much standard," says Scott Caulfield, the head strength and conditioning coach at the National Strength and Conditioning Association in the USA. Chucks have the necessary hard, flat rubber sole that you require for your strongest lifts, as well as some ankle support when you get the high-tops. For wide-stance squats (where you don't want a heel but need to be close to the floor), deadlifts, and bench press, Chuck Taylors have remained the king for decades.
The Middle-Man
Meet the Nike Metcon 4, the fourth in a line of top-quality training sneakers, and a shoe that's guaranteed to have plenty of CrossFit plans. Another iteration of the Nike range its new pair of Metcons is bent on high-intensity interval training domination.
The Metcon 4s continue to look like a marriage between a Nike running shoe and a Kobe 6. These are low tops that hug your foot and feature a slim profile.
These Metcons test well in every way, particularly when it comes to flexibility. Most CrossFit shoes excel at one or two things, managing to be terrific for running or great for lifting. The Metcon 4s are somehow strong in both phases. There's no CrossFit shoe we'd rather don for a sprint on a Trueform treadmill; the ride, while rougher than, say, Nike's Air Pegasus running shoe, is still smooth and lets you generate quality speed over 100 meters, 200 meters, and 400 meters. Despite that lack of rigidity in the mid-foot, the shoes offer a solid enough base that I've deadlifted 150kg and above in them and had no problem squatting and keeping my weight back in my heels. The outsole continues to wrap around the shoe just a tad, providing extra grip for such things as rope climbing.
The Metcon 4s' cushioning also has endurance and longevity. I've already logged about 30 sprints in these shoes, but they still feel new and fresh. It all adds up to a strong option for your next high-intensity interval training workout.