The latest do-it-all gym shoes will let you do CrossFit battle without compromise. The MH team lace up the best footwear.
Whether you're a competitive CrossFitter or you just include box-style drills in your training, you need versatile kicks that can handle a range of disciplines. Deadlifts and explosive box jumps one minute, clambering up ropes and 400m dashes the next.
The right footwear can also help you prevent injury – and your regular go-to workout shoes probably won't cut it. Comfy as they might be for cardio, squishy-sole running shoes don't provide a stable base for those arse-to-grass squats and heavy cleans. Unresponsive lifting shoes, meanwhile, lack the propulsion and power needed for more dynamic drills. 
What makes a good all-rounder training shoe? In a word: balance. A killer cross trainer needs to be comfortable, agile and supportive, flexible but firm, light but durable. You want rock-solid stability for lifts, responsiveness for explosive push-offs and reliable grip for landings and hitting the brakes. Like any CrossFit athlete, they also need to be robust enough to withstand serious wear and tear. 
It's a lot to ask for. So, before you throw down your hard-earned dollars on a pair of do-it-all daps, the MH experts worked out for time in some of the latest shoes to find you the best options for crushing your next WOD.
SIZING UP
Here's how the MH lab rats pushed these shoes to the limit.
1. Foot feel: We judged each shoe on secure fit, reliable support and looked for instant step-in comfort.
2. Box ticker: Each shoe had drills to test balance of speed, agility and support, stability, grip and lock-tight security.
3. Tough: The best shoes need to hold up in the durability stakes, including the toughest on the gym floor – killer rope climbs.
Springy Boks: Reebok Nano X1 Grit
85/100, ($190, reebok.com.au)
Performance: 4/5
Design:  3/5
Value: 3/5
HOT GRIT
Built for nailing demanding drills and outdoor sessions, the Grit comes with a tougher woven upper than the regular Nano X1 and deeper lugs to boost traction. It has the highest drop of the lot and a sizeable wedge of springy Floatride Energy EVA midsole foam underfoot. A TPU frame wraps the heel for security.
EXPERT VERDICT
The Grit is as tough as it sounds, but it was the 7mm drop and stack of punchy foam that stood out. The elevated heel makes it feel more like a traditional lifting shoe, while the raised stack takes strain off your heels and calves when jumping or running.
Wide boy: Nike Metcon 7
93/100, ($190, thewodlife.com.au)
Performance 5/5
Design 5/5
Value 4/5
STABLE MATE
Its standout skill is a wide, flat heel with an inner plate that creates stability for big lifts. When it comes to HIIT drills, springy React foam levels up the cushion and response. A handstand heel clip cuts drag during wall drills, while arch wraps provide traction.
EXPERT VERDICT
The Metcons strike a great balance, transitioning seamlessly from running to lifting. They're nimble thanks to React foam and a flexy groove-cut sole. Under the barbell, that base guarantees solid ground contact. And we were fans of the toe box reinforcements when plank time came.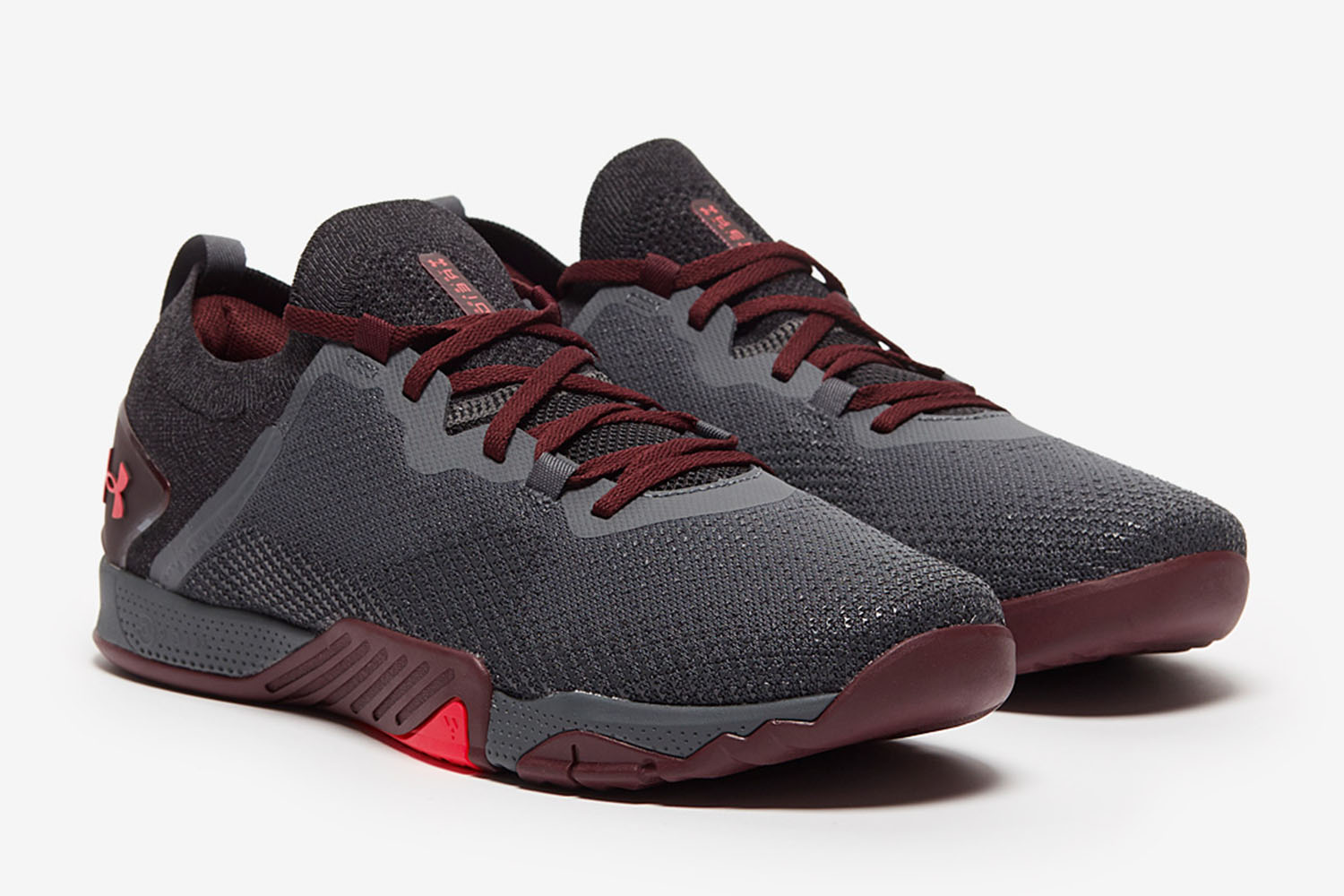 Nice tri: Under Armour TriBase Reign 3
81/100, ($170, underarmour.com.au)
Performance 3/5
Design 4/5
Value 3/5
GROUND CONTROL
Though a great all-rounder, the Reign 3 excels with big lifts, thanks to a triangular midsole unit for stability. Rubber forefoot outsole grooves add useful grip, while subtle micro-studded overlays offer durability without adding weight.
EXPERT VERDICT 
It feels the most minimal of our tested trainers but we loved
the hugging comfort of the mesh upper and the control from the 2mm drop. The heel clip is a nice touch for handstand push-ups.
Bulls Out: NOBULL Trainer
87/100, ($184, nobullproject.com)
Performance 4/5
Design 4/5
Value 4/5
KEEP IT SIMPLE
Clean and minimalist, the NOBULL is a versatile dynamo of a shoe. The unique look comes from a one-piece, abrasion-resistant upper that protects like a butcher's metal gloves. At 283g, they're light and fast on the move. The outsole lugs are also designed for indoor and outdoor use.
EXPERT VERDICT
The best looker, with substance behind that style. The flat, stiff base is great for big lifts. The moulded sockliner wraps the foot for comfort, though on hotter workouts the breathability was nothing to write home about.
Get gripped: Inov-8 F-Lite G 300
92/100, ($200, thewodlife.com.au)
Performance          
Design          
Value   
G WHIZZ
Inov-8's tough 300g trainers can handle a beating. The graphene-enhanced outsole delivers grip, overlays prevent friction and a lifting stabiliser – and 6mm drop – supports work under the bar, while the cushioned midsole protects during cardio.
EXPERT VERDICT
The G in the name stands for graphene but it should stand for G-reat. The larger drop is great for squats and they're nimble on the move. We also loved the oversized tongue loops for yanking them on.
BONUS: Optimise your new kicks by keeping track of your output. Samsung Galaxy's new Watch4 lets you monitor steps and track composition from your wrist.
From $399; samsung.com