When it comes to muscle meal-prep, you often can't have it all.
By that we mean that most budget-friendly meal-prep plans often fall short when it comes to flavour (there's only so much chicken and rice one man can eat). And most flavorful meal-prep plans can cost you—both in terms of money and effort.
That's why we created 5 for $50, the new meal-prep plan that serves up a week of delicious high-protein meals for right around 50 bucks.
Each plan builds itself upon two base proteins, which you work into muscle meals to reheat and eat throughout the workweek.
This month: chicken and tofu—proof that you can eat like a boss on a budget.
Prep it
Carve out an hour or two on a Sunday to make the building blocks for five meals. Think of it as kitchen sweat equity, with a pay-off of eating awesome all week.
Chicken Tinga
In a large pot, heat 2 tsp oil over medium high. Add 1 onion (chopped). Sauté till soft, about 5 minutes. 
 Stir in 2 garlic cloves (minced), 1 chipotle pepper (chopped), 1 tsp dried oregano and ½ tsp cumin. Cook 1 minute. 
Add 1 can diced tomatoes with juices, 4 boneless, skinless chicken thighs, and 1 cup corn. Cook till chicken is 75°C, about 15 minutes. 
Transfer the meat to a cutting board, shred, stir it back into the sauce and season. Refrigerate till ready to pack.
The extras:
Salt and pepper 2 chicken thighs in an oiled pan over medium high, 4 minutes per side. Chop and set aside.
Preheat your oven to 180°C. Arrange 3 corn tortillas in a single layer on a baking sheet and brush with oil on each side. Bake until crispy, about 12 minutes.
Mash ½ cup black beans with 2 Tbsp liquid from the can, ¼ tsp cumin powder and 2 tsp fresh lime juice. Set aside.
Cube the tofu. Set aside.
Saag Sauce:
In a medium pan, heat 2 tsp oil over medium. Add ½ cup onion (chopped) and cook 3 minutes. 
Add 2 garlic cloves (minced) and 1 Tbsp ginger (chopped); cook 1 minute. Add 1 tsp garam masala, ½ tsp cumin,
⅛ tsp cayenne, ½ tsp salt and 3 cups spinach. Saute until wilted. 
In a blender, add the spinach mixture, ⅓ cup plain yoghurt, ⅓ cup coriander and 2 tsp fresh lemon juice. Blend until smooth. Set aside till ready to pack.
Pack it
Here's how to stash everything to reheat and eat all week. Each of these five meals has more than the 30 grams of protein you need to build muscle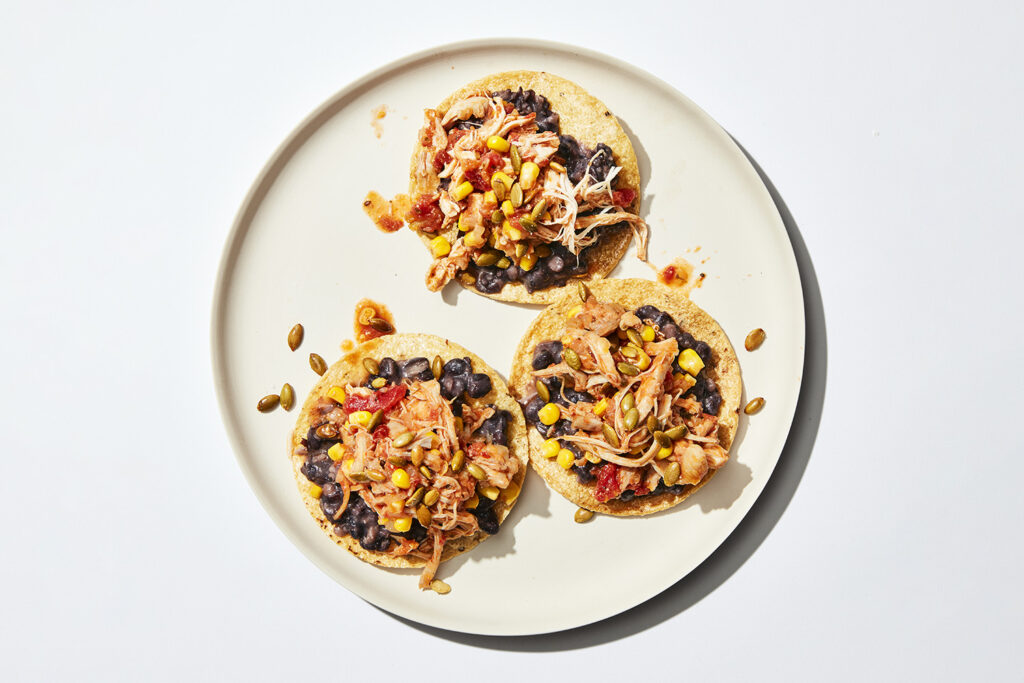 Chicken Tinga Tostadas
Pack each separately: crispy corn tortillas, mashed beans and 1 cup chicken tinga topped with 3 Tbsp pumpkin seeds.
Spread the black-bean mash on the tortillas and top each with ⅓ cup reheated tinga.
Nutrition per meal: 3070 kJ, 36g protein, 103g carbs (20g fibre), 21g fat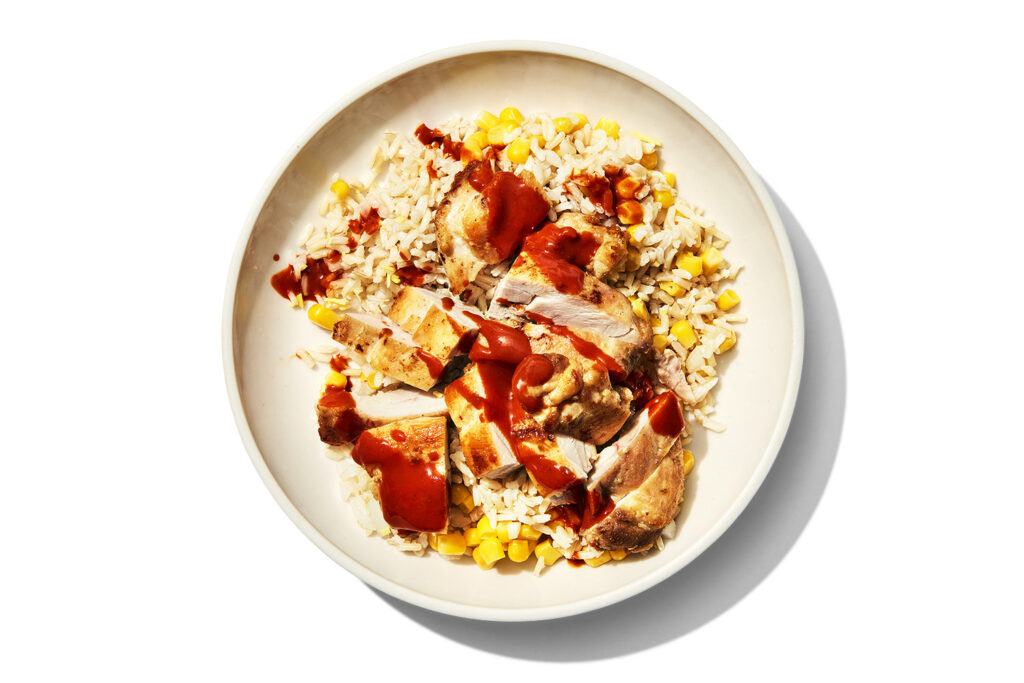 Chicken and Rice
In a container, add 1 cup brown rice, ¼ cup chopped onion, ½ Tbsp minced ginger, ¼ cup corn, 1 minced garlic clove and the chopped chicken. Reheat 3 minutes.
Nutrition per meal: 3080 kJ, 62g protein, 59g carbs (5g fibre), 23g fat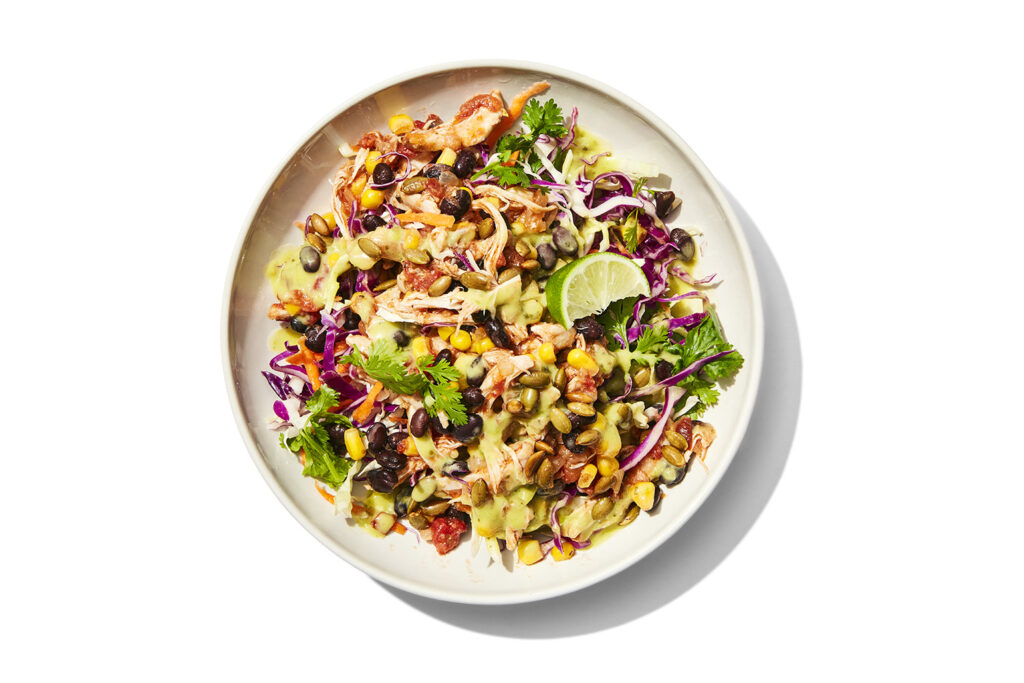 Chicken Tinga Burrito Bowl
Pack 1½ cups chicken tinga. In another container, layer 2 cups premade broccoli slaw, ¼ cup avocado salsa, the remaining black beans (rinsed), 1 Tbsp pumpkin seeds, a lime wedge and coriander. Mix the reheated tinga with the other ingredients.
Nutrition per meal: 2160 kJ, 39g protein, 70g carbs (22g fibre), 11g fat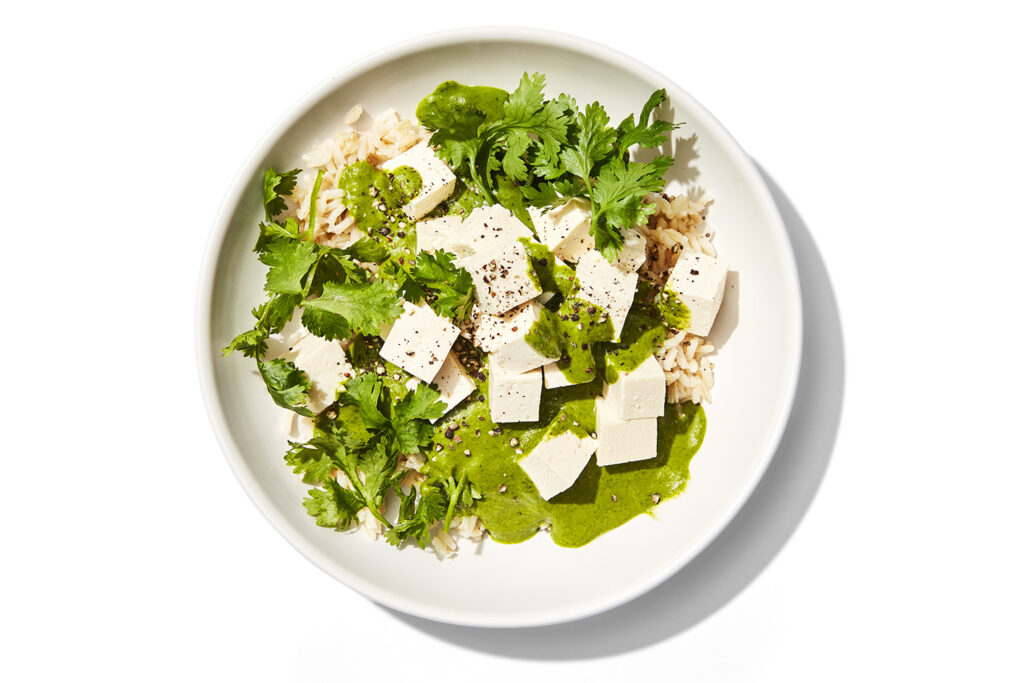 Tofu Saag Bowl
Layer the remaining rice, the saag sauce and half the tofu. Pack a handful of coriander leaves to add on top, if you want.
Nutrition per meal: 2510 kJ, 33g protein, 63g carbs (11g fibre), 26g fat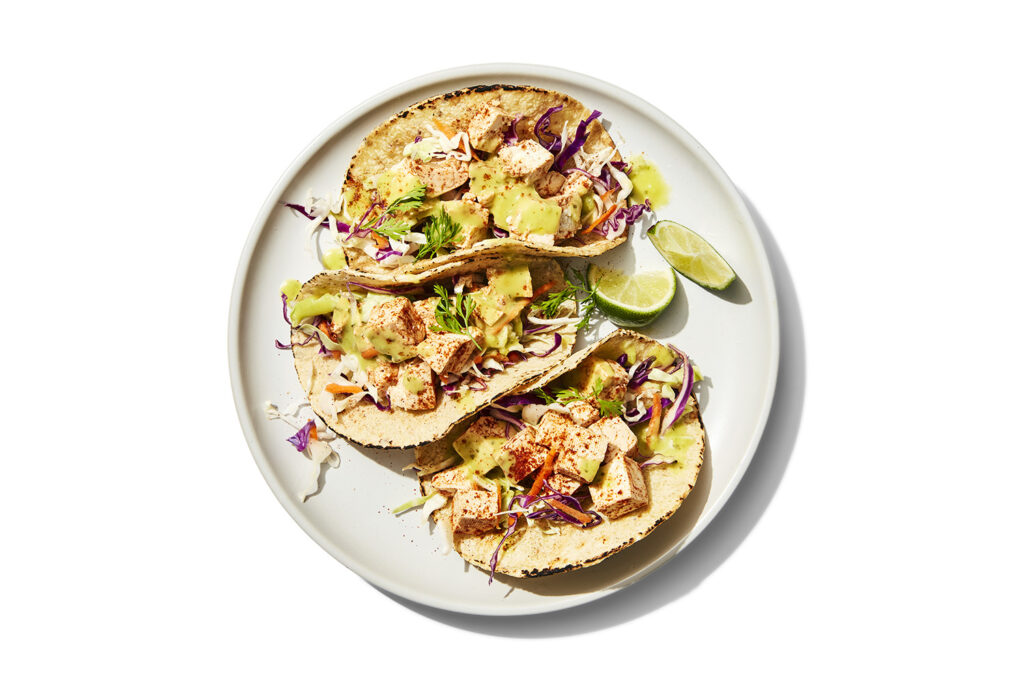 Chili Tofu Tacos
Season the remaining tofu with 2 tsp chili powder and pack. In another container, pack 3 tortillas. In a third, layer 1 cup slaw mix and ¼ cup avocado salsa. Reheat the tofu and tortillas, then assemble the tacos.
Nutrition per meal: 345 kJ, 35g protein, 82g carbs (17g fibre), 24g fat