Alexander Volkanovski is used to being the underdog. In fact, the 34-year-old UFC featherweight champion has been underestimated his whole life.
"I was the baby of the family," he explains between mouthfuls of lamb, hummus and tzatziki on the set of today's photoshoot in south Sydney. "So it's always harder to beat your older siblings, but I was always trying to compete with them – I guess that's what made me who I am. I've always been undersized."
The situation going into his next fight will be no different. On February 12th in Perth's RAC Arena, the Australian will go up a weight class in order to challenge Islam Makhachev for the lightweight title, where a win will make Volkanovski only the fifth fighter in UFC history to win belts in two different weight classes. Despite Volkanovski being ranked the best 'pound for pound' fighter in the sport, the odds heavily favour Makhachev, an athlete trained and mentored by UFC legend Khabib Nurmagomedov.
As he has throughout his career, Volkanovski is relishing his outsider status. Not only is he comparatively smaller than many of his UFC contemporaries – standing at 1.68m tall – he has resisted all temptations to live and train overseas, opting instead to fight out of Freestyle Fighting Gym in his hometown of Wollongong, a town not exactly known for creating fighting icons. There's also the fact that the world champ didn't even start MMA until he was 22 years old. He watched his first UFC fight in his early teens, but as with many Australian boys in the late 90s, it was rugby league that stole his attention.
"I've always loved martial arts," he says. "It's always been big in my family. Especially being Macedonian and Greek with that sort of warrior blood that my uncles would often talk about. But my mates were playing football and things like that. It was a more popular sport. You could look at rugby league and be like, 'Oh, there's a future there.' Especially back when wrestling and UFC wasn't big in Australia."
At first, the decision to focus on rugby seemed a sound one. He went on to play semi professionally for the Warilla Gorillas in the South Coast Rugby League, even winning an award for the league's best player in 2010. But there was just something about MMA that kept bringing him back.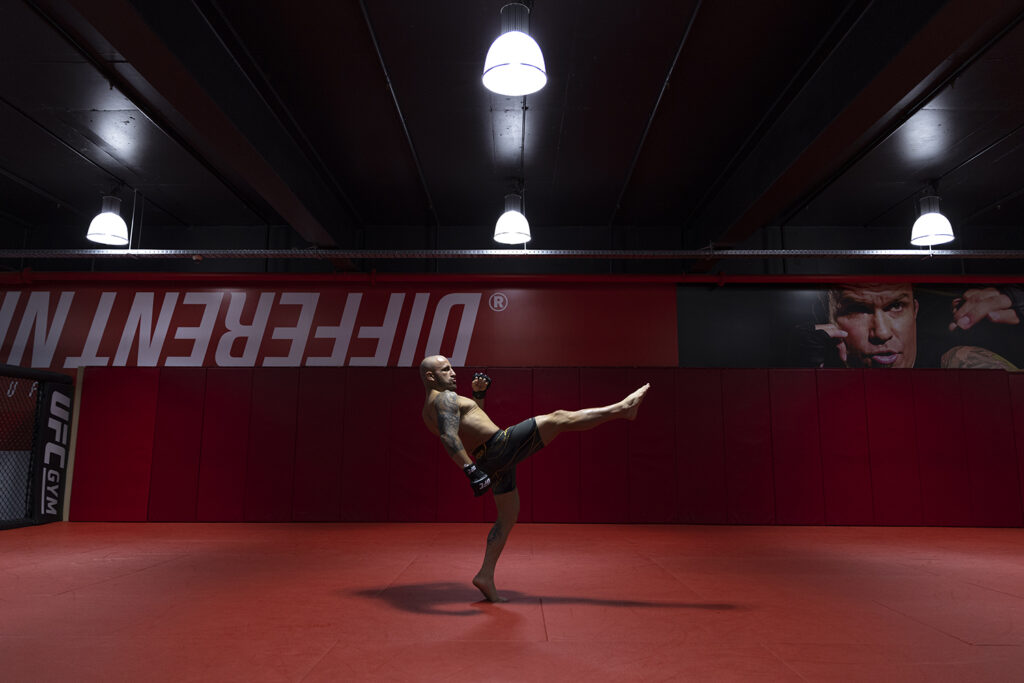 "I was always fascinated by it and wanted to try it. Then it started growing and I started realising there were gyms doing this MMA thing. I was 97 kilograms and I used to let myself go a little bit in between seasons. So during my last year of football, I wanted to stay reasonably fit and train a little bit in the off season. So I decided to go to the local gym, Freestyle Fighting Gym – the same gym I'm at today – and loved it straight away."
Hearing Volkanovski talk, there appears an element of fate to his career trajectory; as if his path to the summit of the sport was not a matter of if, but when. After using MMA training to improve his fitness on the footy field, the Aussie says there was one night when he finally decided to go all in.
"It's funny when you sit there and think about it," he says. "It was just meant to be. I remember being at a presentation before the year started and I was talking to some of the boys. 'I think I want to take this serious,' I told them. 'I reckon I could go all the way with this.'"
"Like, I just had this feeling. And then I get a phone call that night while I'm still at this presentation, from my training partner. He rings me and says, 'Alex, I want to get serious. I want to start training and I want a training partner that'll take it seriously.' And I'm like, 'This is what I've been thinking about all day! Let's do it.' So the next day we started this routine and schedule of us going to the gym while I was still playing rugby league and still concreting at the time."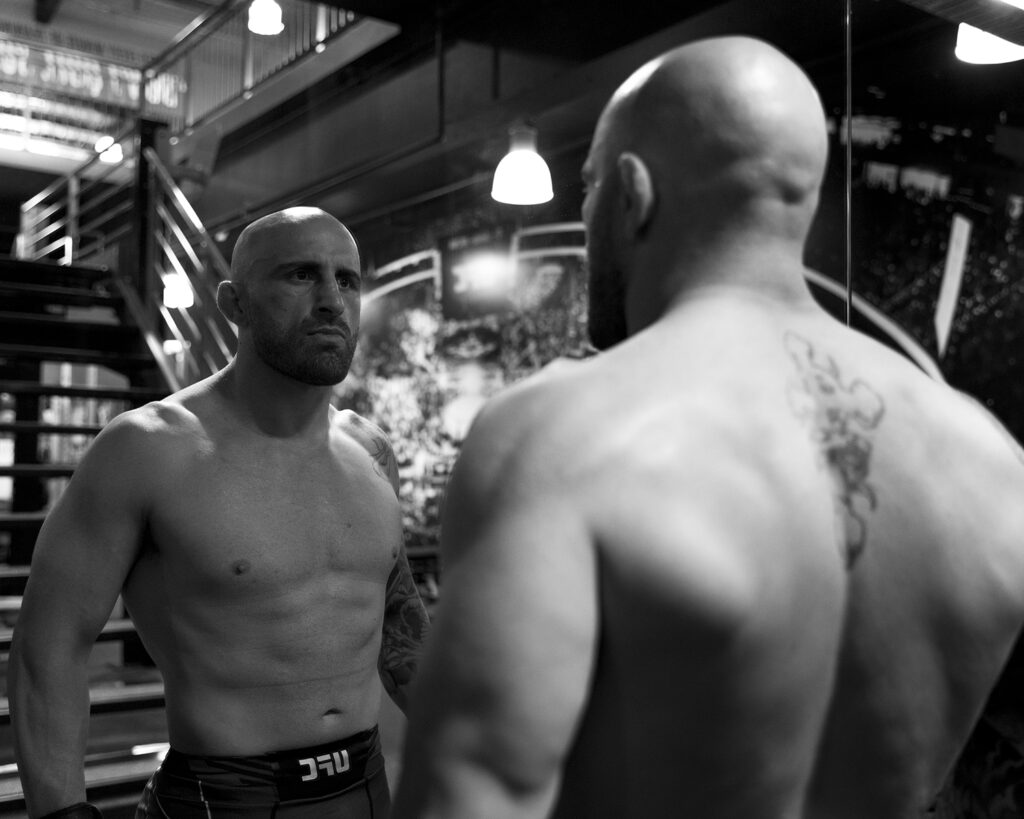 If there was some fortuitous timing to his entry into the sport, the next phase is all about pure unbridled hard work. In order to transform himself from the 97kg front rower, to a lean mean fighting machine, Volkanovski went about a brutal training regime that, to the casual observer, appears more like a form of torture.
"I had the mindset to just make it happen but I didn't know the nutrition I know now. I was doing it all myself. So I was like, the less calories, the better. Mind you, I was concreting all day, playing rugby league, and then MMA training. So, I used to get sick all the time with staph infections and that type of stuff.
"I used diets that my wife was using to lose weight, [consuming] around 1200 calories a day, so I went from always being full to always being hungry. I was eating nowhere near enough. But I was disciplined. I thought that's what needed to happen. I just had the mindset to punish myself. Even with the training, I thought back then that the more, the better; that was my mentality. No matter how half dead I was, I'd be half cooked and still trying to train.
"But doing that and making that the norm, and me being able to deal with it has made the transition into having the right science around it, a lot easier. It builds resilience; it builds durability. So to the people who would say how silly it is and all that, I'm like, 'I understand that was bad, but I'm thankful for it because it made me very hard. It made me able to deal with a lot.'"
***
If you want to understand Alexander Volkanovski – not just his ability, but his character – there's a few fights you need to watch. First, start with his three duels against UFC fan favourite Max Holloway. Volkanovski beat the Hawaian in December, 2019, to win the featherweight title via unanimous decision before defeating him again seven months later. This one was more controversial with numerous pundits, including UFC president Dana White calling the fight in Holloway's favour. In a sport often dependent on a panel of judges' subjective decision, a little debate is hardly unusual. But having his unbeaten record disputed didn't sit well with the Australian. So he did something he didn't have to: he offered Holloway a second rematch the following year to settle the matter. Here, Volkanovski put all doubt to rest, beating a fighter many consider a shoo-in for the UFC Hall of Fame for a record third time.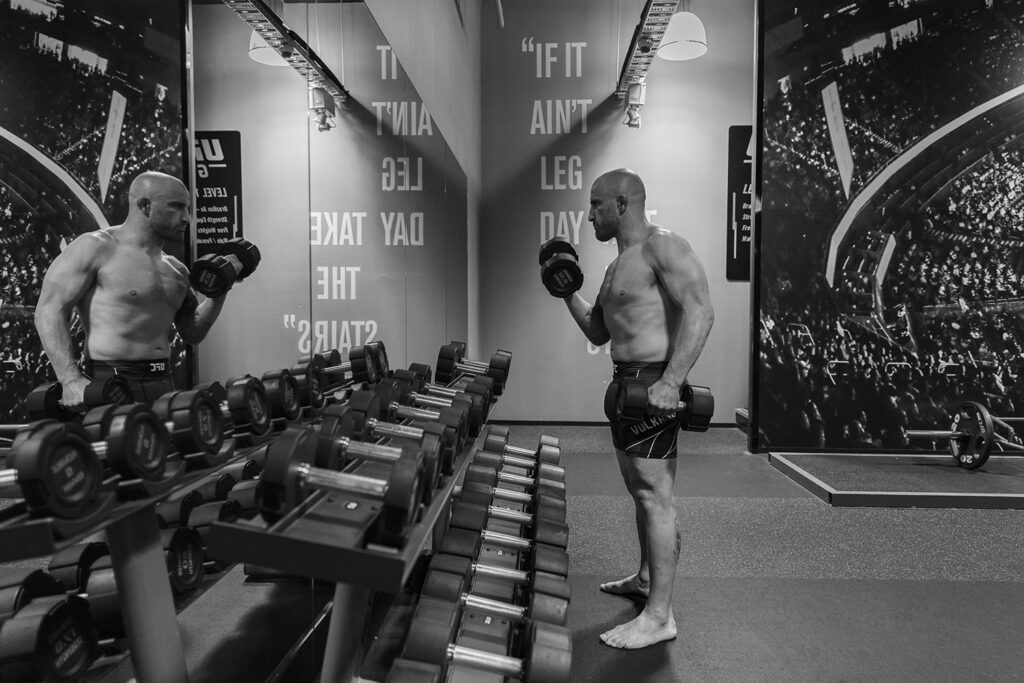 Next, take a look at Volkanovski's bout with South Korean Jung Chan-sung in April 2022. Landing a shocking 83 strikes in what UFC commentator Joe Rogan described as a "seminar", Volkanovski displayed not just his undeniable talent but also his class. Entering the fourth round, with Chan-sung visibly bruised and battered, Volkanovski walked into the centre of the ring with his hands calmly by his side, before asking his opponent if he was sure he wanted to continue. Chan-sung said yes and 45 seconds later the fight was over, with referee Herb Dean mercifully calling an end to the match up.
Finally, and most importantly, watch Volkanovski's fight against American Brian Ortega, specifically round four. Ortega, a jiu-jitsu specialist known for his submissions managed to put Volkanovski into a 'guillotine choke', which for the UFC newbies is a particularly brutal chokehold that, as the name suggests, signals almost instant defeat. We asked Volkanovski to talk us through how he escaped the inevitable.
"There's a few layers to this," he explains. "We talk about mindset and how deep my mindset can go compared to if someone else was in that situation. For me, I work the latest stage submissions you can think of. I don't know how, but he got it deeper than that. Remember he's a tactician. This is his move. Once someone's in there, that's it. I don't think anyone's ever got out of that submission from him.
"So at the time, when I realised where I was, the lights were already dimming. I was trying to push on his hip to at least give me a little bit of space. So I was doing what I needed to but it wasn't working. I was like, Man, there's no way this belt's not coming back to my family. You know, I had that vision; it was like a movie where I thought of my family in that moment as the lights were dimming. I just kept going; I was doing everything I could but it wasn't working. So I'm like, 'Well, I'm either gonna just keep going until his arms gas, or I die.'
"I just stayed stubborn, stayed as resilient and composed as I could be, and kept pushing. And then sure enough, as the lights were dimming and I just kept trying and kept pushing that little bit harder and doing just enough to have that little amount of blood and oxygen to the brain that kept me awake, he slowly started getting weaker and weaker.
"And then the lights started coming back. So this is where the layers go deeper. Most people just wanna survive. Remember, the lights are coming back but I still can't breathe. I'm still very uncomfortable; I've already had three massive rounds. As the lights were coming back and I could feel his grips getting weaker and weaker, I'm not thinking, 'OK, get your oxygen back.' I'm thinking, 'He's gassing, get up and let's pour it on!' So I went from pretty much being dead to all of a sudden just going all in on him, because I knew he was gassed. I broke him in times that anyone else would've broken on my end."
When we consider the type of punishment Volkanovski puts himself through in training it's hardly surprising he had the resilience to withstand this type of pressure from a UFC veteran, the sort of pressure Joe Rogan said after the fight would have caused "99.99% of people who have ever lived" to tap out. In his camp in Wollongong, Volkanovski invites experts from around the world to put him through what he rather ominously describes as his "meatgrinder" sessions.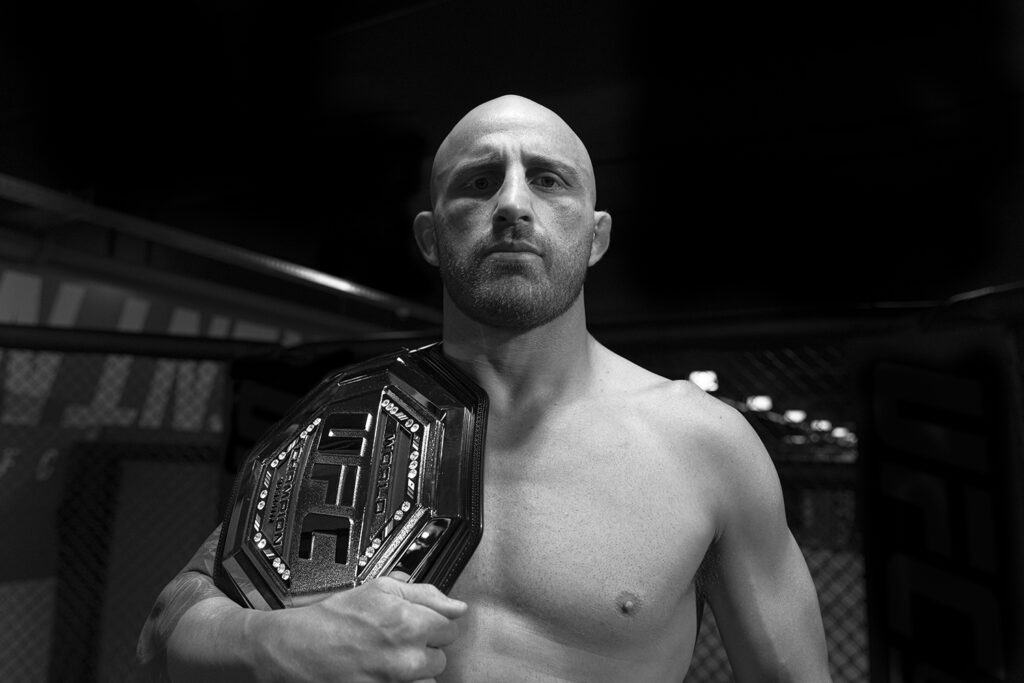 "I've got one of the best grapplers in the world that weighs 95 kilograms. So he's a light heavyweight. I've got him doing jiu jitsu with me. And I've got a wrestler who's a very high-level wrestler who's bigger than me doing the wrestling. Then I've got my coach on pads, and then I've got someone who's a striker. So I'm, I'm versing all of them.
"I'm hitting pads as hard as I can at very, very high intensity. And then the wrestler just comes in and pretty much attacks me from behind. So I'm in a bad position from the get-go. The pressure's on. And I just gotta fight from there. So the idea is, you're gonna be losing and if you're not losing, then you don't have the right people in there with you.
"I'm not only getting these jiu jitsu guys to grapple me while I'm fatigued and while they're fresh, I'm making 'em put me in deep submissions while I'm already struggling to breathe…and I'm doing 25 minutes of it. It's designed to break me. Put it this way. I get more nervous for these workouts than I do for my fights because I know I'm going to breaking point."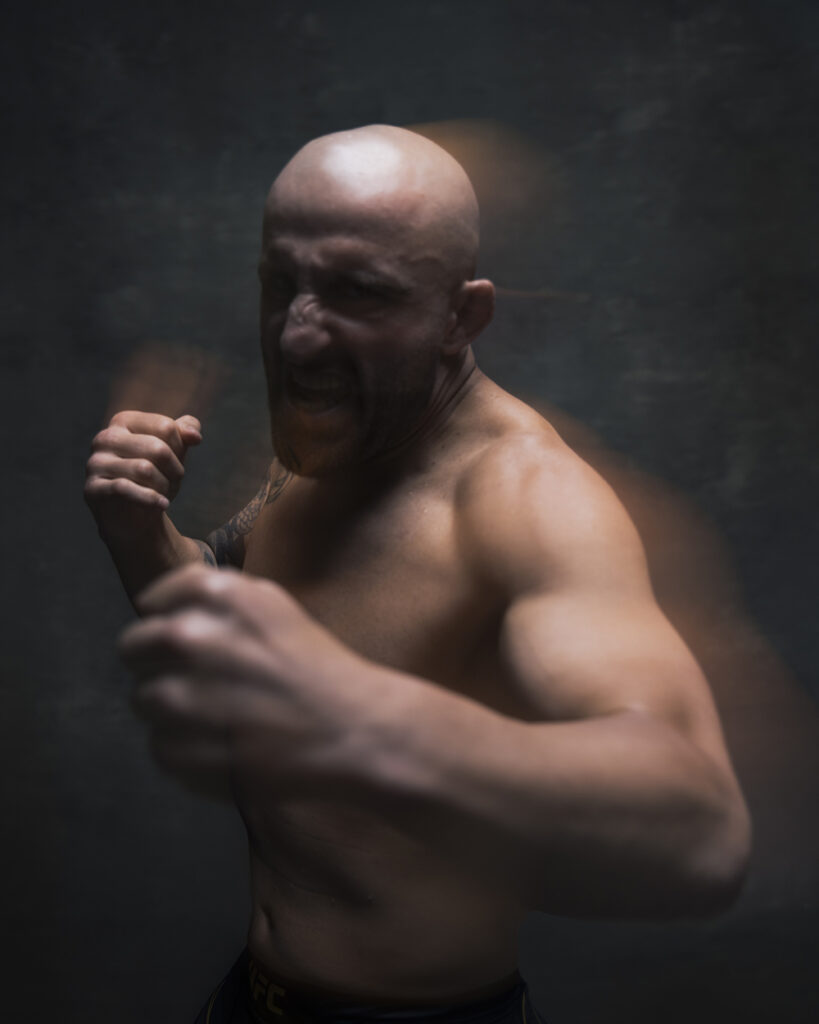 The Ortega fight was another turning point in the story of Alexander Volkanovski. Beforehand, there was a quiet humility to the Australian. In interviews and press conferences, he was serious and measured, but perhaps just a little in awe of the cameras and the attention. After his miraculous escape from the guillotine choke, all areas of Volkanovski's persona – in and out of the octagon – came together to reflect an undisputed world champion at ease with himself and his surroundings.
"I think it was always having that underdog mentality and always being disciplined and doing the hard work," he explains. "I did everything right. I've always done everything right. But when it comes to everything else outside the UFC: the confidence, me being comfortable with who I am and all that type of stuff, all that had to catch up. I had no idea about all this. Like I didn't get the whole entertainment business. I didn't get why people weren't liking me. But I think after the Ortega fight, I always say it came with the bald head and the timing of me really being comfortable with who I am, having confidence in what I'm capable of."
This newfound confidence is on display the day of his shoot with Men's Health at the UFC Gym in Rockdale. It's not the same brand of braggadocious swagger of the likes of Connor McGregor, nor the playful banter of someone like Paddy Pimblett. But the presence is just as powerful. The featherweight champion has an aura that is impossible to ignore. Passers by, whether fans of the UFC or not, linger in the hope of catching a glimpse or, if they're lucky, a photo with the champ. When we eventually sit down for lunch, with a rather enormous meat platter in front of him – after all, he is bulking – the fighter explains his shift in mentality.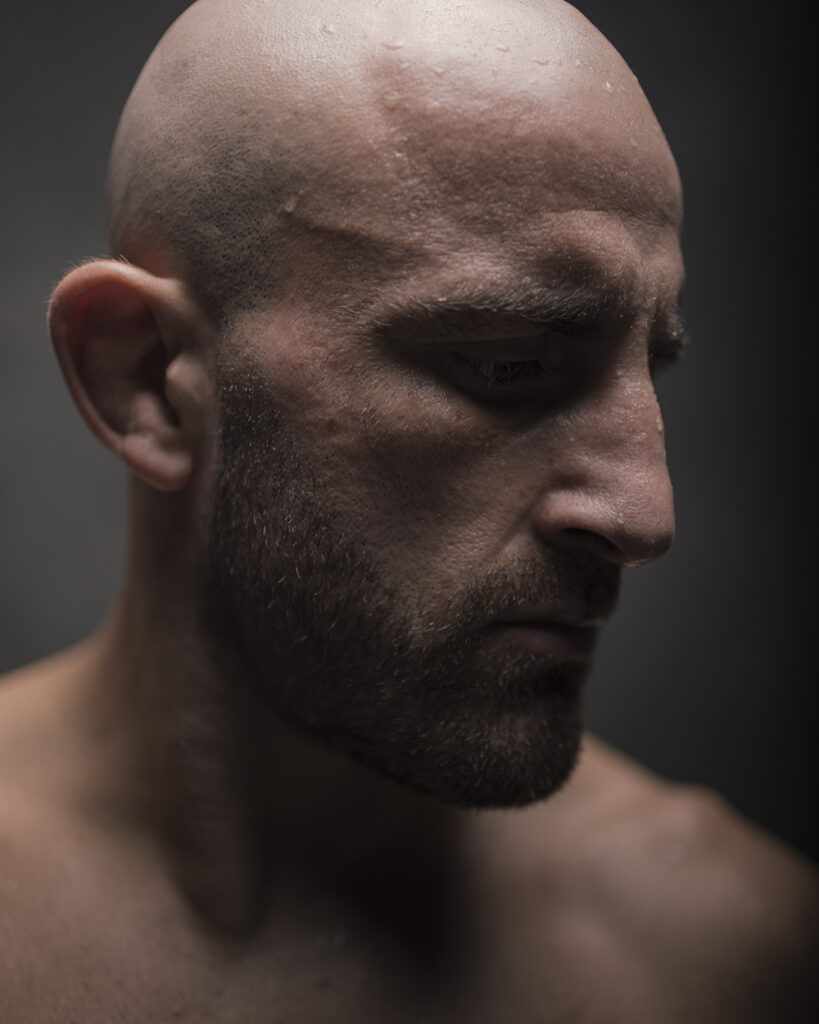 "I've never understood half of the stuff that I understand now," he says. "I was coming from a small town from a European family, taught to just work hard. The work ethic was always there but we didn't have these types of conversations. I didn't know about challenging myself and all that type of stuff. These weren't words that were expressed to me. My family would show it by being hard workers, so I've seen it but never understood it.
"I've just been lucky enough to be who I was and then use that blue-collar working mentality to my advantage. And then along the way I started to understand all that other stuff and it just put me on a whole other level. But I mean, there's no way I could have had this conversation with you even four years ago. You would've asked me, What made you a champion? I would have said, errr… I work hard! I wouldn't talk to you about my life experiences. Me being the youngest in my family and having to prove myself against the older siblings, and always being undersized, being the underdog. Even in football, I was always the small guy playing the big position. Everyone wants the ball on the opponent's try line. I always wanted the ball on our try line. I've always been like, 'I'll get us the fuck out of here.' You know what I mean? No one else had that mentality. But I didn't know any different."
***
Volkanovski's date with destiny – in the form of Islam Makhachev – is now just weeks away. So far, all preparation has gone according to plan. Rather than his typical 8-week fight camp, the former footy player has been locked in with his team for around three months, meticulously training for anything and everything his opponent may throw at him. He's more prepared than he's ever been because, as Volkanovski recognises, this isn't just a big fight; it's an opportunity to cement his legacy.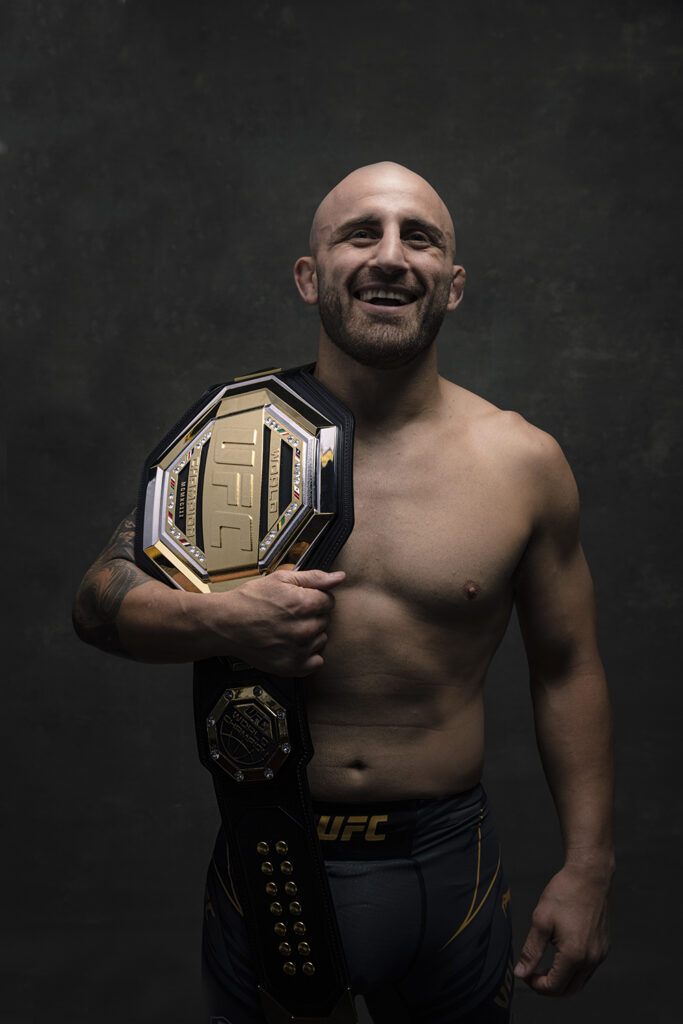 "When you've got challenges like this, big challenges that people think can't be done, obviously they're big opportunities. When you do that you ain't just great anymore, you become one of the greatest.
"At the end of the day, I want people – not only the casual fans but the hardcores – to be like, 'No one did what Alex did. He didn't just get these accomplishments. He took out the hardest possible guys and challenges to do so.'"
Speaking of challenges, there's a certain Irish fighter who may well be in Volkanovski's roadmap after Makhachev. The fact such a fight is even being discussed is proof of just how far the Australian has come.
"I feel like it needs to happen," he says. "Obviously I'm planning on doing bigger things, but Connor [McGregor]'s the only other featherweight champion I haven't beat yet. If I beat him at least I can tick that off the list. It's a money fight but it's also a legacy fight. I'm a realist: was that fight looking likely a year ago? No. Is it possible now? Yeah. Especially with what I plan on doing on February 12th."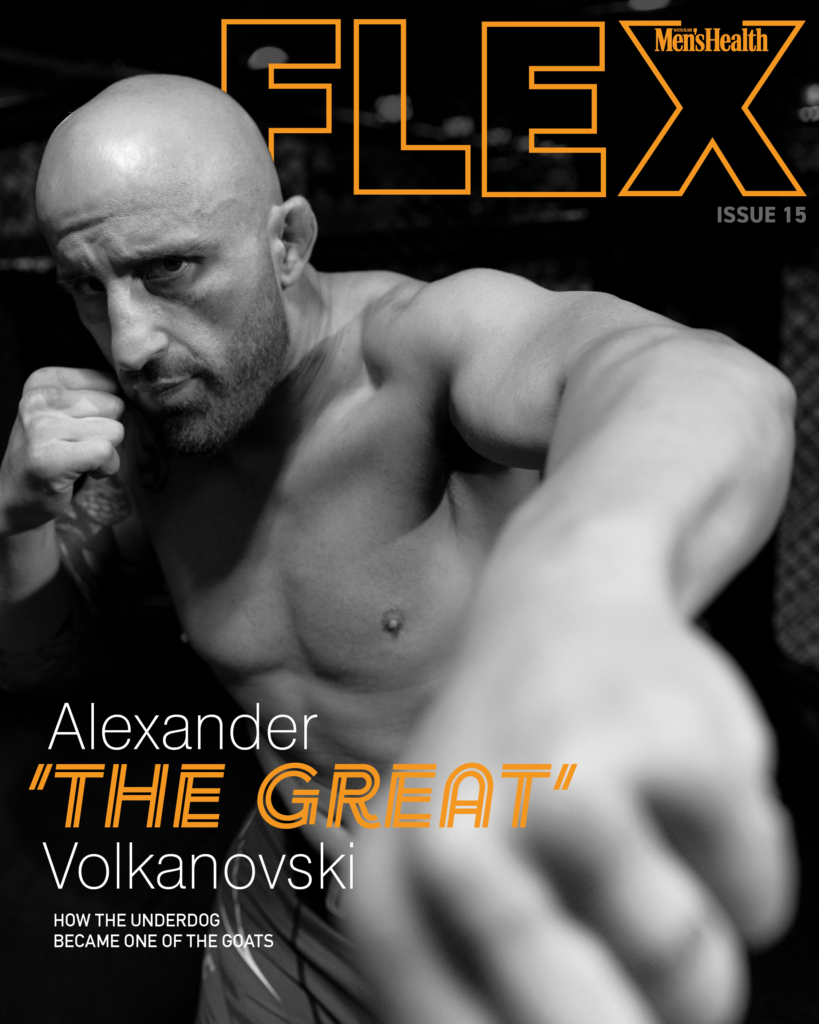 But any potential fight against McGregor is in the distant future. For now, Volkanovski has his focus firmly on Islam Makhachev. While the majority of the MMA community believe the Russian will come out on top, the man nicknamed after the former King of Macedonia just has one message for the doubters.
"The way people are carrying on about this one, it's like this is gonna be the greatest feat in sports history," he says. "Sweet. If that's a narrative you're gonna push, if you think this can't be done, if you think he's too big, he's too strong, he's too good of a grappler and all this type of stuff, don't change that fucking narrative when I get the job done.
"I'm not saying that I don't believe all that stuff; he is very strong. He is very good. He is gonna be a challenge. That's why I'm gonna be well prepared. But trust me, if there's anyone that can do it, it's me."