Despite the popularity of plant-based eating, veg continue to be sidelined – an add-on to meat, fish or the latest vegan imitations. That's a mistake, says Josh Katz, author of the Berber & Q: On Vegetables cookbook, which pulls plants into the foreground. Few are quite so overlooked as the eggplant, wrongly slated as tasteless by those without the right recipes.
Consider this the cheat sheet for your new favourite veg.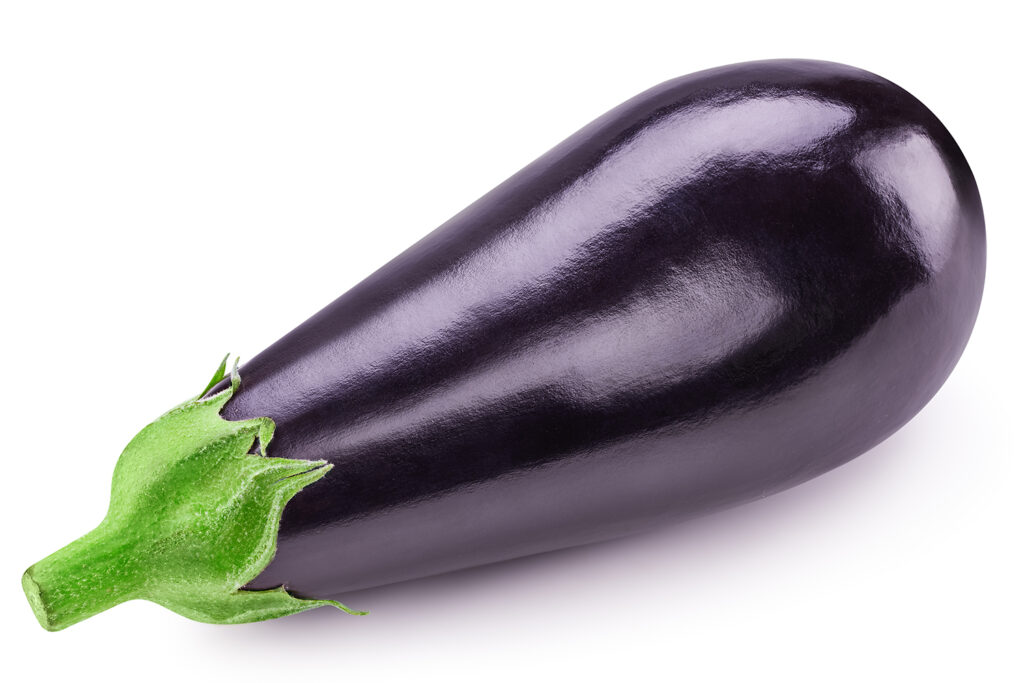 The Classic
The spongy 'emoji-style' eggplants are the most common (often they're Dutch). These are low in kilojoules and provide heart-helping fibre, potassium, manganese and potent antioxidants called anthocyanins. But there are other varieties, too.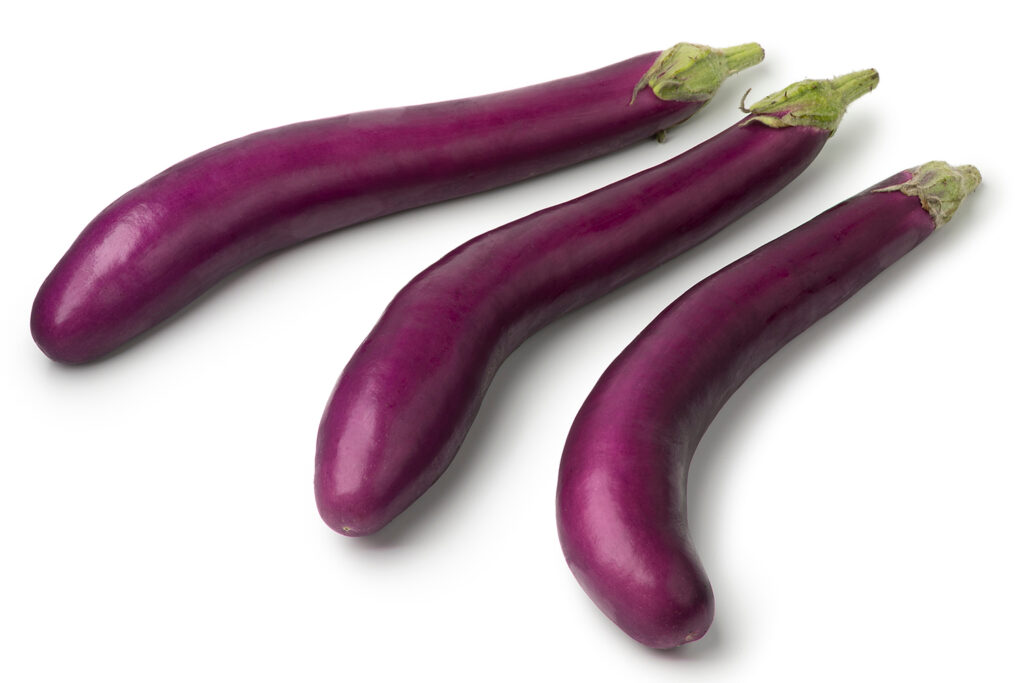 The Long
Japanese and Chinese eggplants are longer and more slender, with a little less bitterness than the OG. The Japanese kind tends to be on the darker side – thanks again to those healthy anthocyanin pigments. Try slow-roasting it in the oven.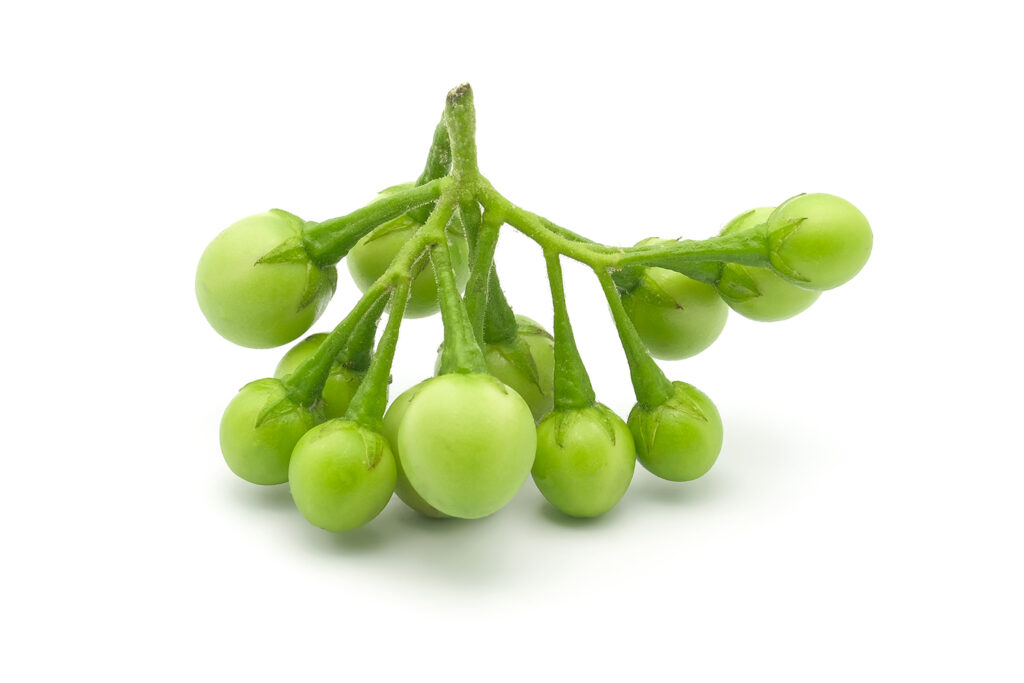 The Pea
Unrecognisable as an eggplant, many Thai varieties are the size of cherry tomatoes, with no purple pigmentation (they're often pale green). Treat them differently to your meatier Dutch variety and throw them in curries and stir-fries.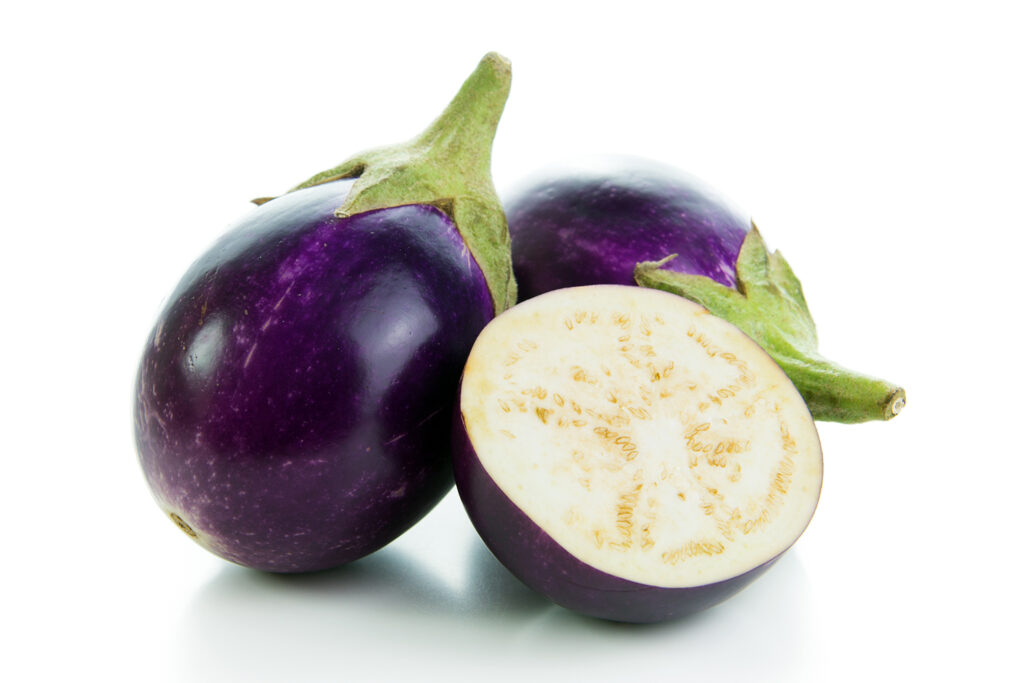 The Round
Not hugely dissimilar to the classic eggplant, the round variety is primarily grown in Italy. Try the Natoora Italian or the Rosa Bianca, which are mild and fairly sweet with tender flesh. They're good for grilling and roasting.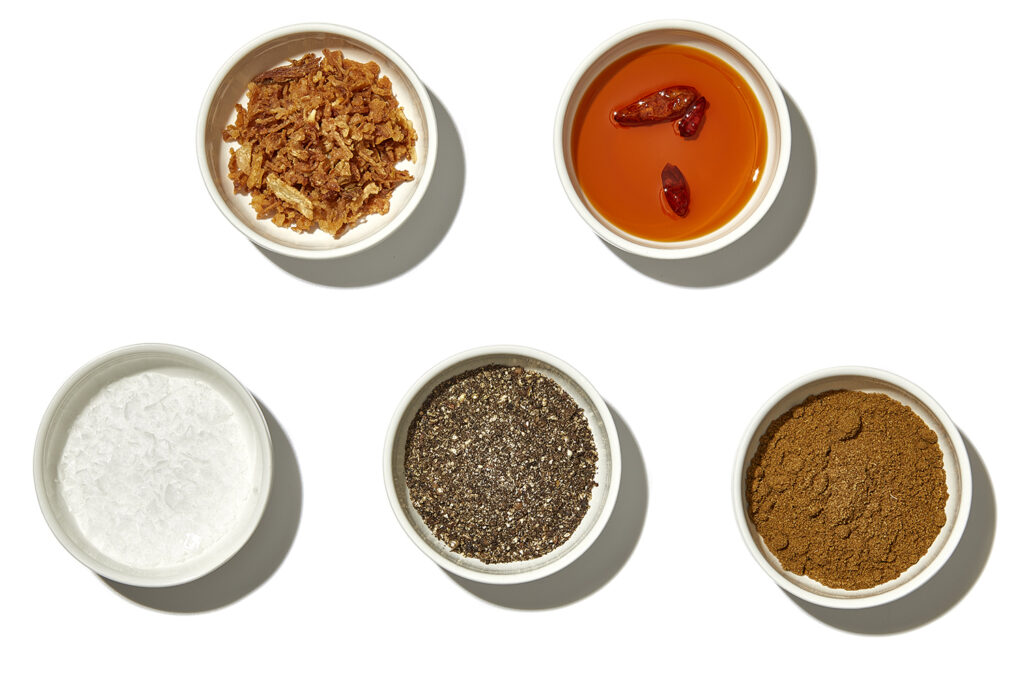 'tis the seasoning
Think you're not an eggplant man? Katz gets it. "It can have a bit of a strange mouthfeel; it can be a little flabby," he says. But a few culinary hacks will transform your outlook. Rule number one: "[Eggplant] requires heavy seasoning," says Katz. "It can take on a lot of salt." Its sponge-like quality means it sucks up flavour. Katz suggests soaking slices in some chilli and garlic oil.
For your next trick, try adding a little bit of texture. "Whether that's with nuts or crispy garlic or shallots. It benefits from a bit of crunch." The third and key rule: the best way to cook an eggplant is to burn the outsides – then scoop out the flesh. "It imparts a nice smokiness; cook over a flame or charcoal." And finally: if you're frying, pre-salt to draw the liquid out and add crispiness. Toss the slices in salt and place in a colander over the sink for 45 minutes. Rinse and dry.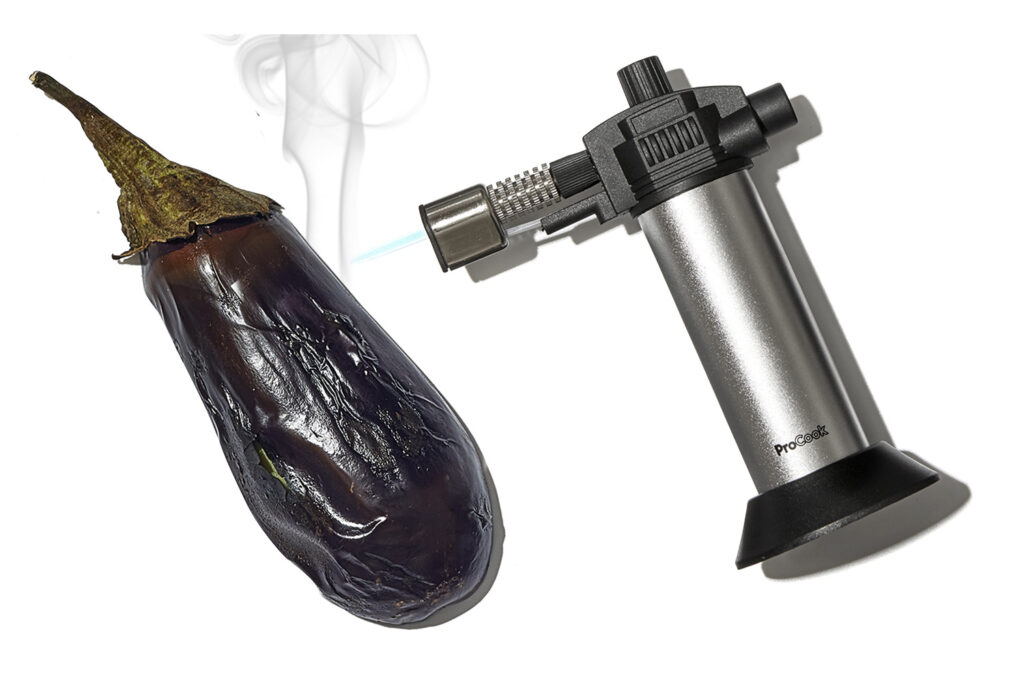 Play with fire
These four recipes, adapted from On Vegetables, make use of some classic-style eggplants. First, nail your charring technique: set a barbecue up for direct grilling, use the flame from a gas hob or even a blowtorch. Pierce the eggplants several times and place over the flame. Turn until blackened and soft. Got that? Try these recipes – they go down well with a summery gin cocktail – we like Hendricks Gin, (hendricksgin.com).
Re-think your veg
Three more ingredients that Katz feels are worth a second look/
Kohlrabi: "It has a nutty, creamy flavour, a bit like a Jerusalem artichoke. Brilliant when slow-cooked
in the oven.'
Leeks: "Leeks have a natural sweetness and they can be pickled, fermented, used as a base for stocks and sauces, and are great grilled on the fire."
Cauliflower: "It has meat-like qualities and can be grilled on the barbecue. It's also good as fritters – or fried until crisp and golden brown.'
4 eggplant recipes to try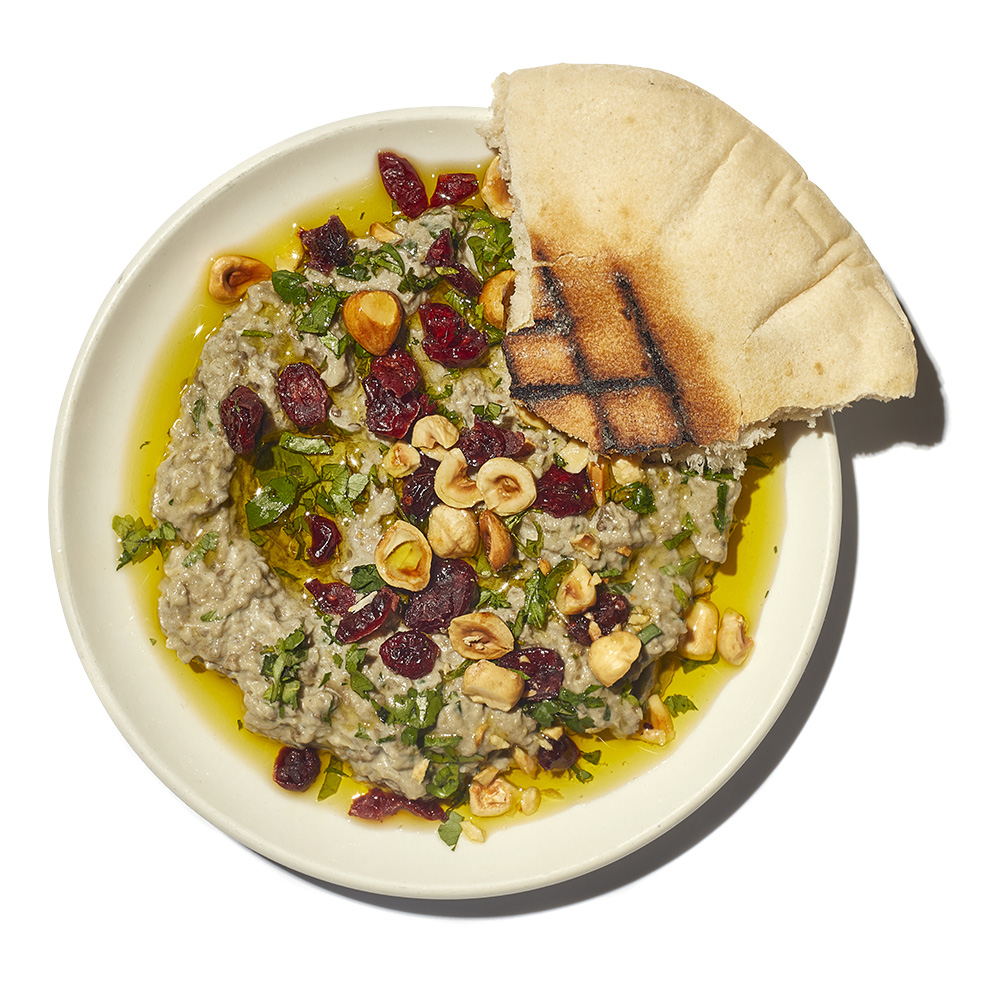 Baba ghanoush & flatbread
Serves 4
• 3 eggplants
• 3 garlic cloves
• 1 lemon
• 2 tbsp tahini paste
• 70ml olive oil
• 1½ tbsp each chopped parsley and coriander
• 1 tbsp dried cranberries
• 20g toasted hazelnuts, chopped
Char your eggplants until blackened. Once cool, slice open, scoop out the flesh and chop to form a chunky puree. Mix in the grated garlic then stir in the lemon zest and juice, tahini, oil and half the herbs. Season with salt and pepper to taste, then garnish with cranberries (sour cherries or apricots work, too), hazelnuts for a little textural contrast, the remaining herbs and a final drizzle of olive oil. Serve with flatbreads, warmed in the oven or on the grill.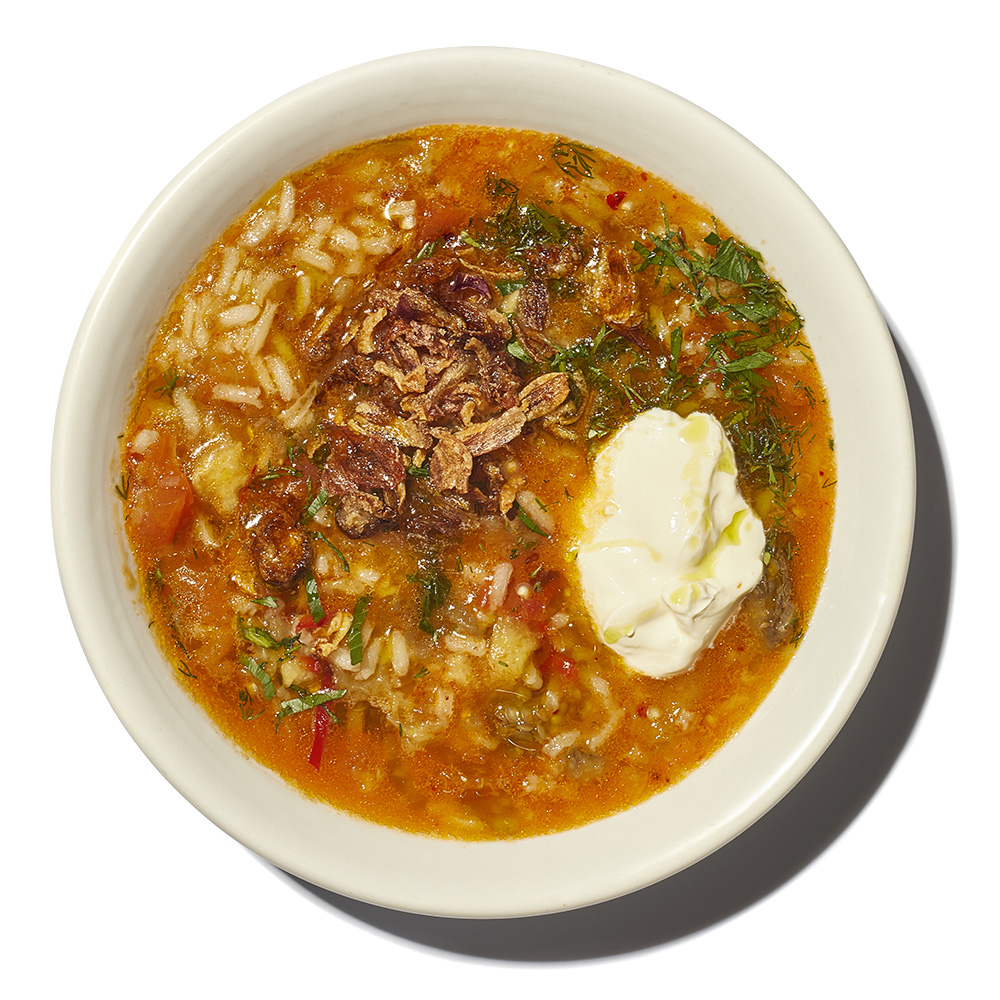 Burned eggplant soup
Serves 4-6
• 3 eggplants
• 1 onion, chopped
• 1 tbsp cumin seeds
• 3 garlic cloves, minced
• 1 red chilli, sliced
• 3 large tomatoes, diced
• 800ml veg stock
• 1½ tbsp lemon juice
• 1 tbsp sugar
• 120g long-grain rice
A good way to use up old eggplants. Char until blackened, cool, then chop, drizzle with oil and season. Fry the onion and cumin over a medium heat for 5-7 mins. Add the garlic and chilli; fry for 2-3 mins more. Stir in the tomatoes then add the stock, lemon juice, sugar and rice (rinsed). Simmer for 20-25 mins; add the eggplants 5 mins before the end of cooking. Garnish with dill, parsley, a dollop of crème fraiche and lemon zest to serve.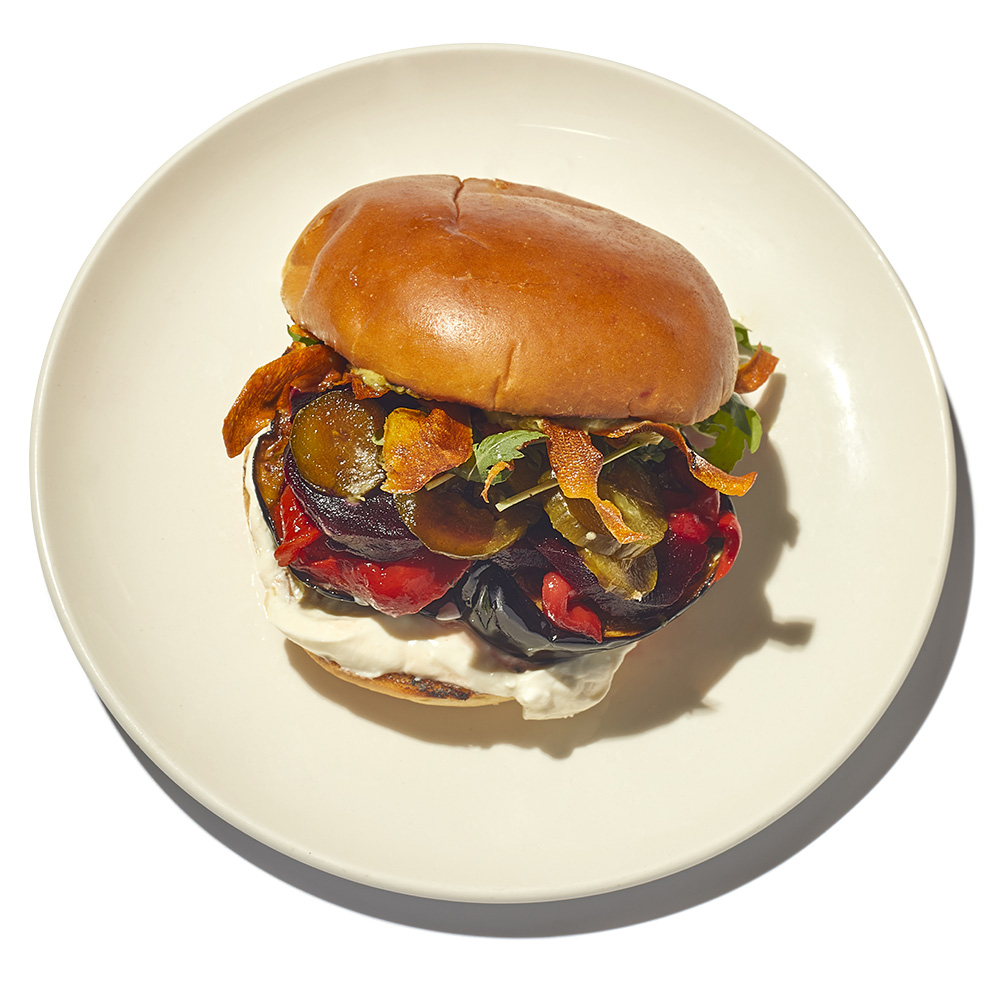 Red capsicum & eggplant burger
Serves 4
• 2 red capsicums
• 1 eggplants, cut into 8 rounds
• 1 parsnip, shaved
• 1 tsp ground cumin
• 1 bunch of rocket
• 1 tbsp lemon juice
• 120g whipped feta
• 4 brioche buns
• 2 small beetroot, cooked and sliced
• 2 gherkins, sliced
Blacken the capsicums; once cool, peel, quarter, deseed and put in a bowl with 2 tbsp oil. Toss the eggplant slices in salt and place in a colander for 45 mins to drain. Dry and fry for 3 mins each side. Remove and season with salt. Fry the parsnip until crisp, then season with salt and cumin. Dress the rocket with oil and lemon juice. Spread a spoonful of feta on to the base of each toasted bun. Top with rocket, eggplant, pepper, beetroot, gherkins and parsnip crisps.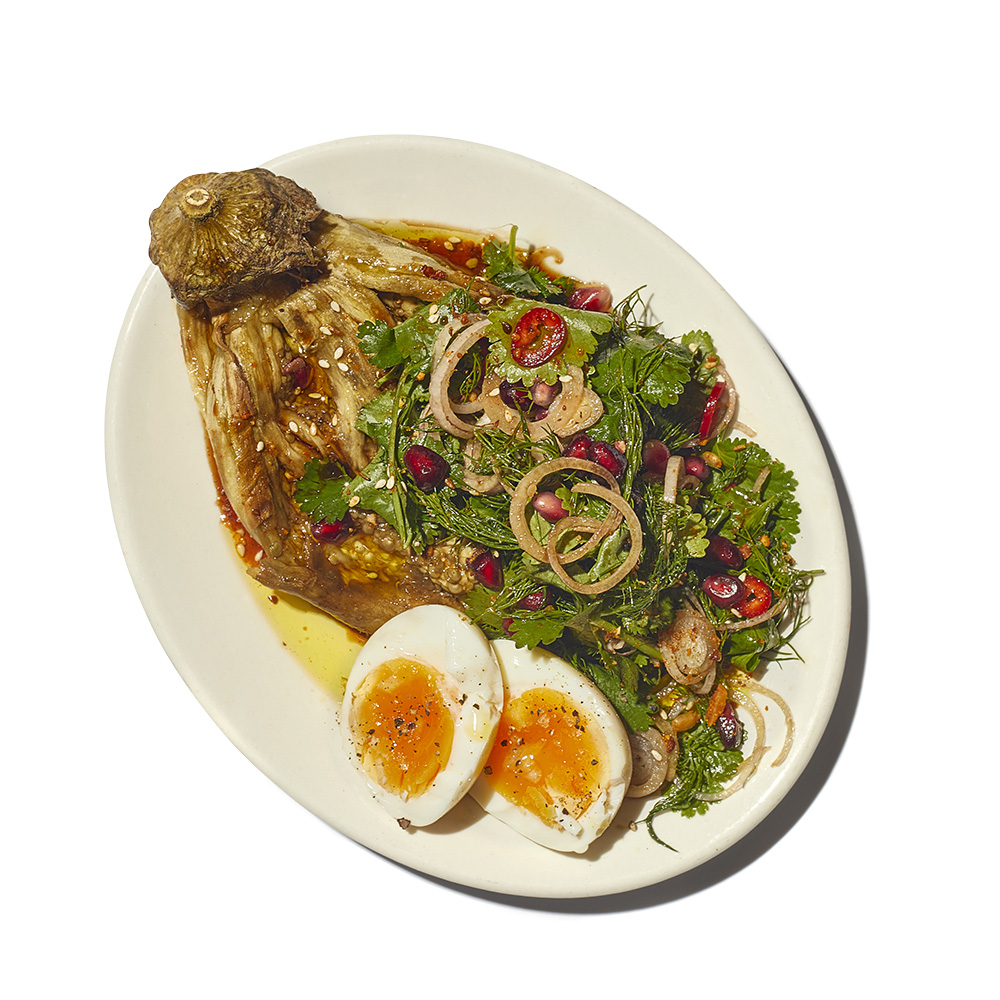 Smoky eggplant & shallot salad
Serves 2
• 2 eggplants
• 1 shallot, sliced
• 1 tbsp pomegranate
• Handful each of dill and coriander leaves
• 1 red chilli, sliced
• ½ tbsp lemon juice
• Pomegranate molasses, to serve
• 2 hard-boiled eggs
• ½ tbsp jasmine rice, toasted and ground
"This is a Middle Eastern version of the yum makeua yao salad," says Katz. Blacken the eggplants and peel, trying your best to retain their shape – stems attached. Season with salt and pepper and drizzle with oil. Mix the shallot, pomegranate seeds, herbs and chilli, and add the lemon juice and a glug of oil. Transfer the eggplants to a plate, drizzle with the dressing and serve with the shallot salad and egg halves. Finish with a sprinkling of ground rice.