There are at least two ways to approach the chiselling of an impressive physique – such as the one you're looking at now. The first entails pursuing it with that specific goal at front of mind. And while there's nothing wrong with that, it's a method that can lead to untold disappointment and obsessiveness.
The second approach is simply to do what you love for sport and exercise – to do it with joy, passion and commitment – and see what that brings in terms of aesthetic reward.
Jett Kenny subscribes to this second way. For the most part, anyway.
"To me, fitness is a lifestyle," says the 27-year-old Alexandra Headland (Sunshine Coast, Queensland) lifeguard, part-time model and go-to reality-TV talent, the son of Ironman and competitive swimming royalty, Grant Kenny and Lisa Curry respectively. "When I'm fit, I feel much better about myself. I get bored when I'm not doing a whole lot. No matter how hard it is, you always feel so much better after a session."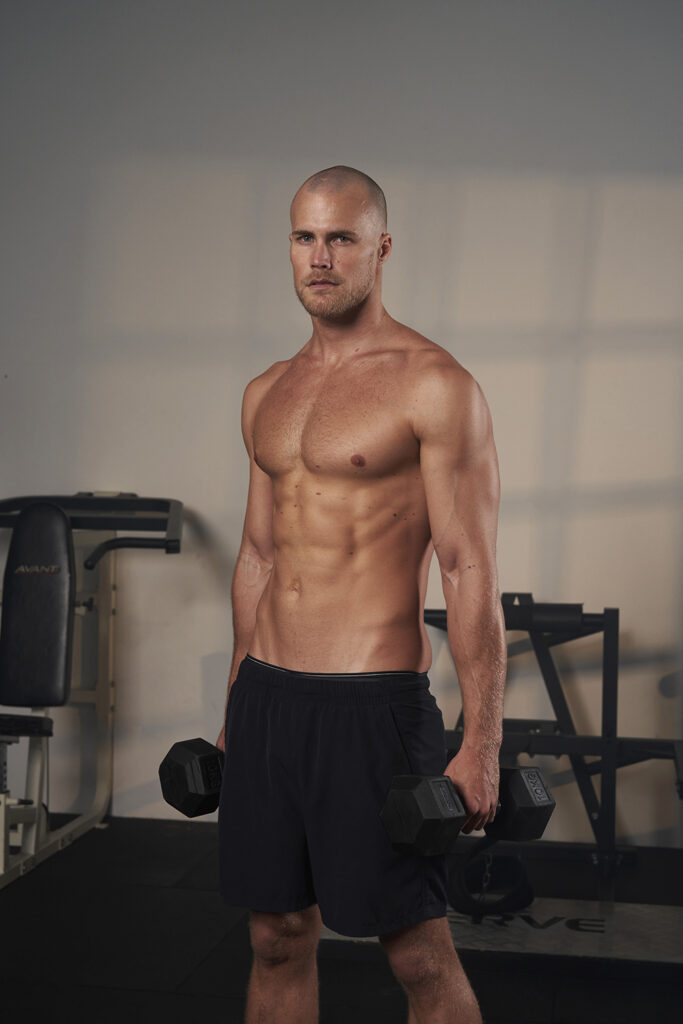 You ask Jett Kenny for some inspirational specifics.
"My alarm goes off at 10 past four every morning," he says. "I head to the pool and I'm diving in by five, and I train till seven. The hardest thing is getting out of bed at that time, especially when it's cold, but you've got to remember that feeling of afterwards, when you've pushed yourself to the limit. You've probably almost vomited or didn't think you could keep going, or you've gone so hard that your body's almost given up. It's a weird thing to say that I enjoy the muscle soreness and fatigue afterwards, but it tells me that I've put the work in, and I've done something worthwhile."
That's some intense action Kenny's just described. And yet he doesn't come across as an intense kind of guy. On the contrary, he seems as relaxed as an afternoon spell in a hammock, matter of fact and self-deprecating. Example: sure, he aims to eat well – and does – but that doesn't preclude chain-store burgers and donuts at weekends.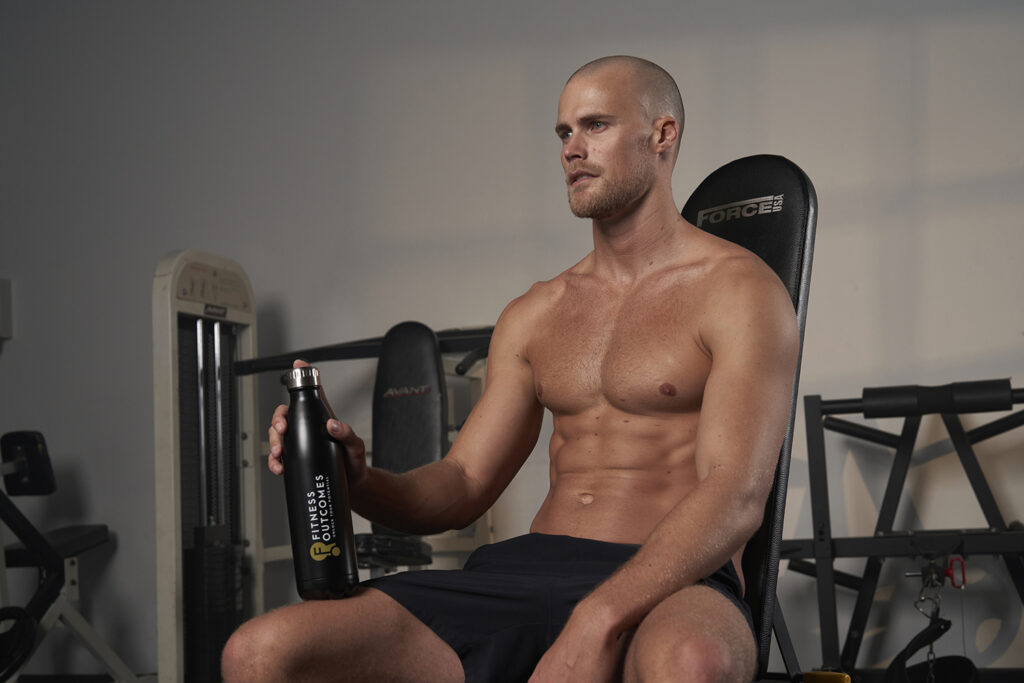 "Everything in moderation," he says. "Look, in my mind, I'm just a lifeguard, and Mum and Dad are just my parents."
Perhaps his intensity is reserved for his training; perhaps training intensity is in his blood. That would make a certain kind of sense. Do you remember Grant and Lisa in their athletic primes? No? Ask your dad. Both would have swum laps in a suit of armour for a one per cent performance boost.
"I was going to say my approach to training has matured over the years, but I think I've always been a pretty good trainer," Kenny says. "I go out there to do the job. And there are days when you may not be feeling it. But, nah, you've got to get out there and do it anyway; maybe just don't push quite so hard. Those sessions are absolutely just as important as the ones where you smash yourself, whether it be in the gym or the pool or wherever. You want to keep things ticking over for sure." 
In the footsteps of giants
Being the son of not one but two guns has been, unsurprisingly, a mixed blessing for Kenny. He suspects it's presented him with opportunities that wouldn't otherwise have come his way, such as appearances on Australian Ninja Warrior, The Real Full Monty, Dancing with the Stars and SAS Australia. "You sit back and wonder, would I have ever experienced all that if I wasn't the son of [Grant and Lisa]? You'll never know. But I'm very grateful." The flip side has included bullying back in schooldays and, to this day, the weight of expectation.
Some history. Kenny's father, Grant, became an overnight sensation in 1980 when, with just 15 minutes' break between races, he won the Junior and Open Ironman events at the Australian Surf Lifesaving Championships. He was 16 at the time – a time when Ironman was a much bigger deal than it is now, a time when being fit and bronzed and fuelled on Nutri-Grain was a fun and guiltless way to live. Lisa, meanwhile, in a rampaging 15-year career that wound up in the early '90s, won 15 international swimming gold medals and held Commonwealth records in every stroke except backstroke. As a pair, they were a force of nature. 
"My earliest memories are going to Nippers when [sisters] Morgan and Jaimi were doing it, getting out there in the surf with Dad and swimming around on his back," recalls Kenny. "I did Nippers at Mooloolaba and progressed through the ranks." For years, he reckons, he got by on talent. Only when he was 16 or 17 did he start feeling the need to supplement that talent with the hard training he thrives on now.
"I don't think I'm different to anybody else," he says. "I go to work, I train, I play computer games, I go through hard things and tough times like everybody else." The toughest? No contest. The Kenny family lost Jaimi in 2020 to a combination of mental-health issues. 
"I'm grateful that our family is very close and so strong, regardless of everything we've been through," Kenny says. "You've got to take the good with the bad. That's how life works. You could look at anything as being a double-edged sword. It's true: I've never just been Jett; I've been Jett Kenny all my life. They talk about Dad being one of the greats. But this year I did something that Dad never did: I won a Taplin Relay gold at the national titles. I've never really felt the pressure to match Dad. People can think what they want and say what they want. In the end, I'm me and I'm the person that I want to be."
Built to win
So, what's the how of looking like Jett Kenny?
His training is largely directed towards preparing for the Summer of Surf (Surf Life Saving) racing program, the next season of which begins in mid-October with the Coolangatta Gold. He swims a lot and he's a good swimmer, though not top of the tree. Same with running, which he does on soft sand, hills, over short and longer distances – you name it. His strengths are ski and board paddling. 
In fact, "at the moment I can say that I'm the second-best board paddler in Australia, and I'd like to say the world because I think Australia is leaps and bounds ahead of the rest of the world when it comes to surf lifesaving".
His training has a gym component, but it's relatively small. The weights room has never hooked him; he's never been preoccupied with upping his max bench or finding new moves to target his rear delts. It's just not him. The outdoors – the sea – is his gym. His gym and his playground.
"I don't lift heavy weights," he says. "I'm more into bodyweight. I've always gone in and done more calisthenic-type stuff. I've never been one to want to put on massive size. I wouldn't have the time, anyway, because with surf lifesaving you spend so much time in the water training for the different aspects." Four hours a day, every day, he says.
"That said, if we're heading into the end of the season and my focus has narrowed to ski paddling, then I might want to build a bit of extra muscle and strength, in which case I'll go to the gym and do a bit more weights than usual. But it's nothing long term and it's not about breaking any records. It's all highly specific to the sport."
As an athlete, Kenny's not going to match the feats of his illustrious parents, but so what? Who would expect him to? He's shown a lot of guts to compete in the same space as his father. Success needn't always be about how you stack up compared to others; most of the time you're entitled to see it as a battle against yourself, a quest to achieve up to the level of your ability – and your desire. And maybe setting an example for people you care about, such as your teammates. 
Bingo.
"I'd like to think I'm a bit of a role model around the club," says Kenny. "I go down there to train and it's not always social for me. I go there to do the job that I'm there to do and put the hard work in. Don't get me wrong: before and after the session, it's all happy days and friends. But during the session it's me time. If I can inspire the others around me to push themselves as well and find that little bit extra, then great." 
Jett fuelled
Because Jett Kenny also models, sometimes he does have to tune his mind for aesthetics over performance, or at least treat them as dual and equal objectives.
Take this shoot for Men's Health. To prepare, Kenny felt the need to slim down his 187-cm frame; to get shredded. So, he tightened the screws on his diet and dropped four kilograms in a fortnight to tip the scales at 85kg, down from his preferred competition weight of 88-89kg.
"It's funny," he says, "just how much of a change you can make when you start to think about these things and when you're prepared to invest a little bit of dedication and time. Those four kilos . . . it was pretty easy, to be honest".
 He kept his Insta friends posted on his progress, and a typical response was: How did you do it? "Well, I thought, "I'm not eating as much, and I'm still training four hours a day." Yep. That would do it.
His shape-up daily eating plan goes something like this. Breakfast: a protein shake or smoothie. To accelerate fat loss, use water rather than milk and berries for flavour rather than, say, bananas or mango. Lunch: something from the range of pre-prepared, protein-rich meals by Fitness Outcomes (fitnessoutcomes.com.au); it could be Portuguese Chicken with Spicy Rice or Naked Mexican Beef. "This works for me because lunch is when I'm feeling lazy and I'd buy it otherwise," says Kenny. "I'm not into meal-prepping." Dinner: usually chicken and salad at home with his dad. "That's his fave."
It was Kenny's mum who initiated his move into modelling, formalised when Vivien's signed him in 2016. When jobs come up, he invariably takes them because he really enjoys the caper.
There was a time, he says, when carrying any level of muscular bulk might have been a barrier to finding modelling work, but the industry's conception of the male model's ideal body has broadened in recent years. It's a more inclusive field these days and that's a good thing.
"I know there are guys out there who can maintain a lean, muscular look purely based off the way they eat, and they go about life that way," Kenny says. "Other guys go to the gym five or six days a week because they've got a look they want to achieve.
"I'd be lying if I said I could see a photo of a male with an incredible physique and not occasionally think, Oh, I wish I looked like that. People may look at me and think the same thing. But you're always looking to improve in some way, if not physically, then mentally or emotionally."
He adds this: "People do what they do because of their body shape; their body shape isn't a product of their main activity."
Which makes you think he's selling himself short. Because as you can see, those four hours a day of training have paid off. Jett Kenny has stared down the demon of expectation and struck a blow for himself. 
Build a Jett Kenny engine
Jett Kenny prepares for certain types of SLS competition and modelling gigs with this self-styled workout. Perform it as a circuit for four rounds, with 45 seconds' effort followed by 15 seconds' rest. Where extra load is involved, choose a challenging weight that permits good form.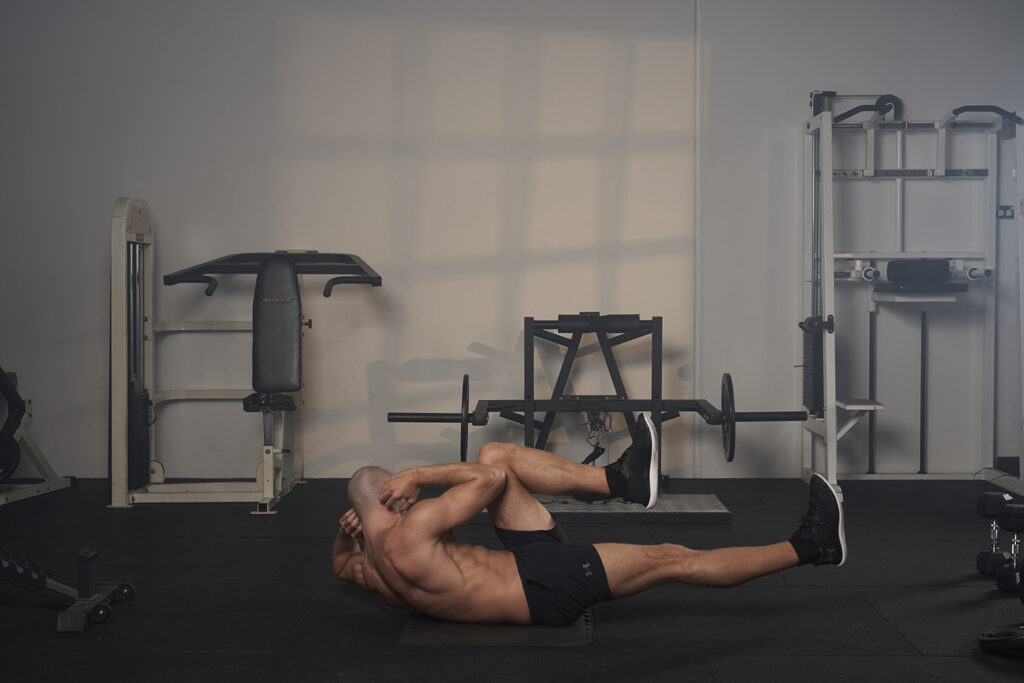 1. Bicycle Crunches (45 seconds)
A phenomenal core exercise to begin with. Lying on your back, fingers behind your ears, raise your head and shoulders off the floor while simultaneously raising and bending your right leg and bringing your left elbow in contact with your right knee. Maintaining constant motion (like riding a bike!), bring your right elbow to your left knee. Continue.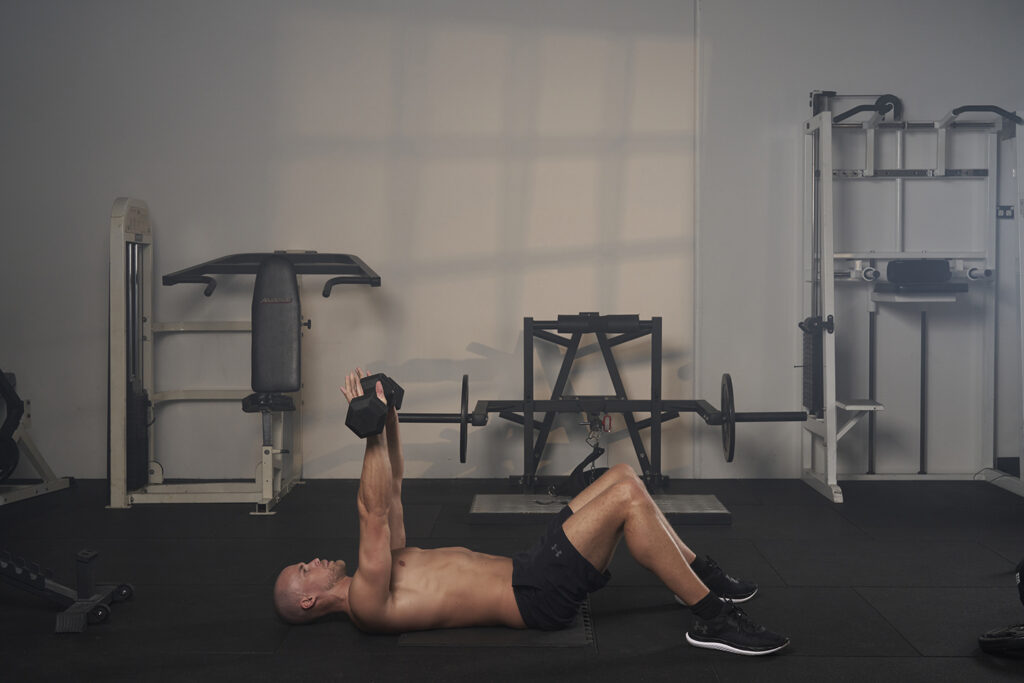 2. Dumbbell Floor Press(45 seconds)
Contrary to popular belief, you don't need a bench to do this classic chest exercise. In fact, it's safer performed on the floor, which prevents your shoulders being pushed back towards unhealthy positions. Knees bent, palms facing up, lower the moderately heavy dumbbells until they're within a few centimetres of your chest. Now drive them up to full extension.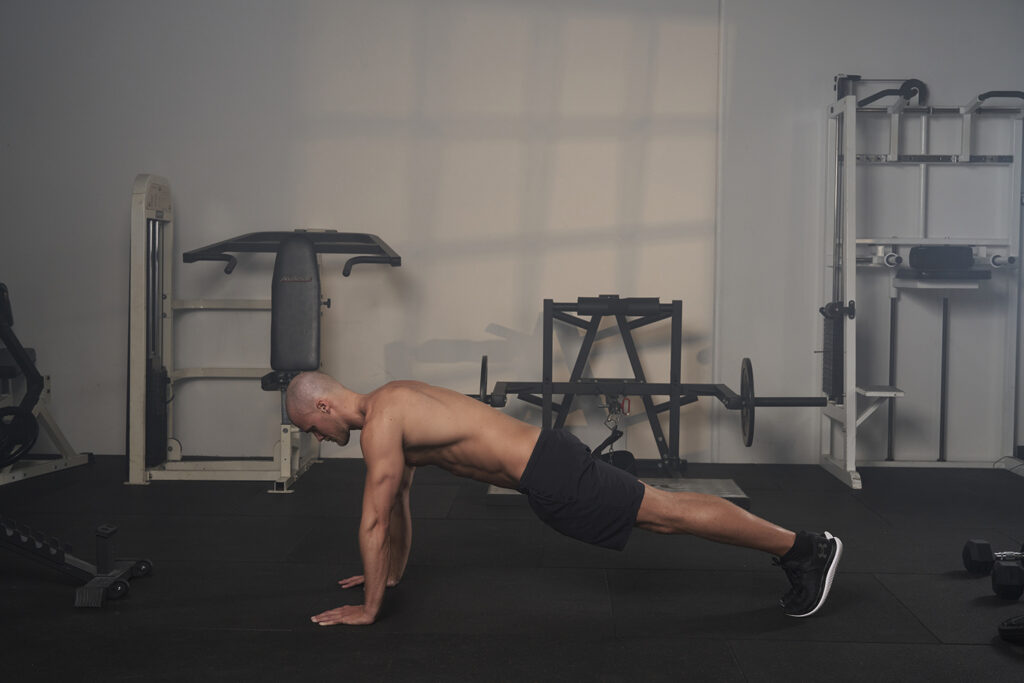 3. Push-up(45 seconds)
Another old-school move that targets chest, shoulders, triceps and abs. Assume the classic push-up position, elbows locked and core braced, hands set slightly wider than shoulder-width apart. Give at the elbows and slowly lower your body until your chest kisses the floor. Pause for a second and continue.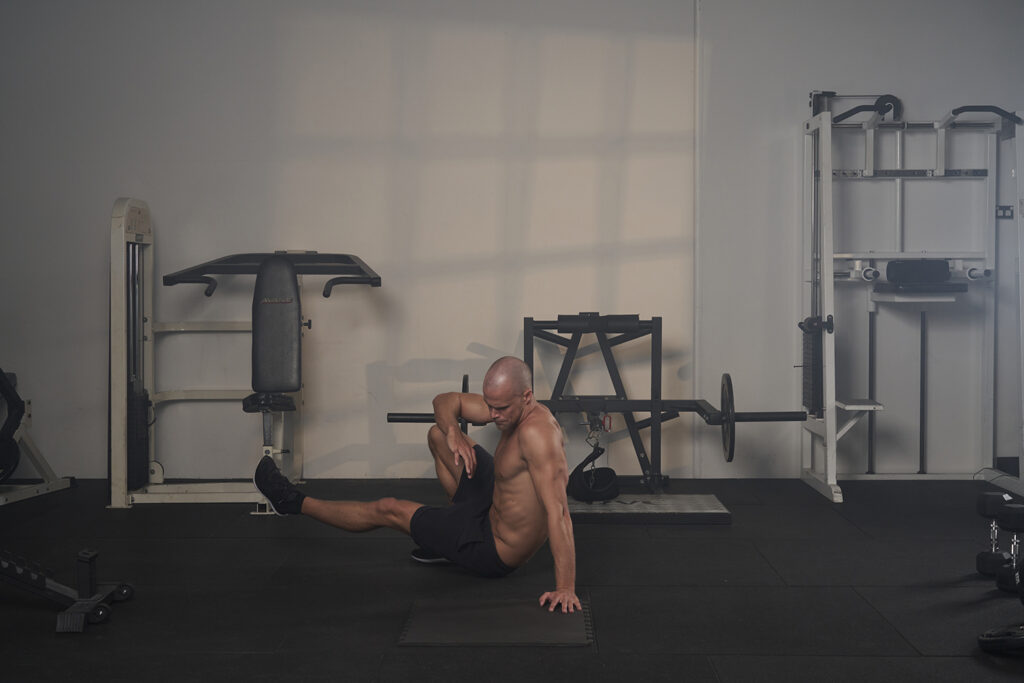 4. Sit Throughs(45 seconds)
Start on your hands and knees, then lift your knees 5cm off the floor. Leaving your left hand and right foot planted, lift  your left foot and sweep it underneath you, rotating your body in the same direction. Reverse the movement by planting your right hand and left foot, then sweeping your right foot underneath you. Keep flowing like this for the 45 seconds.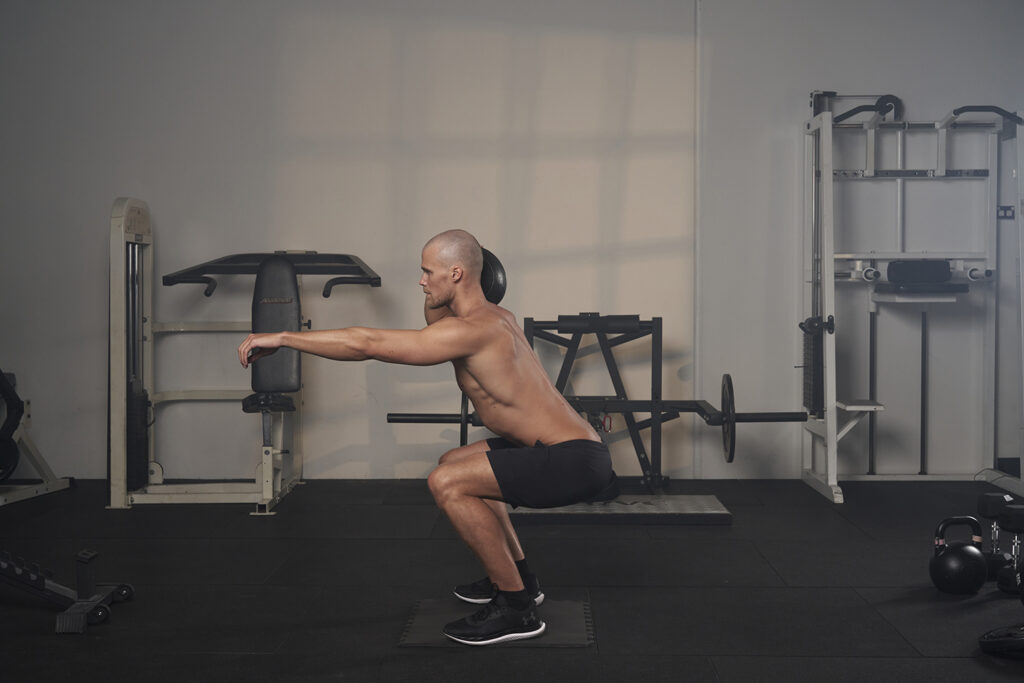 5. Single-Arm Squat(45 seconds)
Finish by hitting the big muscles of your lower body while challenging your core. Stand tall holding a medicine ball on your left shoulder. Sink into a squat, keeping your back straight. Drive up and switch the med ball to your right shoulder.