Hans HolBein's famous portrait of Henry VIII shows the English monarch standing hand on hip, proudly flaunting his substantial girth. It's an example of how, back in medieval times, weight and status went hand in hand. Excess kilos were viewed as a sign of prosperity given that much of the population was forced to struggle with food shortages and a chronic lack of quality drive-thru options. 
Weirdly, a similar view has continued to hold sway in the watch world due to the nature of two of the most prestigious watchmaking materials: platinum and gold. Both of these precious metals are relatively heavy and offer palpable heft on the wrist. Consequently, this has propagated the idea that you can feel the quality of a watch and encouraged the misleading conflation of luxury and weight. 
But then titanium enters the ring and yes, with forehead-slapping inevitability, its entrance song is that David Guetta dance anthem with the Sia vocals. Titanium is widely used as an aerospace material to make fighter planes, missiles and airliner components. The popularity of the metal stems from its stubborn durability. Titanium is strong and tough – it's antimagnetic, resistant to heat and doesn't rust. Indeed, its corrosion resistance means it's even being studied as an option for storing nuclear waste. 
Where things get really interesting is that although titanium delivers similar strength to stainless-steel, it manages to achieve that while weighing half as much. A titanium watch offers a 'barely there' quality on the wrist that makes it pleasingly unobtrusive. 
Reinforcing that comfort is the fact that titanium is hypoallergenic: a protective oxide film is created when titanium is exposed to oxygen so that it doesn't react with your skin. This is the reason titanium is regularly used to make prosthetics and medical implants.  
Where titanium makes particular horological sense is for "tool watches" – the term used to describe timepieces designed to execute specific tasks, like a divers' watch with its rotating timer bezel or a hiking watch with an in-built compass.  Due to their functional nature, tool watches are expected to be robust and therefore err on the bigger side, both for protective reasons and because they need more room to pack in their various bells and whistles.  This greater size can easily make them cumbersome and heavy, but a titanium watch case offers a lightweight solution.
In fact, the only real catch with titanium is that it's a bit like Kyle Sandilands: it's not very easy to work with. Welding, forging and casting titanium is a difficult business, as the material tends to chew through cutting tools at a merciless rate. Inevitably, this does have a knock-on effect when it comes to the price of a titanium watch, but you get what you pay for. Given its multiple attributes, titanium still offers much to recommend it as a metal that punches way above its weight.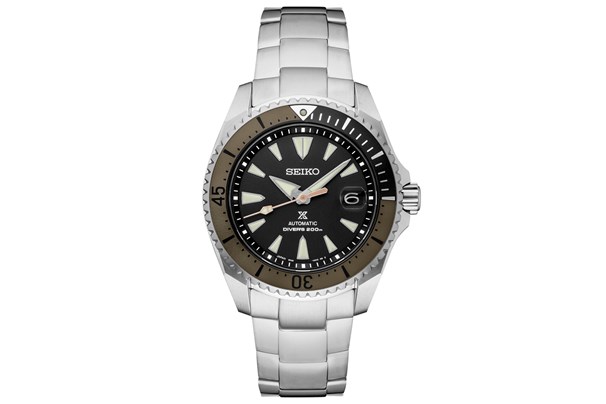 Seiko SPB189J Auto Dive Watch
Citizen Chrono Supertitanium
Mido Ocean Star Chronograph
Omega Diver 300M CoAxial Master Chronometer
TAG Heuer Aquaracer Professional 300 Titanium
BALL Engineer Hydrocarbon DeepQUEST Ceramic