More than any other person, Tony Hawk has brought skateboarding into the mainstream.
Through his advocacy work and his video games, Hawk has brought millions of eyes to the sport and turned the embers of a fledgling counterculture into a fire sweeping across the globe.
Along the way, Hawk has done virtually everything else. From being in The Simpsons, to meeting Obama and skating in the White House, and now, at 54 years old, dealing with his toughest battle yet: A broken femur.
"It was a regular day of skating. I did a trick that I can do pretty regularly, but unfortunately, I didn't really have enough speed for it. The trick requires spinning, and I didn't get enough of the spin done when I was in the air. So, I wasn't ready to come down and my leg got tangled. By the time I got to the flat, my leg was already dragging behind me."
Having skateboarded for 45 years, Tony Hawk is no stranger to injury. In fact, many of his worst slams are available for the world to see. However, his broken femur is proving to be a bigger challenge than anything else he's faced.
Up until recently, Hawk was on the mend and skating again after breaking his femur in March. Though shortly before our conversation, he learned that the recovery process had hit a roadblock.
"I've had injuries along the way but haven't had anything so traumatic as this, I just learned that my bone actually never quite connected properly. So I have a non-union recovering bone, and I have to go get it re-done. I just found that out."
In fact, it was while Hawk was getting used to being on his board again that he realized something wasn't right.
"It's frustrating for me, I've worked so hard to get to this point. Within the last few weeks, I could tell I wasn't making much progress. And so I went and got X-rays. And this is what I learned."
"[Breaking my femur] definitely rocked my confidence, without question. I was struggling to commit to tricks I can normally do, and I thought that maybe I'm just gun-shy now. Now I realize that I also had physical limitations stopping me from doing a lot of stuff."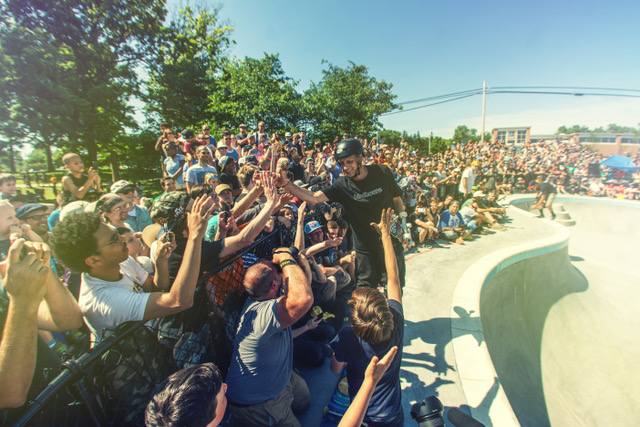 However, while Hawk's primary passion has to be put on hold with his injury, the skateboarding superstar has plenty of projects to keep himself occupied – including an upcoming collaboration with his skateboarding brand, Birdhouse Skateboards.
"[Birdhouse] just started doing apparel with Las Vegas Apparel. We're going hard into doing more fashion-related stuff with the Birdhouse brand. I feel like it could be our next big step. I still obviously want to do skateboards and stay in the core of our world, but this could reach a different audience and one that probably already knew about us or, or enjoyed Birdhouse on some level during their youth, that now get to re-experience it."
And if managing a clothing and skateboarding brand wasn't enough, Hawk's non-profit advocacy organization, The Skatepark Project, is working on bringing skateparks to every corner of the globe.
"We've helped to build close to 1,000 skateparks now. And I think we've given away $10 or $12 million. Over the years, we've really learned how to be efficient with our work."
"If the grant we're giving doesn't fund an entire skatepark, it will help to get matching funds and also approvals and to get it pushed through the red tape of the city councils. We're more effective at dealing with the bureaucracy and offering technical assistance to countries or cities that want to get a skatepark, than just giving out funds. We basically have the guidebook for it."
Then factor in speaking appearances, a podcast, and working with the Skatistan organization to bring skateboarding & education to girls and women in disadvantaged countries, and you can begin to see the amount of work that Hawk juggles on any given day.
"I have a lot on my plate, but I just try to prioritize projects that I feel will resonate more and have a better effect."
In the end, however, it all comes back to skateboarding for Tony Hawk. The lessons he's learned through skateboarding have taught him all he needs to know about business, and his passion for skateboarding keeps him working on new projects.
"Every skill set I have, I learned through skating. Learning to take risks, learning to be authentic, and pushing through adversity. I learned all of that through riding my skateboard."
"Yeah, you have to go through some boring meetings and do the rounds of creatives and stuff like that, but I love it because the end product is something that I am proud of. I'm making something that I feel represents my values and my aesthetic. And it's fun to be the one doing the moving and the shaking, as opposed to some guy in a suit and tie that doesn't skate at all."
Immense pride in his work and his passion for his craft have turned Tony Hawk into an enormously successful personal brand.
It's this same passion that will also bring Hawk back onto a skateboard in no time.