If you let it, getting your recommended 55g of protein a day can be an arduous affair. After all, there are only so many chicken breasts and shakes a man can take in a day. 
But protein is a macronutrient not to be avoided. It aids recovery, boosts your immune system, lowers stress and stimulates weightloss. So for anyone running out of ideas on how to get their protein fix, MH is here to help with a list of healthy, nutritious and delicious protein pancakes. 
But it's not just us who think these protein treats should be a staple of a healthy breakfast.
A study by the University of Cambridge's Metabolic Research Agency found that when people were given either a high-protein, high-carb or high-fat breakfast, it was protein pancakes made with high‐protein pancake mix and served with no‐sugar maple syrup and full‐fat Greek yoghurt that was best at leaving people full and reducing food intake.
Both science and our taste buds are in agreement, protein pancakes are the way to go if your end goal is either gains or weightloss, so below we've collected 9 of our favourite recipes. Happy flipping. 
1. Muscle-building Pancakes
With 61g of protein this will take care of your daily protein needs in one hit.
You'll need:
• 2 scoops of whey protein (chocolate or vanilla)
• Nut butter, 1tbsp
• Coconut milk, 50ml
• Eggs, 2
• Coconut oil, 1tsp
Method:
Ideal for breakfast or a post-workout pick me up, these pancakes are a cheat meal in disguise. To make them combine your whey, nut butter, milk and eggs in a bowl and mix well.
2. Heat a lightly oiled frying pan and pour the mixture into it in separate batches. Ideally each pancake should be 10cm across, but you decide how thick or thin you want them. Cook for 2min.
3. When the bottom of the pancake has turned brown, loosen with a spatula, flip it over (the fun part) and cook the other side. Serve hot with berries or a scoop of nut butter.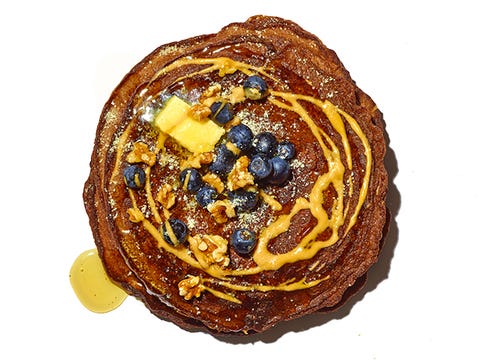 2. Bulk-Up Pancakes
A sprinkle of cacao in these protein pancakes will add additional amino acids to complement the protein hit from the almonds and walnuts. The nuts crack open omega-3 to support the synthesis of muscle-building hormones.
You'll need:
• Eggs, 2, whole
• Almond milk, 170ml
• Almond flour, 2tbsp
• Baking soda, ¼tsp
• Chia seeds, 2tbsp
• Coconut oil, dash
• Cinnamon, 1tsp
• Peanut butter, 4tbsp
• Purple sweet potato, ¼, baked
• Cacao, 1tbsp
• Blueberries, handful
• Crushed walnuts, sprinkle
• Ground almonds, sprinkle 
Method:
1. Combine your baked potato with your eggs in a bowl, and add the almond milk, almond flour, cacao powder, baking soda and chia seeds. Give it a good whisk.
2. Heat a non-stick frying pan with a knob of coconut oil. Pour in enough batter to fill the pan and cook until the top starts to bubble. Flip the pancake over so both sides are golden, and if you're feeling bold try a toss *at your own risk*.
3. Repeat this process until you have enough pancakes then serve with fresh blueberries, crushed nuts and a peanut sauce – made from peanut butter with hot water. Be generous.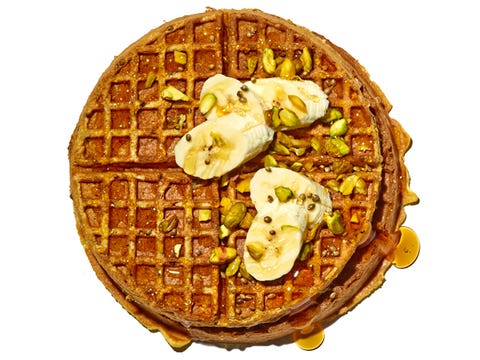 3. Plant Powered Pancakes
Instead of the whey powder, nutrient-dense hemp seeds will deliver a shot of appetite-suppressing plant protein. 
Ingredients:
• Eggs, 2, whole
• Banana, ½, mashed
• Baking soda, ¼tsp
• Cinnamon, 1tsp
• Hemp seeds, 2tbsp
• Almond milk, 150ml
• Coconut flour, 1tbsp
• Coconut oil, dash
• Brown rice syrup, squirt
• Crushed pistachios, sprinkle
• Hemp seeds, sprinkle
• Banana, ½, sliced
Method:
1. Mix the eggs, mashed banana, baking soda, cinnamon, hemp seeds, almond milk and coconut flour in a bowl. If you like lighter waffles, add more milk.
2. Heat up a smal pan and pour in your batter. Cook for 3 to 4 minutes or until golden on the outside
3. Keep repeating until you have a collection of stackable pancakes. Then add the pistachios, hemp seeds and sliced banana. Finish with a squirt of syrup. Go on treat yourself.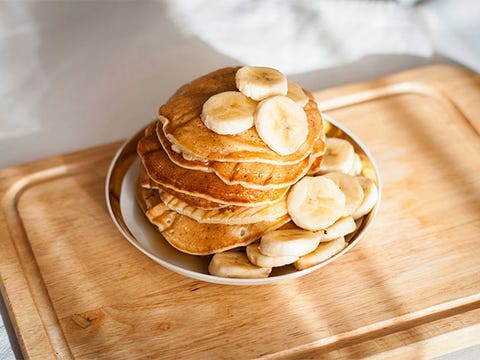 4. Banana Protein Pancakes
Thos overripe bananas you were thinking if throwing out can be put to good use with our banana protein pancake recipe. Delicious.
Ingredients:
• 2 small bananas
• 1 small sweet potato (120g) 
• 2 egg whites 
• 35g of banana flavoured whey protein
Method:
1. Boil the sweet potato until it's soft and can be mashed, then throw it into a mixing bowl (or blender) and add the two egg whites, 35g of whey protein and your chopped bananas. 
2. Blend together until the mixture turns a lighter orange and no lumps are visible.
3. Pour into a non-stick frying pan and cook for a couple of minutes until the mixture becomes solid. 
4. Flip the pancake and cook the other side for a minute or two.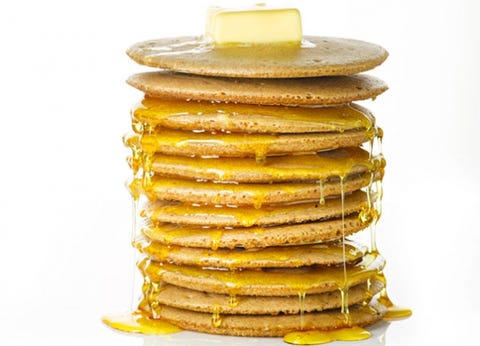 5. Quick High-protein Pancakes
You don't even need a pan to make these healthy breakfast treats. We literally can't make getting a quick hit of protein any easier than this.
Ingredients
• 1 egg protein powder
• 4 tbsp. oat flour
• 1 tbsp. milk
• 1 tbsp. cinnamon
Method
1. Crack the egg in a bowl, then whisk in the remaining ingredients with a fork until smooth. 
2. Now take a small plate, pour the mix on 1⁄2cm thick and spread evenly into a circle by tipping the plate. That's it for the prep.
3. Blast on max in the microwave for a minute. If it's still gooey, put it in again for another 30sec, then feed it to your starving muscles immediately. Repeat until you run out of batter for your full 30g of growth fuel.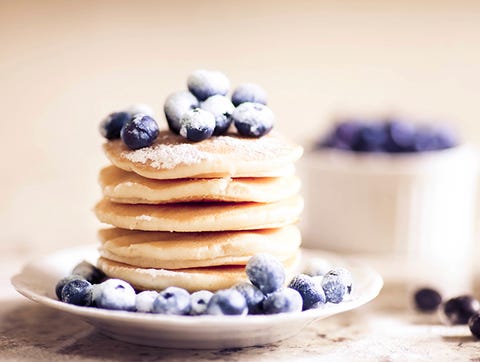 6. Blueberry Protein Pancakes
Blueberries, strawberries and sweet potato might sound like a strange combination, but trust us it's worth suspending your disbelief. if you're not ready yet though, don't worry, just take out the sweet potato and make blueberry pancakes.
Ingredients:
• 1 scoop of whey protein
• Coconut oil
• Three egg whites
• 4-5tbsp of oats 
• 1 banana
• Generous handful of blueberries
• 2tbsp baking powder
• Optional: medium-sized sweet potato
Method:
1.Drop the oats into a blender and whizz until it has a flour-like texture. (If using a sweet potato, microwave for five minutes, dice, then add to the mixture).
2. Add the eggs, banana, protein and baking powder and blend until it's all smooth then add the blueberries.
3. Scoop an inch of the mix and drop it into a non-stick pan, cooking for one minute on each side.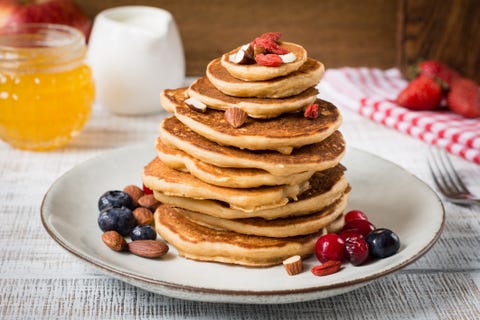 7. Pack-on Size Protein Pancakes
We know what you're really here for: to pack on size, right? Well, we have the perfect protein pancake recipe for you.
Ingredients:
• One egg white
• 15g of vanilla protein powder
• 1/3 tsp baking powder
• 2 topped tsp cocoa powder
• 1 tsp stevia
• 50ml semi skimmed milk
• 100 ml water
• Blueberries, handful
• Crushed walnuts, sprinkle
• Ground almonds, sprinkle
• Dessicated coconut
Method:
1. Mix all the ingredients together in a bowl.
2. Let it sit for 5 to 10 minutes before frying in a non-stick frying pan on low heat. Once you can see that the top is slightly cooked through, flip over for 1 to 2 minutes until done.
3. Serve with blueberries, crushed walnuts, ground almonds and dessicated coconut.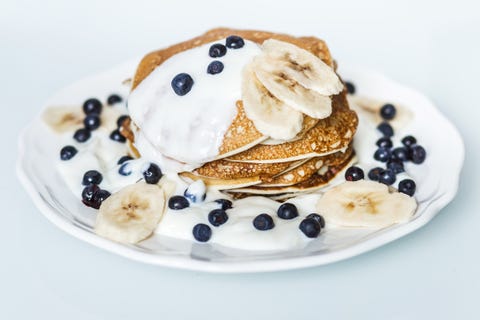 8. Chocolate Protein Pancakes
This list wouldn't be complete without a chocolate option. Enjoy.
Ingredients:
• Two bananas
• One egg
• One scoop of chocolate whey protein
• One teaspoon of coconut oil
• Greek Yoghurt
• Blueberries
Method:
Slice one banana and mix it with your egg and a scoop of whey protein.
2. Fry the pancake mixture in one teaspoon of coconut oil. Once you can see that the top is slightly cooked through, flip them over.
3. Serve with greek yoghurt, blueberries and the second banana.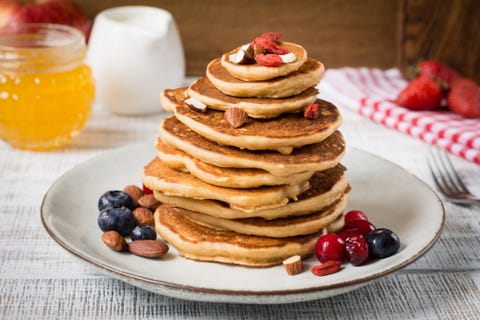 9. Oats Replacement Pancakes
Your day has to start with either oats or eggs right? Why not combine the two for out oats replacement pancakes.
Ingredients:
• 25g of whey protein
• 100ml semi skimmed milk
• 1 large egg
• 50g porridge oats
• 1 tsp cinnamon
• 1/4 tsp baking powder
Method:
1. Make your pancake batter by mixing oats, protein powder, baking powder, your egg, milk and cinnamon together.
2. Place the mixture into a frying pan and cook the pancake for about 50 seconds until the bottom is light brown.
3. Serve with toppings of your choice.
10. Berry White Chocolate Protein Pancakes
Ingredients:
• 1 egg
• 50g YoPRO Yogurt (Vanilla, mixed berries or plain)
• 60-80ml Almond milk
• 50g Frozen Raspberries
• 25g Protein Powder (white chocolate or vanilla)
• 35g Plain flour
• 1/2 tsp baking powder
• 5g Sweetener
• 2 scoops (80g) YoPRO Berry White Chocolate Frozen Dessert
• Sugar-free or normal maple syrup
Method:
1. Mix your wet ingredients and sift through dry
2. Mix the pancake Batter until well combined
3. Melt down frozen raspberries in the microwave or stovetop
4. Mix the frozen raspberry mixture into the pancake batter
5. Cook the pancakes on low heat
6. Top with sugar-free maple syrup, Berry White Chocolate Frozen Dessert and some freeze-dried raspberry powder for some *extra-ness*
7. Enjoy
Best Pancake Toppings
So you've made your pancakes, but now you need some topping to complete them. Don't worry, we have a topping for every fitness goal. 
Best protein pancake topping for… pre-workout
Dark chocolate: Try slathering your pancake in cocoa-rich dark chocolate before you reach the gym. It'll improve your performance and encourage a T-shirt-busting pump by the time you hit the showers.
Best protein pancake topping for… burning fat
Cinnamon: A sprinkling of cinnamon on your food is one of the simplest ways to burn fat faster. Researchers at the University of Birmingham found just 3g a day improves insulin sensitivity and optimises your body's ability to process carbs and sugars.
Best protein pancake topping for… boosting your immune system
Natural yoghurt: The catchily named Lactobacillus casei bacteria found in natural yoghurt boosts the number of white cells in your body known as lymphocytes, which stave off disease.
Best protein pancake topping for… calorie-free flavour
Zero syrups: What is a protein pancake without syrup? If you must have it try thezero calorie, zero carb and sugar free natural syrup made from maple flavouring. Squeeze it on safe in the knowledge that your gut won't suffer any inflationary consequences as a result of your gorging.