If you have a Netflix subscription – like seemingly everyone on the planet these days – you've likely watched a documentary pertaining to plant-based diets and their environmental impact. From The Game Changers to Seaspiracy, where it used to be the case that eating meat was heralded with the kind of bravado you'd reserve for crushing a set at the gym, now we're more reluctant to cut into red meat, or at least not every day of the week. As we take a discerning eye to everything that goes into our bodies, meat has been a subject of great debate. And as countless athletes have since made the switch to plant-based diets, it seems animal products are no longer a necessity when it comes to bulking or strength training.
If you had any doubt as to the power of a vegan diet, look no further than these elite athletes. Whether it's running, weight lifting or competing on the football field, these athletes prove that you can still perform at your physical peak while eschewing animal products. Here are some of the world's most renowned athletes who are all powered by plants.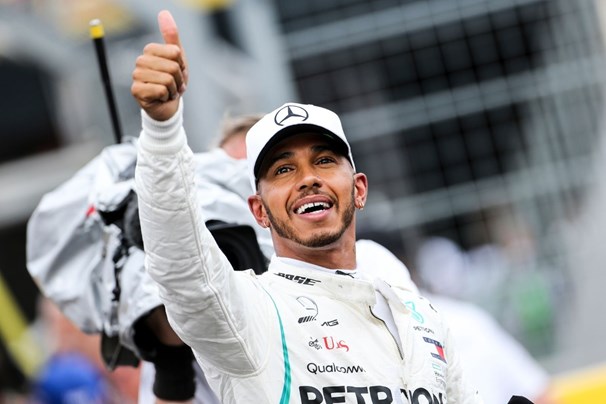 Lewis Hamilton
The star Formula One champion and vegan is a vocal supporter of animal rights and has long proclaimed the benefits, both mentally and physically, of going plant based. 
Shutterstock
James Wilks
The former UFC fighter switched to a plant-based diet while recovering from injury, showing that meat isn't needed for strength and muscle building. 
Instagram
Dotsie Bausch
The pro cyclist went vegan in 2009 and saw her athletic performance improve as she then went on to win a silver medal at the 2012 Olympics. 
Tia Blanco
The vegan surfer has been vegan for some time, and her performance has only continued to improve. 
Instagram
Scott Jurek
The ultra runner switched to a vegan diet and experienced countless improvements to his body composition. As he said in an interview, "A lot of people assume that one needs to eat animal products to gain a lot of muscle mass or sufficient muscle mass for even power sports, and that's definitely been proved false time and time again."
Instagram
Morgan Mitchell
The Australian sprinter became an Olympian in 2016 at just 21-years-old. She went vegan in 2014 after watching a documentary about animal cruelty and has found the diet allows her to recover a lot quicker and has improved her energy. 
Instagram
Rich Roll
The podcaster, ultra man and Ironman athlete has long proclaimed the benefits of going plant based. He told Men's Health, "There's a huge misconception that A, going vegan is going to be incredibly time-consuming, or B, that it's going to be more expensive than eating traditionally. That has not been my experience."
Instagram
Patrik Baboumian
The retired strongman and bodybuilder went vegan in 2011. He said in an interview, "I just found myself thinking that if I would have to kill the animals I ate with my own hands I couldn't because I was too compassionate."
Alex Morgan
The US soccer star went vegan and still excels on the football field.
Heather Mitts
Likewise, the three-time Olympic gold medalist and professional soccer player also went vegan. She made the switch after watching the 2017 documentary, What the Health. 
Fiona Oakes
The marathon runner went vegan at the age of six and has continued to see personal health benefits from adopting the diet. 
Kyrie Irving
The NBA star switched to a vegan diet and says it made him a stronger player. According to Irving, it's done wonders for his energy levels. 
Instagram
Colin Kaepernick
The NBA star and activist is vocal about the connection between human suffering and animal suffering, leading him to adopt a vegan diet. 
Instagram
Kendrick Farris
The Olympic weight lifter witched to a plant-based diet and saw incredible results. He felt stronger, leaner and had an improved focus. 
Instagram
DeAndre Jordan
The NBA Star and Olympic gold medalist believes his plant-based diet has led to incredible improvements in performance. 
Instagram
Javale McGee
The NBA star switched to a vegan diet to drop weight and reduce the stress on his joints. "You just feel really good, lighter. And there is a lot more energy you have throughout the day," he said in an interview. "I just tried it, and it has been working for me. It's an adjustment, but it's really not that big of one once you stop thinking of all the things you won't be able to eat."
Instagram