For legendary DJ duo The Stafford Brothers, a work-hard, play-hard lifestyle means that when it's time to step into the gym at Rumble Boxing, there's only one way they know how to go: all out.
Matt Stafford begins our interview with a well-practised slip. Okay, I'm reaching here in my search for a boxing metaphor, but basically Matt has ducked my polite enquiry about his age – let's call that a tentative jab – with a straightforward "No". His brother, Chris, who's wearing a beanie, counters with another "No" and a shake of the head. "It's just something we've never given out," adds Matt, who has long hair and is sipping from a red plastic cup, before volunteering that he's two years older than Chris. I'm tempted to throw another flimsy jab – "please can you tell me?" – but decide I'd be better to dance for a while and see if I might be able to corner the boys later in
the interview.
The Staffords, to continue to belabour the pugilistic parlance, are contenders for the title of Australia's most successful DJ duo, with global dance hits such as 'Hello' and 'This Girl' in the early 2010s. These days they are also highly sought-after managers, handling the careers of Timmy Trumpet and rising star Restricted, among a stable of burgeoning talent. They've also had stints as reality-TV stars and are successful entrepreneurs. Last year they bought into cult fitness franchise and celeb-fave Rumble Boxing, with plans to open a gym on the Gold Coast later this year.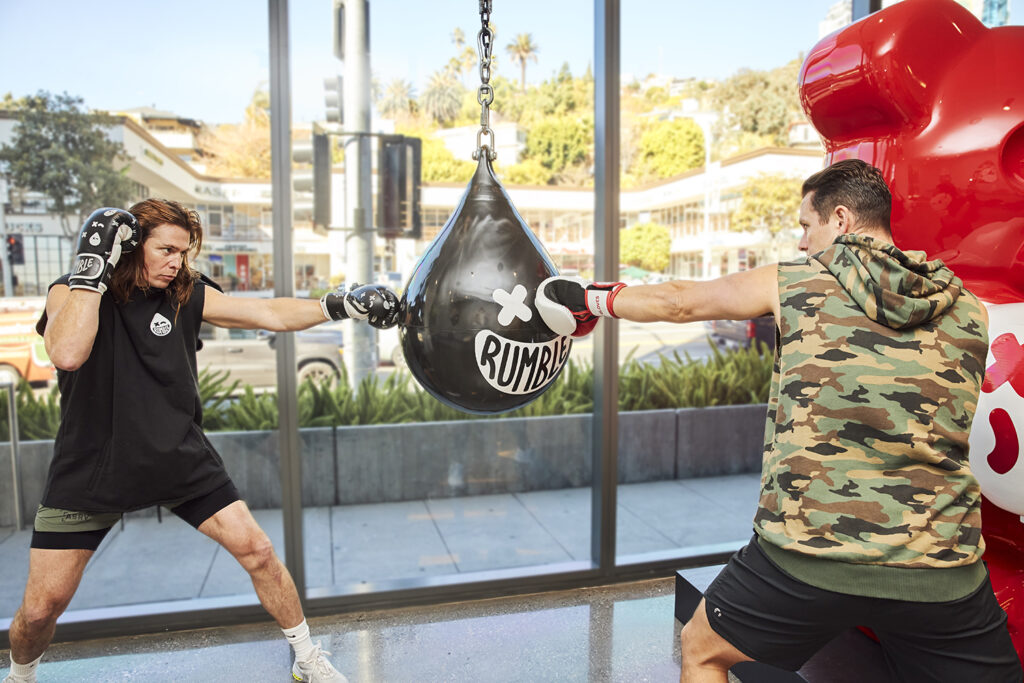 Originally from New Zealand, the brothers moved to the Gold Coast as teenagers but have been based in the US for the past decade. Today, Chris is speaking to me from Matt's house in LA where he's babysitting his brother's two-year-old daughter, Rocky, after putting his back out, somewhat ironically, while boxing. Matt is fresh from a day on the slopes at California's Mammoth ski resort and plans to head out for a few drinks with his crew once this interview is done. "I'm stand-in dad tonight," says Chris, who Matt's family affectionately calls "Auntie Chris".
By now I feel that we've felt each other out and have an idea of each other's reach. Is it time to stop circling and actually trade some shots? I'm worried that Matt, who seems to be the more outwardly gregarious but possibly combative of the two, might throw a wild haymaker if I venture into the wrong territory. But perhaps it will be Chris, who's seemingly more reserved but transforms into a dervish-like front man on stage, who delivers the blow that brings this to an early stoppage. One thing they probably won't do is fight each other. "We're not like Oasis. We get along," says Chris. "We've drunk like them a few times," adds Matt. "But I would say, for me, we've always got each other's back. I know what pushes his buttons; he knows what pushes mine and we also know when to get out of each other's way. We respect each other a lot and we'd rather be mates than fight."
Fortunately, they've found a way of working out that allows them to do both.
---
Rumble in the jungle
When they're not working the heavy bag at RUMBLE (doyourumble.com.au) the Staffords do a boxing circuit like the one below. "You'll be gassed," promises Chris.
Do 90-second rounds in which one person works combinations on the pads or the heavy bag while the other does push-ups, med-ball slams or burpees. Rest 15 secs then switch. Keep alternating every 90 secs for 20 minutes.
---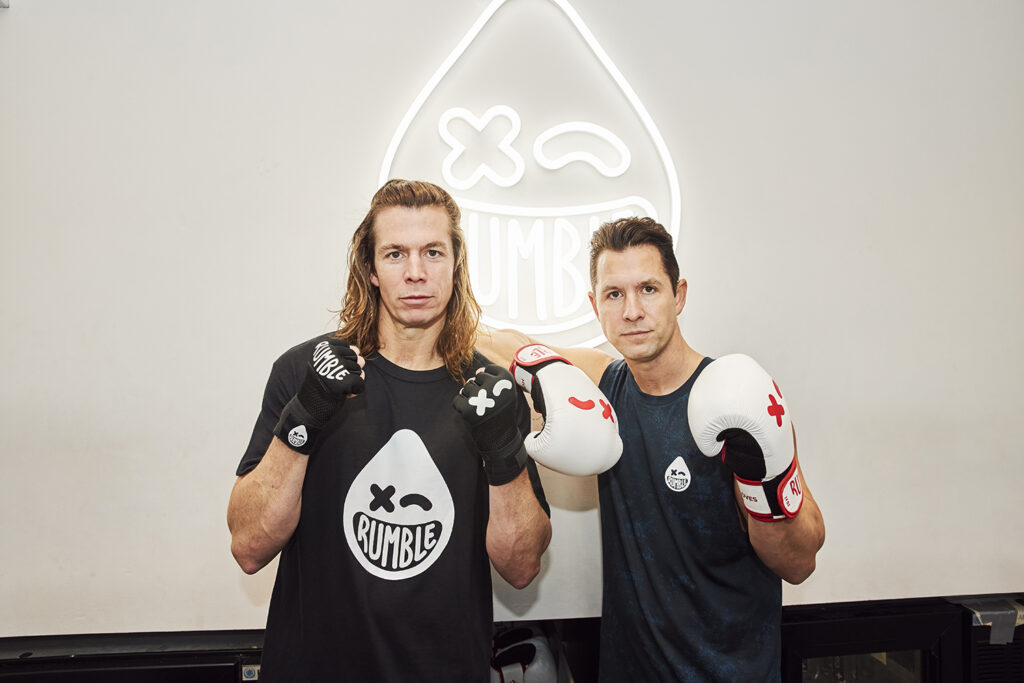 Greenlights and big nights
Long before Matthew McConaughey popularised the term 'Greenlights' to articulate a seize-the-day attitude to life, the Stafford's dad, a civil engineer and former skiing champion, was instilling it in his sons. "He was always like, 'Greenlight, have a go'," says Matt, noting that he's unconsciously started passing down his dad's motivational ethos to his daughter. "It's funny because I listen to a lot of motivational audio books when I'm driving and dad said, 'Mate, I used to make you guys listen to tapes when I was driving you to school'. I guess it was slowly drummed in. I was literally doing the same thing with Rocky the other day. It's who we are."
The greenlight attitude meant that as kids in Upper Hutt, at the tip of NZ's North Island, the brothers would try their hand at most sports, from judo and weightlifting to skiing, water skiing and, of course, rugby. "Like most Kiwi boys we wanted to be All Blacks, right?" says Matt, before pointing out that Chris was initially the more successful of the two, once scoring 55 tries in a season.
Chris nods. "I remember my grandpa was on the sideline once being quite vocal and he got removed from the game because they were trying to take me off because I'd scored so many tries."
Both would play First XV for Wellington schoolboy sides before the family moved to the Gold Coast when the boys were in their teens. There it was Matt who began to impress on the field, playing for the Gold Coast Breakers (now Bond University) in the Premier Rugby competition and even turning out for the Queensland Reds in the junior ranks against Fiji and the junior All Blacks, an experience he describes as "pretty funny". His Breakers team would make the grand final five years in a row, winning once. He even spent a year playing professionally in Italy.
If it sounds like a particularly sporty upbringing, it was also a musical one and eventually the brothers' two passions would collide. "If you come to Christmas day at the Stafford house, everybody's singing and I don't know how many guitars and ukuleles there are," says Matt. "Our grandfather was always on a ukulele. My dad actually now makes ukuleles. Music's always been with us."
Chris would play piano as a kid while Matt learned the guitar. In high school Chris began mucking around with his mates on a program called Dance eJay, which would lead them both onto the decks. Initially they performed under the name Level 13 before switching to the more straightforward 'Stafford Brothers'. Without any hits to hype the audience, early on they made their name with their on-stage energy, says Matt.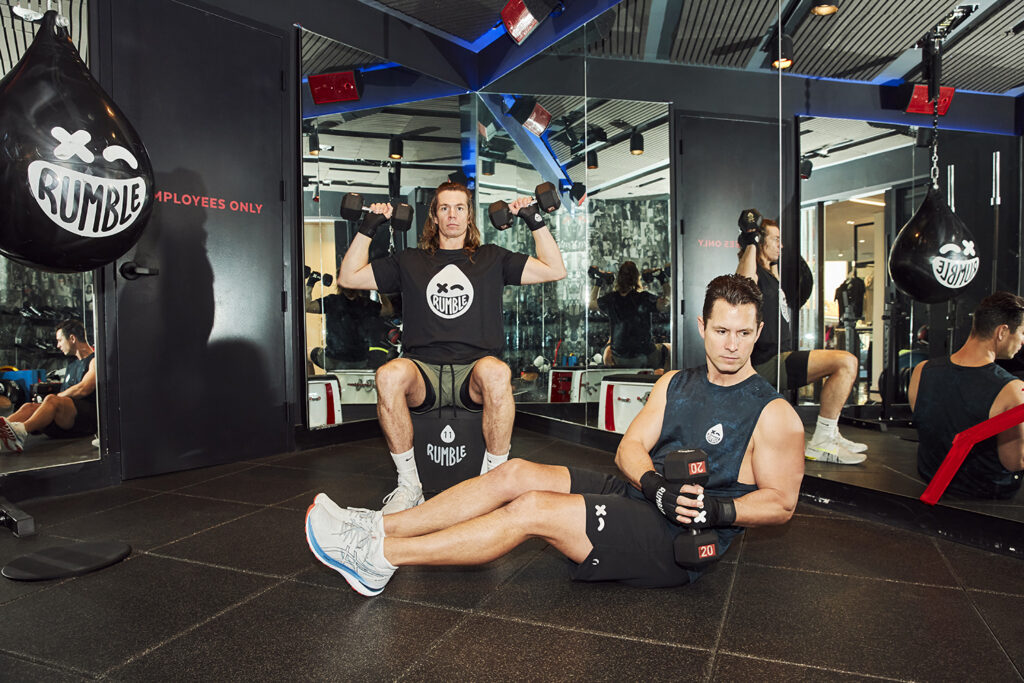 "I think when you're giving energy, the crowd lifts up with you," he says. "At the start it was like we're playing to this little room and we'd be these two guys going fucking mental and giving out heaps of energy and people would be like, 'Who are these two guys?' It just really built from that."
What took the band from local Goldie legends to a duo with a national profile was when they entered a Channel V competition in which four winners got to spend 10 days performing in Ibiza. "Chris and I sent in a joint video and they selected us as the two guys along with two other girls," Matt says.
The opportunity would bring something to a head that had been brewing for a while: sooner or later Matt was going to have to choose between rugby and music. "We would be playing rugby on a Saturday then DJing that night," he says. "I remember I was in the Breakers and the coach was like, 'Oh, I don't think you should go [to Ibiza], mate'. And I was like, 'Mate, it's a once in a lifetime opportunity'."
Of course, they would go on the trip, a thrilling, eye-opening – though now pretty blurry – crash course into the workings of mega clubs and big-gig performing that would help catapult them to stardom. Soon they would be offered an album deal. It was time to make a choice between rucks and records, says Matt, who had an offer to join the Western Force and another one to stay at the Reds. But it was while the duo was on a short tour in Europe that the decision was finally made. "I was like, If our team makes the finals, I'm going to come back for the Breakers and play," Matt recalls. "It was the first year we didn't make the finals, so basically the decision was made. From that point on, I never ever played rugby again and our whole music career went crazy."
Fighting fit
So, how crazy are we talking here? Well, not long after the Ibiza trip the duo had landed their own show on Fox 8 called The Stafford Brothers, which ran for two seasons. In March 2012 they headed to the US to film the third season, only for the sponsor to drop out. It would prove a temporary setback, for soon they were landing a record deal with Cash Money Records and collaborating with the likes of Lil Wayne, T.I., Rick Ross, Waka Flocka Flame and Lil Yachty. They would be named Australia's best DJs three years running, while building up their own roster of talent, including Timmy Trumpet, who's still with them today and now regarded as one of the world's preeminent DJs.
The greenlight mentality that saw them flourish in sports as kids would extend to the brothers' business interests, too. They began to branch out into publishing and hospitality – at one stage they owned three nightclubs on the GC – as well as dabbling in NFTs, energy drinks and, of course, the fitness industry. The duo previously owned a couple of F45 franchises but got out when their mate, Rob Deutsch, left the company in 2020. By that time, they'd begun working out at Rumble in LA, so when the popular boxing franchise announced plans to expand into the Australian market, the boys quickly jumped on board.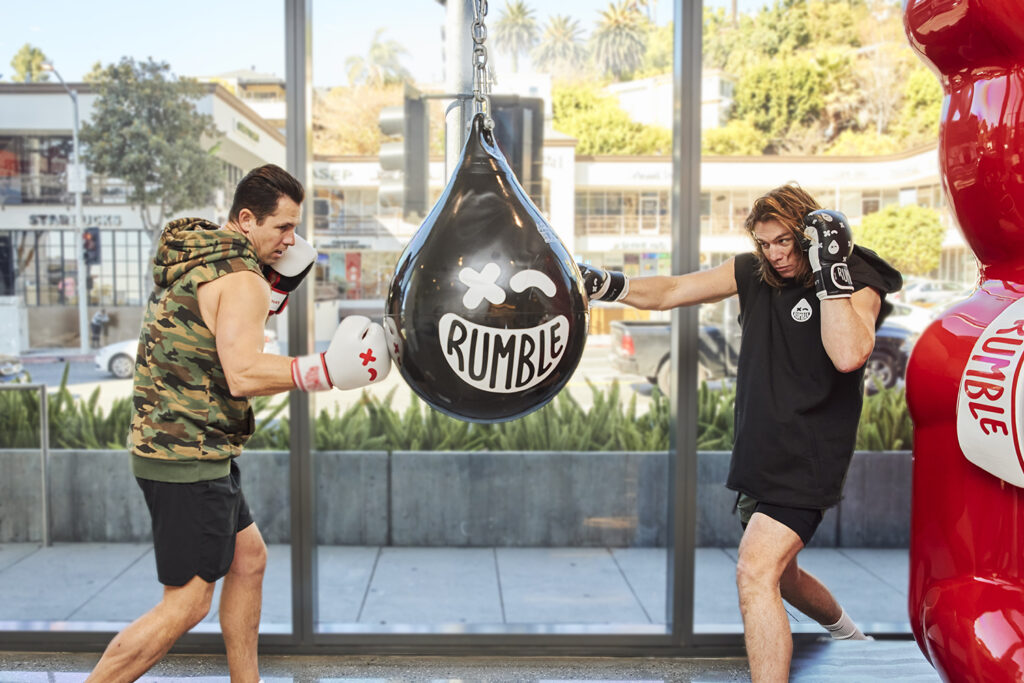 With their athletic upbringing, investing in Rumble just felt right, says Matt. "We used to train at the one in West Hollywood all the time and just loved it," he says. "And when we're home on the Gold Coast, we train with a boxing trainer once a week as well. Our dad, our grandfather… they all love boxing."
Combining boxing, weights, metcon and HIIT in intense 45-minute workouts, sessions at Rumble essentially serve as penance for the brothers' excesses on weekends. Just the weekend before, Matt tells me, they played at E11EVEN, one of the biggest clubs in Miami, finishing their set at 5:30 in the morning. An hour later they were at Soho House Miami Beach, having a swim and working out in the gym before jetting back to LA that day. "And mate, I had a lot of shots that night," says Matt.
You could make a case that they live a balanced lifestyle, it's just one weighted by extremes rather than tempered by moderation. "At one extreme, we're partying on the weekend and then during the week we're the exact opposite," says Chris. "We never really drink during the week." Adds Matt: "We really do believe in that. People say, 'Oh, I drink in moderation' if they drink every day. I think drinking every day is the worst thing you could do. Just do it once and then don't drink for six days. That's my mindset. Get it in you and then get it out of you and then stay clean.
Chris nods. "I do think we just go full on with everything we do." I nod, too. A greenlight attitude to life requires that of you… regardless of what your age happens to be.
Between sets
Favourite move?
Chris: Bench press
Matt: Hang cleans
Least favourite?
Chris: Hang cleans
Matt: Incline bench press. I'm really shit at it
Cheat meal?
Chris: Chips. I just can't stop
Matt: Noodles. You just can't put enough in front of me
Workout song?
Chris: Michael Brun mix
Matt: Straight Outta Compton, something old school
Book or podcast you recommend?
Chris: Legacy
Matt: Becoming the 1%, by Gareth Timmins.
Hero?
Chris: I'd say my hero's Matt
Matt: Buck Shelford. What a freak. Just a hard man
Motto?
Chris: It always works out.
Matt: Work hard, play hard, no question. And also, green light, bro, obviously