If ever there were a sport that's come to be synonymous with the green and gold, it's that of swimming. Perhaps it has something to do with Australia's geographic location, being a country surrounded by the allure of pristine blue waters, but perhaps it also speaks to our relentless drive and determination to succeed. Whatever the case, swimming has long been a sport our Aussie sports stars have excelled in on the world stage. From Ian Thorpe to Michael Klim, Ariadne Titmus and Kyle Chalmers, our swimmers are known simply by their last name – that's how great their success has been.
But to compete at such a level and dominate takes something remarkable. On the international sporting stage, it's not merely a matter of how much training one is doing, but rather the marginal gains being made in the process. From recovery to nutrition, to mental health and overall wellbeing, these are the factors that one has to consider to perform at their best. And not surprisingly, one can't do it alone. It's why news of Apple's support behind the Australian national swim team comes as hardly a surprise, with our swimmers being propelled to their most successful period in history courtesy of Apple Watch and iPad. 
As Swimming Australia's performance solutions manager, Jess Corones, explains: "Data is the key ingredient when it comes to designing performance outcomes for our athletes." Corones adds, "We have seen increased engagement from athletes wearing Apple Watch, which gives us more data points to inform analysis and make coaching decisions. iPad has become an essential coaching tool because it allows us to access athlete health data and race footage instantly from anywhere."
When it comes to improving performance, marginal gains are everything and for the world's top swimmers, this comes down to not only training load but recovery, too. It's something world record holder and gold medallist, Zac Stubblety-Cook knows all too well, with the Apple Watch providing instantaneous feedback throughout his daily training routine. "As an elite athlete, it's important for me to access heart rate and activity data in real time so I can make quick adjustments and avoid overtraining," he says. 
Thanks to features like the gyroscope and accelerometer, the Apple Watch is able to count laps, track average lap pace, and auto-detect stroke type to measure active kilojoule burn. Users are able to set the pool length, with the watch then going on to automatically measure splits and auto sets. There's also GPS that can be used to accurately determine the swimmer's route and distance for open water swims.
And, in what is certainly an exciting development, later this year watchOS 9 will introduce new swimming enhancements, such as kick board detection as a stroke type for Pool Swim workouts. Thanks to sensor fusion, Apple Watch will be able to detect when users are swimming with a kick board and classify the stroke type in the workout summary along with distance swam. Swimmers will also be able to track their efficiency with a SWOLF score – a stroke count combined with the time, in seconds it takes to swim one length of the pool.
For those who favour a swim against currents in open water, it's a feature worthy of celebration and one marathon swimmer and bronze medallist, Kareena Lee, is greatly looking forward to. "I started wearing Apple Watch to measure my distance, route, and splits when I was swimming in the ocean," she says. "There are no clocks or defined distances in the ocean and before Apple Watch, I was just guessing. Following an injury, my physiotherapist and coach used my Apple Watch data to monitor my training load to ensure it was constant so I could keep training."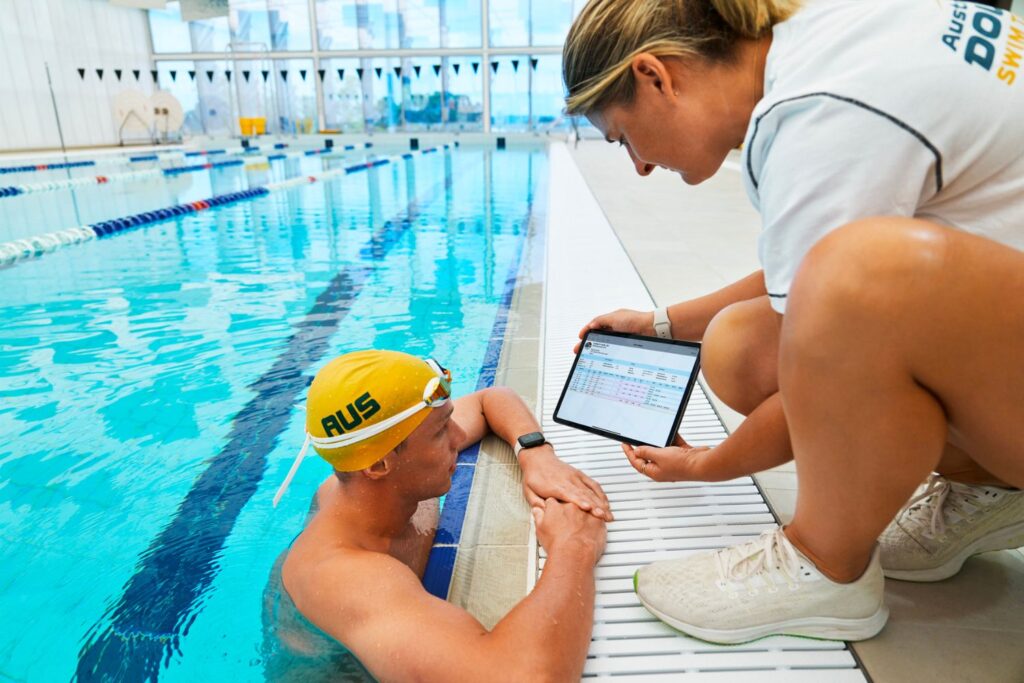 Thanks to Apple Watch and various apps, athletes can now receive a complete picture of their training load, recovery and overall wellbeing, something that they are able to examine alongside their coaches to then explore the best possible strategies to enhance performance. "Being able to strap something on my wrist that is unobtrusive and tracks my sleep, activity, and heart rate variability has been incredibly handy," says para-swimming athlete, gold medallist and world record holder, Katja Dedekind. "It takes all the guesswork out of training preparation and is far more accurate than inputting data manually. In the lead-up to Birmingham, it played a huge role in my preparation as it allowed the performance team to remotely monitor my health and fitness to ensure I tapered off my training at the optimum time."
As the team now looks towards the World Championships and Paris in 2024, training will only intensify as coaches look to ensure preparation in every facet of competition is undertaken. As a result, Swimming Australia developed the Locker app for iPad, allowing performance analysts the chance to play back race footage, analyse data, and provide feedback to athletes in training and competition environments with video of both race and training footage saved in the app. As Corones explains, "Most athletes are visual learners and it's incredibly powerful being able to show an athlete what we're asking them to do while they're engaged during a training session."
"Ultimately, this technology gives us the tools to design performance programs that help our athletes swim faster in the pool so they can win more medals," said Corones. It seems only clear that with Apple's latest innovations and technologies at their disposal, Australia's top swimmers will only continue to go from strength to strength, making for some incredible performances in the pool that will be remembered for years to come.