Nearly 70 per cent of the mushrooms we buy in supermarkets are white buttons. But peak fungi foraging season is fast approaching, so branch out with the help of chef Morris Wegrodzki, who specialises in making veg the main event.
The mushroom's meaty texture and mineral payload make any variety a star ingredient, whether you're vegan, veggie or just hungry. Add magic to your meal with Wegrodzki's top picks.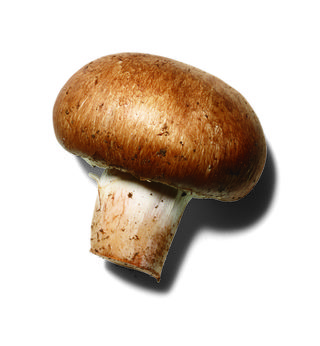 Cremini
This humble ingredient is your ally in the fight against one of man's biggest killers: heart disease. Filled with the antioxidant ergothioneine, a serving will help to reduce your risk of cardiovascular problems.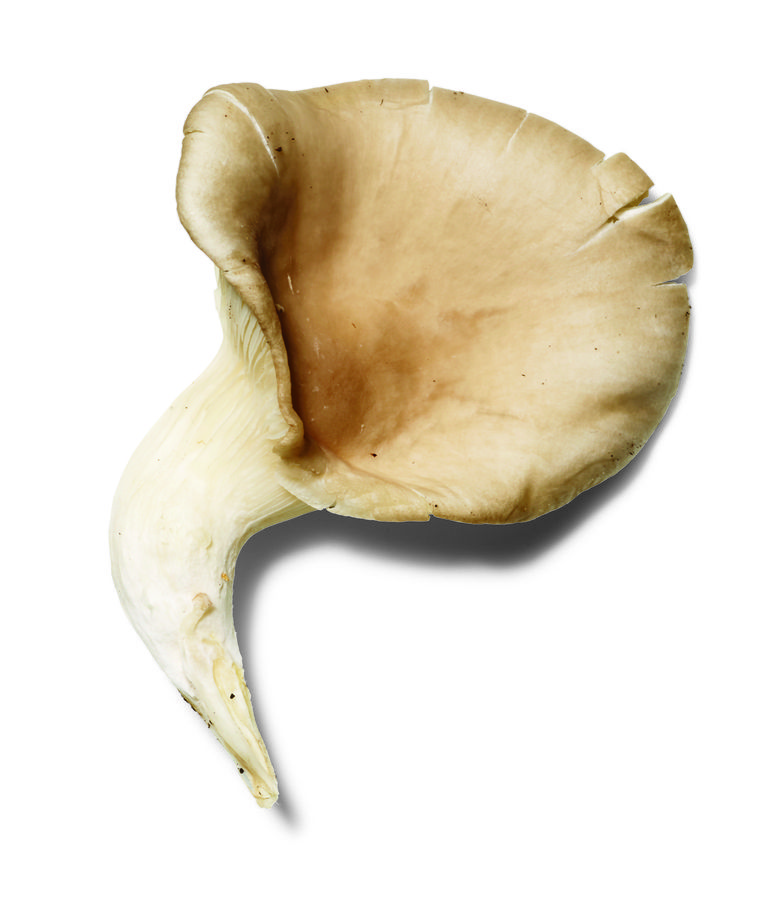 Oyster 
A mild-tasting option that boasts more iron than most other varieties, this mushroom will improve blood supply to your muscles to support your gym performance. It pairs especially well with crisp white wine, too.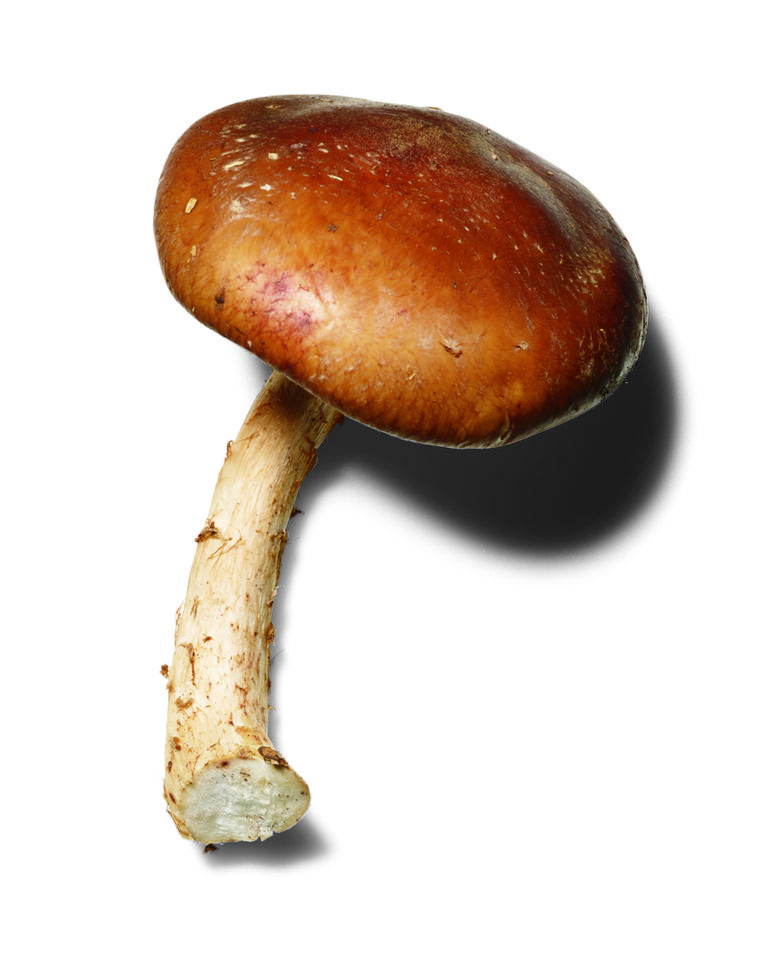 Shiitake
The shiitake's tender cap has a woody taste that complements Asian flavours. With more than double the satiating fibre content of white buttons, consider this a tastier weight-loss supplement.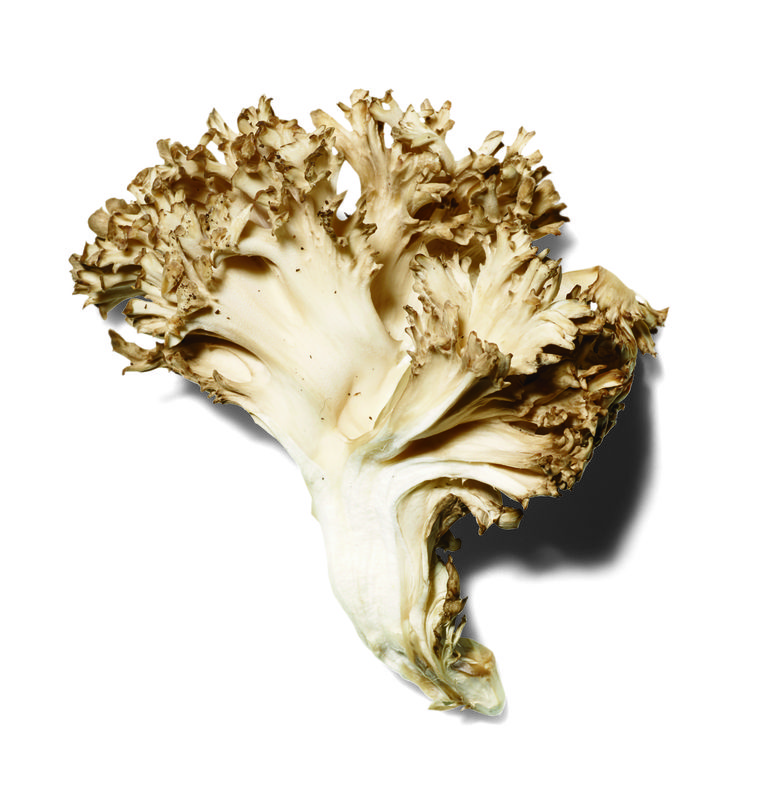 Maitake
Save this one for the morning after the night before. Fry up a handful and serve with a slice of buttery toast – their naturally high levels of the antioxidant glutathione will help to bolster liver function.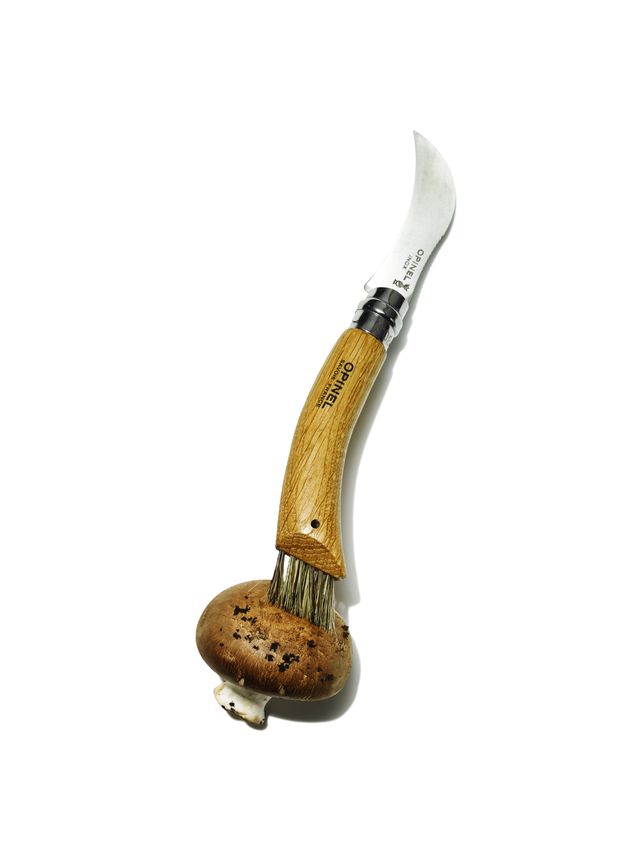 Finders Eaters
When foraging, be sure to treat the ingredients delicately to protect their flavour and avoid breaking down their nutrients. "Don't rip – cut them," advises Wegrodzki. The best tool to use is a mushroom knife-and-brush combo. Then, place your haul in a wide, shallow trug. "This lets your mushrooms spread out and prevents them from squashing." Don't wash them, either ("they'll go slimy") – that's what the brush on your knife is for. Once in the kitchen, place a large non-stick pan over a medium heat and add one handful of mushrooms at a time. Be careful not to crowd the pan; cooking too many at once may cause them to steam in their juices rather than sauté. Patience is key – stir occasionally and remove only when your fungi are no longer producing moisture. Field to table? You've got it licked. 
Cap It All Off
As the number of vegans in Australia continues to grow – and with research suggesting that a flexitarian diet can improve both weight loss and heart health – Wegrodzki has devised four meatless recipes that each afford the honest mushroom the nutritional hero status it so richly deserves.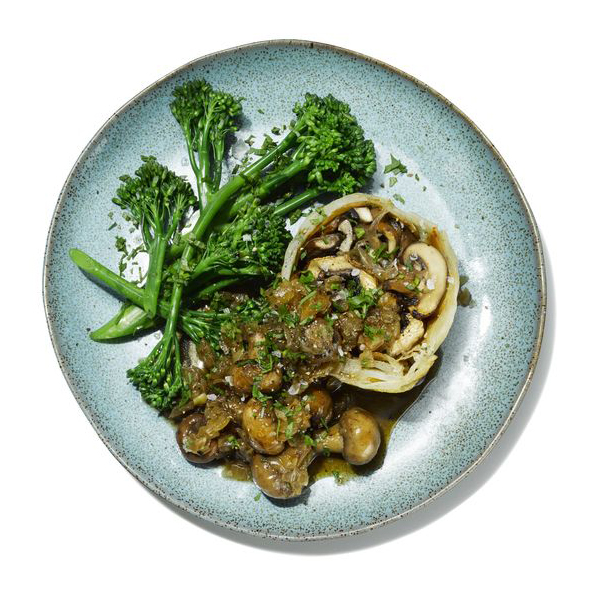 Simple cremini rotolo
Serves 4
•2 onions, diced
•3 garlic cloves
•300g button mushrooms
•1L vegetable stock
•4 white potatoes
•2 tbsp soya cream
•2 tsp smoked paprika
•1kg cremini mushrooms
•500g long-stem broccoli
Method
In a pan, sweat 1 onion and a minced garlic clove, then add the button mushrooms. Pour in the stock and season with salt before setting aside. Thinly slice the potatoes and combine them with the cream and paprika; layer on a baking tray and cook at 180°C for 30 mins. For the filling, fry up the creminis and remaining onion and garlic; spread on top of the cooked potato sheet. Roll it up, slice and serve with the sauce and steamed broccoli.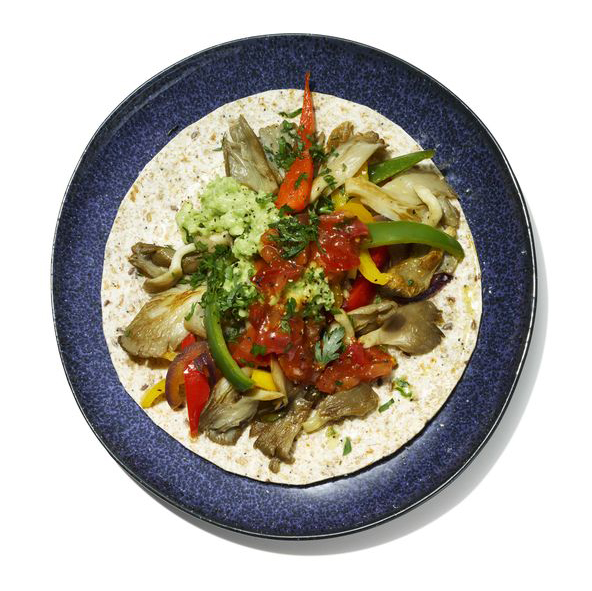 Oyster mushroom tortilla
Serves 4 
•2 red onions, sliced
•3 mixed-colour capsicums, sliced 
•2 garlic cloves, minced
•1kg oyster mushrooms, torn
•2 tsp smoked paprika
•1 tbsp soya sauce
•4 tortillas
•200g guacamole
•200g salsa
Method
In a frying pan, sauté the onions, capsicums, garlic and mushrooms until the mushrooms are soft. Sprinkle over the paprika and add the soya sauce, then allow it all to cook for an additional 2 mins. To build your tortilla, load it with a generous serving of the mushroom and pepper mix and a dollop of guacamole and salsa, before wrapping it up and stuffing it in your mouth. This could get messy.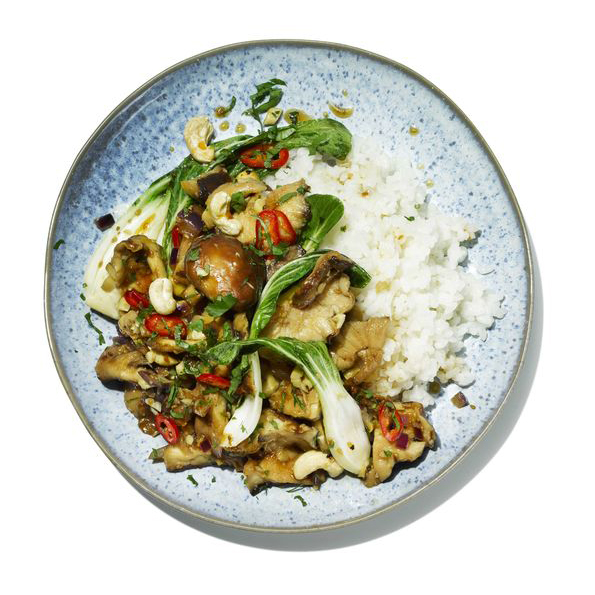 Shiitake, greens and sticky rice
Serves 4
•100ml mirin
•200ml rice vinegar
•40g sugar
•500g sushi rice
•2 red onions, diced
•1 red chilli, chopped
•1kg shiitake mushrooms
•200ml teriyaki sauce
•200g cashews
•500g pak choi, chopped
Method
In a pot, boil up the mirin, vinegar and sugar. Set aside. Combine the rice and 550ml water, simmer until the water has gone, then season with the syrup. As it cools, fry up the onions and chilli, then add the de-stemmed shiitake caps; cook until tender. Pour in the teriyaki sauce and cook for another 5 mins. Crush the cashews and add them with the pak choi; stir for another 2 mins. Serve with the sticky rice.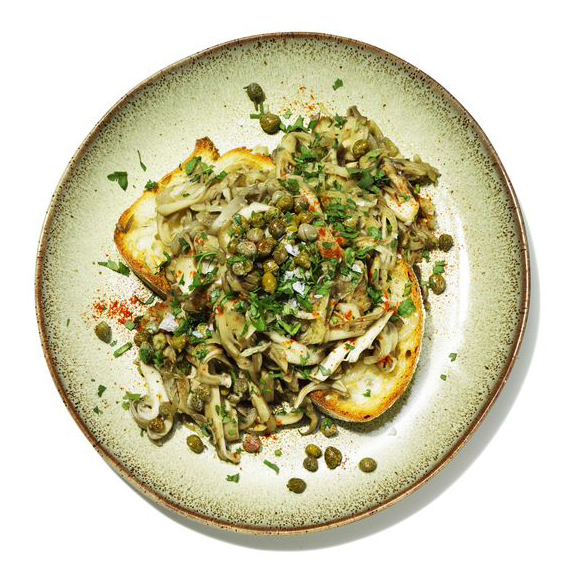 Lightly spiced maitake on toast
Serves 4
•1 shallot, sliced
•1 tbsp olive oil
•500g maitake mushrooms, sliced
•Pinch of smoked paprika
•1 tbsp sherry vinegar
•4 slices of sourdough, toasted 
•1 tbsp capers 
•1 tbsp chopped parsley 
Method
In a pan on medium heat, fry the shallot in a splash of oil. Once it has softened, throw in your mushrooms along with a pinch of paprika. Allow the majority of the water to evaporate before pouring in the sherry vinegar to deglaze. Then, toast your sourdough slices and serve your mushrooms on top. Finish with a sprinkle of salty capers and parsley – and devour the lot while it's still warm. 
Season's Eatings
With summer now covered, swot up on ingredients to maximise your year-round health.
Cauliflower (winter)
At 92 per cent water, this versatile vegetable is low in kilojoules but high in vitamins. It's also a rich source of fibre, for satiety. 
Lobster (spring)
New research shows that trehalose – a sugar found in this crustacean – blocks glucose from entering and harming your liver.
Strawberries (autumn)
They boast lots of heart-healthy antioxidants, and flavonoids anthocyanin and kaempferol. And they help lower your cholesterol.
Words: Ted Lane