Sliding down the front of a mountain covered in clay so sticky and wicked it looks like a living, sucking thing, the mass of metal and shiny bits we're sitting tensely inside does not feel quite as solid as the thick-chested gum trees all around us.
This kind of dicing with disaster – attempting to traverse tracks turned to toffee by days of rain – is just what the folks at Nissan were hoping for, bizarrely, when launching its new flagship ute, the Navara PRO-4X Warrior.
If you're going to build a Warrior – an Australia-only, hard-as-nails version of the Navara built especially for us by an engineering house in Victoria called Premcar – you want it to go to war.
And outside Coffs Harbour, far from sealed roads and clean shoes, the Warrior is battling the elements and proving that there's pretty much nothing it can't handle. This particular downhill course takes in ruts that would swallow mere cars, river crossings and huge berms. 
The Nissan's Hill Descent Control, which allows you to take your feet off the pedals and let the software do the work of finding grip, while using its low-range setting to creep you downwards, is up to the task.
But the mud is so treacherous
in parts that even the job of steering is a huge and fear-sweaty challenge, as the ute keeps waving its tail as the trees loom alarmingly close.
Tackling this kind of rough stuff is a fun day out for the Premcar engineers who put their all into turning what was already a tough and ready vehicle, the Navara PRO-4X, into something very special indeed.
They fitted that wild-looking red bash plate at the front, while lifting the nose to give it a better approach angle. They added more crash protection underneath, increased the ground clearance to 260mm (up from 220mm), revamped the suspension for better handling and less body roll – on road and off – and fitted a larger, taller jounce bumper to reduce body shock through the cabin.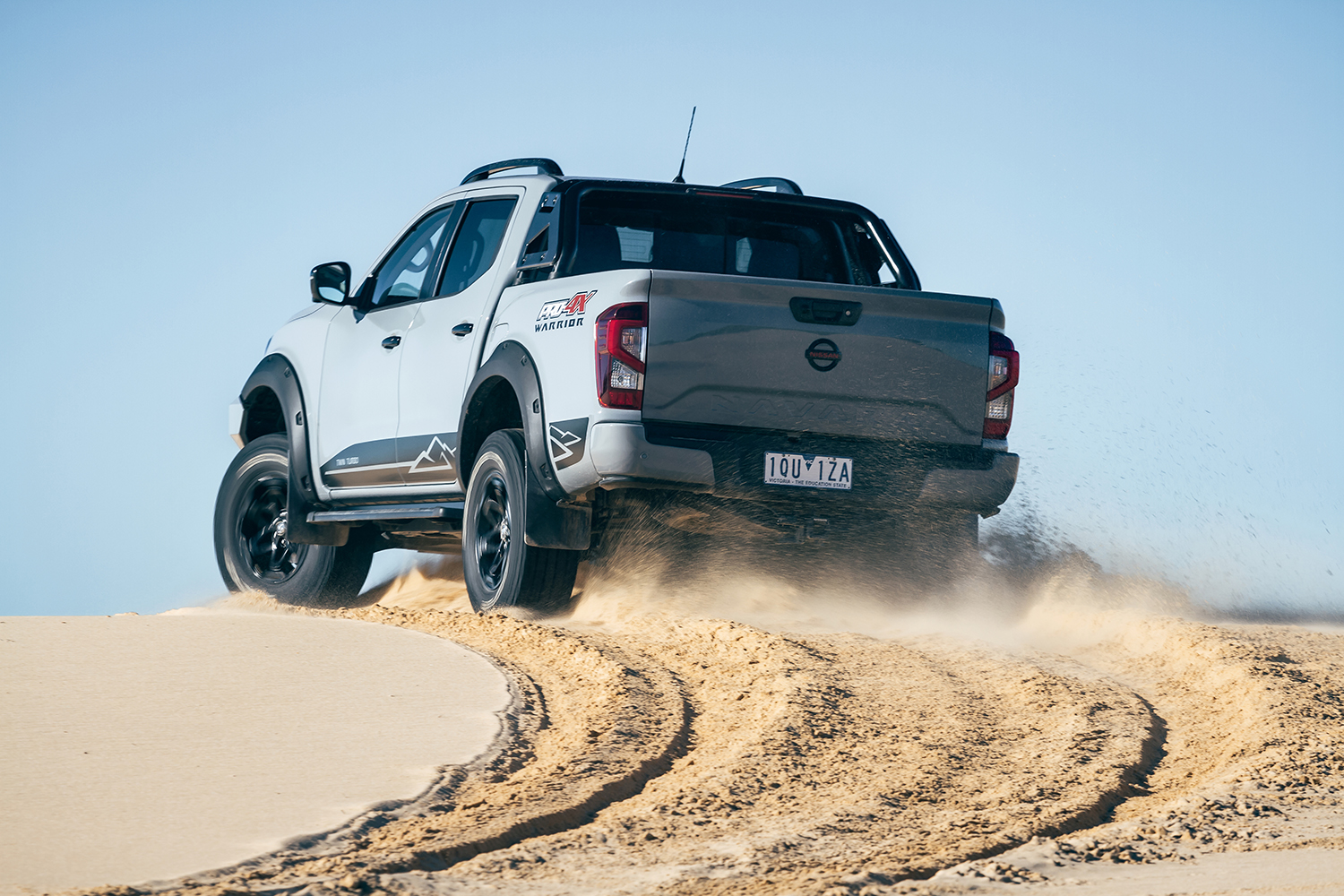 Another important addition: the massive Cooper Discoverer All Terrain AT3 tyres, which really do turn this Navara into a mountain goat. We threw everything at the Warrior, in alarming fashion at times, and it was never beaten and always
in control – often more so than the humans behind the wheel.
The Nissan's 2.3-litre twin-turbo diesel is one thing Premcar didn't have to improve, as it already offers plenty of power and torque, with 140kW and 450Nm.
By widening the track to give it a more aggressive stance, and lifting the whole thing higher off the ground, Premcar also created a more visually imposing ute that wears the kind of aggression and intent that you'd get if you turned a particularly hefty bouncer into a car.
And no matter how hairy things are outside, the cabin is cool, calm and comfortable, with all the mod-cons you could hope for, including a screen that beams in vision from cameras outside so you know just how rough the road ahead is going to be.
What you've probably already noticed from the photos is that the  Navara PRO-4X Warrior is also the best-looking ute Nissan has ever produced, and it only looks better when completely covered in mud.
With a price starting at just $67,490, the Warrior is not just a lot of off-road engineering for the money, it's all the ute you could ever need.