In Australia it has become commonplace to see an electric vehicle on the road, a battery powered lawn mower or an eScooter. But when we took delivery of an electric motor bike, it felt like we were one of the first. 
Having recently moved to a 15 acre property, it made sense to have some sort of fun transportation around the paddocks. While it would have been easy to lean towards those noisy petrol variants, we chose to test out an electric dirt bike to see how different it could be.
When we opened the front door to welcome the Surron Storm Bee F (Off Road edition) we got more than we bargained for. We firstly expected something more like a mountain bike with some batteries bolted on. What we got was something that resembled a motocross bike with everything you'd expect, except an exhaust pipe in the back. 
The Surron Storm Bee F produces 22.5KW of power and 520Nm of torque from a bunch of batteries stored into this bike. Weighing around 100kg, this isn't the kind of bike you can move around easily and needs to be ridden. While feeling heavy at a stand still, the Storm Bee can travel for 100km between charges and has a top speed of 110km/h, it's no slouch.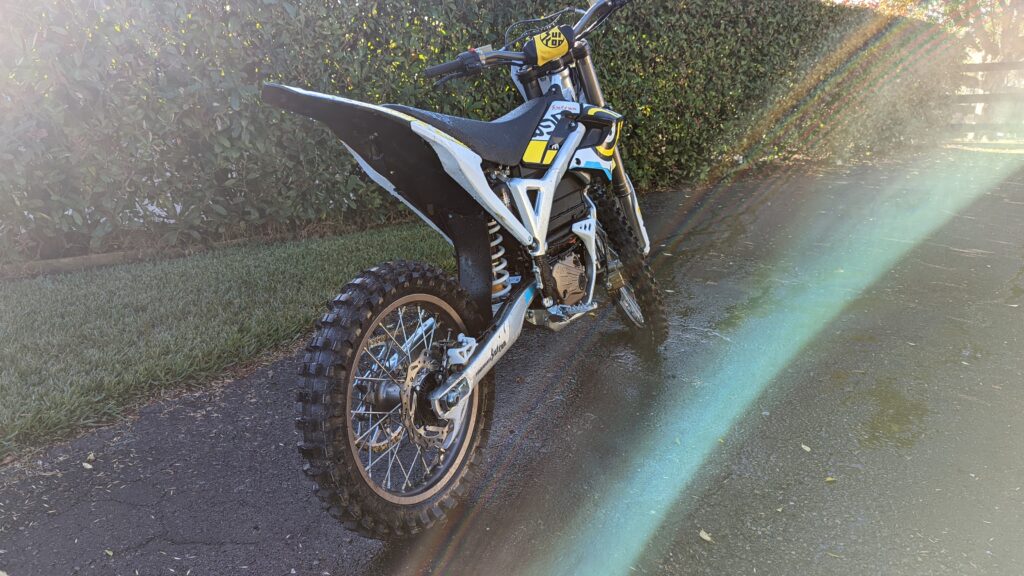 Plugging the Storm Bee into the supplied charger shows you that you're dealing with serious hardware. This is a real power unit looking very different to a laptop power pack and in four hours you can have a 100% charge. A small LCD on the bike gives you all the information you need for battery percentage and speed. We found the USB port and loved being able to charge our phone while we rode.
Throwing a leg over, we flicked the switch, waking up the bike and hearing almost no sound we took a pause. Riding modes vary from Eco to Turbo. Starting in Eco was more than enough to almost throw us off the bike with the huge surprise of power delivery. From a stand still this bike is ready to deliver 100% of its power with no lag whatsoever. We quickly learned that electric doesn't mean slow and we were off. With 0-50km/h in 1.8 seconds and 0-80km/h in 3.6 seconds, you can see what we mean.
Riding through the paddocks we were loving the stealth travel, horses and cows looked but didn't run. Our neighbours looked on with confused looks but were not bothered by any noise. Owning an electric powered bike makes farms fall silent. Stopping at gates along the way we appreciated the addition of a reverse gear on the Storm Bee, it's heavy to push around without it.
While the Storm Bee is a nod to sustainability, it is so well equipped with the right gear that we were able to become comfortable with the ride and have a stack of fun riding it. Confident riders would be able to tackle jumps, higher speeds and challenge other motocross bikes however as a newbie, this was a massive treat and easy to live with.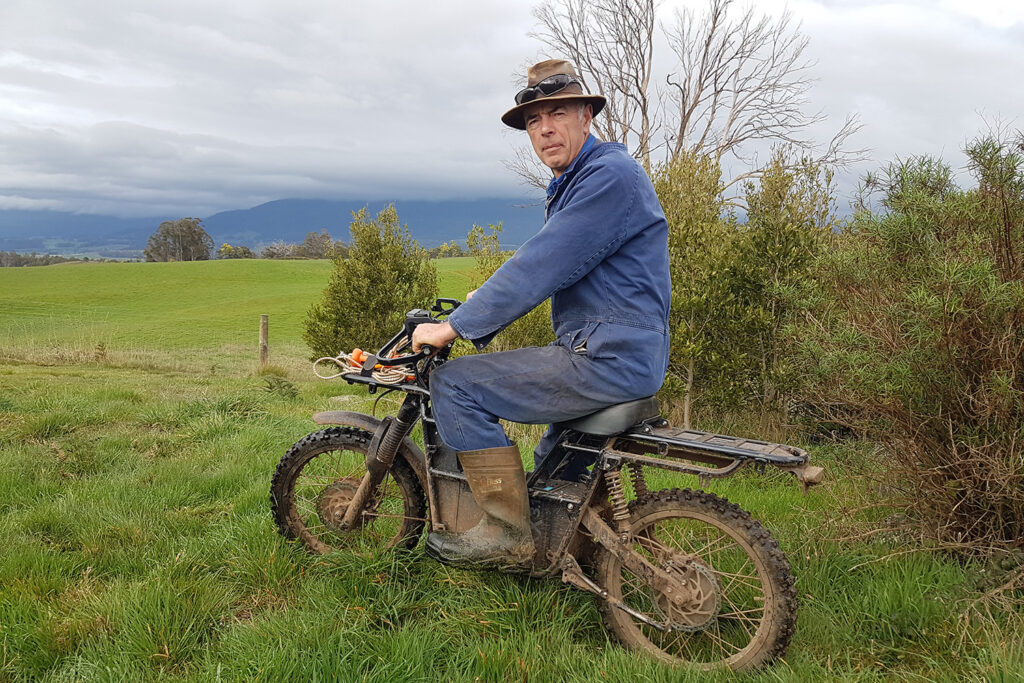 Thinking we were surely not alone in experiencing electric bikes on the farm, we discovered Rob McCreath in Tasmania who uses one to sneak up and manage his cattle. Rob told Men's Health; "I've got an UBCO electric bike. I use it for moving cattle and generally checking stuff around the farm. We run approx 500 beef cattle in a rotational grazing system. If I ride the petrol ATV, the cattle can hear me coming from miles away. The e-bike lets me sneak about without disturbing them". While not being a high performance bike like the Surron, the UBCO is a great alternative to petrol powered variants.
The Storm Bee needs to be respected to avoid being kicked off it, but it also demands respect for being a fully capable dirt bike without the need for refuelling and operating completely silently. When compared to the cost of petrol guzzling alternatives, the pricing is relatively competitive also. Starting at $12,999 and relatively low to no maintenance or servicing, this might be a bike your farm animals love, but so will your wallet.
Geoff Quattromani is the host of "Technology Uncorked" and contributor to Men's Health Australia. Continue the conversation with Geoff on Twitter at @GQuattromani.