People do not buy enormous luxo-barges to engage with the world. The point of an executive saloon is to kind of ease
you through space as if in a leather-lined submarine. Serene and unaffected.
The G90 performs this role almost to perfection. 
It is not without rivals in the German axis of opulence, or among the Japanese, or even from the much-diminished Americans. But Genesis, which has sold 700,000 cars since emerging as Hyundai's prestige offshoot in 2015, is ebullient, keen to disrupt, and, above all, unencumbered by tradition.
This is its superpower, and also its Achilles Heel. But we'll come back to that.
For the moment, we're in the moment. Specifically, I am surging across the Saudi Arabian desert at 130km/h at the international launch for the second-generation G90, blissfully cosseted from reality. For which I am grateful.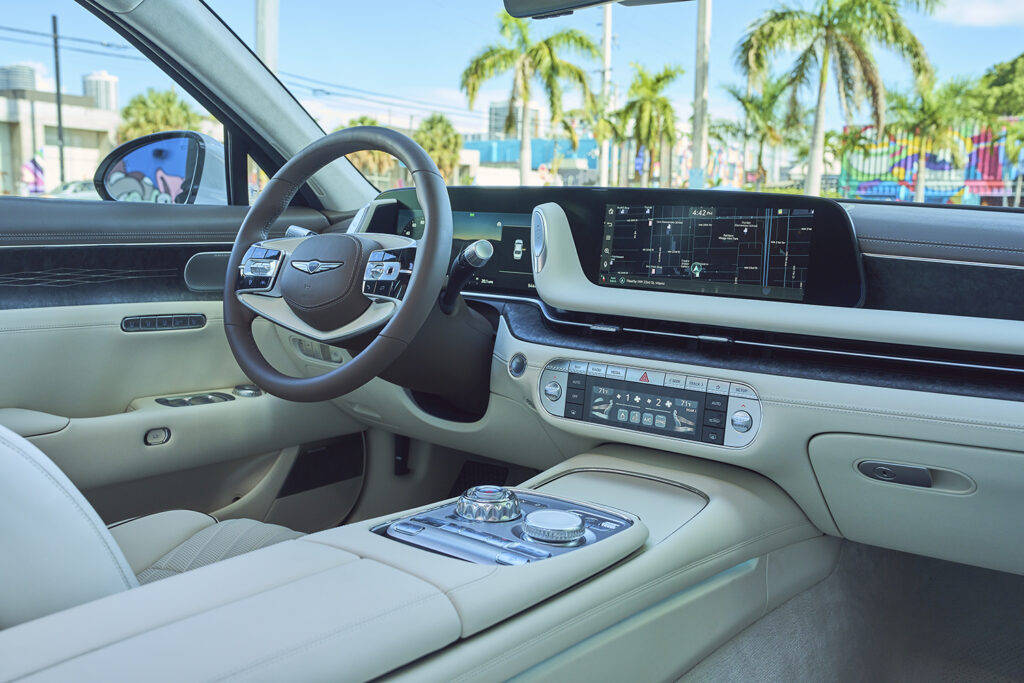 Outside, it is hot. The sunburnt sand looks cruel and unforgiving. And I am grateful for my mental distance from it.
Speaking of which, I am also grateful for the G90's delicate door inlays, almost a filigree, inspired by traditional Korean sanggam pottery. Its pushbutton-operated doors also thrill every time as they open and close on command, as if instead of being possessed by a demon, like Stephen King's Christine, the G90 has been enchanted by a valet. (I think Genesis stole this idea from Rolls Royce – and good for them).
The desert is a creamy blur. We are in 'Chauffeur' mode, of course, a kinda-virtue-signalling setting (it will make more sense when the long wheelbase arrives in 2023). Chauffeur mode has automatically toggled the G90's throttle response, and adjusted the three-setting multi-chamber air suspension to its plushest level. We surge, but we make no sudden movements. The G90 has holistically calibrated settings, including mood lighting, to calibrate your frame of mind.
Fun gimmick. Serious engine. 
The engine is marvellous. Sonorous in moments, if you make enquiries with your right ankle. But mostly muted. The first generation's 5L V8 is gone, but the lazy capability remains. Insofar as the engine is important in a car like the G90 – and it is – the only KPI is that you must have access to more power than necessary at all times. It is a familiar KPI, presumably, to the more than 200 "super VIP" customers – royals, billionaires, assorted Illuminati – to which Genesis has delivered cars across the Middle East.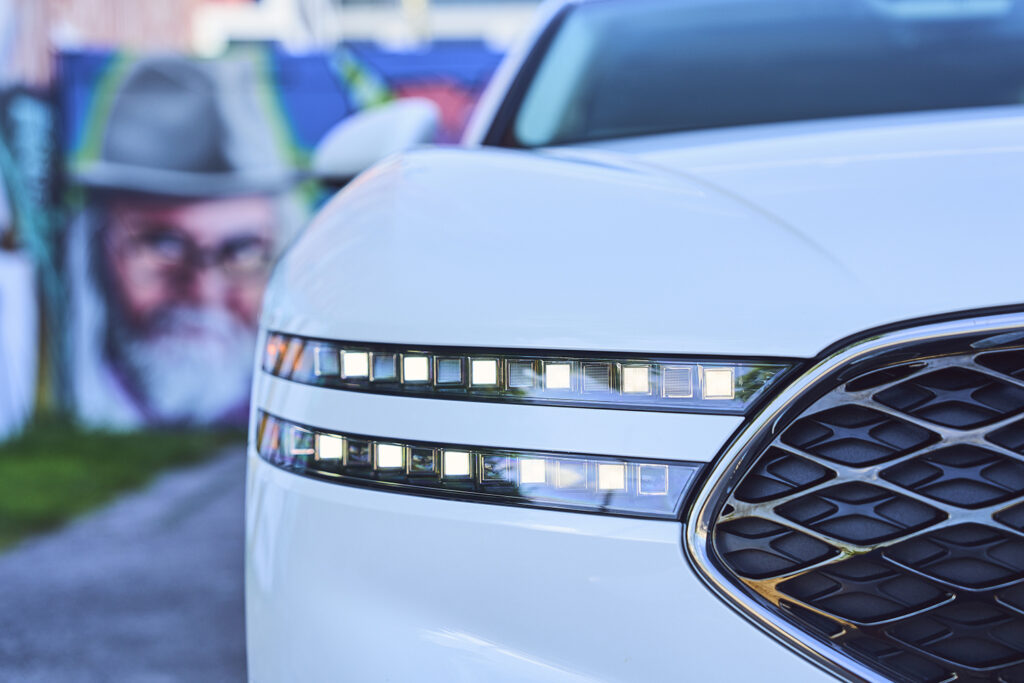 Powered by a 280kW twin-turbo 3.5L V6, with a second 305kW version of the same engine available, and boosted by an electric supercharger, the G90 is never unsettled. It steers with all four wheels. The ride quality is divine, and momentum is achieved effortlessly, quietly and without fuss.
Outside it is 45°C, and other men in trashed Camrys battle the heat. Outside there are the lush, irrigated green slashes of date farms, but also dust storms and mainfestations of global warming.
We are inside, where the G90 distracts marvellously from the world's injustices and ills, which is the point, even if not overtly. Executive saloon buyers are invariably on the better side of that ledger. Still, the world's ills can be a bummer; its injustices a drag. 
The G90's external design is commanding, with an innovative one-piece clamshell hood to eliminate panel gap and scotch wind noise. It has two headlight slivers of 200 micro-optic lenses a side, and a tucked semi-ducktail rump that's almost vaguely Saab-ish.
The G90 is well placed to take the fight to its Teutonic and Nipponese rivals. It is packed with technology. It wows with its bank of screens, a 12.3-inch digital binnacle aligning seamlessly with a second 12.3-inch infotainment display. (Although, honestly, by rights, they should go all the way across to the opposite A-pillar, giving front-seat passengers an expanse of their own to jab at.) But in a fight against the establishment, in this arena, each battle is usually held on their terms. Disruption is hard.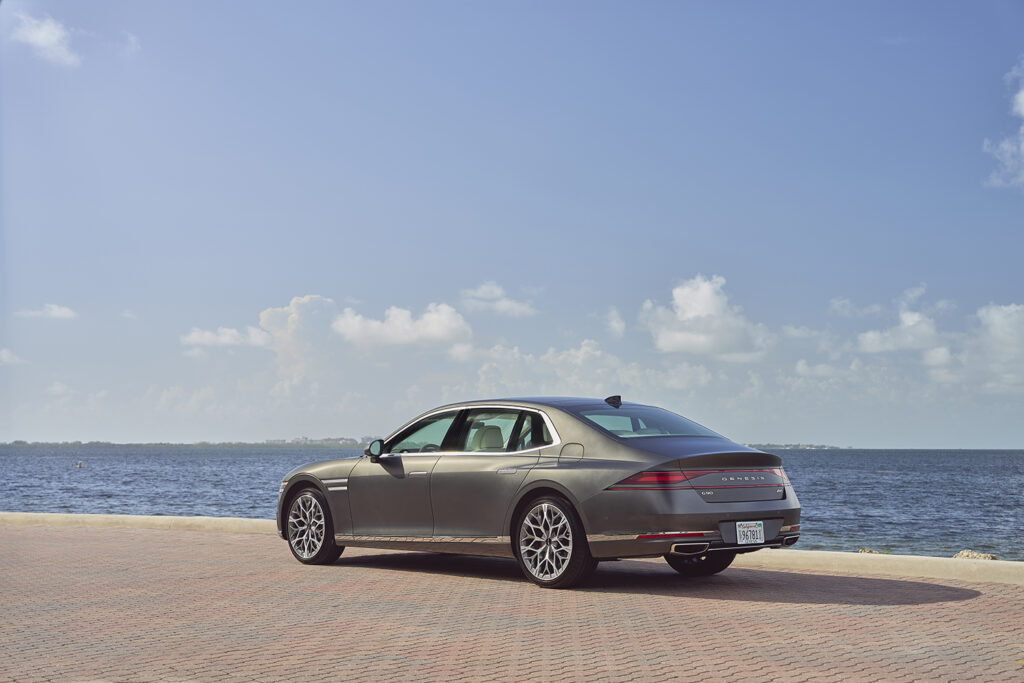 "The G90 will set a new global standard for Genesis as a truly global luxury brand," said Graeme Russell, Genesis's Chief Brand Officer, at the pre-drive presentation.
"That is as it is," said an Arabic luxury reviewer, "but how can you make ground on Mercedes and BMW and Lexus? As a challenger brand, surely brand perception is your greatest obstacle?"
The question, of course, was clever – and unfair. The answer, which Russell surely can't say, is that these things take time.
It took Hyundai close to a decade of approaching Japanese build quality for their reputation to leap.
Russell waffled: "I believe we can meet the quality of the product with the brand".What he meant was: "Haha! We are going to undercut them on price".
And so they are. Swallow your Downunder bitterness and Luxury Tax shock, and consider that, in America, the G90 begins at around $US88K. The 7 Series is at least US$5K more. A base S Class another US$22K+. Good luck to them.
Ensconced in the front passenger seat, my lower back is being lovingly kneaded by a gloriously firm lumbar massage feature, and the 26-speaker B&O system has replicated the 3D acoustics of the Boston Symphony Hall. Gentle ocean sounds soothe me. The onboard fragrance diffuser has perfumed the cabin with one of three choices of unique and relaxing scents, while a purifier filtering exterior air prevents any waft of the outside world from taking a bone saw to my buzz.
My senses are alive, yet the real world could hardly be further away.
The G90 is magnificent. Until you have to get out.