Working in the traditional '12 Days of Christmas' format and powered by festive calorie intake, you're going to smash your whole body with nothing but your bodyweight in this session, making it the perfect Christmas workout.
To complete this high volume shake-up, you'll begin with one rep of the first movement, followed by one more rep, then two reps of the second movement, then one of one, two of two and three of three. Continue in this fashion each round, reverting back to the first movement, working your way through the moves, adding an additional exercise each time, until you've completed all 12 rounds and a total of 364 bodyweight reps.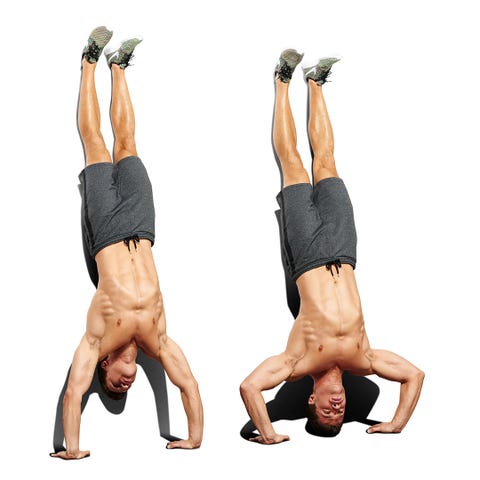 1 x HANDSTAND PRESS-UP
Kick up against a wall into a handstand position (A). Bend at the elbow slowly lowering your head to the ground or a mat, pause here (B) , push back up, keeping your body rigid.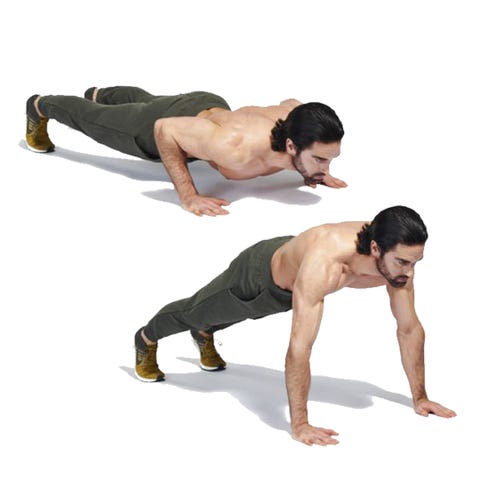 2 x PUSH-UP
Assume a strong plank position, with your core tight. Bend your elbows to bring your chest to the floor (B). Keep your elbows close to your body as you push back up explosively.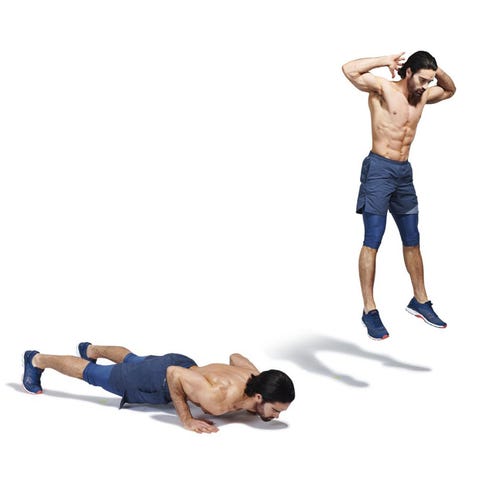 3 x BURPEE
Squat down and place both hands on the floor between your feet. Jump your feet back into the top of a press-up and lower your chest to the ground (A). Straighten your arms and hop your feet forwards, before jumping into the air with hands on head (B)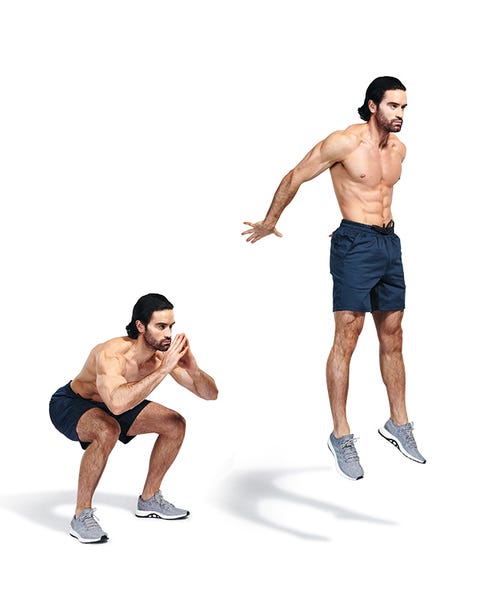 4 x SQUAT JUMP WITH TUCK
Slowly bend at the knees into a full squat position. (A) Explosively jump upwards and tuck your knees towards your chest (B), upon landing control your descent and slowly return to the squat position.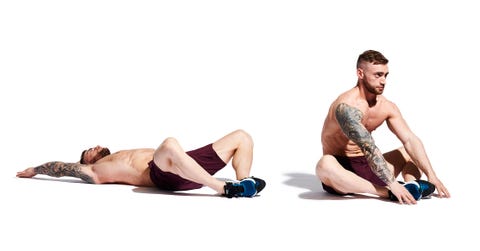 5 x SIT-UP
Hit the deck with your legs bent and your soles together, lie with your hands behind your head (A). Tense your abs as you lift up, and touch your hands to your feet (B). Reverse the move, touching the floor behind your head on each rep.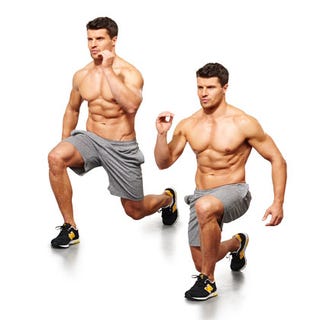 6 x ALTERNATING FORWARD LUNGE
Stand tall (A). Keeping your chest up at all times, take a step forward with one leg, bending the at the knee until the back knee touches the ground (B). Stand up explosively, pause and repeat with the other leg.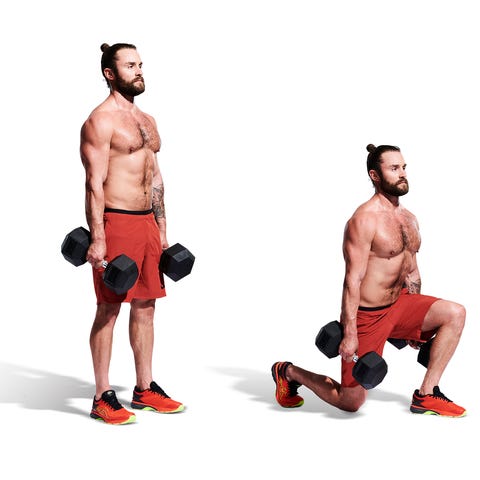 (No dumbbells needed)
7 x ALTERNATING REVERSE LUNGE
Stand tall (A). Keeping your chest up at all times, take a step backward with one leg, bending your front knee until the back knee touches the ground (B). Stand up explosively, pause and repeat with the other leg.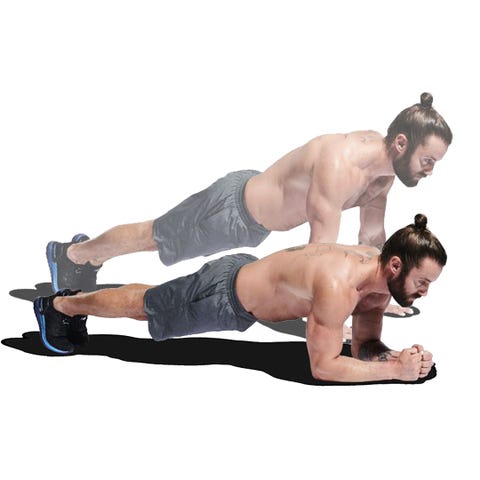 8 x COMMANDO PLANKS
Assume a bent arm plank position, lift your left arm and place it on the ground (A), followed by the right arm to assume a push-up position (B).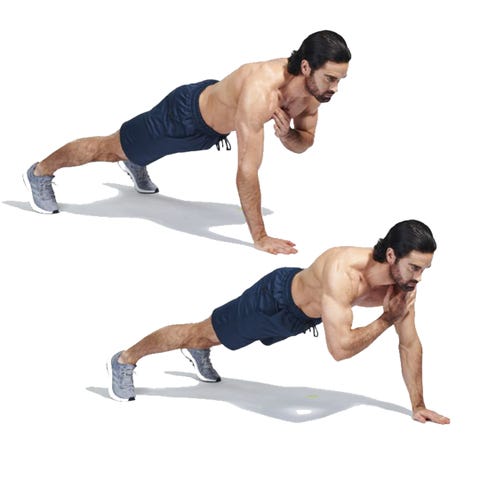 9 x PLANK SHOULDER TAPS
Assume a strong plank position with your wrists, elbows and shoulders 'stacked' directly above one another (A). Focus on maintaining a rigid structure from your ankles to your shoulders. Alternating hands each rep, gently the tap the opposite shoulder (B).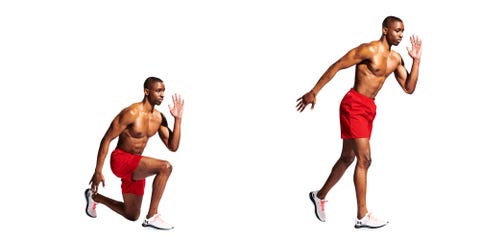 10 x SPLIT SQUAT JUMPS
Step one foot backward and sink into a deep lunge, with your rear knee lightly touching the floor (A). Explode upward, switching legs mid-air (B) to land in a lunge position with the opposite leg forward. Repeat the movement, alternating legs each rep. Keep this hight, fast and gassy.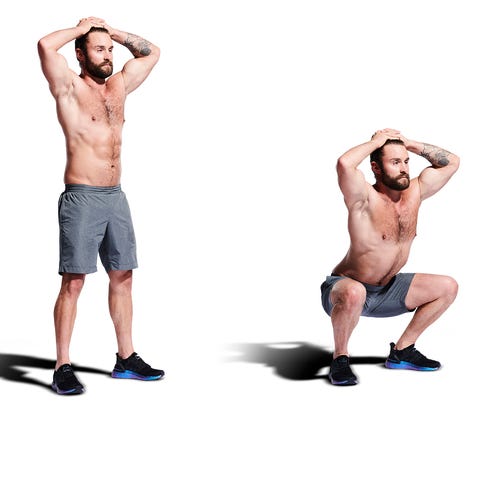 11 x PRISONER SQUATS
Stand with your torso upright and your hands on your head (A), drop your hips back to sink into a deep squat (B). Hold for a second, before pressing through your heels to stand up, repeat.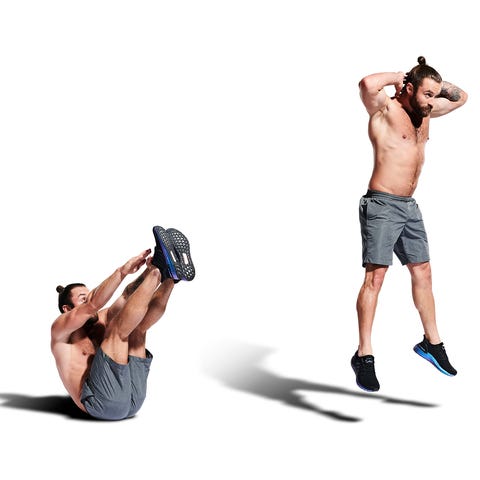 12 x V-UP TO BURPEE
Lying on the floor, lift your torso and legs and reach for your toes in one move (A). Lower your legs and rock into a seated position. Shift your weight onto your arms and kick your legs into a press-up position. Shift your legs forward and jump (B). Lie back down, then go again.
Via Men's Health.