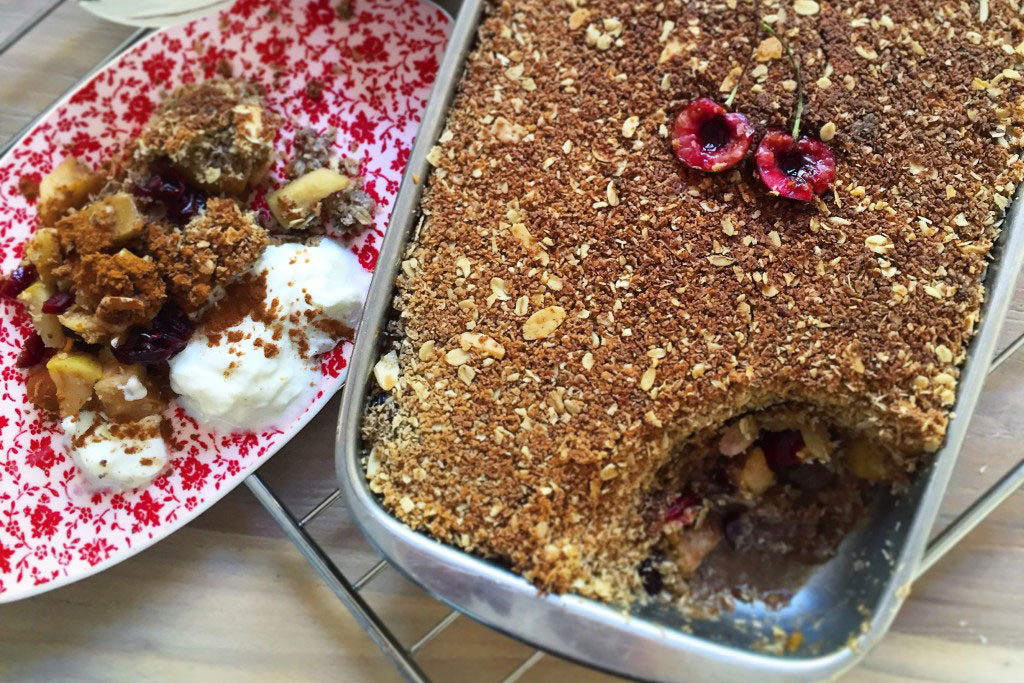 Proudly supported by
Instead of your standard mince pies, why not try a crumble this Christmas from clinical nutritionist Sami Bloom? Definitely more nutritious than pastry, as the crisp layer is full of oats, coconut and nuts for fibre, satiating complex carbs, healthy fats and protein… as well as extra protein added by the addition of a clean vegan protein to it! It gives it a nice vanilla flavour and bulks it up. With nothing but fruit, stevia, spices and coconut water in the filling… this is a perfect Christmas morning breakfast! Plenty of cinnamon to assist digestion and stabilise blood sugar, too.
Ingredients
2 cups coconut water
4 large red apples, diced
½ cup fresh cherries, pitted
½ cup sultanas
½ cup sun-dried cherries (or cranberries)
Zest from 1 orange
1 vanilla bean, split, seeds scraped
2 tsp stevia
½ tbsp ground cinnamon
½ teaspoon fresh ginger
¼ teaspoon ground nutmeg
¼ tsp all spice
1 cup rolled oats
1.5 cups desiccated coconut
2 scoops Nuzest Smooth Vanilla Clean Lean Protein
¼ cup flaked almonds
3 tbsp coconut oil, melted
2 tbsp maple syrup
1 tsp cinnamon
Pinch sea salt
Method
Throw the apple, cherries, dried fruit, zest, stevia, spices and coconut water into a large deep pan and heat on the stove for 35 minutes, covered with a lid, stirring occasionally.

While the fruit cooks, preheat the oven to 180 C.

Pulse oats, coconut, CLP, cinnamon and salt in a processor, then pour into a medium bowl.

Stir in the flaked almonds, coconut oil and maple syrup until mixture is crumb-like.

Once the fruit mince is ready, pour it into a medium baking dish.

Top the mince with crumble mixture, patting down firmly with a spatula to form a thick layer.

Press any decorative fruit into the crumble – cherries, apple slices or figs. Cook for 35 minutes, until golden.

Remove from oven, and allow to stand for 15 minutes before serving with coconut yoghurt, cashew cream or ice cream!