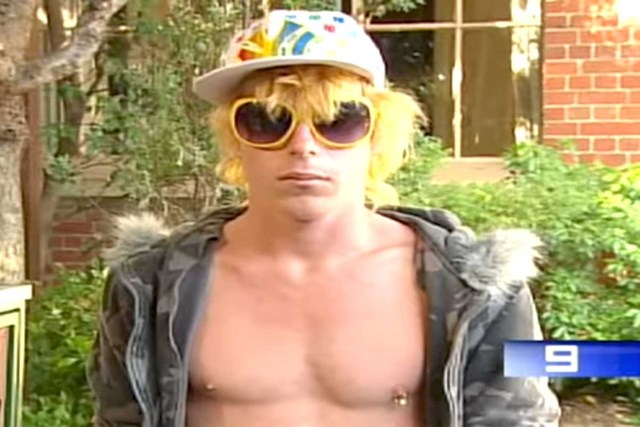 Best known for throwing the biggest house party Australia had seen, former bad boy Corey Worthington has chosen a different path these days.
The controversial party boy, who was best known for his unforgettable A Current Affair appearance in 2008, will compete in season two of Ninja Warrior, confirms co-host Ben Fordham.
10 years ago, aged 16, Worthington threw a party at his parents' house without their knowledge. Over 500 people turned up with a police helicopter and critical incident response team called to defuse the situation. Cars and properties on the street were damaged by party-goers.
RELATED: Reckon You're Australian Ninja Warrior Material? Here's The Show's Audition Workout
Fordham admits that while people have forgotten about Worthington, most recognisable by his outlandish yellow sunglasses, the party boy has turned his life around, applying for the show on his own accord.
"We didn't go looking for him. He watched Ninja Warrior last year like everyone else and it turns out he's a fit little fella these days and he wanted to have a crack," says Fordham, speaking to news.com.au.
"This time he's actually doing something worthwhile, he's using his body and his mind to try and beat the Ninja Warrior course."
"It's the ultimate Where Are They Now? This guy was there one minute and gone the next and I don't think anyone has probably given too much thought to him in the meantime … But he has been doing something behind the scenes since then because he is buff!"
Australian Ninja Warrior returns to our screens on Sunday, July 8.