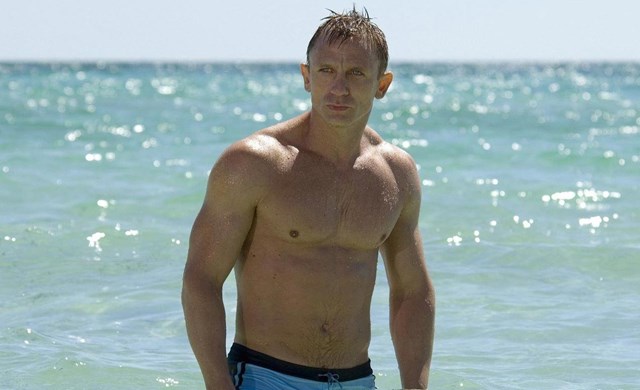 An injured ankle isn't enough to 007. After an accident on the set of Bond 25 left him requiring surgery, actor Daniel Craig bounced back and has already resumed his intense workout in preparation for filming new scenes of the latest instalment in the long-running spy thriller franchise.
Craig is required to wear a cumbersome boot on his foot while he recovers from surgery, in order to give his injury time to heal, but that hasn't stopped him hitting the gym at Pinewood Studios. A snapshot of the actor exercising in the boot was captured and shared by the official 007 Instagram account.
This marks Craig's fifth appearance on-screen as James Bond, which also makes it the fifth time he's had to get in shape for the role. The full-body Bond training schedule is a punishing one. Back in 2015 when Spectre was released, Men's Health compiled the muscle-blasting moves that Daniel Craig underwent, including weighted knee raises, weighted step-ups, pull-ups, incline push-ups, tricep dips, incline bench presses, incline pec flies, straight leg deadlifts, hamstring curls, weighted lunges, incline bicep curls, lateral raises and shoulder raises.
Bond 25 will be set primarily in Jamaica, where 007 is living in quiet retirement, until he is recruited by old friend Felix Leiter (Jeffrey Wright) to track down a missing scientist. In addition to Daniel Craig reprising his role, Ralph Fiennes, Ben Whishaw and Naomie Harris are also returning to the franchise as M, Q, and Eve Moneypenny respectively, while Oscar winner Rami Malek will play the film's villain. The as-yet-untitled movie is currently expected to be released on April 8, 2020.
This article originally appeared on Men's Health