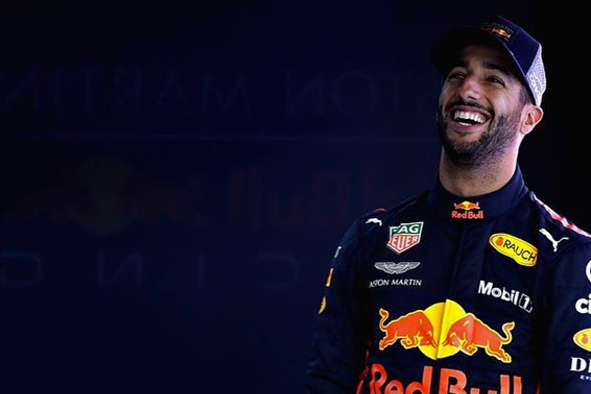 On the eve of the Formula One season opener in Melbourne, Aussie F1 nice guy Daniel Ricciardo is as cool, calm and collected as ever when he chatted to Men's Health this week. "It's been a long offseason," says the Aston Martin Red Bull Racing Driver, who helped TAG Heuer celebrate the launch of its new AMRBR Special Edition timepiece this week ahead of the season opener.
In the lead up to the Melbourne Grand Prix, Ricciardo has been plagued with questions surrounding contract renegotiations. The top ranked Australian has been at the top of Team RedBull since his signing in 2014, bringing home 5 wins in that time.
When addressing the concerns at a press conference earlier this week, Daniel assured the world that racing was his priority heading into this weekend. "It's really my focus just to come out on the right foot here in Melbourne and try to hopefully fight for a title this year," Ricciardo said at the conference, a sentiment that was clearly echoed when we caught up.
During the extensive off-season, Daniel explains how his physical training regime has incorporated 5 days of training per week, quite often with 2 sessions per day.
"I try to do my cardio in the morning, and strength in the afternoon," he explains. Staying light-weight in an event such as F1 racing is key, and it's clearly an aspect that Ricciardo is astutely aware of.
Ricciardo clearly has a lot of fire in the belly, despite his seemingly laid-back attitude, even admitting to swearing loudly under his helmet during a race. But it's clear that his mind is on task, and has been for a long time.
"This is a year which our [preperation] has been good and I really hope we will have a chance to fight for the title and then that'll ultimately make me very happy."