If you caught the Dolphins' fairytale debut as they upset NRL premiership favourites the Sydney Roosters on Sunday, March 5 – in front of more than 32,000 fans, no less – you might just been keen to know a little bit more about the newest team on the block.
With the arrival of the 2023 NRL season and the Dolphins' strong start, a new three-part series on Stan is a must for anyone considering themselves a true fan of the game. The Australian streaming service has been working away on a documentary series, Dawn of the Dolphins, chronicling the newest team in the game as they geared up for their first elite competition – and the show has finally arrived.
Going behind the scenes, the doco gives viewers a sneak peak inside the team's formative months – and as they're the first new club to join the NRL in 16 years, you'd better believe there's a whole lot going on that you've never seen before as this community club turns pro and takes on giants of the competition.
Of course, the fact that the most successful NRL coach in history, Wayne Bennett, is leading the team is, in itself, something to behold. Witnessing the notoriously private supercoach at work as he oversees recruitment and training – alongside a cast of footy famous faces, including club CEO Terry Reader and Peter O'Sullivan, the country's most revered talent spotter and the man negotiating the club's first major signings – is a thing of beauty.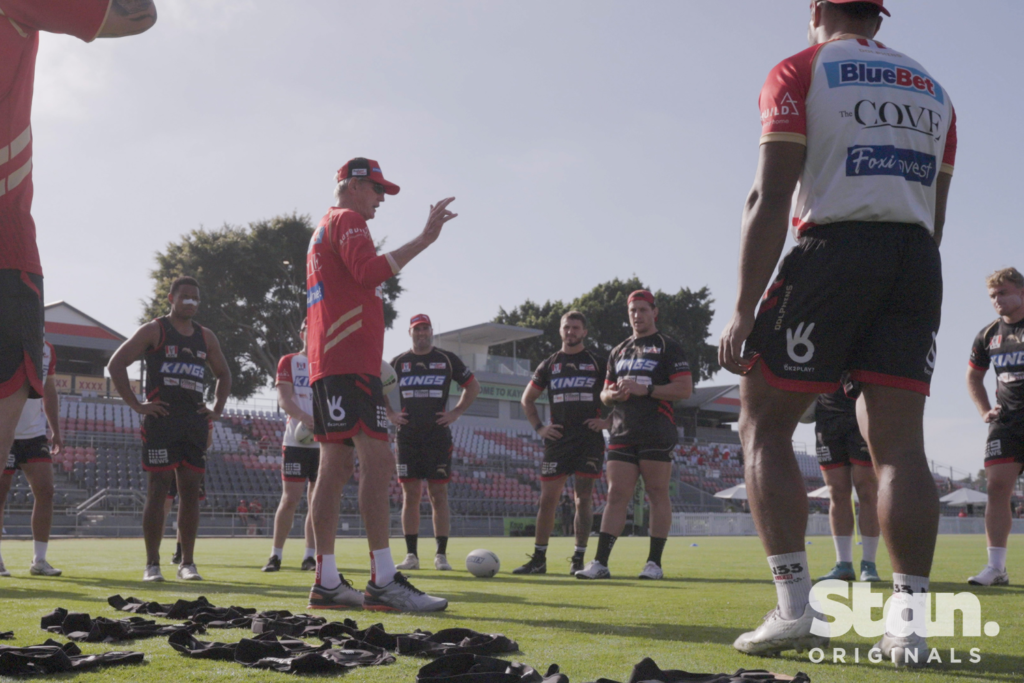 "It has been a pleasure to partner with Stan and launch the Dolphins to a national audience and really help tell the story of the origin of our club, and the journey to be ready within a time frame of 15 months to play in the NRL," says Reader.
"Giving the audience a behind-the-scenes look into our dressing room, meetings and training sessions, will showcase the hard work that many passionate people put in behind the scenes to launch an NRL club. We can't wait to get our season underway, and for viewers to welcome us into their homes and hopefully create new fans and members of the Dolphins."
Dawn of the Dolphins is a Stan Original Documentary Series and the first episode is already up and waiting for your peepers on the streaming platform. Parts two and three drop on March 13 and 20. This is a backstage, all-access pass like no other – highly recommended viewing for any and every footy fan. Catch it on Stan now.