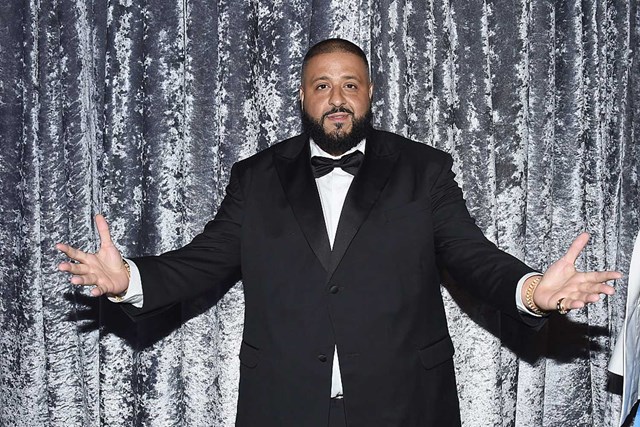 In 2018, DJ Khaled completely surprised us all when he embarked on a successful health kick. But this year, he's showing absolutely no sign of slowing down.
Opening up to Men's Health, Khaled explains how he's managing to keep up his weight loss journey and the motivation behind his transformation.
"So [Wahlberg] calls me up and says, 'I'm proud of you, I see what you're doing, it's working. Don't stop,'" Khaled told MH over the phone.
"He's one of those guys that motivates me who will call me out of nowhere just to say he's got love for me and he with me."
"I have to love myself to take care of the people that I love," Khaled continues. "It's not a priority, it's the only priority."
For Khaled, it wasn't about overhauling his diet but understanding moderation was key. While he cut out his two biggest "weakness foods" pre-diet: white rice and bread, he learnt to not indulge in that extra sweet.
"I love pumpkin pie, I love sweet potato pie. Who don't? But I touch that and it still pleases my taste buds," he said. "I'm not gonna eat it seven days a week now. I might eat it once a week and it's like a celebration."
As well as surrounding himself with the right people, he's tee'd up with Weight Watchers and his personal chef, Melissa Zuniga, to help with the diet side of things.
"Man. Weight Watchers is going good," Khaled previously told Page Six. "The freestyle program is doing real big. It's a real lifestyle because all you have to do is not go over your point [total]. And there are so many zero points [foods] in case you get hungry. I got the freestyle dance."
Last year, Khaled has lost upwards of 15 kilograms and he shows no sign of slowing down, committing to a healthier lifestyle, with emphasis on eating well thanks to his Weight Watchers partnership.
Khaled also made changes in the gym, including three to four sessions a week.
"I don't know how to pronounce this so I hope I say this correctly: 'the ecliptical?' That machine," Khaled adds. "I just go in a zone for 30 minutes and I listen to music. If I'm not listening to music, I'm on a conference call handling my business or running my company on my phone. It makes time go by faster."
"I'm not in any race to get rid of weight," he said in an Instagram post. "I just want to make sure I stay super focused and continue at being healthy."
Khaled started his journey at 132kgs, having lost 12 per cent of that weight already. For a man that always wins, that's a lot of losing. "I got rid of – I don't lose," Khaled told Page Six. "All I do is win – you know what I mean."
Khaled's new lifestyle is no doubt behind a slew of success and renewed energy when it comes to his fast paced lifestyle. With a recent top 10 hit with mates Beyonce and Jay-Z, a top rated TV show in the US (The Four), a young son, and a new album in the works, Khaled obviously sees the benefit in looking after himself. Heck, he's even found the energy to do push up on top of his Rolls. As we all do when we're on a health kick.
The prolific social media user has been extremely open on his inspiring journey, sharing his weight loss success and some of his favourite treats from the Weight Watchers program, including healthy choc chip cookies. He's even been seen conducting meetings from the treadmill.
Khaled has one big takeaway from his experience: "Healthy is not just eating good. Healthy's being happy. Healthy's having joy and love. That's healthy. When you have all that connected in one, life is way better. It's beautiful. You're smiling, you're laughing, you feel good, you love more."
It's great to see the young dad setting a great example for his family, fans, and the music industry, and creating sustainable lifestyle changes that will ensure long term weight loss and health.