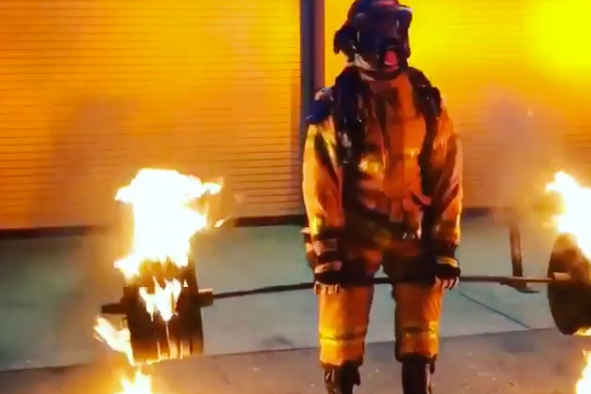 Well this is one way to torch calories. Retired Fire Captain, Ed Kranski, experienced the joys of viral internet fame when a video of him deadlifting over 270kg exploded. But it wasn't just the weight of the lift that had fans of the 50 year old father gasping. To really up the ante, and as a true testament to his fitness, strength and resilience, Kranski lit the plates on fire, completing 3 reps in his full firefighting gear, weighing close on 40kg itself.
The novelty lift was all just a harmless bit of celebration in honour of his retirement from the fire service. "My retirement deadlift video that was simply meant as a farewell to the fireservice (sic) by blending the love for my career and love of lifting," said Kranksi on Instagram.
"This was 585lbs in full gear. Much harder then RAW. It was at age 50 after my last shift of my amazing 30 years as a Fire Captain," said in a follow up post after the original went berzerk online.
Kranski is no stranger to heavy lifting, having set several powerlifting records in the 90's, and continuing to lift heavy. Since the retirement video, the now 51 year-old has achieved a 324kg deadlift.
"Deadlifting is by far the most important real life strength exercise," said Kranski to Barbend. "When you pick anything heavy up – you don't squat, bench, or snatch it – you deadlift it. If a heavy beam falls on another firefighter you deadlift it off them. If you're dragging a fallen firefighter out of a burning building you deadlift them."
The deadlift is an incredible lift, one of the most highly regarded in the fitness world for it's ability to target most of the major muscle groups, and should be included in programing where possible. It works more muscles than most other lifts, and is relatively simple when done correctly. Note: When. Done. Correctly.
The oft-overlooked lift is a go-to for strongmen and athletes alike, including one of Australia's strongest men, Rob Forte.
"I didn't really do deadlifts before CrossFit," Forte explained to Men's Health back in 2016. "Strength takes time. That's been the biggest thing I've needed to work on. Still is."
Now Forte is a huge advocate for deads, urging his athletes to incorporate them into their program whenever possible. As well as making you stronger, they'll reveal any mobility issues you may have.
"Say your lower back pulls up sore every time you deadlift," says Forte. "Well, most likely your hamstrings and glutes aren't activating. They're not doing what they should do, and that carries over to everyday life. It's a wake-up to call to iron out those weaknesses instead of ignoring them."