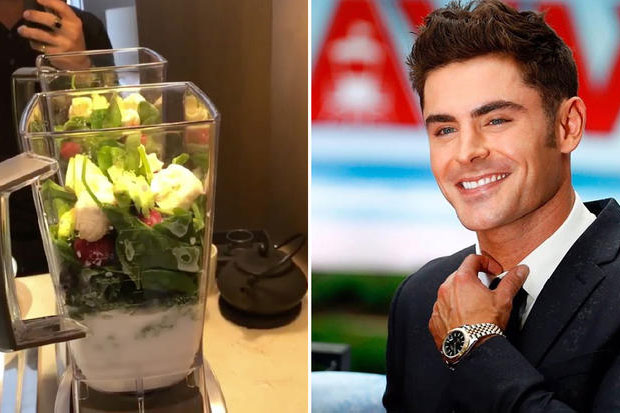 It's no secret that Zac Efron is dedicated to his health and fitness routine. The 30-year-old actor has long been open about his love and commitment to working out, getting swole, and eating right.
Over the summer, Efron showed off the outcome of his hard work with his lifeguard-ready body alongside The Rock in Baywatch. At the time of the film's release, he revealed in an interview with Today that he drank a "a ton of funky stuff"—including egg protein shakes—to pump up his protein intake and look jacked on set. He's apparently stayed true to his smoothie routine since then, only now it's a little less "funky."
On Wednesday, while in Australia promoting
his new film,
The Greatest Showman
, Efron shared his pre-red carpet smoothie ritual with his followers on Instagram.
"This is the pre-red carpet spark smoothie that I'm whipping up right now," Efron said in the video, before rolling through the ingredients. According to Efron, the drink consists of both spinach and kale, blueberries and raspberries, a banana, an avocado "for some healthy fats," coconut water mixed with almond milk, some chia seeds, and a touch of honey.
If Efron was looking for a pre-carpet pick-me-up, this smoothie is definitely hitting the mark. It also appears to fit into the rest of his diet routine, which Patrick Murphy, Efron's L.A.-based trainer, said consists of "nothing from a box." As Murphy told Vulture, Efron sticks to "all the greens, all the veggies, all the lean protein, and the majority of foods he ate were alive and could spoil fairly quickly, because if it spoils quickly, it's going to be a healthier product than something with fillers and preservatives."
Of course, Efron didn't neglect his fitness while he was visiting the land down under, either. In another Instagram snap, Efron shared a behind-the-scenes look at his shred session with cast-mate and fellow jacked actor, Hugh Jackman.