Where it used to be the case that audiences would flock to cinemas for a taste of theatric surprises and mesmerising cinematography, in recent years streaming platforms have revolutionised the world of TV. Gone are the days of folding into the couch and mindlessly watching free-to-air shows that do little to inspire creativity or entertain. Now, the world's top directors and best actors are bringing drama to the small screen with characters and shows that prove to be iconic in the long-standing history of pop culture.
The latest show to command global attention is HBO's The Last of Us. Based on the hugely popular video game series about the survivors of a devastating pandemic and the collapse of civilisation in its wake. The highly cinematic game sold over 20 million copies, before a sequel came out and also sold millions. While adaptations of hit video games haven't been too successful for Hollywood (consider 1993's Super Mario Bros, or the recently cancelled Resident Evil on Netflix), the few episodes of The Last Of Us have already got audiences calling it one of the best shows put to the screen.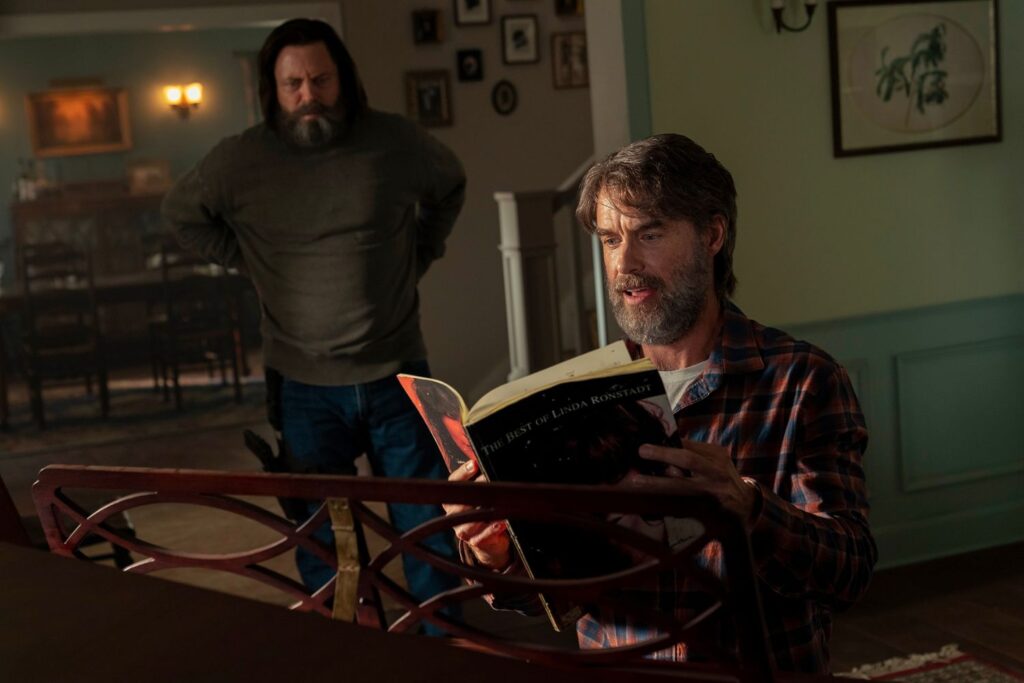 Like the first game, the show follows Joel, a construction contractor and single father from Austin, two decades after the pandemic took hold of his world. When we meet the character, terrifying creature who were once human have come to tear apart his world, along with a brutal military dictatorship. It's clear that the world Joel is inhabiting isn't a safe place, with those humans that remain alive living by an 'everyman for themselves' mentality, in which it's kill or be killed. In this setting, Joel meets a teenage girl named Ellie who is being held captive by a rebel group known as the Fireflies, who have discovered that she's immune to the fungus and might just hold the key to humanity's survival.
It's a high-stakes drama and, given our own recent history with the Covid-19 pandemic sinking its claws into every corner of the globe, the series has resonated for audiences. But while we abstain from giving out any spoilers here, the end of episode three saw viewers meet Frank (played by Australia's very own Murray Bartlett), who is battling some sort of disease by the time the episode catches back up to the current time period of 2023.
Though he doesn't disclose much about his condition, Frank is seen in a wheelchair, unable to walk. His partner, Bill (played by Parks and Recreation star Nick Offerman) is left to look after him, helping him in and out of bed each day, and reminding him to take his assortment of pills. Speculation has been rife across the Internet about just what condition Frank is suffering from, and now co-creator Craig Mazin has revealed the details, telling The Last of Us podcast listeners that Frank has an unspecific neuromuscular disorder.
"We didn't necessarily want to specify [the illness] for the audience, it was either MS or early ALS but it was a degenerative neuromuscular disorder," he explained. 
Neuromuscular diseases such as multiple sclerosis (MS) or amyotrophic lateral sclerosis (ALS) are caused by a dysfunction in the nerves that affect your voluntary control muscles, as well as the nerves that carry sensory information back to your brain. For those who have neuromuscular diseases, the cells that collect and dispense information to and from the brain have broken down, leading to muscular issues. These issues can lead to a number of other problems, like muscle weakening, twitching, cramping, pain, balance issues, trouble swallowing and trouble breathing.
In The Last of US, Frank talks about his condition and explains there wasn't a cure for it even before the world collapsed. The same is true for today, with there being no cure for ALS or MS, and no known treatments to stop degeneration. For many who suffer from neuromuscular diseases like MS and ALS, little is known by way of the public and so it can feel like they are suffering from an invisible illness. It's hoped that greater education will raise awareness of such conditions and with the interest evidenced from those watching Frank's story onscreen, it appears The Last of US is doing just that.