If you happened to have been out one evening in Toronto about a decade ago, you might have seen a forlorn figure, hands dug into his pockets, shoulders stiff to ward off the cold, trudging through the streets, wracked with doubt and heavy with regret. That could probably describe more than a few of the frigid pedestrians on the city's streets that night, but this particular fellow was Luke Hemsworth, a faded Aussie soap star and former owner of a flooring business, among other things. He was wondering if he'd blown his shot at a Hollywood career and the chance to make his name in America.
Hemsworth had won the lead role on the pilot of a big-budget show. He'd found out on a Thursday, flown to Toronto to begin rehearsing with the cast on the Monday, only to be fired on the Tuesday. The reason given? He wasn't "New York enough" for the part. As he walked the icy streets that night, Hemsworth feared he might have made a huge mistake in pursuing his American dream. Was he being silly striving for something that hinged so heavily on luck and taste, when he could be, perhaps should be, staying in his lane back in Australia? Maybe even getting back on the tools?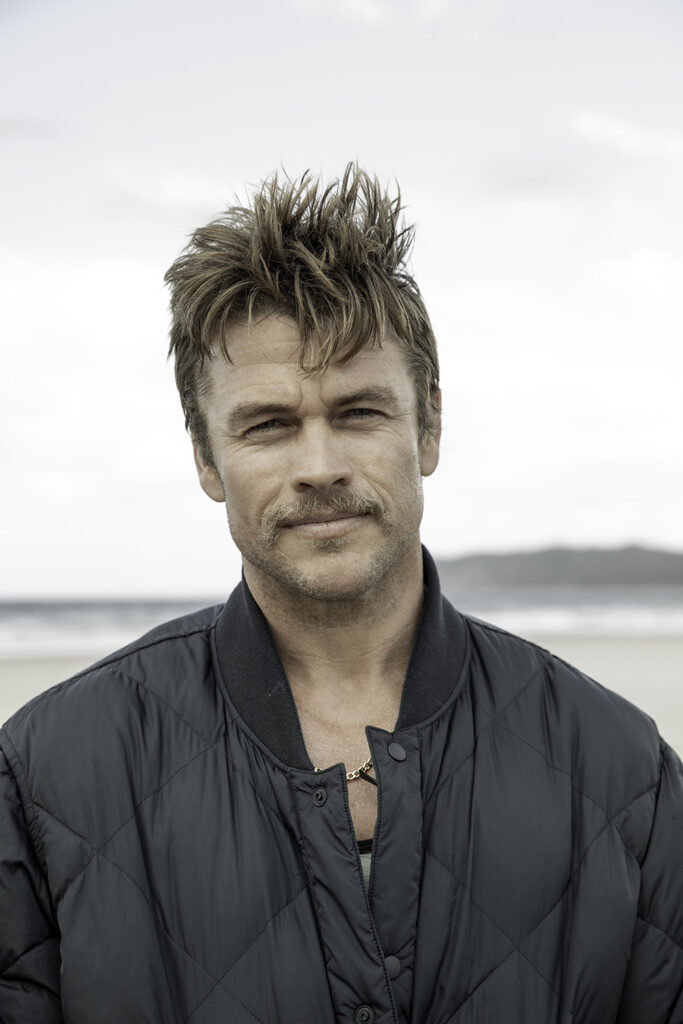 "I was in Toronto by myself," recalls Hemsworth, who's chatting to me today from a Vancouver hotel room that overlooks the water. "It was freezing. And they were like, 'Well, there's no easy way to say it. But they're going to recast your part'. I was like, 'Okay'. And I remember being bewildered. I was walking the streets that night going, Oh, what do I do now? Is that it? Is that the end of my career before it's even begun over here? How do you come back from this when you haven't done anything?"
Good questions to ask yourself. Even better if you can find answers to them. In his disappointment, Luke Hemsworth leaned into some advice from his brother Chris's agent. "He said, 'Look, you can shrink away with your tail between your legs, or you can use it and get better and come back'."
Hemsworth knew there were things he needed to address. His audition process had been rushed. He hadn't nailed the accent. Ultimately, when his big moment came, he didn't meet it. "I wasn't prepared enough for the role," he says. "I'd got it very quickly and been rushed to Toronto. I still had the script in my hand when I was rehearsing, which the director didn't like. So, I used the experience as a catalyst to get better. To become better at the New York accent, to become a better actor. And it worked. I think it's a common lesson: your failures teach you more than your successes ever do. And if you don't recognise that, then I don't think you're growing. Those failures, those knockbacks are a chance to step up."
In a two-decade career that's seen its share of setbacks, LukeHemsworth has never missed an opportunity to learn and grow. He's needed to. Home truth: not everyone is a leading man. Most of us aren't. And while it would be too easy to call him a character actor, the 41-year-old father of four does a reasonable impression of being an ordinary, knockabout bloke inhabiting a larger-than-life world. He's dressed today in a trucker cap and wears a Deus jacket over a floral, Hawaiian-style shirt. Built like an AFL midfielder, which he once was, he possesses the kind of crinkly smile that might disarm a waitress in a country pub. His earthiness and larrikin spirit feel like a throwback to simpler times – he even starred in a Tourism Australia ad for chrissakes. To me, he feels like a bloke you might have known in high school. The footy player who went on to become a tradie, likes a punt and a beer or two. You know the bloke. 
That he's more man's man than matinee idol is probably a good thing, for it just might be this everyman quality that defines his career, helping him dissolve into the characters he portrays to the point where you forget who he is, maybe even what his surname is. You could call it his superpower, but given he's unlikely to front his own comic-book franchise any time soon, let's just say he's done what all smart guys eventually learn to do: play to your strengths. 
Brothers in Arms
Hemsworth is in Vancouver to work on a project he can't disclose but assures me is "something cool". He's just flown in from a conservation trip to Kenya, where he was tracking elephants and is rapturous about the African landscape. "It looks kind of like the outback," he says. "There are bits that are really red with lots of stunted trees. But then you've got giraffes and hyenas and elephants everywhere. It was beautiful and beguiling."
Born in Victoria, the eldest of three brothers (pretty sure you know the other two), Hemsworth has a first-hand appreciation for the stark beauty of the Aussie wilderness, having spent a portion of his childhood on a cattle station in Arnhem Land. Initially, his parents helped fence his aunt's property before taking over the community's local mum-and-pop general store. 
"They had a walk-in fridge," he recalls fondly. "And I remember because it was so hot there. That's where you'd go when your feet were burning. We'd go in there on the cold floor and steal Creaming Sodas."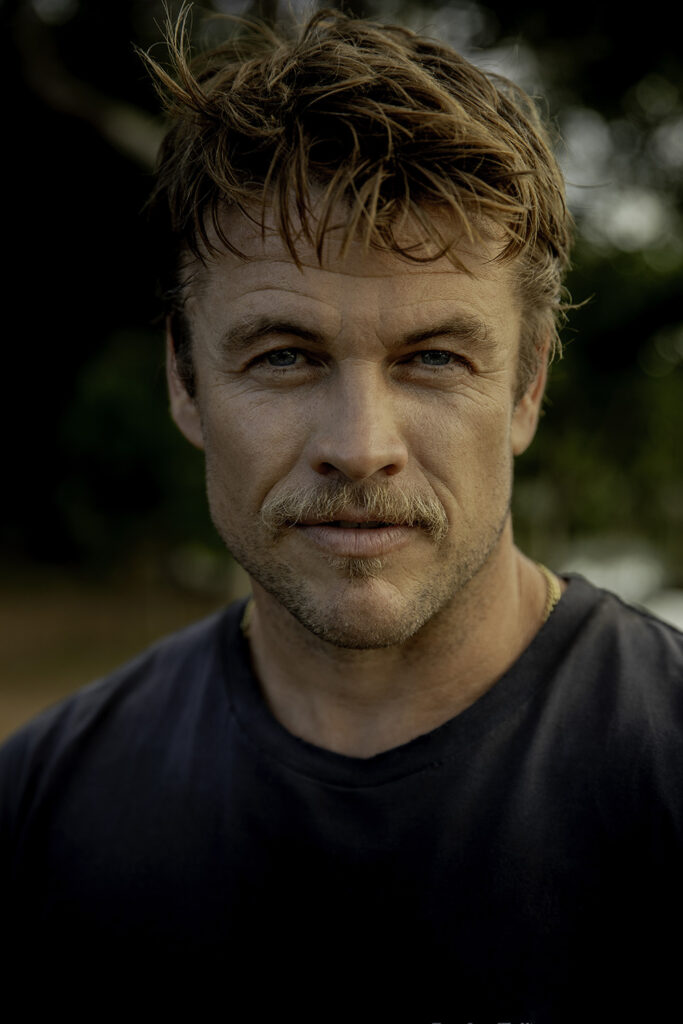 In his teenage years, the family moved first to Sassafras in the Dandenong Ranges, before later heading to Phillip Island. Summer holidays were spent on the Mornington Peninsula, where he got into surfing and riding motorbikes. "My grandparents lived there and we had a holiday house we shared with a couple of families," he says. "And so, we would spend every weekend there surfing, snorkelling and generally running amuck at the beach."
As you might imagine with three boys, there was no shortage of roughhousing going on, with reports of dodging ninja stars and other forms of cartoonish mortal combat. "Me and Chris used to be very combative with each other," Hemsworth confirms. "And then Liam came along and we found a common enemy. So, Liam had to learn to defend himself from a very young age, which he did very well." 
In case you're wondering, sibling rivalry doesn't extend to their respective careers. "I don't compete with them for anything in acting," Hemsworth says. "They might compete together because they're both six foot four and knock down gorgeous. But it's fun to be supportive. It's fun to learn lines with them. It's not like we're not critical of each other, that's for sure. But it's criticism designed to take a performance to another level. In everyday life, we're normal brothers. We definitely try to one-up each other. We like to have fun. We like to laugh."
A footy family, Hemsworth played centre and half-back flank on a couple of under-18 premiership teams for Ringwood. "I never had the height for anything else," he deadpans. He would love to have taken his footy further, he says, "But I think my ambition may have outweighed my ability." A Bombers supporter growing up, he eventually caved and joined the rest of the clan in supporting the Bulldogs. "My dad was born in Footscray and he played for Footscray reserves," he says.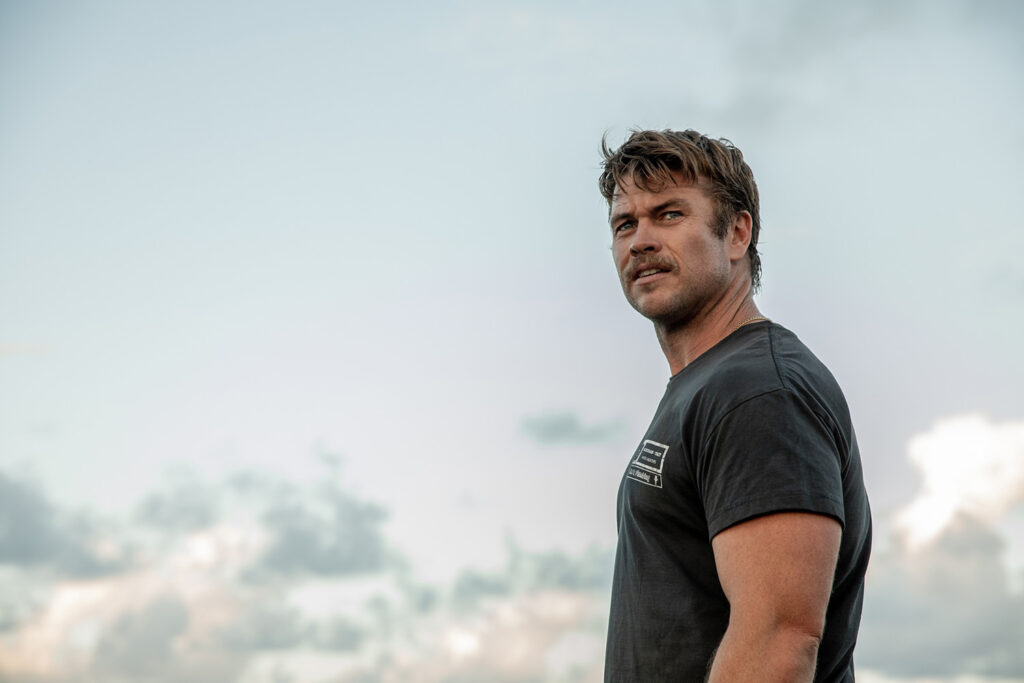 A self-professed class clown, Hemsworth discovered a love of Shakespeare at school. "It clicked in my brain for some reason." While initially aspiring to be a marine biologist, he later had a brief flirtation with becoming a pilot. "I think the idea of pretending to fly planes was a little more attractive than actually going and subjecting myself to the dangers that go along with it," he laughs. "And I always loved acting." Eventually he did a short course at NIDA before studying contemporary arts at Deakin University. 
His first major role after uni was on Neighbours, playing the thuggish footy player Nathan Tyson. After that he "did the rounds of Australian TV, Blue Heelers, All Saints, pretty much everything". And then the roles started to dry up. That was okay. He'd had a decent run. He could have adequately occupied a 'Where Are They Now?' listicle on social media; forever be referred to as "the other brother". Heck, he almost was. Almost.
Handy Man
Luke Hemsworth has always been good with his hands. He and his dad built the family's home in Phillip Island. A pragmatist, Hemsworth knew that if he was going to try and make it as an actor, he needed a back-up plan. He just never saw his plan B becoming his main meal ticket. But that's what happened.
 "There's a reason why actors tend to be bartenders, waiters and have a lot of menial jobs," he says. "I did a lot of construction labouring and worked on the side of roads, planted plants and the only reason was that I needed to be able to drop it all to go and do a part. I quit a lot of jobs just to go to auditions."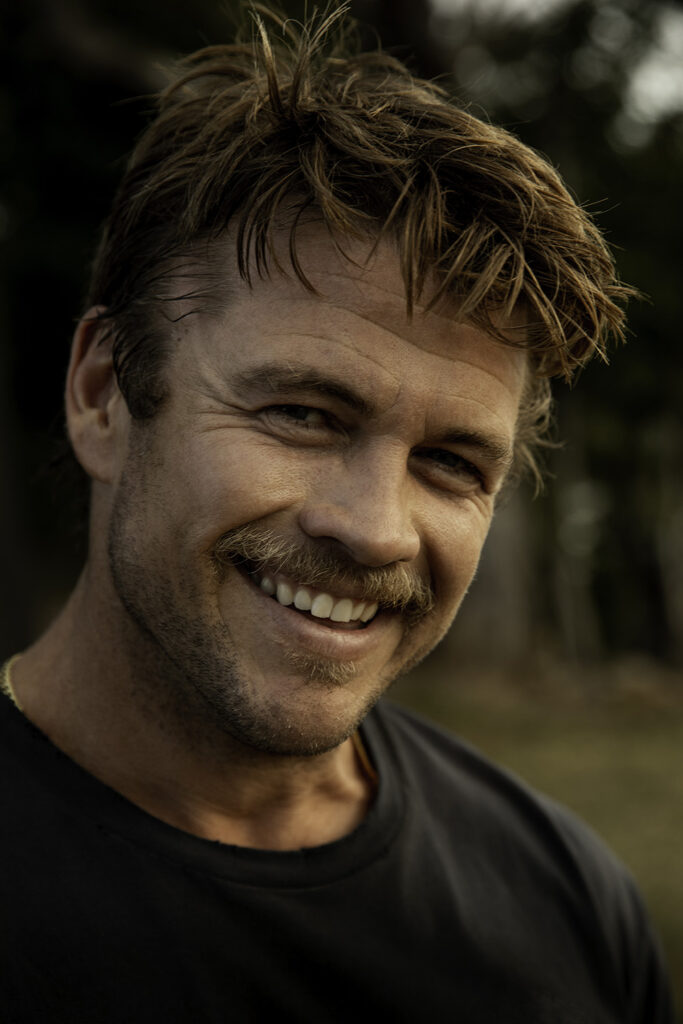 The carousel of manual temp jobs would expose him to a cavalcade of oddballs and eccentrics he would one day draw on for onscreen inspiration, he says. "It ends up fuelling a lot of creativity in terms of the characters you meet. There's just so many strange people out there working these jobs. You learn how to fit into a lot of situations."
In 2007 he married partner Samantha and began a family. Looking for more stability, he got into the flooring business with his friend Chaz. "He'd lost his licence, so I drove him around for two years, me and him in a van going to house after house, sanding floors, polishing floors, laying floors. He's a perfectionist so I became very, very good and from there, went out on my own. I sort of solved two problems by having enough money that I could work and support the family, but also because I was my own boss, I could go and do auditions."
As rewarding and secure as it was, though, Hemsworth missed acting. Not that he ever thought time had passed him by. He just couldn't get a gig. "I never stopped auditioning," he says. "And I never completely wrote it off because
I enjoyed it so much. I thought if there's a way to come back to this, I'll come back to it. A lot of acting is being in the
right place at the right time. I was quite happy to just enjoy the kids and my wife and just take it as it comes."
When he wasn't working, he'd paint. "I still do a lot of painting," he says. "I like to keep my hands working to free my mind." What does he paint? "Nothing very good, that's for sure. But I'm a landscape man." Funny how the only thing these jack-of-all trades types tend to master is self-effacement.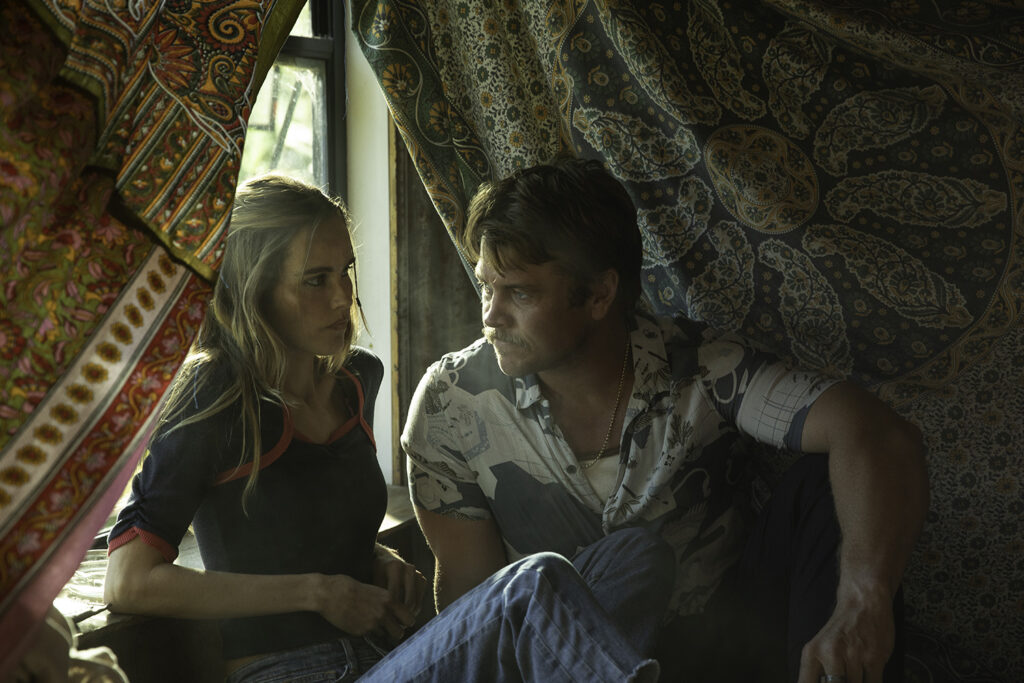 As the rejections continued to pile up, you wonder what led him to keep turning up to casting calls? Hemsworth likens the battle to break through to athletes who might fail at their first attempt to make it at the elite level before going away and coming back stronger and hungrier – your Justin Langers or Peter Bols of the world. "All great athletes have usually suffered losses first," he says.
It was the 2012 Channel 10 show Bikie Wars: Brothers In Arms about the Milperra massacre that changed things for Hemsworth. The meaty material and "cast of lunatics" gave him an inkling that he might have the chops to pursue more nuanced roles. Suddenly, all his life experience became something he could mine. "It was a fascinating show and a wild group of actors," he chuckles. "Matt Nable, Richard Cawthorne, Luke Ford. These guys were all just living it. And it was so cool and so infectious to be back amongst them. I think that was the catalyst that drove me over to America."
He sold his flooring business and after a brief stint in London headed for Hollywood. By this time, Chris had become Chris Hemsworth. Having his younger brother in LA made the transition easier. "Chris was obviously having a lot of success and so the idea of going to Hollywood became more of a reality," Hemsworth says. "All of Liam's friends became our friends, too. We had a support network straight away."
He would end up working as Chris' personal trainer on Thor: The Dark World in 2013, an experience he enjoyed while also helping him realise just how much he wanted to be an actor.
"While I loved training with Chris, love going to the gym and I'm quite obsessive about the science of it, it was clear to me that I still loved acting far more," he says. "I think all it did was drive me further towards acting."
Sometimes you have to rule out what you don't want to do, in order to confirm what you do.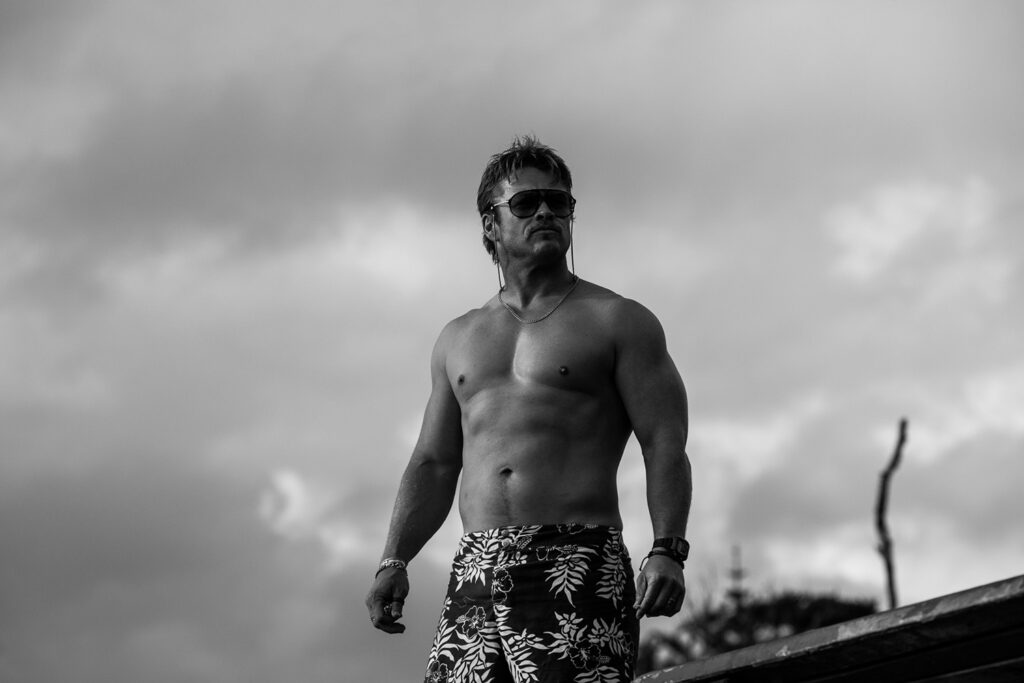 Back to Basics
When Luke Hemsworth's break finally came it was a big one. In 2014 he landed the role of Ashley Stubbs in the sci-fi hit Westworld, although the show didn't actually premiere until 2016. Suddenly the chaos and uncertainty of the industry dissolved. He had security and structure, he and his family making their home in Malibu for the next few years, only a short drive from the studio. "I would sleep in my own bed, drop off the kids at school some days and then drive to work," he recalls.
The show's bi-annual shooting schedule has allowed him to work on film projects in between, one of those being the upcoming Bosch and Rockit, in which he plays a father who goes on the run from the law with his teenage son, played by 16-year-old pro surfer Rasmus King. The two became fast friends in the surf in the lead-up to the shoot, Hemsworth says. "We became best buddies. We surfed a lot, hung out in the trailer. Very quickly on screen, you see the love between us is real. There's no faking it. And I drew on my life as a dad. So, there's a lot of that part of me bleeding through."
Shot in Byron at the height of the pandemic in 2020, the role was one of Hemsworth's first since returning to Australia in 2019. While he and Samantha had agonised about uprooting their kids from their friends and life in Malibu, the children quickly took to the Byron lifestyle and the chance to be around their family. For Hemsworth, it doesn't hurt that he can surf every day, either. "My whole life, I said if I could live anywhere, it would be somewhere that I could walk to the beach and surf," he says. "Now I can walk out my back door and there's a beautiful beach. I'm still very cognisant of making sure the kids are ready for school, so I'll surf either side of that getting-ready period between 7 and 8:30. After that, see ya."
Luke Hemsworth's plan is to base himself here, while jetting off to shoot when he needs to. While everything seems to have fallen into place, you sense Hemsworth has been around the block too many times and experienced too many disappointments, to get complacent. I wonder if his time out of acting has helped him keep his feet on the ground now that things are taking off. His answer doesn't surprise me.
"I don't think my feet were ever off the ground," he says levelly. "It's probably more having a wife and kids that keeps you grounded. And maybe seeing what my brothers have gone through, with the paparazzi parked outside their houses and stuff like that, has given me an insight into the pitfalls of that side of it. But I've always been
a normal bloke. I always liked doing stuff around the house. I like taking the kids to school. I've even gone back to mowing my own lawn. We paid gardeners when we were in the States. But if you want the job done properly, you've got to do it yourself."
I nod. I know a few blokes who would say something like that.