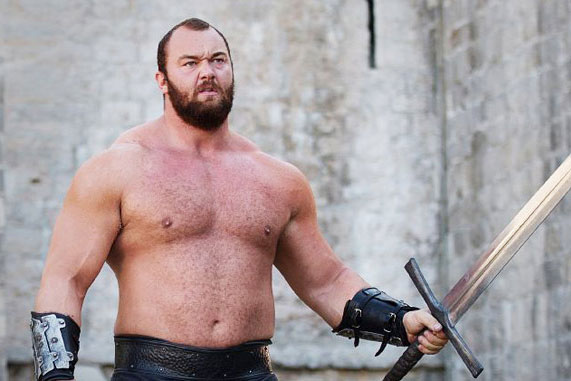 Earlier this year, Game of Thrones actor and professional strongman Hafþór Júlíus Björnsson (aka 'Thor', aaka 'The Mountain') officially took out the title of the World's Strongest Man in Manila.
The Icelandic native took the title with a final score of 51.5 points, crushing his nearest competitor, Poland's Mateusz Kieliszkowski, on 45 points, cementing his status as an absolute powerhouse of strength and muscle.
While Björnsson's rise might seem quick to some thanks to his Game of Thrones fame, this is The Mountain's 8th attempt at the title, competing every single year since 2011 without a win… until now. Since 2012, he's consistently placed in the top 3, with the title eluding him until this year's victory.
Keen to learn the secret to his sizable strength, the 200kg 29 year-old taken to Instagram to set the record straight. "You wanna know my secret?" Björnsson asked his followers. "There is no f*cking secret!! Hard work and being consistent is what makes the difference from being good to being the best!!!"
Despite the brutal advice, The Mountain did go on to deliver 6 commandments he lives by in order to cultivate mass, increase strength, and smash the competition in the process, surprising some in the process.
THE MOUNTAIN'S 6 COMMANDMENTS
Never miss a meal
Never miss a workout
Never miss 6-8 hours sleep
Never stay up late
Never drink alcohol
Do whatever it takes to be the best in your sport
While the list reads more like a list of 'don'ts' rather than 'dos and don'ts', Björnsson is clearly a fan of routine, sacrifice and commitment when it comes to his training and diet. Included in his shared facts, Thor identifies steering clear of alcohol, an intriguing omission given that he's part owner of Icelandic Mountain Vodka.
"I never said I don't believe in my product," Thor said when responding to being called out. "I love the vodka and gin but in this chapter of my life I'm not drinking it." Eeek, we can only imagine the awkward phone call from his investors following that one.
Björnsson also took the time to share what constituted as 'late' when it came to bed times.
"After midnight is late in my opinion but obviously this differs from person to person." That's good news for us 9pm bed-timers, seems like our grandpa lifestyle has set us on the fast track to supersize strength.