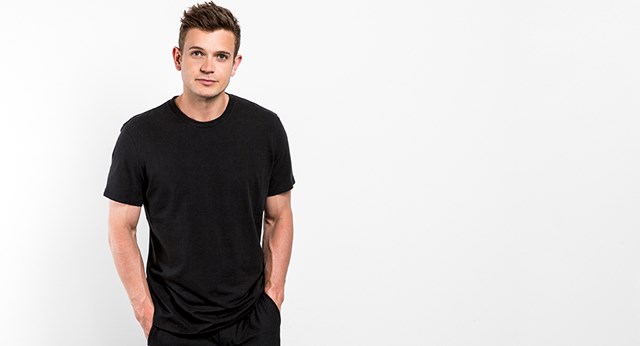 CALL TO ACTION
I live a full-contact lifestyle. I'm going hard from 6am to 10pm – business, workouts, family, friends, travelling at least two nights a week. As a result, I need clothing that'll keep up with me and won't hold me back. I used to feel like a lot of my clothing simply wasn't as durable as my athletic wear that I could just chuck in the washing machine. That's why I started Kit and Ace.
DOWN TO A TEE
What makes a good T-shirt? First of all, it's feel – that's why we make ours from Technical Cashmere: it's soft and machine-washable with the stretch of Lycra. But fit is also vital. Go for something a bit slimmer – it'll look more elevated. Shape-wise, you want your tee to be more rectangular than square. That's important, because a lot of T-shirts shrink in the wash. You don't want to look like you're wearing a crop-top
NOT SO COMMON
I've got about 15 pairs of Common Projects sneakers. I've got them in white, black, perforated. I've even got a pastel pink pair. I think what Common Projects have really done is elevate the sneaker. You can wear them casually but also wear them with a suit. They're like a blend of a Converse sneaker and a Prada dress shoe.
HEADS UP
I wear hats all the time – I must have three or four fedoras. The trick to pulling one off is to make sure the brim isn't too big. The hat also has to fit properly – there's nothing worse than having a little hat perched on top of your head.
WRISTY BUSINESS
I got an Apple watch with a Hermes strap for Christmas. It's great for checking texts and calendar when you're in meetings, plus it's really easy to change the time when you're travelling. But I also have a Cartier de Calibre that I got for my graduation that I wear 40 per cent of the time. It's easy to dress up or down.
CARROT TOPS
Don't be afraid of a tapered leg. A nice carrot-leg hits a fine line between too slim and too baggy. For a guy, it can slim you out while also highlighting your physique.
LAYER PLAYER
If you're layering up and want to inject a pop of colour, make it the first layer. That way the outer layers can anchor the brightness and make it easier to pull off. The other thing with layering is to try to synch up the necklines – wear a crew-neck tee with a crew-neck sweater, a V-neck with a V-neck and so on.