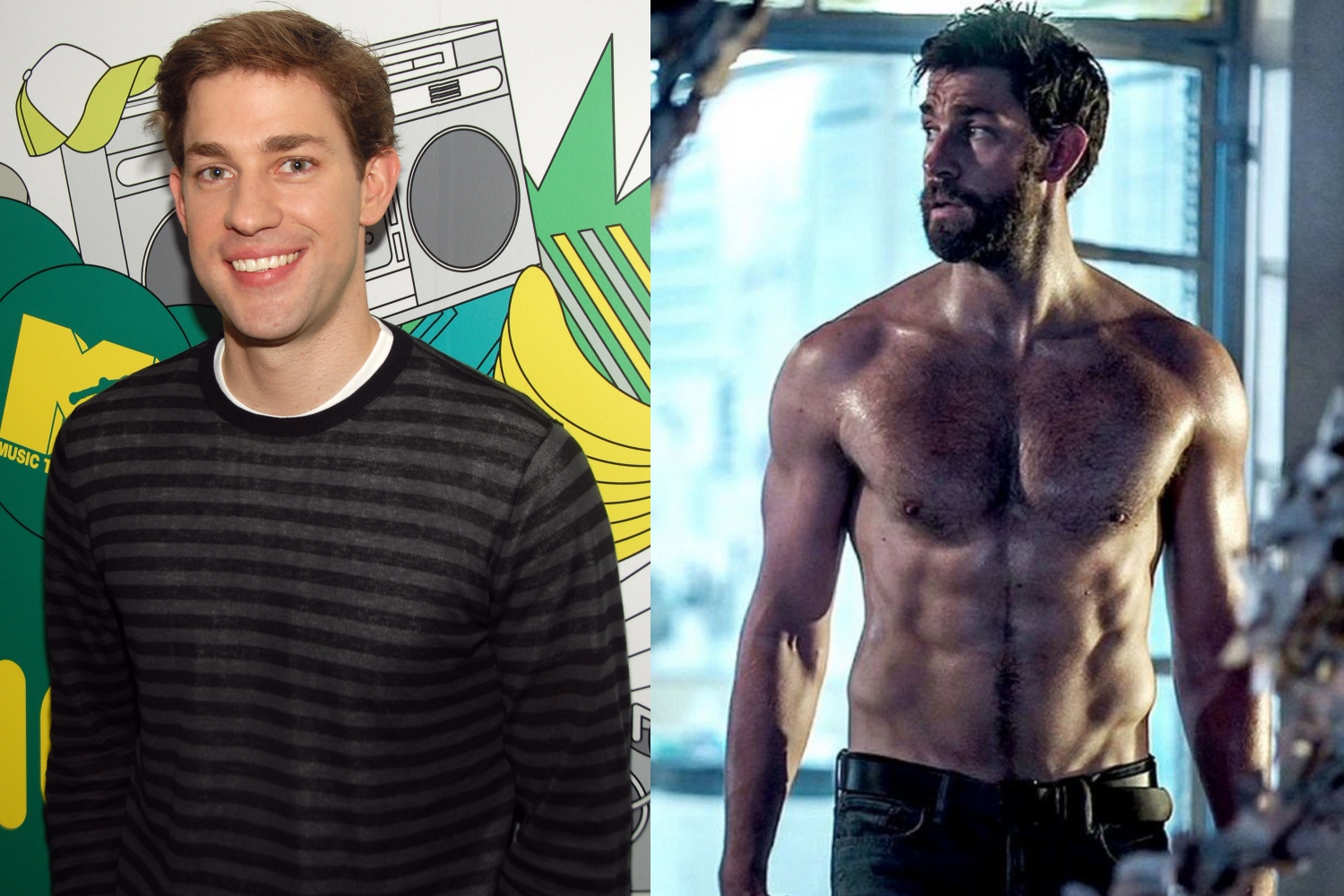 John Krasinski is set to make his return as Jack Ryan in the second season of the character's Amazon Prime reiteration, but the 40-year-old's transformation from The Office's loveable dweeb into action hero began before he took on this iconic role.
In 2016, Krasinski played CIA contractor and former Navy SEAL in 13 Hours: The Secret Soldiers of Benghazi. This involved training twice a day, five days a week, for several weeks, going from 26 per cent body fat to just nine percent within a few months. This was coupled with a strict diet plan, which he told Jimmy Kimmel involved salad, chicken, and water.
"I gotta be honest: It was brutal at times," Krasinski told Men's Health. "We did tons of metabolic work, dragging sleds and all this stuff I've seen NFL players do."
RELATED: How This Guy Transformed His Six Pack In Six Weeks

"I did it for the role, and then I definitely got addicted to it," he said. "I take periods off. I remember my trainer saying, 'Try to stay within three weeks, so that whatever part you get, within three weeks we can get you down.' That's the goal, to be able to shift back and forth. I think that's better than saying, 'Stay ripped your whole life.' Because that's really annoying, and the people who do it really easily annoy me. Yes, I'm talking to you, Chris Hemsworth."
To stay shredded, Krasinski now trains with London-based Simon Waterson.
"I liked to look at our training and make sure that what was onscreen matched what would be born out of his routine and his job," Waterson told Men's Journal.
His regimine included five days a week of physical conditioning, with weekends set aside for active recovery like yoga or physiotherapy.
"My belief is that aesthetic is solely by product of good performance."
Want to copy Krasinski's routine? Waterson suggests alternating between a day of push-pull moves (think pull-ups, rows, and bench presses) and a leg day (deadlifts, squats, and lunges). To track your strength, find your one-rep max for key moves like the bench and the deadlift, says Waterson. Then train heavy and hard enough that you can hit 80 percent of your one-rep max even when you're not in best-body mode. You can also track your fitness with body-weight moves. "Aim to do a consistent number of pull-ups, dips, and push-ups," says Waterson.
RELATED: How Guy Sebastian Went From Soft To Six-Pack In 8 Weeks