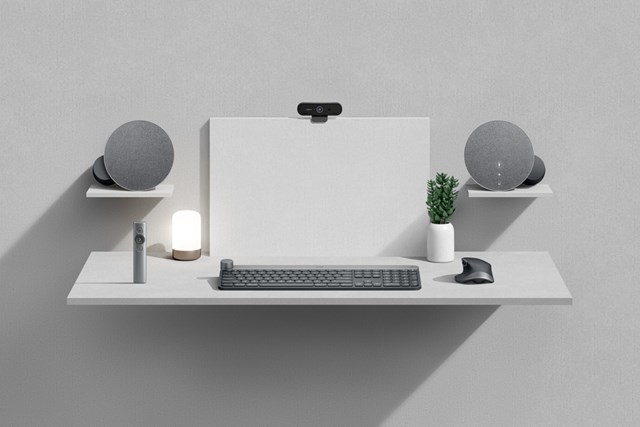 One of the coolest things to happen over the last decade on the modern office desk is the gradual disappearance of cables. Our desks never looked tidier with wireless keyboards and mouses eventually giving us more room to store miscellaneous pieces of paper, water bottles and dirty coffee keep cups.
Logitech's new Premium Collection adds a level of style and sophistication to your office desk with a stylish keyboard and mouse that makes working a pleasure.
Setup
Out of the solid black box embossed with "Work beautifully" comes the slimline Craft Advanced Keyboard that is both fully Mac and PC compatible. It connects via Bluetooth or Unifying device (a small USB plug) At the top left hand corner is the Crown, that acts as a multi-purpose jog wheel. By downloading the Logitech Options app you can customise its use allowing a dozen or so of the most commonly used programs to be used with the Crown. It lets you zoom in and flip pages Microsoft Word, scroll through a video time line Adobe Premiere Pro or easily edit photos in Adobe Lightroom.
The MX Master 2S Wireless Mouse is literally a joy to behold. Very comfortable with more buttons than you know what to do with. Like the keyboard it syncs with the Options app and allows you to customise each button's use. It also is a weighty unit with solid construction and glides very smoothly across the desk.
Performance
The keyboard has a great feel. Being a slimline there's not a huge amount of play in the movement of the keys, but each is indented and the whole unit has a very solid premium feel. It has a bit of weight to it and I think I prefer it over Apple's own keyboard. The extra functions controlled by the app though are a bit flaky. Spinning the Crown while using it in a program gives you options on how you can use it but it seems to choose them randomly. Switching between them should be easier. Being able to scroll through a video timeline in Premiere Pro though is a fantastic feature though for frame by frame editing.
I did have some trouble connecting the mouse to my Mac's Bluetooth. The connection would keep dropping every few seconds leaving the cursor frozen on the screen before moving again. After some investigation I discovered that many Mac users have had similar problems. Fortunately the Unifying USB key also allows wireless connection to the computer and this method seems to work well.
The Round Up
The Logitech Craft Advanced Keyboard is very nice to use, but Logitech really need to refine the way it works with other programs. The Crown is brilliant when it works, but frustrating when you can't get it to do what you need. Clicking and turning often seems to give unpredictable results.
At $299 for the Craft Keyboard and $149 for the MX Master 2S Mouse they are not the cheapest peripherals on the market, but they certainly are some of the nicer ones to use.
Thumbs Up:
Design
Solid construction
Nice "feel"
Thumbs Down:
Pricey
Crown does not work reliably
A couple issues with bluetooth connectivity for Mac users