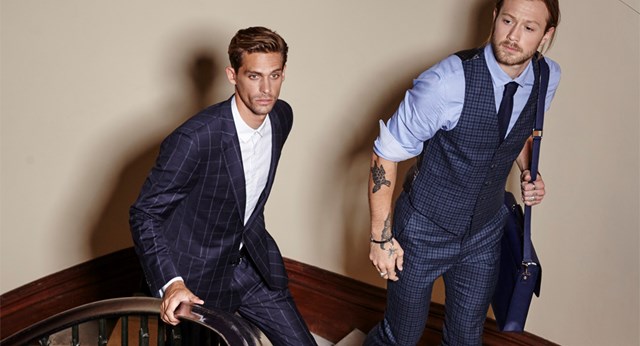 Does your lumberjack beard say "screw promotion"? Is your shirt too sweaty? Your man bun too . . . progressive? Even if you're smashing budgets and nailing briefs, never underestimate the power of appearance at work. "You may relax as you become more established, but beware of complacency, as people you meet will judge you on today – not last week," says recruitment expert Dominic Moore, director of 325 Consulting. Anything on show is up for judgment, including your teeth and fingernails, adds Moore. Need to clean up your act? Here's our guide to grooming your way to the top.
Sweat
Pit stains? If you can't get work in a sauna, you can usually remedy sweat marks with a combination of prep, good cleanliness and self-acceptance, says Dan Jones, author of Man Made, The Art of Male Grooming. Make sure you and your outfit are both freshly scrubbed; your clothes should be 100 per cent cotton or wool, as man-made fibres will make you sweat even more – and stink, too. Go for a light spray of antiperspirant deodorant – wearing too much can actually have the opposite effect, warns Jones. Still a hot mess? Don your jacket when you see the boss coming. Sweaty brow? Maintain the masculine façade that you never feel the pressure by using a lady secret – blotting paper. These fine sheets of absorbent paper quickly sop up facial sweat and oil on the t-zone.
Teeth and breath
Ooh, you had kale for lunch! So new age! Now brush your teeth – no one wants to see it still wedged in there at 3pm. Set a daily post-lunch calendar reminder and visit the bathroom to give your teeth a brush, and floss if need be. Pop a mint before meetings – especially mid-morning and -afternoon. When you don't eat or drink for a while, your saliva levels drop and plaque builds up on your tongue, causing bad breath, says dentist Dr Christopher Ho. And get on to green tea: research from the Archives of Oral Biology found its polyphenols can get rid of your halitosis.
Beards and stubble
The more white collar your environment, the more groomed you're expected to be, says personal styling expert Bridgette Kirk, from The Style Agency. That doesn't mean beards are out – but if you look like a bushranger and work in a boardroom, it's time to rein it in. "There is probably a direct correlation between how much facial hair is acceptable and how formal/informal the company dress code is," says Moore. "A general rule: Tie = clean-shaven. No tie = stubble. Smart-casual = trimmed beard. No dress code = free swim." Going for designer stubble? Keep the edges in check. Clean shave under the chin and the sides of your neck – and don't forget sporadic growth, like just under the cheekbone, says Paul Macnamara, head barber & founder of Jack the Snipper.
Cologne
Whether you're a tradie or a trader, no one wants to deal with your unbridled animal musk on the clock. Antiperspirant deodorant is a must before work and after your lunchtime workout shower. Cologne is optional, but keep it subtle. "Aftershave is not a statement at work – if it polarises people, chances are you will do the same," says Moore. Opt for a sports fragrance – the lighter concentration of scent makes it harder to overdo it.
Hair
Diversity is in, so longer styles are not taboo – but consistency is key. Whatever your look, continuity always appears more professional, says James Pearce, editorial stylist with hair product company R+Co. Commit to either long or short; don't be slopping around with a grown-out style, looking like you missed your last haircut. Avoid hair product that's too oily – it can look greasy throughout the day. A general guide to product selection: fine hair needs thickening and gritting up with matte powder, thick hair needs weighing down with paste, curly hair can be tamed and defined with wax or pomade, says Pearce.
DID YOU KNOW? Researchers from the University of Wisconsin-Madison found a correlation between male attractiveness and lifetime earnings. Missed out on male-model looks? Better trim your nails and shine your shoes . . . can't hurt.