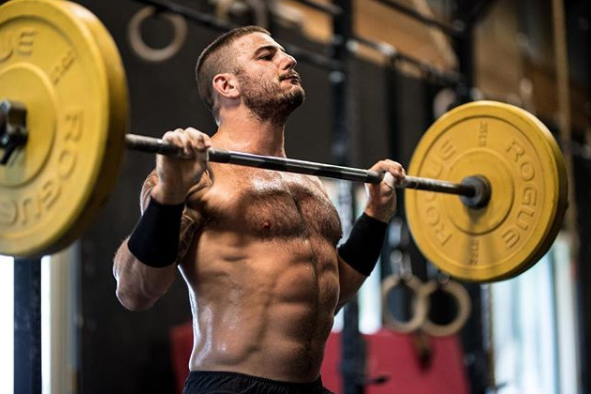 Mathew Fraser is the official holder of the 'Fittest Man On Earth' title, a 2 time CrossFit Games Champion, and an absolute beast in the gym. Yet the man-mountain remains one of the most relatable CrossFit athletes in a sport infamous for intimidating figures (and recent PR disasters).
"Honestly, I just make sure that I have a smile on my face when I walk in the gym. I never train unhappy," Fraser told MH back in 2016, when he was freshly crowned the Fittest On Earth for the first time.
Fraser, now 28, will kick off his 2018 campaign for the title once again this week in Madison, Wisconsin, and while he will most certainly have a target on his back, heaven help anyone ballsy enough to challenge him for the title. He has formed a habit of smoking the competition.
Yet despite his proven level of strength, fitness, and commitment to training, the eternally humble Fraser puts his edge in this year's Games down to his nutrition, and more importantly, his fiancé, Sammy Moniz.
"This past year has been a big jump in the right direction," said Fraser in an interview with GQ on the eve of competing in Madison. "Every meal is made and waiting for me. I'm not having to finish training and then spend 30 minutes putting a meal together anymore. I'm not taking those trips to the grocery store. Sammy, my fiancée, loves to cook—she spends a lot of time on it and is always doing it for me."
So what does a world-beater eat to ensure he can lift heavy, run long, and bust through mental barriers many of us can't even fathom?
"Anything from steak and potatoes to enchiladas to tacos. There's not too much she doesn't do," said Fraser.
Adding to his universal appeal, Fraser seems to skirt the temptation to let nutrition rule his life. Although he's clearly super human, his seemingly flexible approach to dieting almost makes his level of fitness seem attainable for the everyday bloke (it's not). He's like the man next door, if you lived next door to Mount Olympus in the days of the Greek Gods.
"I tried to take my diet to a more extreme place, but it wasn't for me. It was taking too much time and energy away from different parts of my life. Now, instead of obsessing, I just try to eat well: No junk food. No soda. It's mostly meat, vegetables, and fruit. If I'm hungry, I eat. If I'm not hungry, I don't. There's not too much of a science behind it."
Although not necessarily scientific, Fraser's general guidelines of avoiding food that comes in a packet seems like a fairly easy rule book for eating real, healthy, nutritious food.
But rest assured, even the greatest of athletes have their cheat meal indulgences, and Fraser is not exception.
"I keep a stack of Hershey's in the house—just plain milk chocolate—so that if I'm having a craving, I can go eat half of one." Amen to that, a diet we can happily abide by.