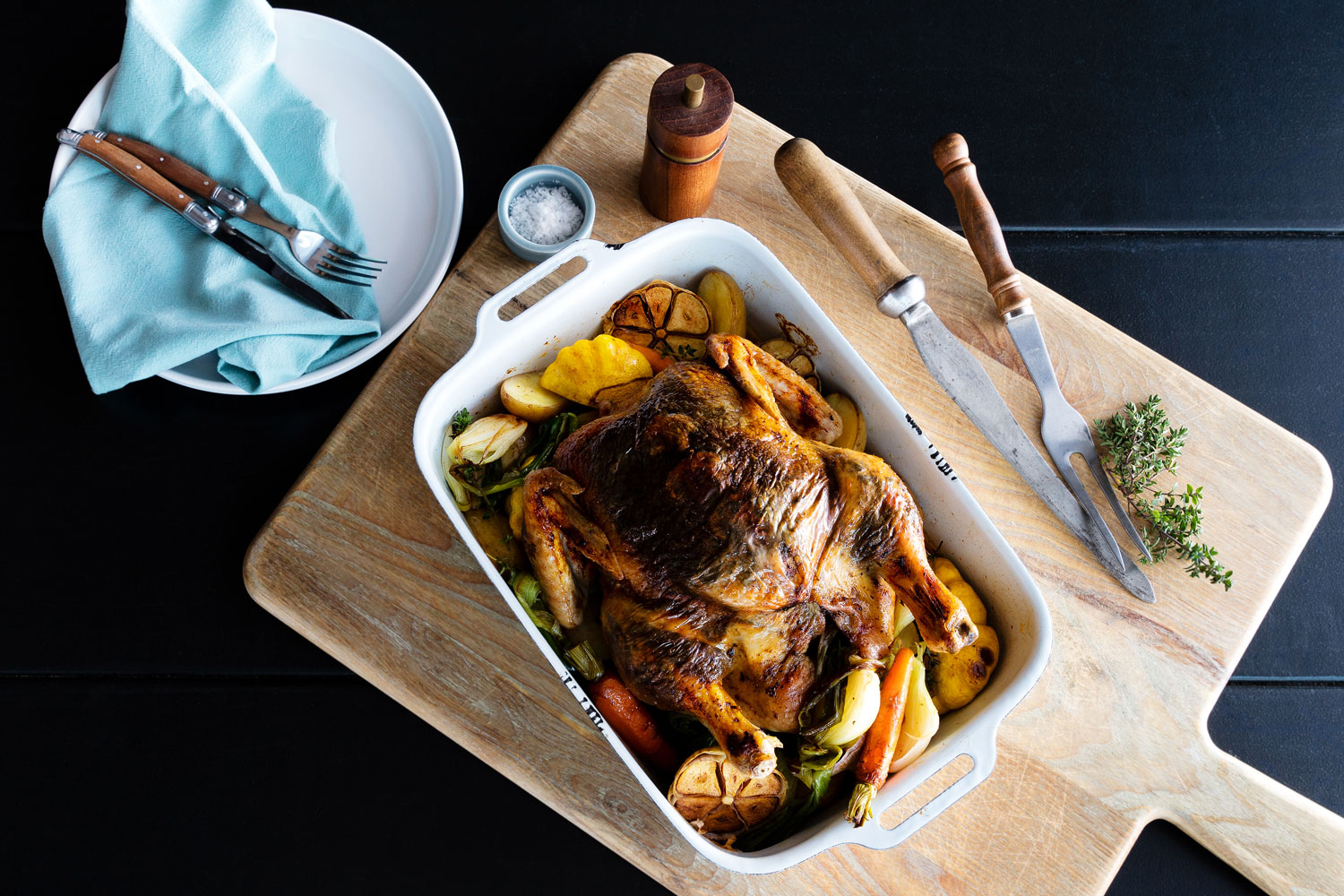 Proudly supported by
Miguel Maestre is one talented Spaniard who has made Australia his home. Born in Murcia in the south of Spain, his love for food was pre-determined from a young age. Miguel's passion for food and life is infectious, and he has developed a talent for incorporating Spanish ingredients and cooking styles into his Australian menus.
Try this Crisp Skinned Roast Mushroom Chicken and follow Miguel's tips to a tee in order to keep your roast from drying out!
Ingredients
Chicken
1 large chicken
20g unsalted butter, softened
400g Swiss Brown mushrooms, quartered
3 sprigs thyme, leaves picked
1 tsp Spanish smoky paprika
2 Portabella Mushrooms
Stuffing:
1 tbsp olive oil
2 fresh chorizo sausages, diced
4 medium Flat Mushrooms, chopped
4 spring onions, chopped
Roast Vegetables (use the below, or roast vegetables of your choice):
1 bunch baby beets, washed and halved (golden and purple)
1 bunch Dutch carrots, washed, trimmed (purple, yellow, orange)
1 bunch spring onions, trimmed
2 bulbs baby fennel quartered
Method
Preheat oven to 180°C (allow 30 minutes cooking per 500g of chicken).
Blend the butter, mushrooms and thyme in a food processor and season generously with salt and pepper.
Gently loosen the skin by pushing your fingers along the surface of the meat around the breast and thighs. Push the butter under the skin and work the butter as far down under the skin as possible.
Sprinkle the paprika over the skin and rub until evenly coated.
For the stuffing: Heat the olive oil in a large frying pan over medium high heat.
Add the chorizo, mushroom and spring onion and cook for 2 minutes, stirring regularly.
Season to taste and remove from the heat.
Push one of the Portabella mushrooms and chorizo mixture firmly into the cavity inside the chicken, creating pressure so they roast with the chicken juices.
Close up the cavity with the other Portabella mushroom.
For the vegetables: Chop veggies and place into the base of a baking tray.
Season the veggies with lots of salt and pepper, then drizzle with olive oil and mix together using your hands.
Cook the veggies together with the chicken.
Remove from the oven and serve with stuffing and veggies.

This is an edited recipe extract by Miguel Maestre for Australian Mushrooms.