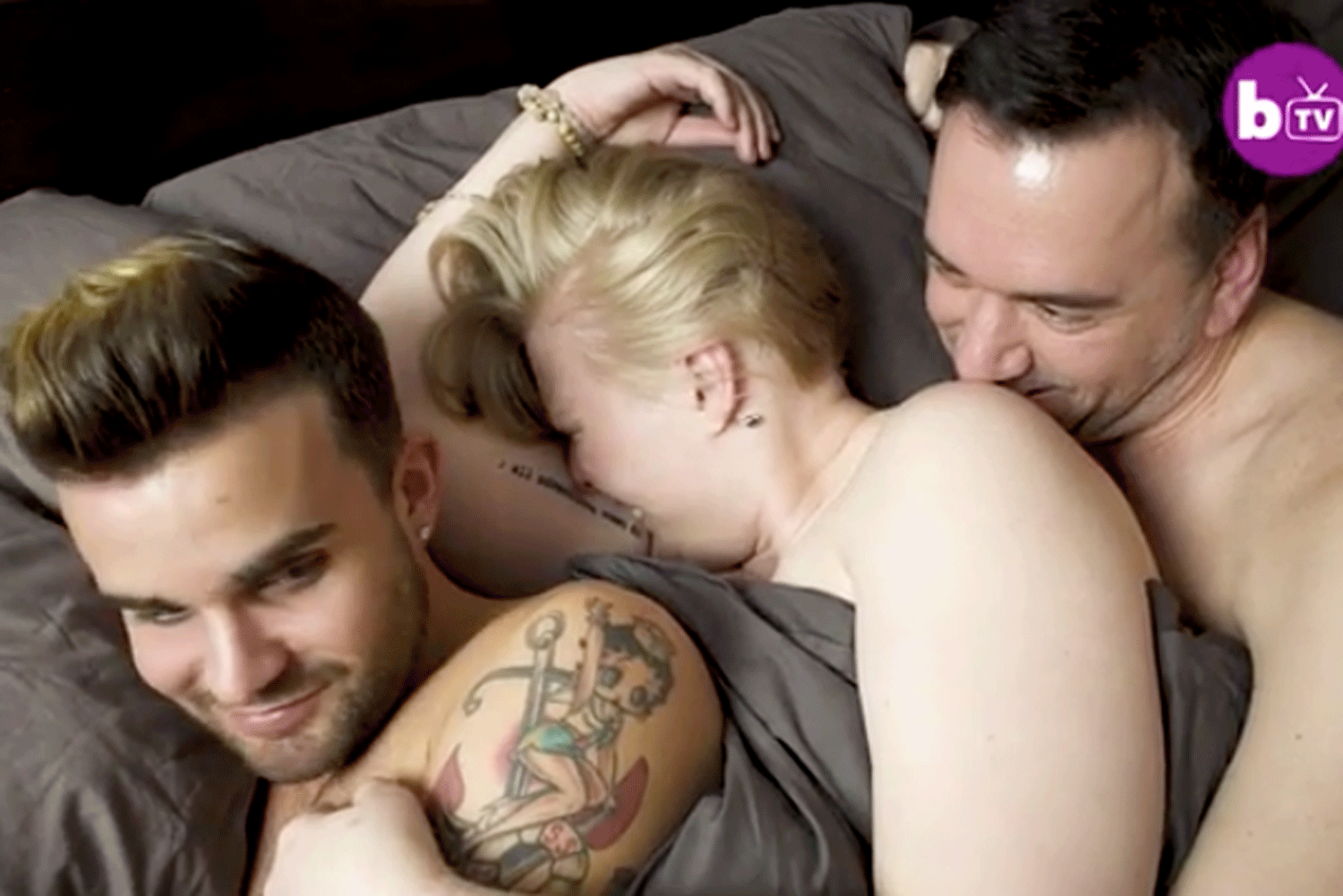 Ever wonder what it's like to be part of a throuple? This New York trio makes it look like a whole lot of fun—once you get past the jealousy, that is.
But first—what is a throuple, you ask? No, it's not the same as a threesome. A threesome is a sexual encounters with multiple partners, while a throuple relationship tends to constitute a deeper bond between multiple people of any gender. For throuples, it's simply practicing and living out polyamory, rather than just getting freaky in the sheets. In fact, some throuples may choose to never have sex with each other all at once.
As journalist and sex educator Alix Fox explained to HuffPost, a throuple is "an intimate, loving, equal relationship between a trio of people."
RELATED: 12 Couples Were Asked "Would You Ever Have A Threesome?" Here's What They Said
Let's take a look at the relationship shared between Cait Earnest, a 28-year-old woman who met Chris Brandt through a dating app in 2015. He reportedly asked Cait to enter into a three-way relationship with his husband, Matthew.
Earnest recently shared with Barcroft Media what it's truly like to live in a throuple, according to the New York Post: "I had never been with two people at the same time before," she said. "It's different strokes for different folks, but I would say it's a pretty fun sex life."
Don't get it twisted—jealousy can pop up. "It was a struggle even for me," Matthew said. "The insecure part of me was like, 'Chris loves me more because he's been with me longer,' but then he told me, 'I love you just as much as I love Cait,' so I was like, 'I need to come to terms with that.'"
Cait now officially co-habitates with her boyfriends and their shared dogs in a one-bedroom apartment. The trio all have matching tattoos on the inside of their forearms and are even considering having kids.
RELATED: What Women Really Think About Threesomes, Dirty Talk, and Anal
"As far as kids, I think any child would be lucky to have three parents," Matthew said, adding, "But we have two dogs for now and that's enough."
Thinking about entering a throuple yourself? You might find some surprising benefits. "One of the best things about being in a throuple is that you get more gifts," Matthew said, according to the Post. "Holidays, birthdays, we like to celebrate everything!"
The throuple noted that any hint of jealousy is now squashed—instead, their bickering usually revolves around who is stealing the sheets in bed at night.
"In regards bed placing, it does complicate things. Matthew and I used to sleep on opposite sides and then Cait came long," Chris told Barcroft Media. "If I wanted to stay on the same side, Cait would have to be in the middle and we found quickly she didn't like that."
This article originally appeared on Men's Health