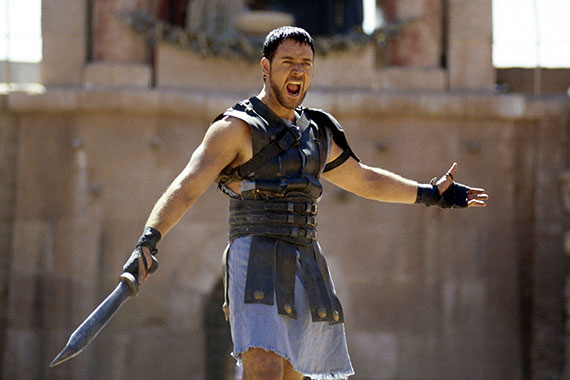 Aussie-claimed, New Zealand born, Oscar-winner Russell Crowe has held an epic celebration to toast the finalisation of his divorce to actress Danielle Spencer. To mark the momentous occasion, Crowe held an auction to clear out his life. Seemingly very keen to rid himself of anything that Spencer ever saw in his life, Rusty title the event 'The Art of Divorce'.
To add salt to the wound, Crowe held the Sotheby's Auction on what would have been his 15th wedding anniversary. It was also his 54th birthday.
The sale of 227 items included memorabilia from Crowe's huge career, such as his torso armour from Gladiator (fetching $125000), a dinosaur skull originally bought off Leonardo DiCaprio, and the leather jock strap worn in Cinderella Man. Shockingly, the jock strap attracted 10 times the estimate, selling for $7000.
Among other items up for sale were:
A scarf and a pair of old shoes from State of Play
Numerous guitars he's collected (his band 30 Odd Foot of Grunts never won much critical acclaim)
A Merc used on his wedding day in 2003
A Shane Warne Test cricket jersey
The cloth angel doll from The Sum of Us
The leather sketchbook from 3:10 to Yuma
Chain mail and other clothing from Robin Hood
A Javert costume from Les Miserables
Crowe himself attended the auction briefly, walking into the room to the tune of Happy Birthday. It seems that divorce is looking good for Crowe, who raked in a cool $3.2million from the weekend.