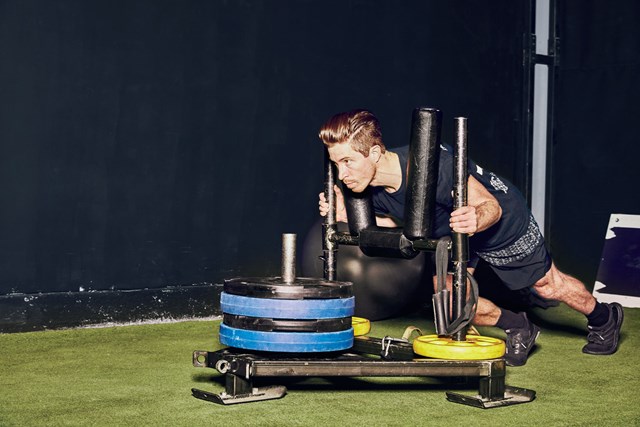 Shaun White flew home from the 2014 Winter Olympics in Sochi having finished fourth in the snowboarding half-pipe. He'd won that event at the two previous Olympics and become a global superstar. He was 27 and, for the first time, he decided to take a break from competitive snowboarding. "Finally the whirlwind stopped," he says, "and I could look at my life and say, 'What do I want to do?'"
He started a men's clothing line (WHT Space), played with his band (Bad Things) and expanded his portfolio by launching a music and sports festival in LA and buying a stake in a California ski resort company. But apparently he also didn't want to end his Olympic career in fourth place.
White was always fit from his self- guided, year-round regimen of snowboarding in winter and skating and surfing in summer, but he never followed a specific program for fitness. "In snowboarding, it was pretty uncool to work out," he says. His natural talent enabled him to spin faster and fly higher, but age is blunting that edge. White was 31 years old when the 2018 Games began on February 9 in Pyeongchang, South Korea. His eventual gold medal win wasn't certain, and he was an outside chance against young-gun Scotty James.
So he committed. He hired Esther Lee, a physical therapist who'd worked for tennis great Serena Williams for years. Lee spotted weaknesses in White immediately – like a shorter stride on his left foot and a misaligned back. Lee also found Tim Hartwig, a celebrated trainer who'd worked with many pro athletes and Olympians.
The two trained three or four days a week either at White's home gym or a private facility in Southern California. They focused on leg and core strength and especially joint mobility and range of motion. Once or twice a week, they worked on building endurance by mountain biking. "It really changed things for me," White says.
The winter before he made the decision to overhaul his training, White would do only two consecutive days of hard-core snowboarding before taking a rest day. "Now I ride twice a day, four or five days in a row, and I'm not tired," he says. He has more energy and sleeps better. He's both stronger and more explosive. At the Burton US Open in Vail, Colorado, in
2016, he soared 8m into the air over the pipe, breaking his personal height record by 60cm.
Hartwig says, in fact, that White is "by far the best athlete I've ever worked with. He's naturally gifted, and it wasn't until he started aging that he realised he needed to step it up. Not many athletes realise that."
Some sceptics might wonder why it took White so long. "People would ask me, 'You're really going to the Olympics again?' I'm like, 'Dude, I feel better than I ever have'." With another gold medal in tow, it seems to have paid off big time.
White's secret to flying high? A trio of leg-building moves from his trainer, Hartwig. Use them to elevate your workout.
Band Walks
Wrap a medium-strength band under your feet and hold in your hands. Stand with your knees slightly bent. Step left with your left foot; return. Now go right. That's 1 rep; do 2 sets of 15.
Dumbbell Seated Box Jump
Hold a light dumbbell at your chest. Sit on a bench, a box in front of you. Rock backward; then, in one motion, stand and jump onto the box. That's 1 rep; do 3 sets of 3.
One-Leg Bulgarian Split Squat
Holding a light dumbbell at your left shoulder, stand with your left foot on a bench behind you. Lower until your right knee bends 90°. Stand. That's 1 rep; do 3 sets of 15.