It's 9:30am and the ground floor of Chifley Square in the north-east of Sydney's CBD is already in full swing. In one corner of the entrance sits a cafe flinging out orders of flat whites and breakfast wraps to a crowd dressed in expensive suits and slick-back hair. It's an operation of almost military precision; this is not the place to banter with your barista or idle over a cappuccino and the morning's news. You arrive, get caffeinated, then it's back to work. After all, Chifley Square, like many other business hubs around the country, is a place where time is of the essence.
The other corner of the entrance is a different story altogether. It's quiet, elegant and more than a little mysterious. There's a set of elaborate and expensive-looking gold doors but beyond that, there's little to indicate what goes on inside. It could be a high-end clothing boutique, a luxury day spa or even an exclusive member's lounge catering to the rich and powerful. Instead, this rather striking facade is home to SOMA Collection, a gym that can stake a claim as one of the most luxurious offerings in the country – a claim we're here to put to the test.
Once inside, the commotion from the nearby cafe quickly disappears, replaced by the faint sound of ambient music. I'm met by a team of friendly reception staff who usher me toward an amphitheater (yes, really) where I am instructed to wait for Simon Anderson, the co-founder and head trainer at SOMA, who is to be my guide for the morning. Soon, Anderson arrives before offering a quick hello and disappearing again, returning minutes later wearing a chic SOMA-embroidered gilet, courtesy of Australian sportswear giant 2XU. It's a subtle but important transformation that reminds us that here at SOMA, presentation is everything.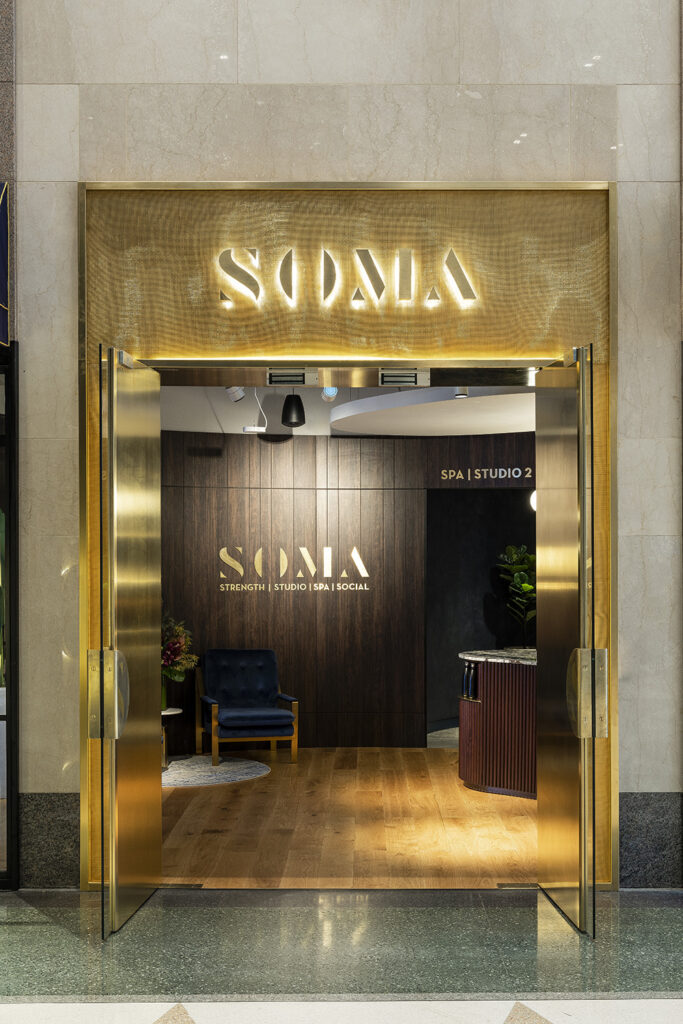 Take flight
Along with fellow co-founder Franco Atashi, Anderson's vision for SOMA borrowed not from other gyms, but from air travel.
"We really put an emphasis on being clean and being hygienic – as if you're having a business-class flight," he says.
It's an apt analogy when you consider the experience of flying anything other than economy. Business class flights, for those lucky enough to afford them, transform the process of getting from A to B, into a luxury; something to be savoured rather than endured. The queues, the stress, the lack of legroom, all of these things disappear once you're greeted at the airport lounge. The same can be said for SOMA. Gym sessions are typically something we shoehorn into our schedule; we get in, get sweaty and get out. At SOMA, they are to be savoured. This isn't a necessity but an experience.
Test yourself
For me, as with all new members, the experience kicks off with a body composition screening to identify any issues before training starts. Anderson plugs me into a sophisticated bit of kit that tells me everything from my body fat percentage to how many calories I need at rest. Warm and approachable, Anderson's demeanour is less PT and more your favourite school teacher. Unlike a lot of trainers these days, he knows who his clientele is. Coming in and out of SOMA's gold doors are not the next generation of Olympians, but CEOs and business professionals who spend too much time at their desk.
Between tests, Anderson explains that much of the fitness industry leaned toward high intensity training during COVID. It served a purpose at the time, he explains, but it does little to address deeper issues like posture, or in my case, creaky knees. At SOMA, the aim is not only to get you moving, but to introduce healthier, more sustainable lifestyle shifts that will benefit you long term. Of course, with membership prices rising to up to $450 a week, it doesn't come cheap. But the value in improving your health is hard to deny.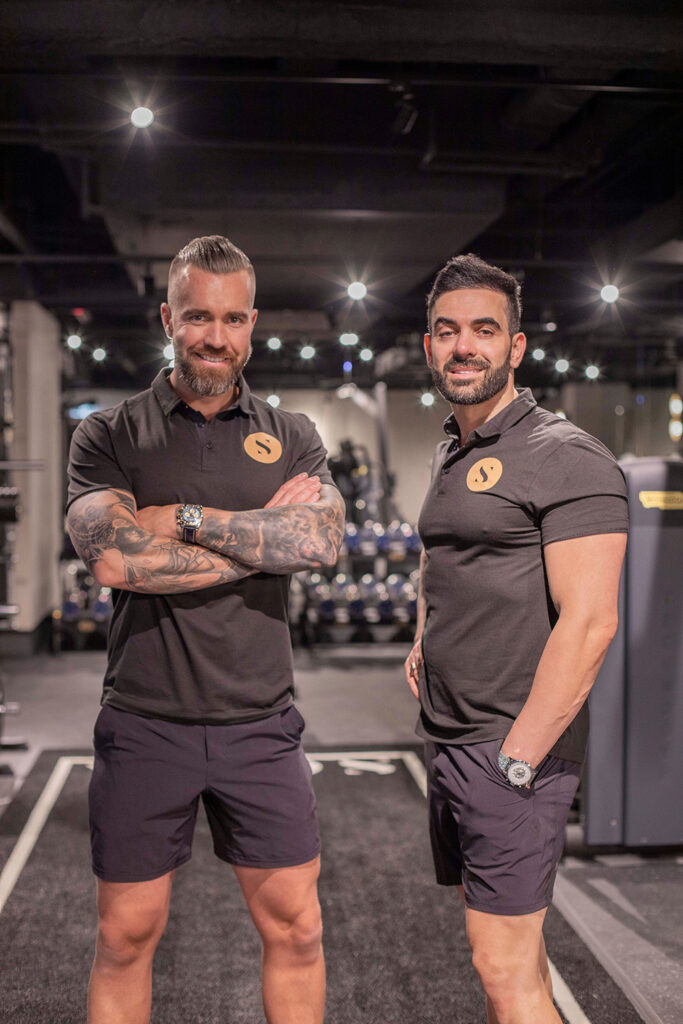 Not your everyday gym
Next, we're to hit the gym. At SOMA, there's classes in everything from yoga and barre to boxing and reformer pilates, but for us, the gym floor is where it really matters. You can offer the most luxe of surroundings, hire the most thoughtful and dedicated of trainers, but none of that is going to matter if the gym itself is sub par. It's something a surprising number of businesses get wrong. Particularly for those ones who rely on large membership numbers, the emphasis can often be on attracting members rather than keeping them. This means the gym floor itself can suffer: the music is distractingly loud, there's too many members battling for equipment and the machines are starting to show signs of wear and tear. Unsurprisingly, SOMA is not one of those gyms. In-keeping with Anderson's vision of a business-class flight, the space is clean and pristinely kept, striking a careful balance between cool and functional. There's music, but at a reasonable volume; the lights are dim but unlike some gyms these days, SOMA is aware that it is in fact a gym, and not a nightclub. There are nice personalised touches like the stainless steel SOMA-branded dumbbells that, Anderson says, are shipped from the UK, but the real winner is the space. For someone used to training at your typical high-street gym, I've become accustomed to lengthy wait times for equipment. Like my dodgy knees, it's something I've just got used to. There's none of that at SOMA. With group classes capped at a handful, and reduced membership numbers meaning a quieter gym even at peak times, you don't have to recreate the Hunger Games every time you want to use the bench press.
Sweat it out
Finally, it's time to hit the spa and check out the changing rooms. Even before COVID forced us all to raise our hygiene standards, gym locker rooms had a bad rap. Often for good reason: that many sweaty dudes sharing a space is a recipe for athlete's foot at the best of times. Again, SOMA has sidestepped this obstacle, focussing on clinical standards of hygiene and cleanliness, not to mention the inclusion of Dyson hair dryers and Aussie-made Leif shower products.
All this is great, but I'm here for the infrared sauna. Dumping my stuff into a locker, I connect my phone into the bluetooth and choose a suitably relaxing playlist to achieve some post-pump Zen. Twenty minutes go by and not a single person has interrupted me nor sneezed on my shoulder, which makes a change from my usual sauna experience.
Now for the final touch. My body has been monitored, trained, recovered and now showered. It's time to leave but before I do, there is the option to throw my dirty training gear down a chute, only for it to be returned the following day, washed, folded and put back in my locker ready for me to use again. Along with the complimentary towel service and the shower products, this means you can do away with the annoying need to pack a gym bag every day. Simply arrive at SOMA in your work gear, slip into your freshly laundered training clothes and have at it.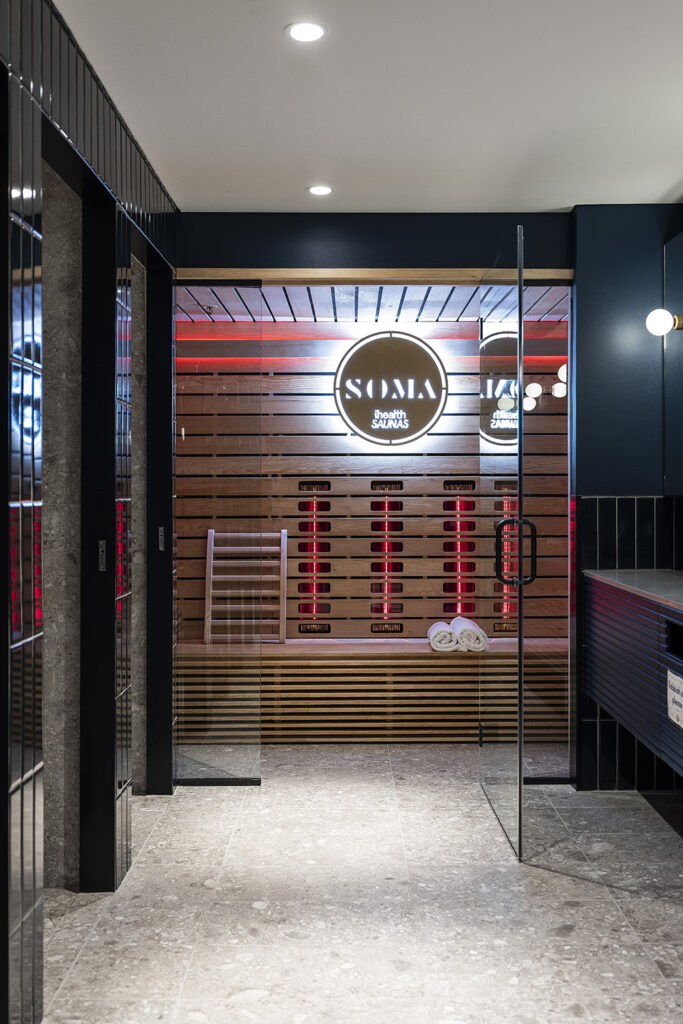 The verdict
Regrettably, my time is up. As I make my way through the gold doors, the din of the outside world resumes, piercing my ears and reminding me that the experience is over. Back to reality, it is then. Somehow we managed to pass three hours inside SOMA so by now lunch orders are underway and, in need of a post-session feed, I join the busy queue. Almost immediately the tranquility of SOMA is a distant memory and I'm left wondering if I would return? The fact is, we can train at home, or in the park, for free then go home and shower – for free. The only absolute necessity for improving our health and fitness is the dedication to turn up day in, day out and put in the work. Does that mean places like SOMA are not worth our time and money? Absolutely not. Much like business class flights, if you could – you absolutely would.