THE VOICE – LOUD but friendly – came from behind: "Hey, guys – wait up!"
I'm not sure when this was exactly, probably late 2013, shortly after Dan Churchill had appeared on Masterchef and become a familiar face to a lot of people, though not to me.
It was dusk in Sydney, and a workmate and I had just left a bash at the lululemon store on Pitt Street. We were on our way to a taxi rank when we turned to see who owned the voice.
Anyway, it was Dan Churchill, and he was kind of like your kid brother's best mate: a shock of dark, curly hair atop a cherubic dial, and a manner that was boyish and disarming. He introduced himself, pumped our hands as though he were meeting his heroes, and told us he loved Men's Health. He was clutching a copy of his recently self-published book, Dude Food. After coneying his passion for all things nutrition and exercise, he implored us to keep him in mind for any opportunities. And then, with thanks, he receded into the twilight.
"That kid's got spunk," my colleague said. "He'll go places."
Almost a decade later, you'd have to say my colleague was right. Now 33, Churchill is ensconced in New York, where he's the part-owner of a cafe, Charley St, in Lower Manhattan. He's also an A-list performance chef (former clients include the great alpine ski racer Lindsey Vonn), a brand ambassador and television talent (he regularly cooks up a storm on The Drew Barrymore Show), an author and entrepreneur – and a podcaster. Clearly, the guy has a certain skill set. But if you had to pinpoint one quality that's seen him thrive, it would be that same chutzpah he flashed on Pitt Street that late afternoon way back when. Churchill wouldn't disagree: "I don't think I'm someone," he says, "who's going to look back on life and think, I didn't have a crack".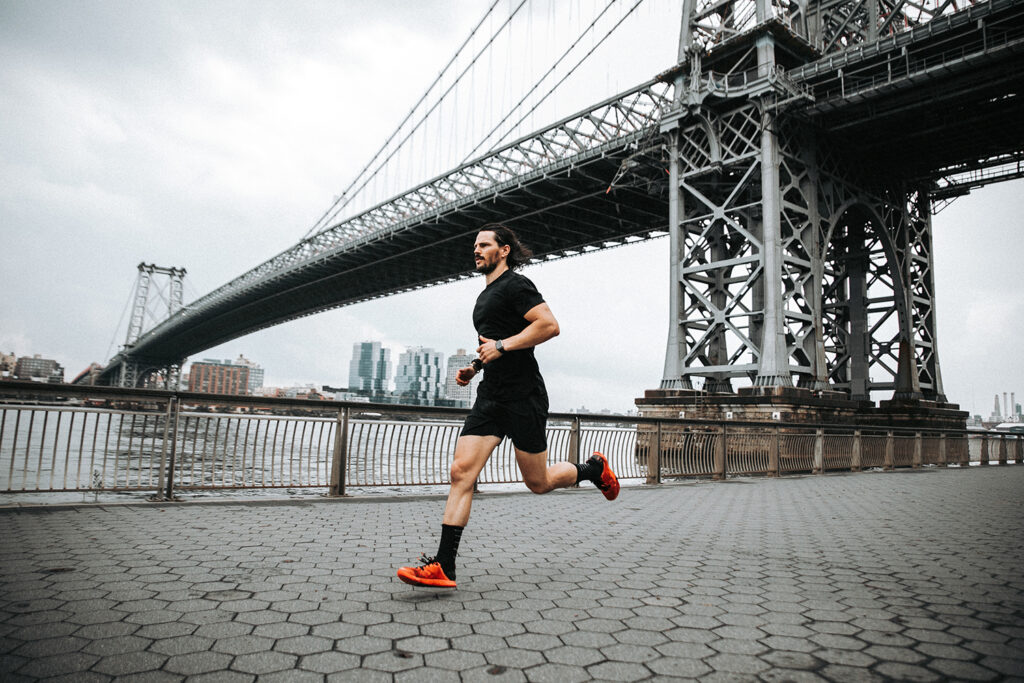 After the chance meeting in 2013, I barely saw Churchill for the next nine years, though we spoke on the phone a few times when he'd come on board as an MH contributor, mainly to provide hearty recipes rooted in his boyhood as one of three brothers on Sydney's northern beaches.
Recently, word reached us that Churchill would be making a quick trip home to Sydney and would be up for a chat while he
was here. Through Feels Botanical (a new brand of Australian eau de vie in which Churchill is a partner), it's arranged that he and I will meet on a Wednesday morning at Bay Ten Espresso (aka BTX), a capacious, warehouse-style café just north of the Harbour Bridge.
I choose a table and sit down for a quarter hour or so thinking he's running late, until my gaze settles on this bloke not 10 metres to my right and I realise that Churchill's been here all along, chatting with a couple of guys from
a new eyewear label and trying on their product.
Though he's unmistakeably Dan Churchill, physically he's changed rather a lot since his MasterChef days. The boy-next-door vibe has faded, replaced by the kind of lean-and-hungry look feared by Caesar. He's sporting a man bun and some facial hair and is wearing about five bracelets on his right wrist. He looks cool, like a young Byron Bay artist. There's not the faintest trace of an American accent. He sounds as Australian as a Long Reef lifeguard.
"You've got a good look going," I say, embarrassing him slightly.
Churchill asks after me in a genuine way. We get talking about injuries because I recently sustained a doozy and he studied for a Masters in Exercise Science at UTS Sydney before focusing on his cooking.
"Have you ever had a really bad injury?" I ask.
"Hell, yeah!" he says, reminding you he played rugby as a younger guy – a super-fit, scheming scrumhalf with white-line fever – and did a number on a shoulder that kept popping out until he went under the knife.
Churchill takes in the dimensions of the café, all but whistles with pleasure. "To me, this is legitimately Sydney/Melbourne – the full industrial thing," he says. "It's so cool, man. I love it. You just don't get this in New York, unless you're in parts of Brooklyn that have the space."
He's home to promote the Sydney Running Festival. The organisers, Blackmores, and the state government are keen to raise the status of the festival's marathon – to have it recognised as the world's sixth major mass-participation marathon alongside Berlin, Boston, Chicago, London and New York. Churchill has run the New York Marathon three times for charity, with a PB of 3:28. He'd like to lower that mark by as much as half an hour. "But for me, more than times, it's about the effort and sticking to a plan," he says. "Pick a goal and build a plan around it. Now that's a strategy for life."
All that running explains Churchill's more chiselled look – and his appetite this morning. None of this "just-coffee" stuff. He tucks into a generous serve of eggs, avocado and toast with a Middle Eastern twist; chases it with a berry smoothie. "I'll never miss a chance to promote Australia," he says. "One great thing about being in New York is that I get to represent my country. I grew up wanting to play for the Wallabies, but this feels bigger in a way."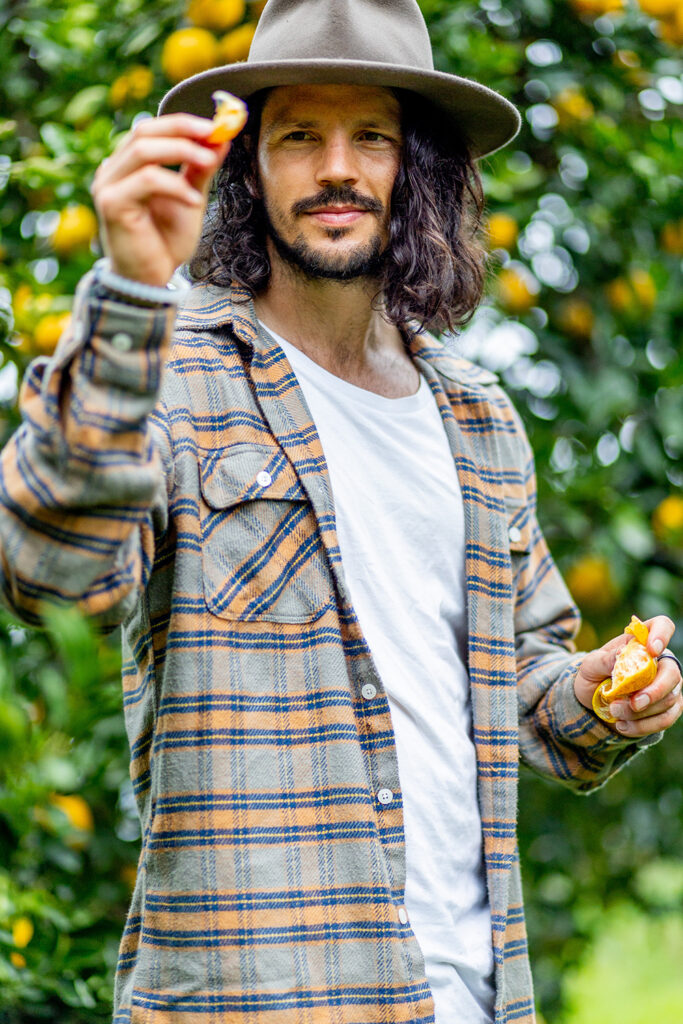 Take your chances
A year or two after MasterChef, Dan Churchill was doing just fine in Australia. He'd built what he calls a "reasonable profile" through the show, his cookbooks and the 13-episode TV series Surfing the Menu: Next Generation, which he co-hosted with his mate Hayden Quinn. It would have been easy for Churchill to stick around in Sydney,
to earn a good crust while enjoying the beach life near family and friends. But while some of us are content to be comfortable, to find a nice rut to lie down in, there's a type of guy for whom an attitude of "this'll do" doesn't compute. These restless spirits heed an insistent inner voice that says, 'You know, this is okay, but it's not enough. I need a broader horizon. I need something more than my own country can provide.'
"For me," says Churchill, "there was always a fascination with America. There was something magical about the place."
Bigger and better?
"Not necessarily better. Just bigger. Not better."
In 2015, Churchill sensed an opportunity to raise the stakes. He had this mate who had an in with a bigwig at a major publishing house, Simon & Schuster, headquartered in the Rockefeller Center in New York. This mate could get Churchill a meeting with the bigwig, who might be interested in launching a repackaged version of Dude Food onto the US market.
"I thought to myself, I'll latch onto this," Churchill says. "I'm going to go to America. That's what's going to happen here.
Churchill landed in the Big Apple and met with the publishing executive. The meeting went well and a plan for the Americanisation of Dude Food was hatched. Afterwards, as he escorted Churchill to the elevator, the executive shot the confident young Australian a sideways glance.
"Dan, do you know who I am? No one gets this meeting. You must know someone."
Churchill smiled back. "I was thinking, I'm grateful. But I wasn't fully appreciative of how lucky I'd been."
You can say he was naïve, or you can look at this another way and see in Churchill a corollary to his chutzpah: a levelheadedness – a refusal to be overawed in the presence of people who might cause others to go weak at the knees. The author of Dude Food realises that all dudes are just dudes, that even the biggest-deal dudes put their daks on one leg at time and if you get the chance to meet one, just chill and see if you can't work something out to your mutual advantage.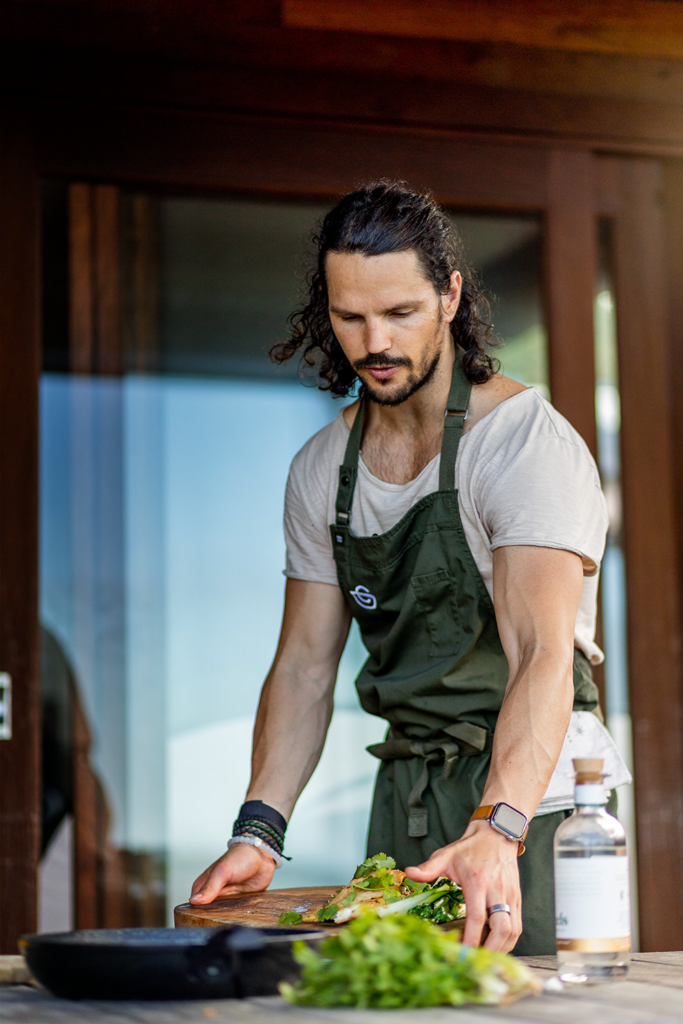 About a month after the meeting, Churchill signed a one-year deal. There'd be a tour for the book, lots of interviews, appearances… and opportunities. Churchill was ready to go all-in on the great American adventure. But to live there he'd need the 0-1 non-immigrant visa, reserved for "aliens of extraordinary ability".
The day arrived when he stood opposite the stern official at the US embassy in Sydney.
"Mr Churchill, why are you an alien of extraordinary ability?"
Churchill took a deep breath. It was time to sing his own praises. "That's hard for Aussies," he says. But off he went – because what choice did he have? He'd come armed with copies
of his (by now) two books, and he waxed lyrical about his achievements, plans and dreams, and if they kind of merged and blended a little, well, it was all for a good cause, wasn't it?
When Churchill stopped talking, the embassy official looked at him for a long second. "Right," he said, before stamping Churchill's papers to the good. "Next."
Hang tough
You ask Dan Churchill if he lived rough during those early months in New York.
"Absolutely!" he says. "A mate's couch." But that was more by choice than necessity, he explains. He'd made decent money back in Australia and could have afforded his own digs right away. "But I was also like, Hmmm, just in case shit takes longer than I expect to work out, I'm going to [save some pennies]." He'd secured a semi-regular gig on Good Morning America, which made for an interesting juxtaposition
of lifestyles. Some mornings, he'd get off the couch, shower, head downstairs and climb into a limo that would take him to the TV studio, where people would be feeding him and pampering him and making sure he was all set for his segment. Afterwards, it was back to the mate's apartment, where'd he'd sit on the couch.
"And I was like, this [couch living]
is actually awesome," Churchill says. "As an Australian . . . we don't care, do we? I have no ego. Sleeping on a couch . . . it's maybe not a rite of passage, but it does give you more ammunition and fuel to get you to where you want to be."
Churchill needed to be resilient because, he admits, "that book didn't do well in America". He says his US publisher wanted him to play a role while promoting Dude Food MKII – not Crocodile Dundee exactly, but a kind
of fish-out-of-water Aussie larrikin. "It turned out that what they wanted was not what I personally was inside, so it was very hard for me to portray that. I learned the hard way."
There'd be no more books with S&S, so if Churchill was going to last in the US, he'd need to shrug off any disappointment and hurl himself back into the fray. "I figured, Nobody knows me here. I've been positioned differently, so let's go back to what I do well. Let's start from scratch and work hard."
Churchill got busy building his profile – creating online content, catering events, collaborating with brands and talking to anyone who'd listen about what he considered his "superpower": performance nutrition. "Then, one day, I got an email," he says. "It was from Under Armour." The brand had been hunting online for a chef to travel with one of its star athletes – Vonn, a Winter Olympics gold medallist in 2010, a GOAT contender (now retired) – and Churchill's name had kept popping up.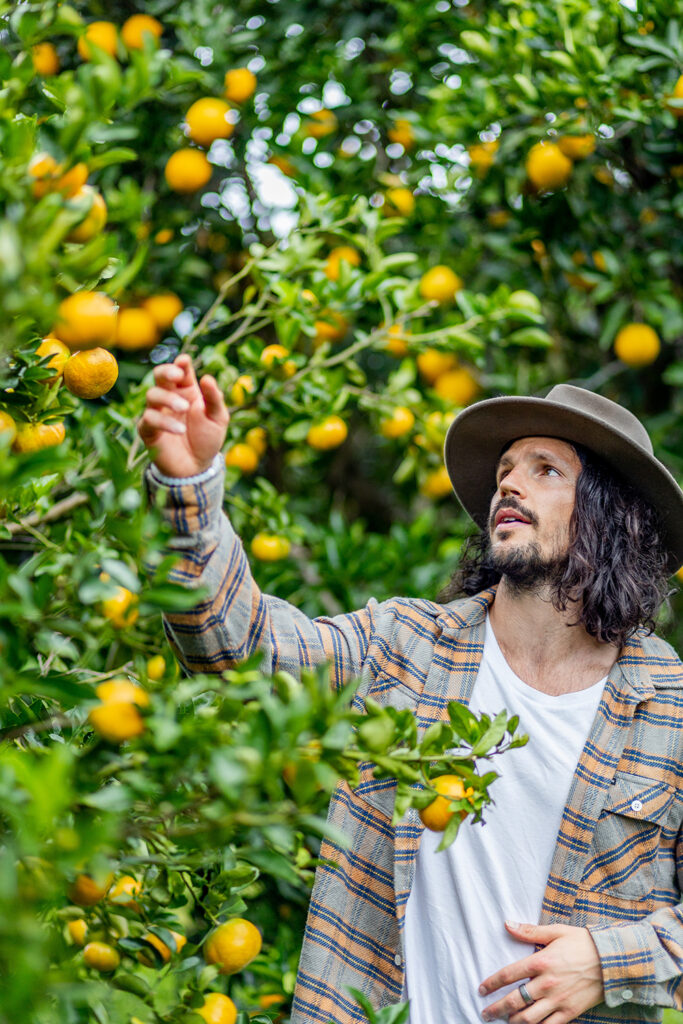 Could we chat?
Sure, he said.
Under Armour and Churchill became one. He'd do content for them and accompany Vonn to PyeongChang for the 2018 Winter Olympics, where his job was to fuel her for peak performance.
"Have you ever felt you were born to do something, Dan?" Churchill asks me. "There I was, a chef, representing an elite brand and looking after an amazing athlete. I understood food and athletes and performance and nutrition . . . no one knew this stuff better than me. It was the perfect storm. I talked to her every morning. 'How do you feel? What do you need? What are you lacking?' I'd be standing there cooking and her coaches would come in and they'd be analysing her data and watching her videos, and I thought, I'm in an elite camp and I'm with the best of the best of the best. I was born for this."
Vonn, he says, is a "sweetheart". For Churchill, the way she was off the slopes was another reminder that you mustn't conflate the competitor and the person. He cites himself as an example. "I'm a very nice person, [but] you get me on the rugby field, you do not want to mess with me. I'm an absolute ratbag. Because I'm competitive in that space. I was the shithead who used to try to . . . not start fights, but to get underneath the skin of all the opposition players, and I used to do that." Friends used to come watch him play and he'd compete in headgear that concealed his identity, and afterwards they'd say to him, incredulously, 'That was you!?' Because they couldn't marry the sniping, ultra-competitive angry ant they'd been watching with the Dan they knew.
Secrets of my success
It was also in 2018 that Dan Churchill, with Kieren Dwyer and Kale Evans, co-founded Charley St with the aim bringing a touch of the "Australian lifestyle" to New York – elevated breakfast and lunch offerings and a focus on coffee and plant-based meals. The café, which managed to ride out the challenges of the pandemic, has spawned two products – Charley St Plant Based Chorizo and Charley St Plant Based Bolognese – which are going gangbusters and absorbing more and more of Churchill's time. 
"NFL teams and Division 1 colleges are on to them, and they're in retail," he says. "Technically, we're competing with the likes of Beyond Meat, and I made them entirely from vegetables in my studio kitchen in the restaurant. Australian brands can do incredible things in the US if you do things right. I think you've just got to back yourself, man. You've just got to back yourself, at the end of the day."
In 2019, Churchill backed himself to start a successful podcast in a saturated market: for The Epic Table, he interviews thought leaders in health, fitness and nutrition. He finished up with Under Armour and signed with Ten Thousand, a new force in the sports-apparel realm. Some years ago, he bumped into Chris Hemsworth at a Tourism Australia event, and they agreed to stay
in touch. Churchill's since come aboard Hemsworth's digital health-and-fitness juggernaut, Centr, as its culinary face.
And recently, he bought into Feels Botanical. An alcohol brand seems an odd fit for Churchill – which he acknowledges. But: "I'm passionate about this." He makes the case that an alcoholic drink made from a sustainable fruit, grapes, that is fermented and distilled and combined with native botanical ingredients, can be a part of "holistic nutrition". "I don't drink a lot but a glass of this is different," he says. "And as I see it, if we don't enjoy ourselves and unwind occasionally then we're not activating certain hormones."
Churchill has a full diary, but he's learning to delegate, he says, and there's always his New York home
– a rented apartment he shares with his girlfriend, Milena, and puppy, Maverick – where he can recharge.
Exercise is a crucial part of the same process. "For me, it's never been about being the fittest person in the world. It's about remaining active in a way that keeps me healthy physically and mentally." He talks some more about upcoming marathons and even ultras, and I ask him whether long-distance running is his thing now. "I don't think so, but I want to give it a go for a while. Fitness is everything to me. Sometimes I'll work out twice a day. Other days, nothing."
I try to draw Churchill on America's fragile political state, on whether he's comfortable in a country where seemingly no one is unfit for office anymore. But he won't bite. He's either a diplomat or he's been too preoccupied to give it much thought. He says only that he loves the US for its size and possibilities, for its sports-mad people and thriving night scene.
Before we part, I want to take him back to the beginning, to MasterChef. He's bounced so high from it that you might assume he won his series; but he wasn't even top three. 
Does he feel grateful to the show? "Forever so. The friends I made, the coaches I had, the experiences. I learnt in that eight-month period more than I can tell you – about myself, about cooking, about being creative. One of the most difficult things I've ever done was making the decision not to be known as 'Dan from MasterChef'. I made a conscious decision to build out a brand immediately after the show, so as not to be [trapped] in the cycle of it."
As for what's ahead, well, he wants the wordy cookbook he's writing now to be a New York Times bestseller. The title's a secret – but it's a good one. Very Dan Churchill. He's also working on a show for Netflix and would like to work with an organisation – the UN, perhaps – that's trying to do good in the neediest places.
To the emerging Dan Churchills of the world, he has this advice: "Go narrow and deep with everything you do. Find a niche. Be first. And then add things slowly." Oh, and when you're out and about, don't hesitate to accost guys who might be able to help you.