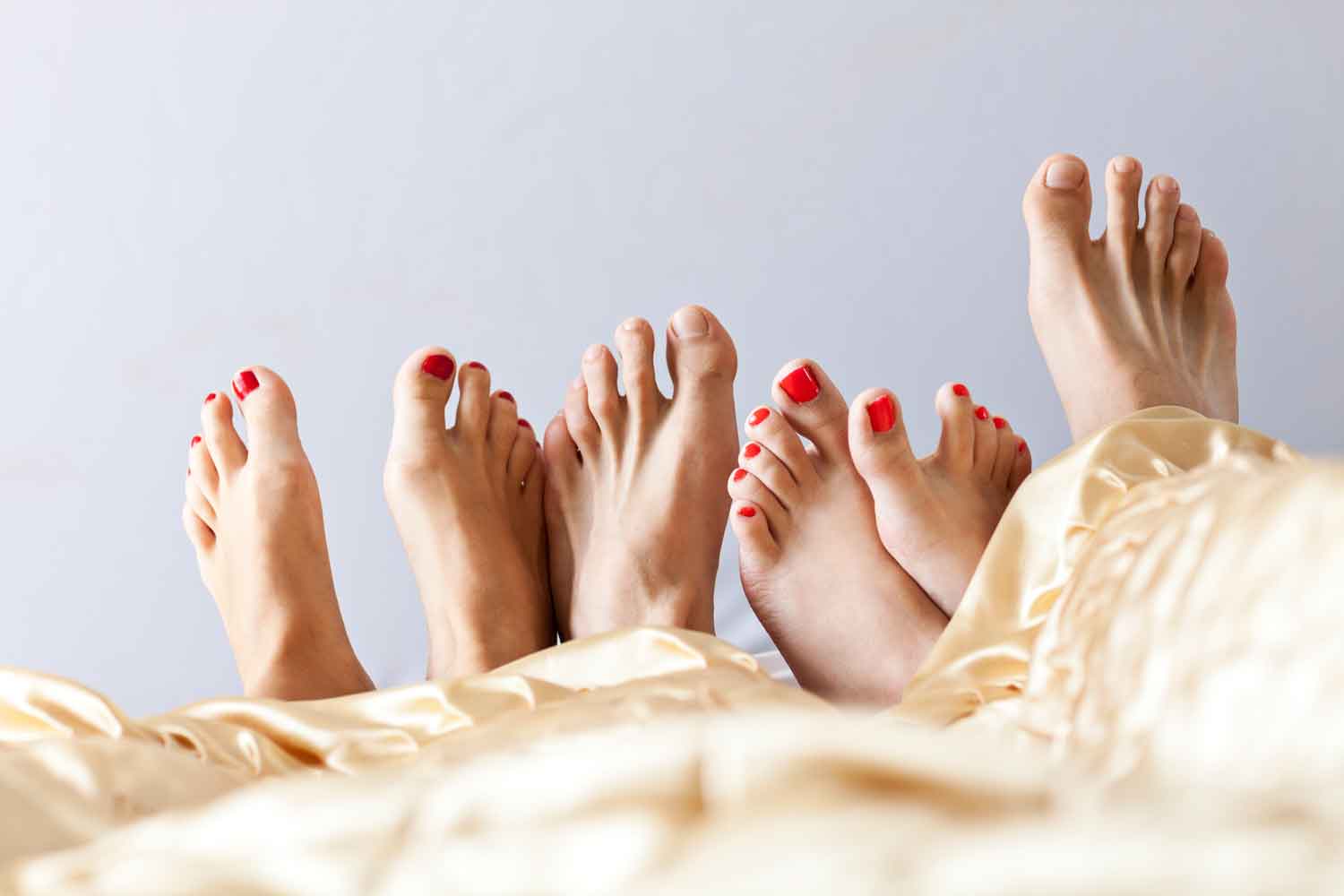 But it doesn't always end in elation. Unfortunately, threesomes weren't all they cracked up to be for the people who took part in a recent viral Reddit thread which asked the question: "Redditors that have had a threesome and regretted it, what was the unexpected fallout?" In less than 24 hours, the post had accumulated 10,000 comments—and for many, things went sour very quickly.
Here are some of the best stories from people who regretted having a threesome.
"My girlfriend at the time brought in a friend of hers to try for the first time (for both of us). It was real fun for all of us, or so I thought. We met up at a hotel during the day, it was all preplanned and went without a hitch. Later at night, my gf asked me to call her. She sounded furious. I had no idea where it was coming from. Apparently I had given more attention to the friend than her. I told her that I didn't do something like that consciously because I was too into it. This apparently set her off even more. Something about me subconsciously finding her friend more attractive. It was a full blown breakdown and she was feeling really insecure. I told her let's make this better. What would make it better? She suggested another session but with a guy friend of mine instead of her friend. I agreed. On the day itself, the moment she touched his penis she recoiled. She started crying. She started saying that she doesn't want to do this, it feels like cheating and she's feeling guilty. My friend hightailed out of there, leaving me to console her. We agreed never to try anything like that again. Turns out she was into voyeurism but hated it when anyone tried getting involved. She just wanted to fuck me (or her partner in general) and have others watch and get off. She thought she wanted more, but the first threesome experience with her friend made her realise that she really really didn't." – @rambtop
"I had a threesome with my girlfriend and best friend. She left me for him. They have been married for over 10 years." – @Tacomancer42
"I had really strong feeling for this guy, and we he been flirting for a while. It was going well, and one night I was over at his house with another female friend of ours. We got drunk, one thing led to another, and we had a threesome.
"Now they are dating and I'm still alone." -@PinkAcrobelle
"I was asked by my girlfriend to have a threesome with her and her best friend… a friend I had known for a long time and who had actually introduced us.
"A couple of minutes into it I realised that my girlfriend was not remotely interested and had pulled back… which made it awkward because I was not remotely interested in my friend sexually… I only agreed to it because my girlfriend asked and she had been a little distant lately… I thought it might help rekindle the relationship.
"I carried on and did my best to make my friend happy… and then all of a sudden my girlfriend stood up and said 'Looks like you two are good, I will leave you to it'.
"I stopped what I was doing and asked WTF was going on, and eventually they explained that the whole thing was a scheme for my girlfriend to break up with me and 'pass me over' to her best friend who apparently had a crush on me.
"Needless to say this did not go down well, and I ended up losing both of them from my life." – @hokeyWB
"I mean, I guess it wasn't necessarily unexpected, but it just ruined my relationship with my girlfriend at the time. We had a threesome with a female friend of hers, and she couldn't get the image of me having sex with her friend out of her head. She said that she couldn't shake the feeling that if I truly loved her, I wouldn't have been able to sleep with someone else.
"Worst part of it was my gf was essentially my dream girl, and the girl we added to the mix wasn't nearly as spectacular as she was. So I traded a longterm relationship with my dream girl for one night of a threesome, and I would NEVER have made that trade with hindsight.
"That said, waking up in the morning with a hot naked girl on each side of me was pretty incredible." -@ Buffal0_Meat
"I had an unplanned threesome with a close friend and her boyfriend. He's well endowed and apparently she couldn't handle giving him oral, but I didn't know that and while we were fooling around I gave him head. Like, really good head. Like so good he wouldn't stop talking about how good it was and asking why she doesn't give good head like I do. It made her insecure and put a strain on our friendship as a result. Even after they broke up, my friendship with her wasn't the same." – @ D0rkasaurusRex
"I don't know if I regretted it per se, but I was the third wheel. After the sexcapade we passed out and later on that night her boyfriend went to the bathroom. She then cuddled up to me and said 'that was really fun and all but if we do this again can we get somebody I am attracted too'. Then her boyfriend walked back in and she realised that I wasn't him, I could literally feel the room fill up with awkwardness." – @ Windbelow161
"The girl ripped my bra off and I was really mad about it since it was a 70$ bra that unclicks from the front and I really liked it. Tried to brush it off but couldn't focus on anything else.
"Then we start having fun and her dude makes out with me and she breaks down and stops everything, starts crying and runs out the room. Her guy followed her, I was just like 'Fuck this shit.' Got dressed and left by the other door.
"Note to all couples wanting to have threesomes: you don't HAVE to have a threesome sometimes it just needs to remain a fantasy or you need to be with the right person." – @ marilmad
"Male here. I was invited into a three-way by two other guys who were dating each other sort of casually. During sex, it became clear that one of the guys was really into me, and I naturally responded to him since he was giving me the most attention, while his BF was basically ignoring me. As it progressed, the boyfriend began giving me very intense dirty looks, so I called a halt by saying thanks, but I'm going to head home now. They broke up right after and one pursued me while the other spent the next several years badmouthing me and glaring at me anytime he saw me, which was frequently since I managed the only gay bar in our relatively small town. The experience led me to develop a new personal rule: no threeways. Only groups of 4 or more (preferably 5 or more). It has served me well." -@ ursoparrudo
"I was young, bi, and had a deal with my then boyfriend that I could explore sex with others as long as they were women and he could somehow join us. First two times went ok. Third he proposes a girl whom he found interesting, and I liked her too. It was amazing, and I kinda started to have strong feelings for her. She told me we would be together if I left my boyfriend. I did. Turns out she liked him and they started dating. 10/10 would not try that again." -@ Porporseu
"He had sex with her again while I was at work. Then texted me later to tell me. Not to apologise or anything. Just to tell me and let me know she needed a ride home when I got off work. He was a jerk of a guy." -@ Megnuggets