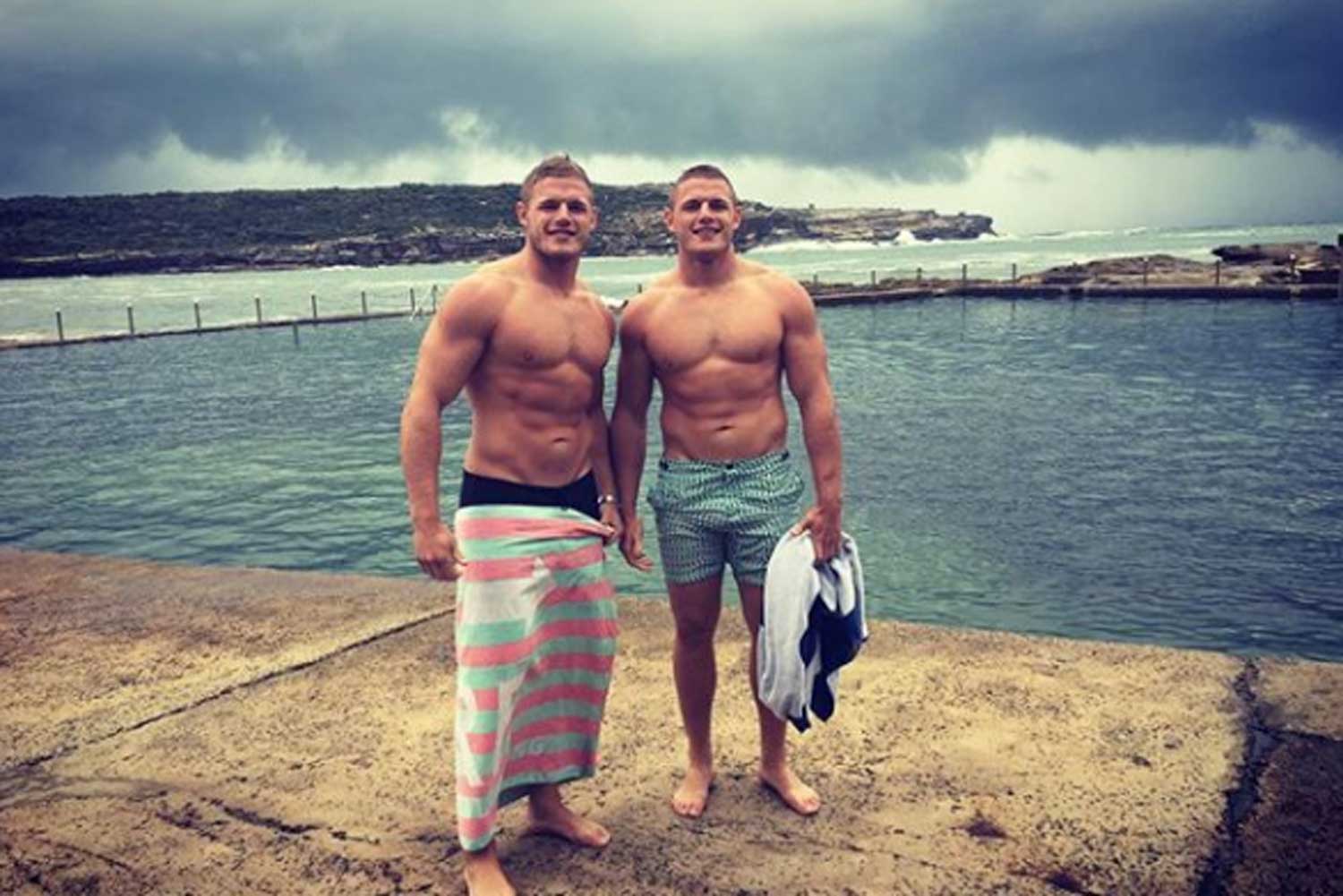 He stands at 1.96m and measures a whopping 126kg on the scales, so you'd be forgiven for thinking Tom Burgess tucks into a few steaks for breakfast. But the hulking South Sydney Rabbitohs forward's surprising diet even had us doing a double take. Burgess doesn't eat much more than you and I and his diet certainly shows the importance of good quality carbs in trying to get that desirable frame.
RELATED: The Daily Diet Of A Professional Footy Player
The star prop, who is largely guided by an in-house dietitian during the season, keeps his diet relatively simple, aided by important muscle-repairing supplements.
Breakfast
Something you might find at your local cafe, Burgess tucks into a breakfast wrap with scrambled eggs, bacon and avocado. His drink of choice: a strong flat white. Breakfast wraps are packed with not only protein for recovery but good fats and carbohydrates important for fuelling the muscles to be able to perform all day. Caffeine has also been shown to carry numerous benefits for exercising, including improved performance.
Post field session snack
For a post-session refuel, Burgess smashes a BSc pre-made shake. According to the ingredients, the shakes pack a 30g protein hit. The high protein intake post workout keeps Burgess fuller for longer, and the natural sweeteners help avoid insulin spikes.
Lunch
For lunch, Tom eats chicken breast satay with rice, salad and a piccolo latte. Again, the NRL star keeps it simple. A meal high in protein and good carbs will help fuel and the body and aid recovery. The benefits of chicken are undeniable while adding in rice is important because it's packed with magnesium, important in helping to regulate the body's temperature. Another shot of coffee will help keep motor skills up to carry him through the day.
Post weights session
BSC WPI powder (3 scoops) with fresh strawberries and milk. WPI, aka whey protein isolate, has a higher protein content that other forms (concentrate and hydrolysate), and is lower in carbohydrates and fat.
Snack
Fruit – an orange or apple. Apart from energy in fructose, you'll be very surprised to hear that fruits can definitely help you with your gains. Fruits include carbohydrates for energy, potassium to help you avoid cramping and nitric oxide to increase blood flow to the muscles.
Dinner
Grilled Salmon fillet with broccolini, carrots, asparagus and sweet potato mash. Not only is salmon packed with protein and contains important omega-3s, new research has shown it can reduce risk of mortality as well as managing diabetes. Meanwhile research by the Loughborough University found cortisol levels can spike as a result of a carb-deficient diet, compromising the immune system. So sweet potato is a perfect combination of carbs and nutrients to keep you on your feet.
Dessert
Cup of Yorkshire tea with a dash of milk and a piece of carob chocolate. Trust.
RELATED: 8 Carbs That Should Be In Your Diet If You Want To Pack On Muscle
Drinks
Tap water is a necessity. Staying hydrated during season is crucial while fluoride in tap water helps protect your teeth.
Tom and The Rabbitohs have been travelling the country to teach kids about the importance of healthy living, as part of their partnership with Colgate.