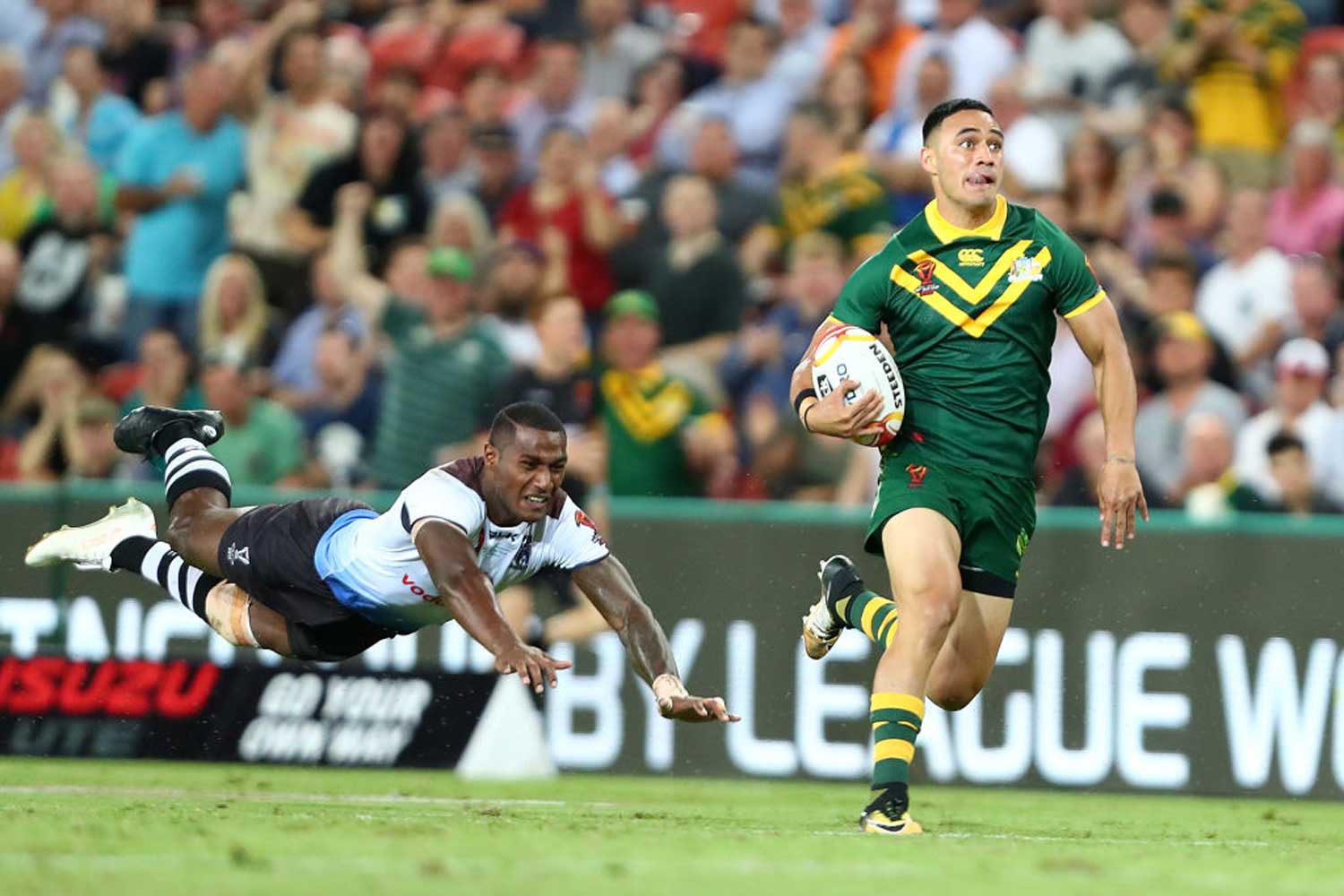 Former Cronulla Sharks and Queensland winger Valentine Holmes is quietly going about his business in his quest to make the NFL. He may yet to sign a professional contract but the 23-year-old is impressing scouts given his limited time in the sport.
Following his 4.45 second 40-yard dash, Holmes spoke to Fox Sports, opening up about his transition to gridiron football.
"I was pretty confident before I went in, and also after I was finished," explains Holmes. "All I've been doing training-wise for these 12 weeks has been pretty much running back stuff and return stuff."
Like Jarryd Hayne, Holmes is aiming to be a kick returner. But he still has a long road ahead. His two options are either be signed as a free agent or get lucky in the International Pathway Program. Unfortunately, if it's the latter, he won't be able to play in the 2019 season.
In January, Holmes told The Sydney Morning Herald that this wasn't just a holiday: "This is what I came to do. I wouldn't have given up everything to just do this for a year. I want to try and do this for as long as I can."
But he did acknowledge it would be a tough road ahead.
"It's cutthroat here, you don't know what could happen in the future. I don't have those glass balls [sic] or anything. If I didn't like it or if I didn't get picked and I'm not good enough, I'd obviously just go home to Townsville."
In the NRL Holmes weighed in at 85kgs but since his move to the states, he's put on 3kg. Unfortunately, that still leaves him nearly 15kg lighter than superstar running back Le'Veon Bell.
"It is now a waiting game," Holmes told nine.com.au.
Holmes shared his results with Fox Sports. Here's how he went at the 2019 Combine compared to other Running Backs:
40-Yard Dash Time
According to Holmes' agent: 4.45 seconds
1. Justice Hill — 4.40
2. Ryquell Armstead — 4.45
— Valentine Holmes — 4.45
3. Jordan Scarlett — 4.47
– Mike Weber — 4.47
Bench Press (102kg)
Holmes: 20 repetitions.
1. Alex Barnes — 34
2. Jalin Moore — 27
3. Elijah Holyfield — 26
4. Rodney Anderson — 25
5. Myles Gaskin — 24
— Valentine Holmes (tied 14th)
Cone Drill
"The 3-cone drill, they said I ran the quickest of the day. It was like 6.7 or 6.8 seconds," said Holmes.
I don't know if that's quick or not, but they said it was the quickest of the day."
— Valentine Holmes — 6.7 or 6.8 seconds
1. Miles Sanders — 6.89
2. Alex Barnes — 6.95
3. Dexter Williams — 7.00
4. James Williams — 7.01
5. Ryquell Armstead — 7.02
*** none of these numbers are official – the NFL don't publish results ***