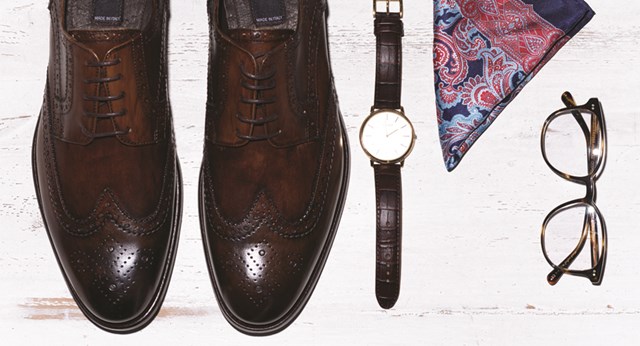 Unless your HR department is enlightened enough to supply you with a standing desk, it's likely that your feet will be hidden for most of the day. Even so, I'm willing to bet that over half of you spend more on your shoes than the accessory that's most visible, most of the time: your watch. Wearing a plastic sports timepiece with your two-piece is the male equivalent of those women who march, from station to office, in power suits with trainers. This, it should hardly need stating, is not a good look. So it's high time your wrist was appropriately attired. That means clean and classical, slim enough to fit comfortably beneath a tailored cuff and always with a dark or neutral dial. Like holidays and engagement rings, your timepiece should always cost as much as you can afford. But even if your budget doesn't stretch far beyond Tigerair flights, the choice available has never been better.
>> What To Look For In A Dress Watch
Case: Rectangular or round, in steel, gold and similar coloured metals
Strap: Leather or metal bracelet; never nylon or rubber
Functions: Keep it simple, technophiles – time and date are all you need
Dial: White, black, silver, blue or cream. That's your lot, really
Waterproof: Unnecessary, unless you are rocking a wetsuit
Budget: As with shoes, pay as much as you can afford (within reason)
>> 4 Timepieces That Never Go Out of Style…
Seiko, in particular, is highly credible among watch snobs but also highly affordable, with a range that runs from super-precise quartz up to Swiss-rivalling "Grand Seiko" mechanicals. The Seiko SRP705K is a well-proven hybrid of the two, with brains to match its classic beauty: it's powered by the movement of the wearer.
Montblanc Heritage Chronometrie will cut the mustard paired with anything from off-the-peg suits to fully bespoke. This watch keeps the focus very much on pure elegance with its silvery-white dial and rhodium-plated appliqué indexes. The most subtle hint of colour arrives via the blued seconds hand that gently circles the 40-millimetre stainless-steel case.
Raymond Weil Maestro brings rose-gold plating for a dash of Gordon Gekko flash and a proper mechanical movement inside: no battery or quartz, just finely crafted wheels, springs and cogs. It's masterful enough to impress even the masters of the universe in the boardroom.
The Cartier Tank Solo was considered a daring departure for watchmaking in 1917 with its rectangular design. Barely changed, much imitated, it's a classic that doesn't so much scream "I've made it" as whisper it tastefully.